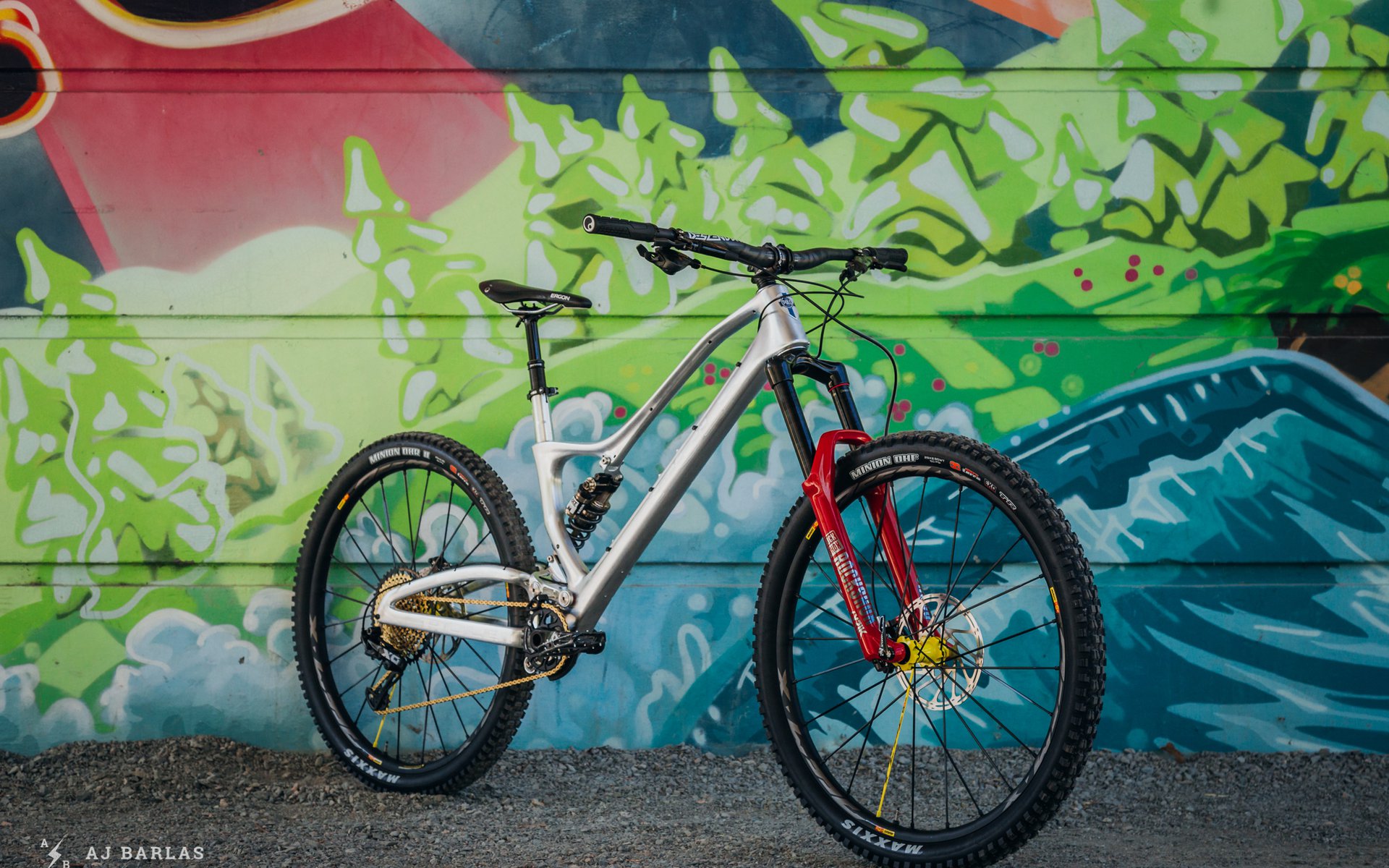 First Impressions
Riding Pole's Machine in Whistler
Pole's 160mm 'Superbike,' The Machine has been making waves since being released earlier this year. For years Pole has been developing unique bikes with what's considered by most as extreme geometry. But founder, Leo Kokkonen pointed The Machine in a new manufacturing direction. Dissatisfied with factory practices and seeking a less wasteful process, Leo decided to manufacture Pole's CNC machined frame in-house, in Finland. Check out Leo's interview which delves into his path to the current manufacturing processes.
Rear travel 160mm, front 180mm

29-inch wheels

230x65 Shock

73mm Threaded BB

Room for two bottles in the front triangle

Fits up to 2.8-inch tires

MSRP: 3,800 EUR frame only (Approx. 5,700 CAD / 4,300 USD)

Pole Machine Models
Pole currently has two builds available for the Machine; the TR and the EN. The EN is the higher spec build, with SRAM Code RSC brakes, X01 Eagle drivetrain, RockShox Lyric RC3 and a Super Deluxe RCT shock. The TR build includes Code R brakes, GX Eagle drivetrain, Lyrik RC and Super Deluxe Coil R. However, there really isn't a "low-end" or budget entry model thanks to the manufacturing process, and both models fetch a pretty penny.  


Though not currently on their consumer direct website, Pole has begun offering models with the high-end EXT Arma HBC coil damper. They're also working on some special wheels with Mavic and both will be available as top-level builds, for riders who seek the very best.

Pole Machine TR: 5,800 EUR (approx. 8,683 CAD / 6,615 USD)

Pole Machine EN: 7,300 EUR (approx. 10,929 CAD / 8,325.75 USD)


Frame & Suspension Design
Pole first evaluated carbon frames but that investigation led the company away from the material. The Machine frame is created from billets of 7075-T6 alloy and there are no welds to be found anywhere. The frame utilizes Pole's Evolink, dual-link suspension design. The lower link rotates around the bottom bracket and the upper link is situated just above it, keeping the weight low. The links are machined from 7075-T6 alloy at Pole while titanium is used for the pivot axles.   

In-house manufacturing allows Pole to make changes in the span of a production run, which is about a week according to Leo. Alterations such as supportive fixture (bolt) placement and the spread of material throughout sections of the frame can be updated on the run. This means no model year production for the Machine. Instead, if Pole finds a way to improve the bike, they'll make amends to the process on the fly based on test results.


Pole Machine Geometry
Rider size:
160–170cm
170–180cm
180–190cm
190–200cm
Frame size:
Small
Medium
Large
Extra Large
Head Angle:
63.9º (591mm AC, 51mm offset)
Reach:
450mm
480mm
510mm
535mm
Top Tube:
577mm
607mm
637mm
662mm
BB Drop:
-20mm
Seat Tube Angle:
78º
Seat Tube Angle (Effective):
79º
Stack:
660mm
Wheelbase:
1275mm
1305mm
1335mm
1360mm
Chainstay Length (Effective):
455mm
Seat Tube Length:
420mm
440mm
480mm
510mm
Head Tube Length:
135mm
Fork Offset:
46–51mm
Front Center:
820mm
850mm
880mm
905mm
Standover (BB to Lower Portion of TT):
360mm
Seat Tube Insert Length:
190mm
210mm
260mm
290mm
Seat Tube Diameter:
30.9mm
Seat Tube Clamp:
34.9mm
Axle to Crown:
581–591mm
Brake Mount:
Direct mount
Travel Front:
170–180mm
Travel Rear:
160mm
Shock Size:
230x65mm
Bottom Bracket:
73mm threaded
Chain Device:
Low direct mount/Pole bashguard
Bottle Mounts:
Three (two on top and one beneath downtube)
Dropouts:
148mm
Axle:
180mm, thread length 20mm, thread pitch M12x1.75
Wheels:
27.5+/29" 730–755mm
Recommended Max Tire Size:
3" (27.5"), 2.8" (29")
Tire Clearance:
91mm (sideways), 384mm (from axle), 11mm to seat tube (29", 3")
Shifting:
One-by only, 36t max
Cable Routing:
External/Stealth Dropper Post
Recommended Shock:
RockShox Super Deluxe L1/M
Material:
7075 T6 Aluminium
Weight:
3kg (Size M including hardware w/o shock
Colours:
Machined Raw
Geometry
The Machine is a beast. 29-inch wheels are matched with 160mm rear and 180mm front travel, planting the bike firmly among the biggest trail bikes available, but it doesn't stop there. 'Long and slack' as a label undersells this bike. The size large ridden features a 510mm reach, 63.9-degree head angle, 455mm chainstays, 1,335mm wheelbase and an incredible 79-degree effective seat angle*
*Actual seat tube angle of 78 degrees.
On paper, the numbers are similar to the GeoMetron G16. The equivalent sized G16, the longest, features a wheelbase that measures 1,328mm, compared with the Machine's is 1,335mm. The head angle on the G16 is 62.5 degrees while the Machine's is 63.9 and the seat tube angle is 77 degrees, two degrees slacker than the Machine. Reach on the equivalent G16 is 10mm longer; 520mm. How does it compare to bikes from major manufacturers? It doesn't… These bikes and those from a select few other brands are in a league of their own, dwarfing everything from major bike brands.

Initial Riding Impressions

After connecting with Leo about his plans for Crankworx Whistler, things got underway quickly. Once he arrived in Whistler we met with plans of a good pedal and no bike park. After initial introductions and formalities, I laid my eyes on a number of freshly built Machines. In the flesh, the bikes look incredible. External surface machining is beautiful. 
Though I'm a bit lighter, Leo and I weigh about the same and he set me up on his freshly built bike. Being his personal rig, it was built with all the bells and whistles; yet to be released Mavic wheels, the EXT Arma shock, Lyrik RC2 and blinged out gold SRAM XX1 Eagle cassette. Swinging a leg over the Machine, it felt similar in size to the size "longest" G16, though still different. The steep seat tube angle of 79 degrees provides a very forward bias seated position. Shorter in reach than my G16, the top tube and cockpit felt compact, though comfortable. Once going uphill, the aggressive seated position made it easy to control the front of the bike and Leo doesn't run a shorter fork offset. Add the 455mm chainstays and traction grinding up the loose, blown-out climb to Micro-Climate was excellent.



With the bike being freshly and quickly built for our ride, stack height for the stem was a little tall. On a bike of average geometry, the height would have become instantly apparent. But with the climbing position and great traction thanks to the placement of the rider mass, it was manageable. Nevertheless, we stopped to lower the stem, a move that really unleashed the beast. The only dilemma was during the single track portion of the journey to MC. Being over-sprung for me, there was some instability across awkward square edges. A more forgiving setup would have granted even more traction—which is hard to imagine—and allow the wheels to move over obstacles more freely.
Dropping into Micro-Climate traction was constantly apparent as was stability. The long wheelbase and more importantly, the spread of rider weight within, provided incredible composure down a trail that was completely blown to pieces.* I haven't ridden MC for a few years — blame Dark Crystal for that — but rather than it being an issue, the Machine made up for my mistakes and got down everything with ease. Any time there was trouble or a 'moment,' the balance of the Machine made it easy to trust the bike and let it go.
*We rode Micro-Climate the day of track walk for the EWS riders, but it was already a mess.



Being over-sprung, it was a harsher ride than I'm used to. I found myself getting caught on some of the square edges on the blown-out trail. Despite not sitting into the travel as I would prefer, the bike rode remarkably well, especially when pushing harder; it just beat me up a little. Even weight distribution and the stability this afforded made up for the DH race spring rate I rode. Leo also noted that his Pro EWS athlete, Leigh Johnson, was having similar issues despite being on his dialled setup, and they found the heat was causing some problems. After some damper adjustments, Leigh rode to a 32nd place finish.
After only one short ride, and without it setup ideally, I'm left intrigued about what this bike is capable of. What can the Pole Machine get away with if it was showing me the way without the perfect settings? A review bike for some thorough testing should be here later this year and I look forward to digging deeper. 
To find out more about the Machine, head to the Pole Bicycles website.