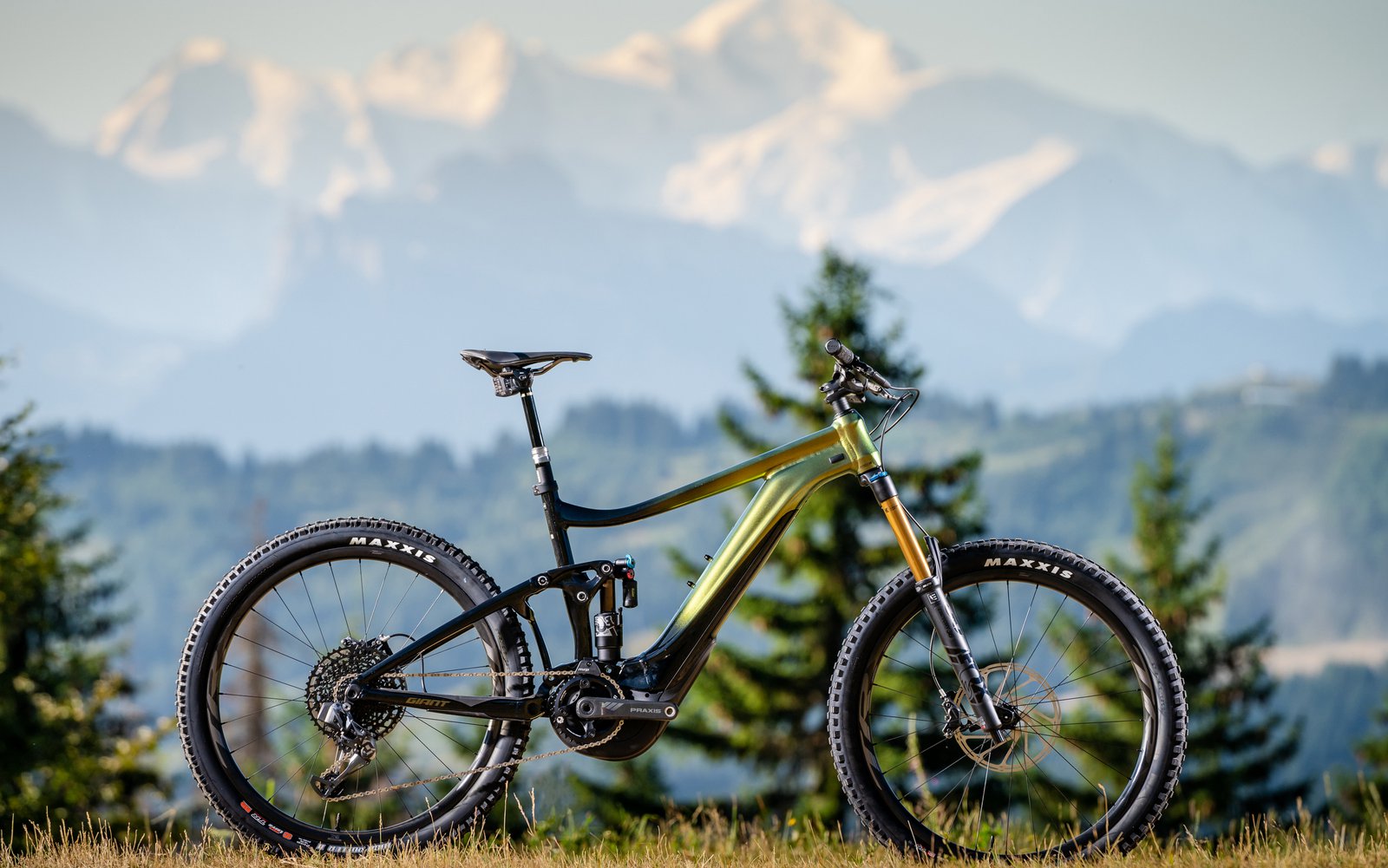 E-BIKES AREN'T MOTORBIKES
Riding Motorbikes in the Alps: Part 2
A warning. What follows is a few thousand words with little or nothing (some will say) to do with mountain bikes. "Why is NSMB writing about motorbikes?" you ask. Because they invited us to.
I could probably talk for a few thousand more words about motorcycling around the Alps on a Suzuki GSX-750. But, unfortunately, part of the deal is that I talk about the actual thing that I was flown over to France to experience. So, here is the story of me motorcycling around the Alps on a Giant Reign-E+.
Motorcycle #2 - The all new 2020 Giant Reign E+ 0 Pro
Powerplant - Yamaha SyncDrive Pro + Human power
Fuel - 500 W*h lithium-ion battery pack (electrons) (250 W*h range extender available)
Range -50 km (and upwards...depending on weight, temperature, riding style, settings, hair colour, etc.)
Weight - 24.5 kg (give or take...depending on size and trim...full fuel and fluids, no rider)
Suspension Travel - 170mm front (Fox 36 Float Factory), 160mm rear (Giant Maestro w/ Fox Float X2 Factory)
Frame - Giant Aluxx SL Aluminum
Geometry (XL) - 64.5 HTA, 76 STA, 497mm Reach, 620mm Stack, 469.5mm chainstay
Wheels - 650b front and rear, tubeless (Giant carbon rims with Maxxis Minion DHF/High Roller II 2.6" Double Down)
Transmission - 12 speed (SRAM eTap AXS)
Top speed - Terrain and slope dependent (estimated 80 km/hour)
Price - CAD 9,299 (as ridden) - There are options at CAD 6,999 and CAD 6,299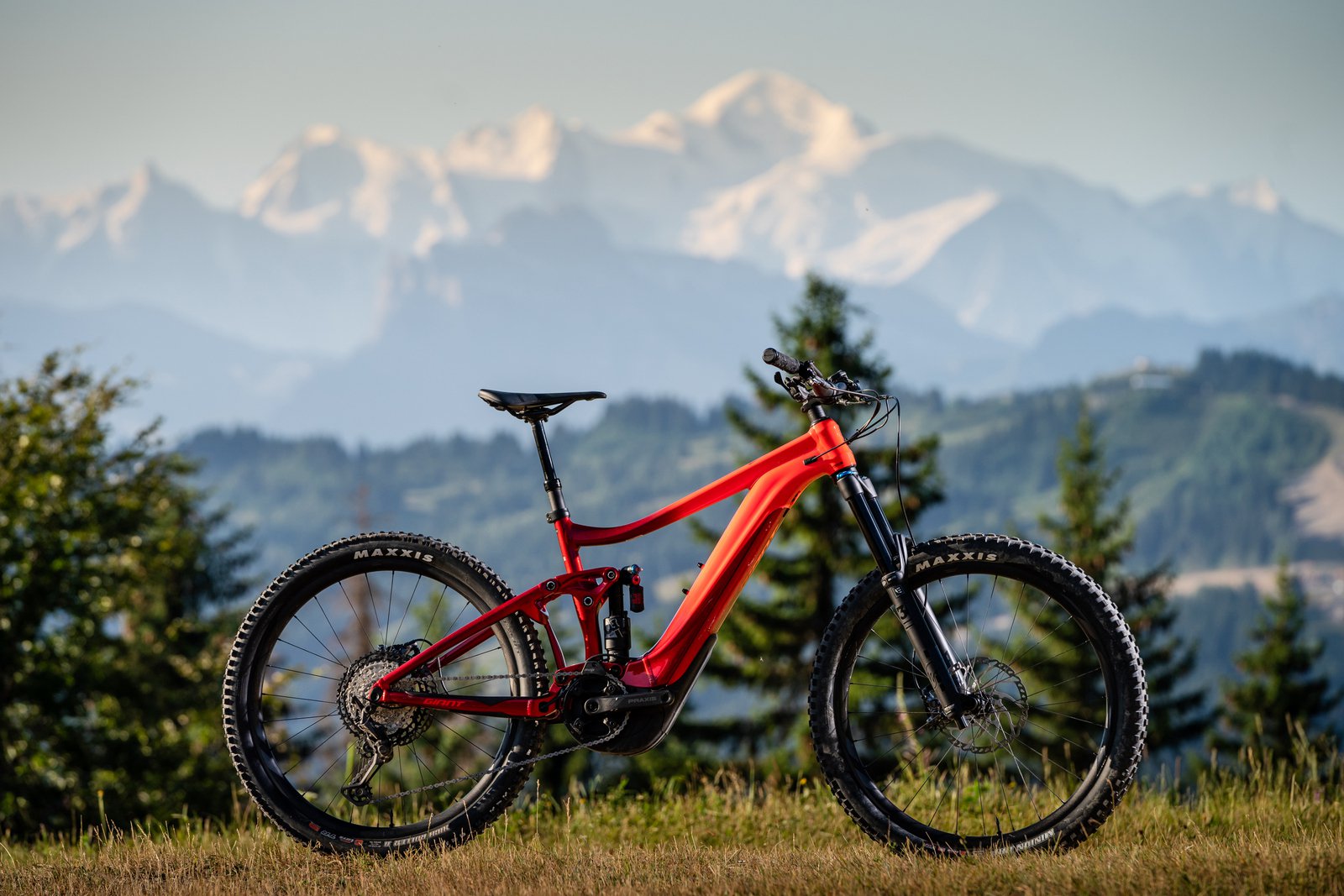 Junket Lesson #6 - Giant didn't want to spend much time talking about stuff either
This was just about the shortest junket time share presentation experience that I've ever experienced. We all grabbed a drink, trudged up to a sauna masquerading as a presentation room, and the fine folks at Giant told us about their new e-bike for about 30 minutes. Then we went downstairs, drank more beer, ate a small dinner, and went to bed.
These are the things that I punched into my phone while listening.
- Giant is responsible for everything from the batteries to the programming to the electronics. Everything that is, except for the Yamaha motor.
- Everything meets the EN5064 quality standard. I'm not entirely sure what this is, but I'm assured most other bikes don't and this is something that they are very proud of.
- The focus for this bike was on reducing weight, improving heat management and sealing, and on providing better electronic support in a greater number of scenarios.
- A lot of energy was put into Giant's "Smart Support" setting, as in utilizing power in a more efficient manner. There was much discussion about using the 6 sensors (including slope and acceleration) to give more and use less. There are 5 regular settings as well, but I spent most of the trip in "Smart Support".
- Everything is ANT+, and syncs up with a range of computers and other accessories (lights, 250 W*h range extender, etc.)
With that covered, let's talk about riding bikes and drinking beer in the Alps.
Junket Lesson #7 - I need to pay more attention
As is normally expected, Giant trotted out one of their pro riders to accompany us on our rides. And, as is normally expected, I proved to be the Tig Notaro of the mountain bike world, and I once again found myself introducing myself to the pro rider and asking them what job they held. "Oh...I'm...ah....I ride on the professional team."
This was even more embarrassing once I discovered that Josh Carlson lived in Vancouver for several years. Some website even interviewed him about this very thing, not that long ago.
Even worse, Josh knows the name of every single trail ever scratched in, anywhere, and proceeded to pepper me with questions about my riding habits and to fire off trail names that I've never heard of. "You ridden Goober Patrol yet? It's next to Scratchy, between Stinker and Blimp? No? What about Cat Rectum? Surely you've ridden that one? No? Sleezebag? Drowning Figure Skater? Plumpies Revenge? No?" I eventually just started agreeing with him.
In other Josh Carlson news, dude is honest! Like, way too honest. I kept digging deeper for even more absurd questions to ask and he just kept answering them! At one point, he refused to answer one (what is the one company that no professional rider wants to ride for). And then he did! In great detail! I figured somebody from Giant was going to stop him at some point. But they didn't! It was great fun. We talked about who's on drugs, what parts break all the time and what people are terrible. Man. I need to get better at taking notes.
Junket Lesson #8 - You might hate e-bikes, but they are an enabler of certain things
The ride the next morning started slowly. Some due to all the beer, some due to people just generally dicking around, adjusting things, and drifting away to gaze at sparkly objects. We finally hit the road...for a full 60 seconds before catching a gondola (which required a battery removal). Then we rode...for a full 60 seconds before stopping to take a photo. Then...well...then we rode off into the mountains.
I give full credit to Giant for not forcing too much out of anybody. We naturally split into groups, starting with "Fast guys and professional racers", all the way down to "Not sure why they got sent on this trip because they don't even really ride mountain bikes." I found myself lumped in with the "Surly speakers of English", lead by the "pre-occupied French guide with a short attention span", which felt like it was exactly how it should be.
And, once again, hats off to Giant for putting us in a place where we could put these bikes through a remarkably full range of what one might throw at them. The terrain around Les Gets offers up everything from mellow bike park meanders to boulder filled nightmares. It didn't take much time to figure out that this bike worked quite well in certain areas, and struggled in others. We'll get to that later.
The biggest thing that I took away from riding this bike (and riding a somewhat similar one last year), is that these things are enablers of adventure. I won't argue with you if you suggest that you don't need one, or that you don't want people riding your local trails astride one. What I would like to suggest is that there are places in this world where you can go and ride one of these things and do things that are impossible otherwise.
Yes. Impossible. I know that it is within the bounds of the human experience to ride 60-70-80 km on a 100% human powered bicycle through the wild and rough trails of the Alps in 35 degree heat. I know that you don't need a long travel Enduro bike to enjoy yourself on a downhill. But for me, and for many others, much of this would be impossible without a tool such as this. And this is why, despite the potential challenges and growing pains and battles and arguments, I refuse to write e-bikes off and am willing to consider their place in our universe. I respect that you might not agree, but I hope that you're lucky enough to do something similar to what I am about to describe at some point in your life.
Junket Lesson #9 - The Alps!
Our experience over the next several hours was almost exactly what I was hoping the Alps was going to serve up. We climbed over several mountains and hung out with cows. We plunged back down into valleys and scarfed down prosciutto and baguette and cold beverages at a tavern in the middle of nowhere. We climbed back up mountains and went back down mountains and climbed back up mountains and then went back down again. Then we (for some reason) rode in a bike park for a while, and then when the lift got shut down due to lightning, wind and rain, and it looked like we weren't going to get the photos of ourselves riding a bike in front of an Alp that we all came for, a group of us just decided to ride back to the top of the damn mountain again. The only thing missing is that we didn't go to Switzerland. I mean, how cool would it be to be able to say that we did all those things in two different countries on the same day?
So, yes, maybe e-bikes aren't what is required in your neck of the woods. But they feel like a tool tailor made for a place like the Alps.
Junket Lesson #10 - Bring some chamois
Honestly, it's been about 20 years since I've finished a ride with dual softball sized bruises competing for attention from each side of my bum cheeks. The next day was a calamity of errors, but the bruises on my ass made it so that I didn't really care that I only got 30km in.
Junket Lesson #11 - The bike
Okay. Maybe not a lesson. But perhaps what you came for?
The Reign E+ brought some surprises, that's for sure. First up, the SRAM AXS. When I first heard about this just prior to when it launched, I rolled my eyes so hard I could barely finish my beer and I started to tune Pete out for the rest of the night. Why on earth do we need wireless shifting? Don't even with the wireless dropper.
Which, makes it pretty surprising for me to admit that I may have been a little quick with my judgement on this. I mean, I'm certainly not going to spend the money to put this stuff on my bike, but it's pretty astounding what SRAM has done here. The shifting isn't perfect. I still don't understand what they're trying to do with the "trigger" button. But once you wrap your head around it being more of a "rocker" than a "lever", things work pretty well and it all just kind of disappears into the background. Just use your thumb for everything.
The shocking bit is the dropper. Like...no one would accuse the classic Reverb of being "simple", and throwing wireless electronic actuation into the mix is a whole other world of complication. But the damn thing works! Really well. Like...better than a cable actuated post. This is based on one-and-a-half days of riding, and who knows what happens a season or two in. But it's sooooo easy to actuate your post. I figured I would miss the tactile nature of a lever and a cable, and I figured it would be really difficult to figure out where things were at and when they were going to start moving without that mechanical feedback. But, it almost works better once that's removed! Crazy, I know.
The rest of the parts leave not much to complain about. Tires are Double Downs, which feels about right. And the rest of the parts are all fine, too.
Electronically, things are pretty smooth, as well. The bike is super quiet, and the e-assist kicks in rather seamlessly. I spent most of my time in the smart assist mode....and I have no idea how far that took me on how much charge. Somebody snuck in at lunch and topped my battery up. It's pretty hard to nail down most manufacturers on these sorts of things, but Giant is giving 50km as sort of their "worst case" range, with things improving from there if you treat it nicely. This seems conservative.
The bike itself. Well. The bike itself is a long, slack, enduro bike with 650b wheels and long chainstays. And I mean loooong. I was continually struggling to put the thing on chairlifts because the the rear tire kept dragging in places it wasn't supposed to. Comparing it to the new Reign 29er (@ 1265mm) the Reign E (@1303 mm) leaves it in the dust by a full 38mm! No wonder they went with smaller wheels!
Take all that length, add an extra 20 pounds into the mix, and what you get is a bike that likes to monster truck down rough terrain at fast speeds. Especially coming from a 120mm Ibis, the thing is a machine in the rough. There is a flipside to this though, of course. Where I struggled, was in the steep, slow switchbacks that Les Gets likes to throw at you at frequent intervals. Even with a lot of focus on not screwing things up, I still managed to throw myself on my head on a really steep and loose right hander. Don't get me wrong, this was gnarly stuff that I infrequently encounter on the day-to-day (our trails tend to go straighter down the fall-line), but we encountered a lot of stuff like this over the course of the day and it was impossible not to notice the challenges that this presented. A shorter stem and some more time with the bike would certainly help, but my feeling is that this bike wants to go fast and isn't all that interested in helping you figure things out at slow speeds
Moving along, I found that the rear suspension worked quite well. I worried that I had the rear set up too softly based on the amount of sag I was showing, but the rear end did a good job of resisting bottoming (not that I was pushing it to its limit). Forks are always a challenge on these brief bike experiences. I'm assuming this one came with the stock number of bottom out tokens, which is generally too many, and leads to something that is truly "bottomless", in the very literal sense of the word. I decided to forego any sort of quest for full travel, and ran something that felt about right. Others took the "softer than a marshmallow" approach. It's tough to read too much into things without putting more time into your fork set-up.
No bike is perfect everywhere. This one seems most interested in taking you to memorable places with fast and challenging terrain.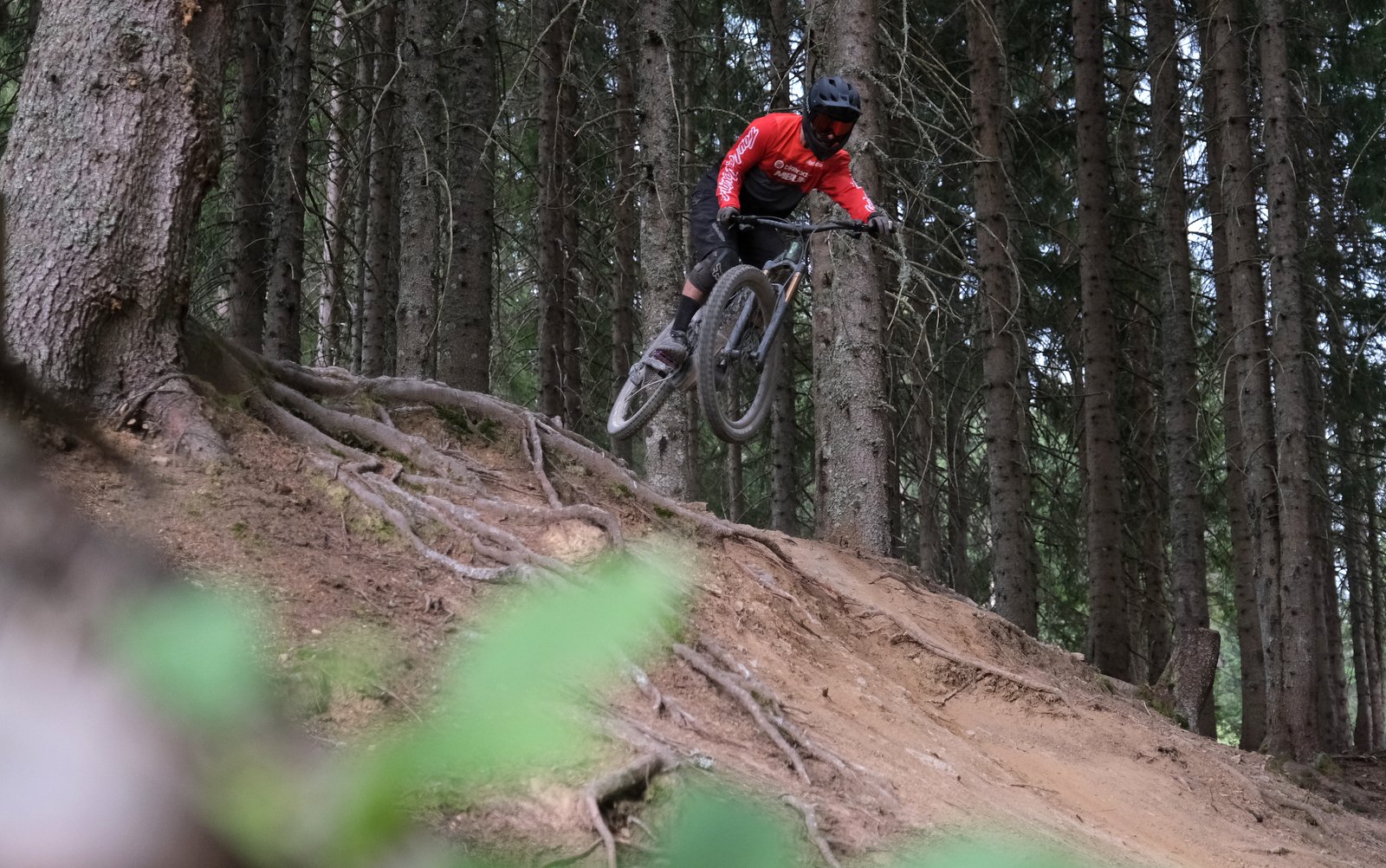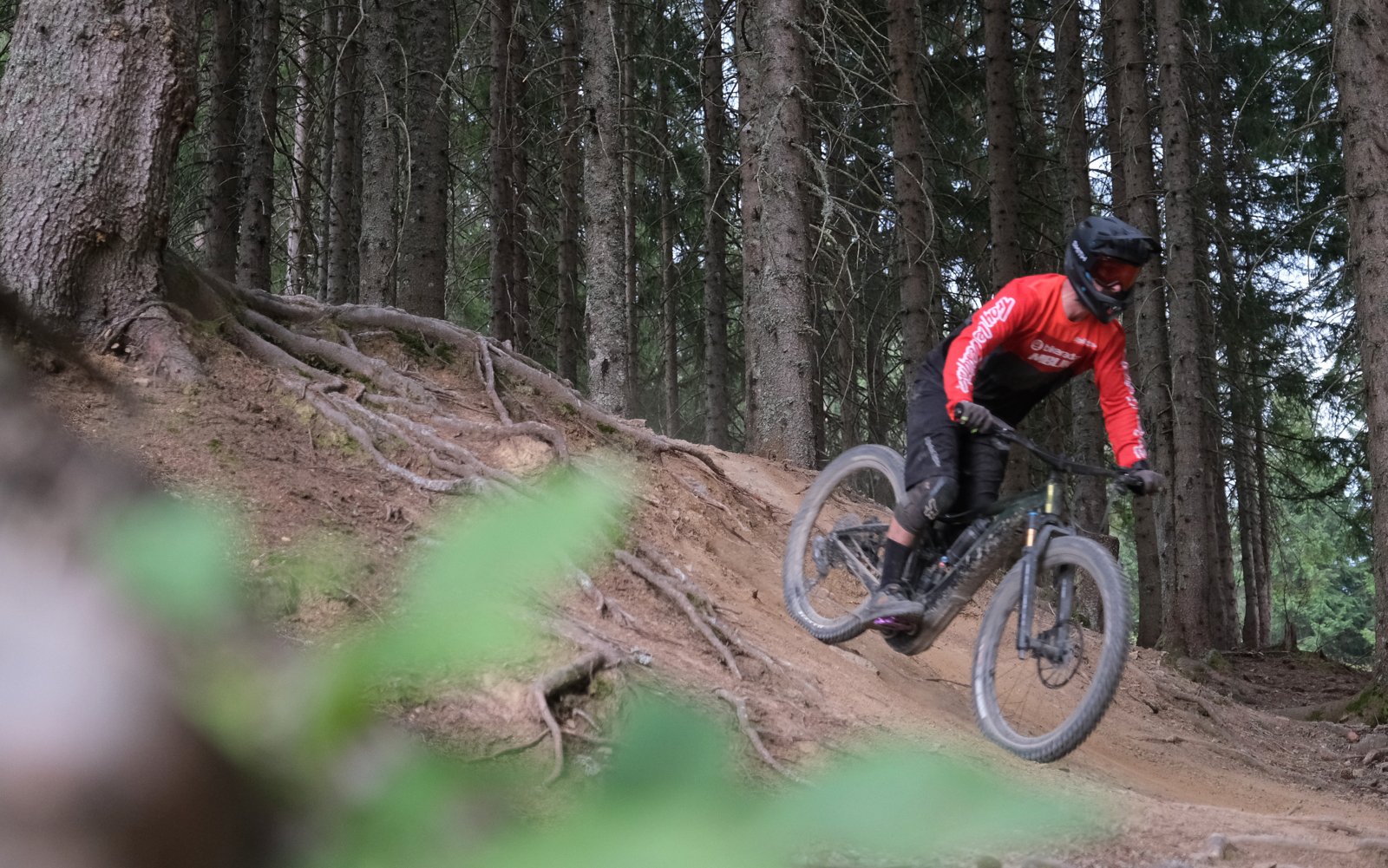 In Conclusion
Honestly, a year ago, I embarked on a similar journey to ride a similar (though shorter travel) bike and I really, really questioned the whole thing before I left. I thought the bikes were kind of kooky, and they weren't something that I had ever seen on my local trails, and seldom saw in local shops.
A year later, and my thoughts are quite different. I still think the bikes are a bit kooky, but I'm starting to see them all the time on my local trails, and all over the place in local shops. I still do worry about what might happen to local trails with more widespread adoption. Travelling around Europe, you see these things all over the place. Talking to other journalists and sales folks, and they're popping up in huge numbers in unexpected places (there's rumours of huge numbers of sales in Australia, for example).
Honestly, I wish that I lived in a place where these things were accepted, and where it made sense to own a bike like this. I imagine a life where climbing into rugged mountains for hours followed by a gnarly descent is a regular occurrence and not a once-in-a-lifetime (or at least season) sort of thing. This would not be a bad thing, in my mind.
A few of you are for sure going to come at this article guns blazin', and that's okay. It's not unexpected and I understand the worry. However. By all indications, they aren't going anywhere. Other places have them in droves. Other people are learning how to live with these things in relative harmony. Pretending that they don't exist or shunning anybody that dares to talk about them probably won't hold back the tide. But maybe I'm just an e-bike apologist now, in the pocket of big bicycle? It's certainly getting harder and harder for me to claim outsider status, these days.
Anyhow, hopefully we'll see you back here again in a few months once you've un-given up on us sad little clowns and our sorry little website!