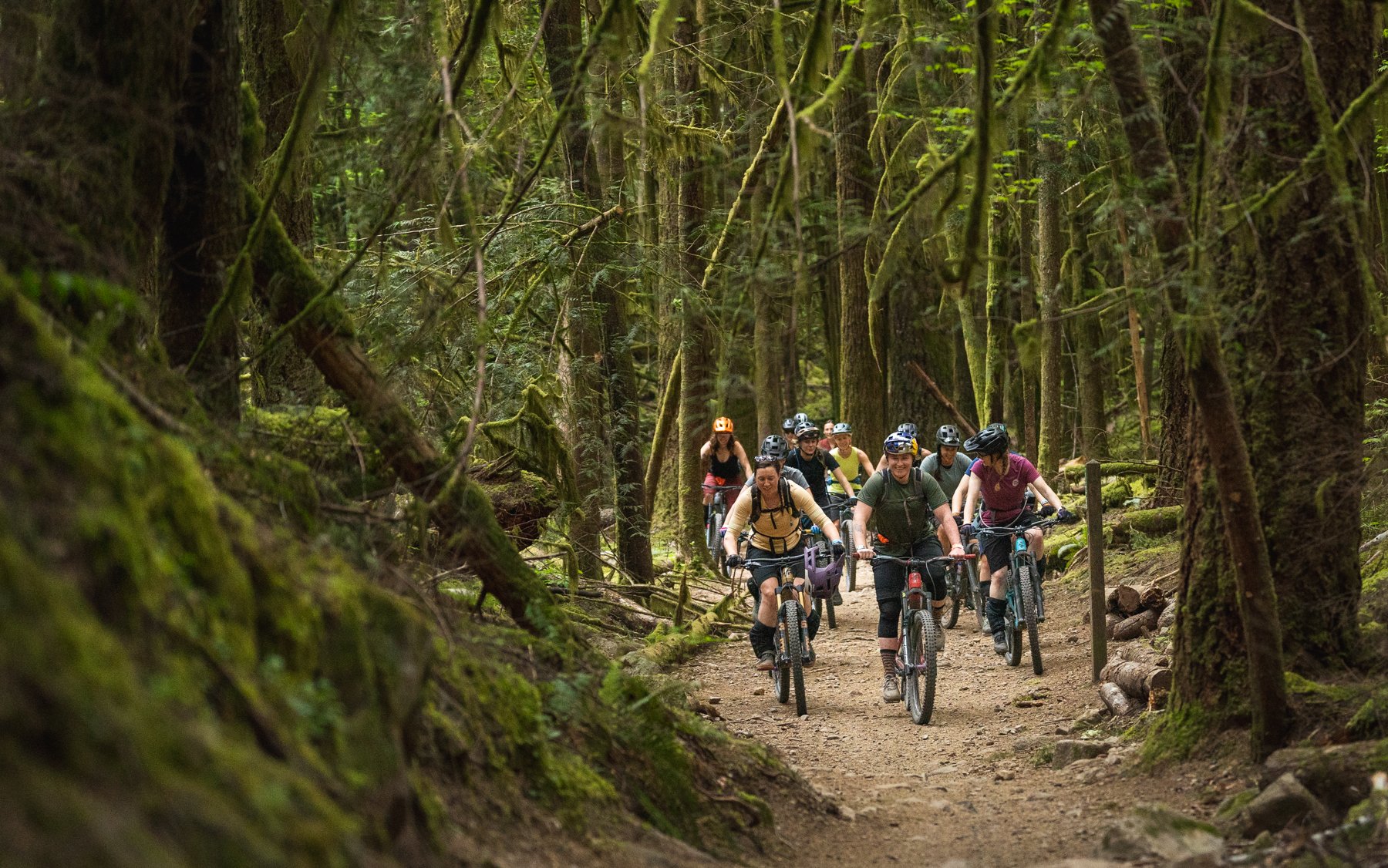 Event Report
RIDELAB Women's Mountain Bike Festival
This May, the stunning trails of Squamish were the scene of a first for our Sea to Sky community: a large multi-day female-focussed celebration of mountain biking, community and connection; RIDELAB!
RIDELAB is the brain (and heart) child of Lisa Au and Karen Stark, two women who have been instrumental to the success of BC Bike Race, MegaVolt and the BCBR Gravel Race. Karen and Lisa dreamed up RIDELAB several years ago and have used their combined experience to plan and execute this first edition. I know Karen from her time contributing to the Ride Like a Girl board and have been excited to see her dream to turn into reality through tenacity, hardwork and a lot of belief. I participated in this year's event as a sweep for three days, to get a sense of what RIDELAB was all about and then share my experiences.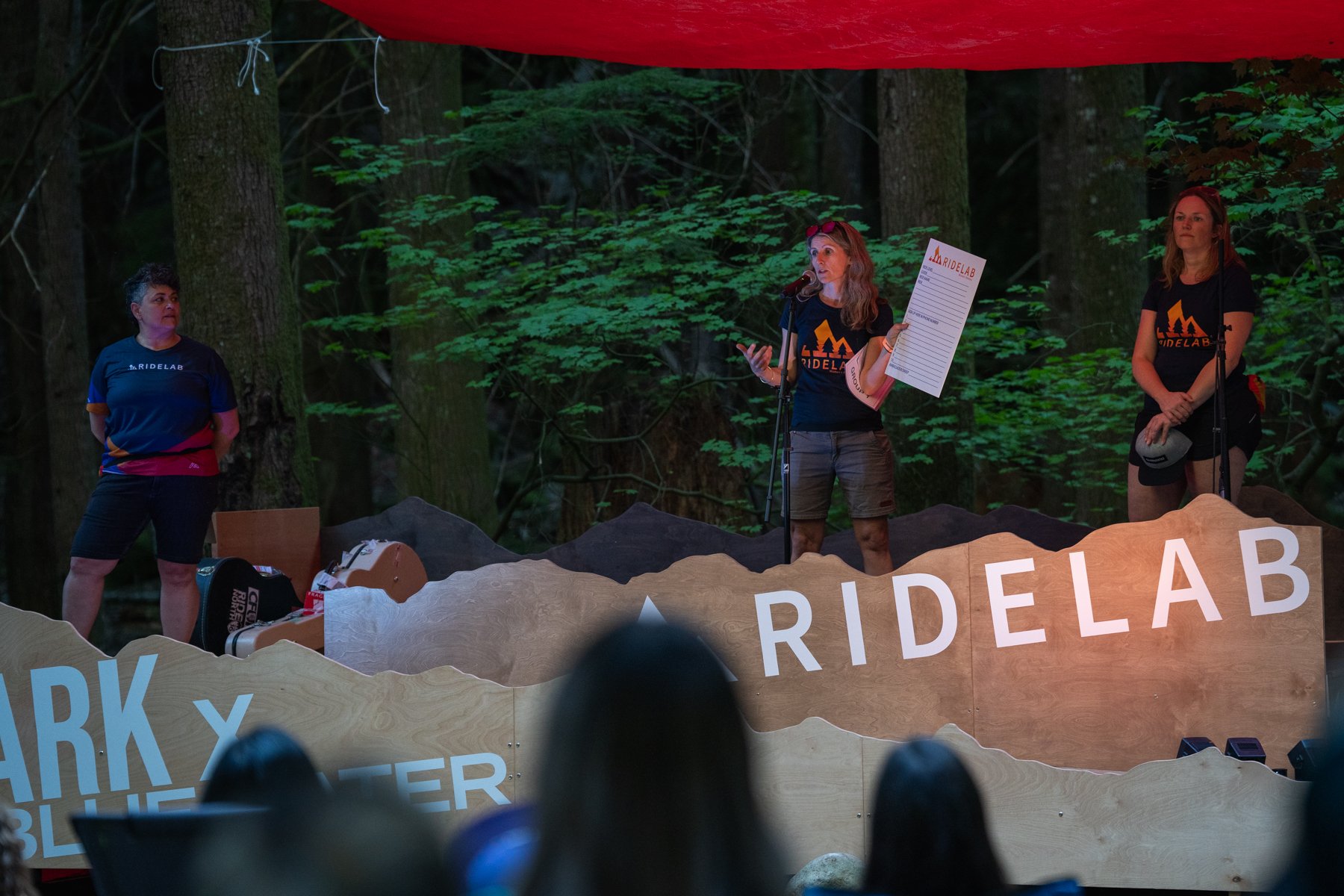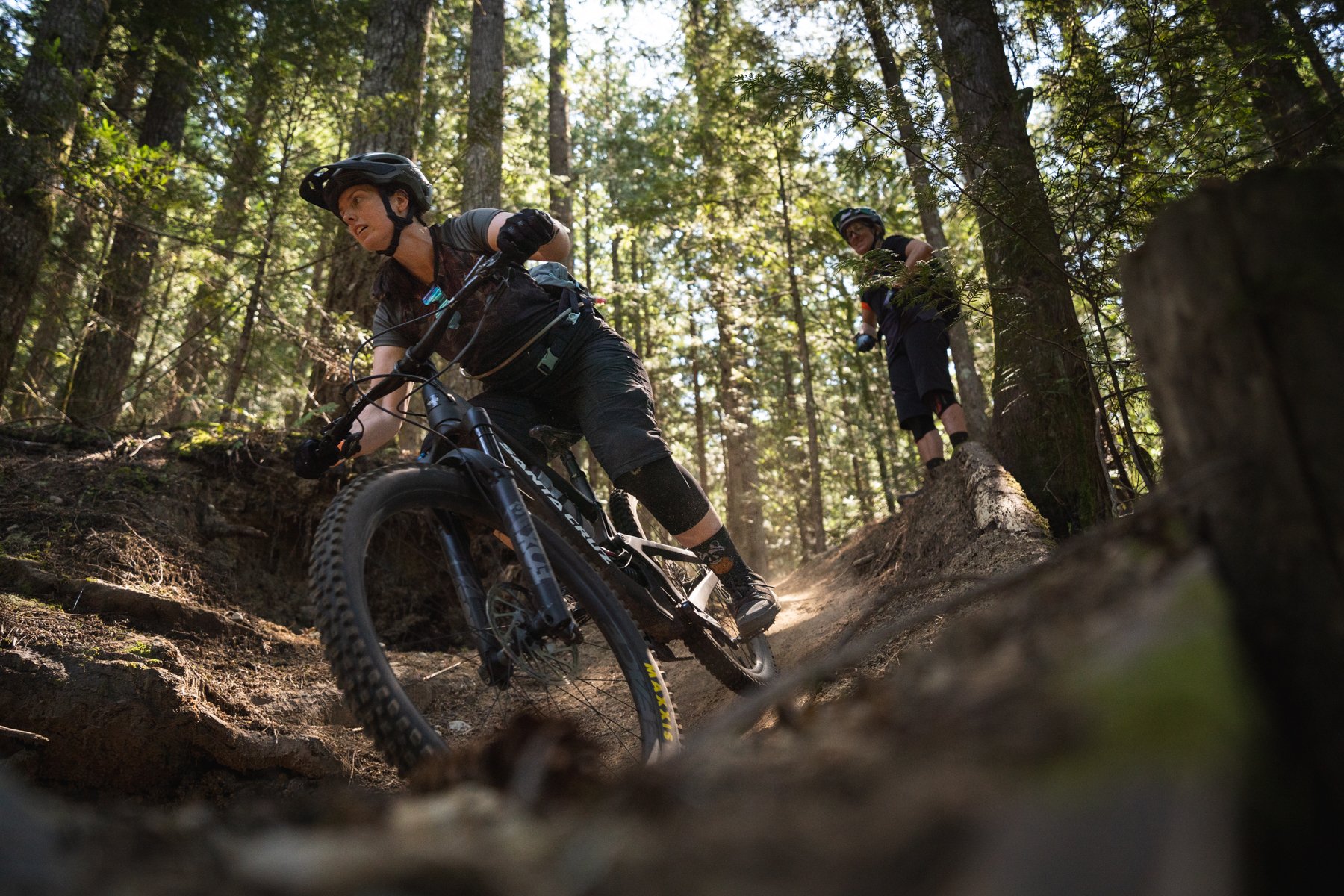 While RIDELAB is a mountain bike event, the experience was packed with so much more; community building, education, empowerment and growth. It was also filled with uplifting voices and experiences from others in our community who get centre-stage often enough.
The first RIDELAB happened Monday – Thursday, May 15-18th, in Squamish, with 150 registered female riders and dozens more guides, sweeps, staff, organizers and volunteers. Hosting the event mid-week seemed odd to me at first, but once I was out on trail it made so much sense. Quieter mid-week trails allowed for uninterrupted riding, sessioning features, and amreduced impact on the local riding community.
MTN Fun Basecamp was the hub of it all, with self-catered camping and all activities starting and ending at the site. In addition to three days of riding, the festival included live music, tech talks, bike demos, pre-ride yoga, a panel discussion, several pro-athletes sharing their stories and tips, a movie night and of course a closing night dance party. After long days on the bike there was daily-sponsored aprés, the opportunity to enjoy a sauna and cold plunge or sign up for massages by donation. A rotating selection of food trucks were also at the event every morning and evening for those that just didn't feel like cooking, as well as mechanical support from Dialed Service and first aid support from Canadian Outdoor Medical Consulting.
Several bike companies brought their demo fleets to the event for riders to check out, including Bowhead Corp. which brought several motorized adaptive bikes. Other brands and local artisans were present in the vendor village, including RIDELAB-themed pottery, custom wood burning art from Goose Rock Creative and beautiful trail-themed paintings from Joanne Hastie Art.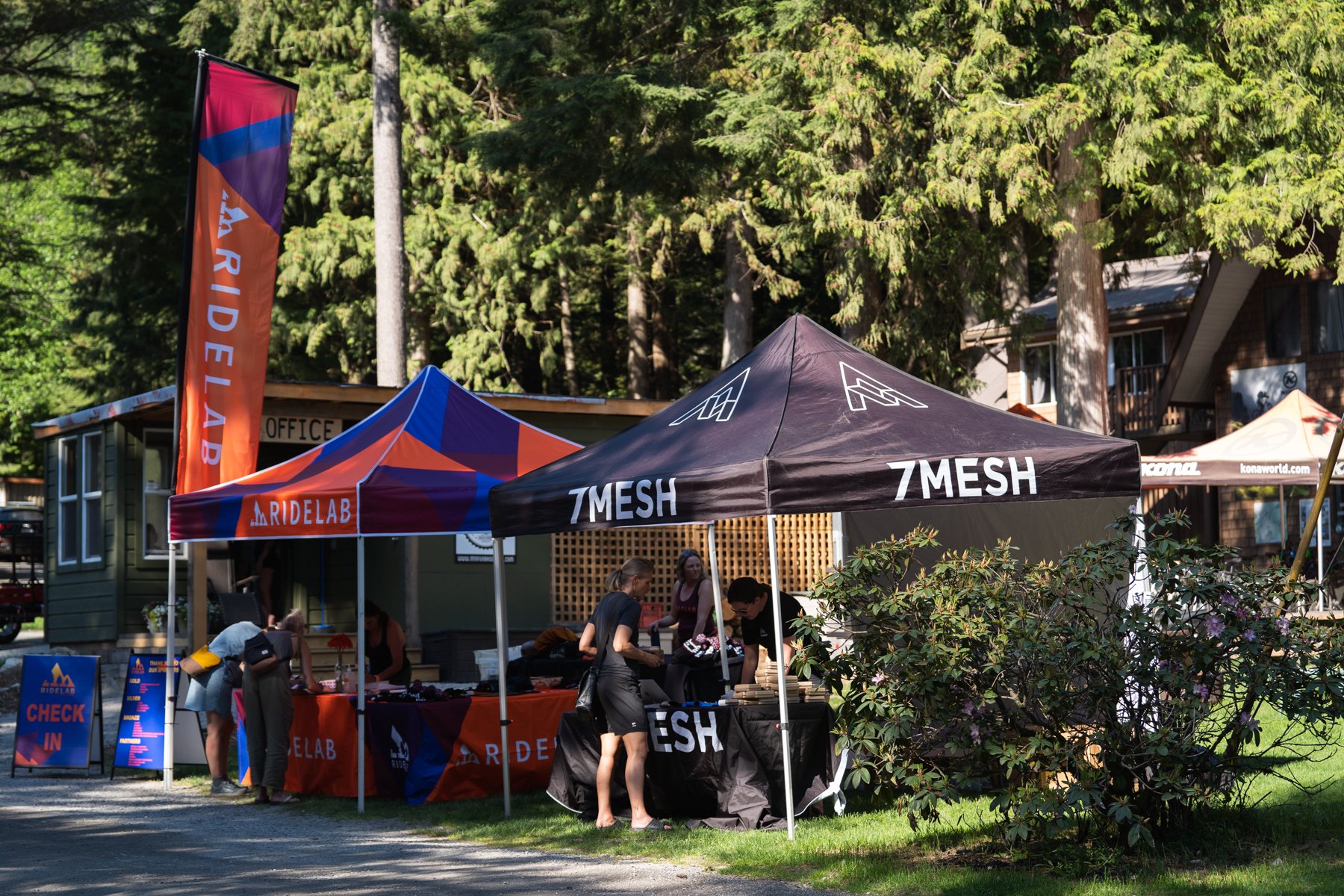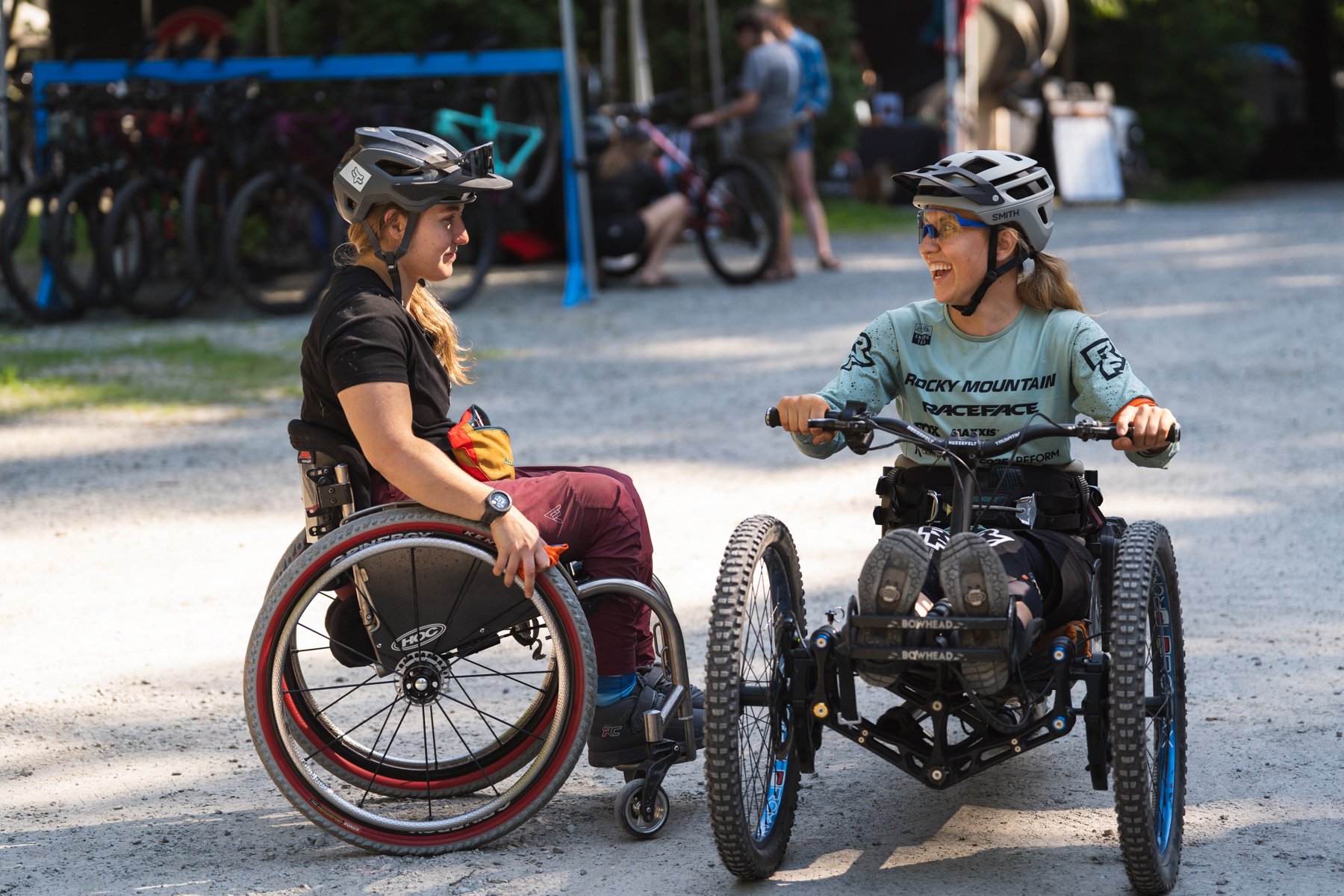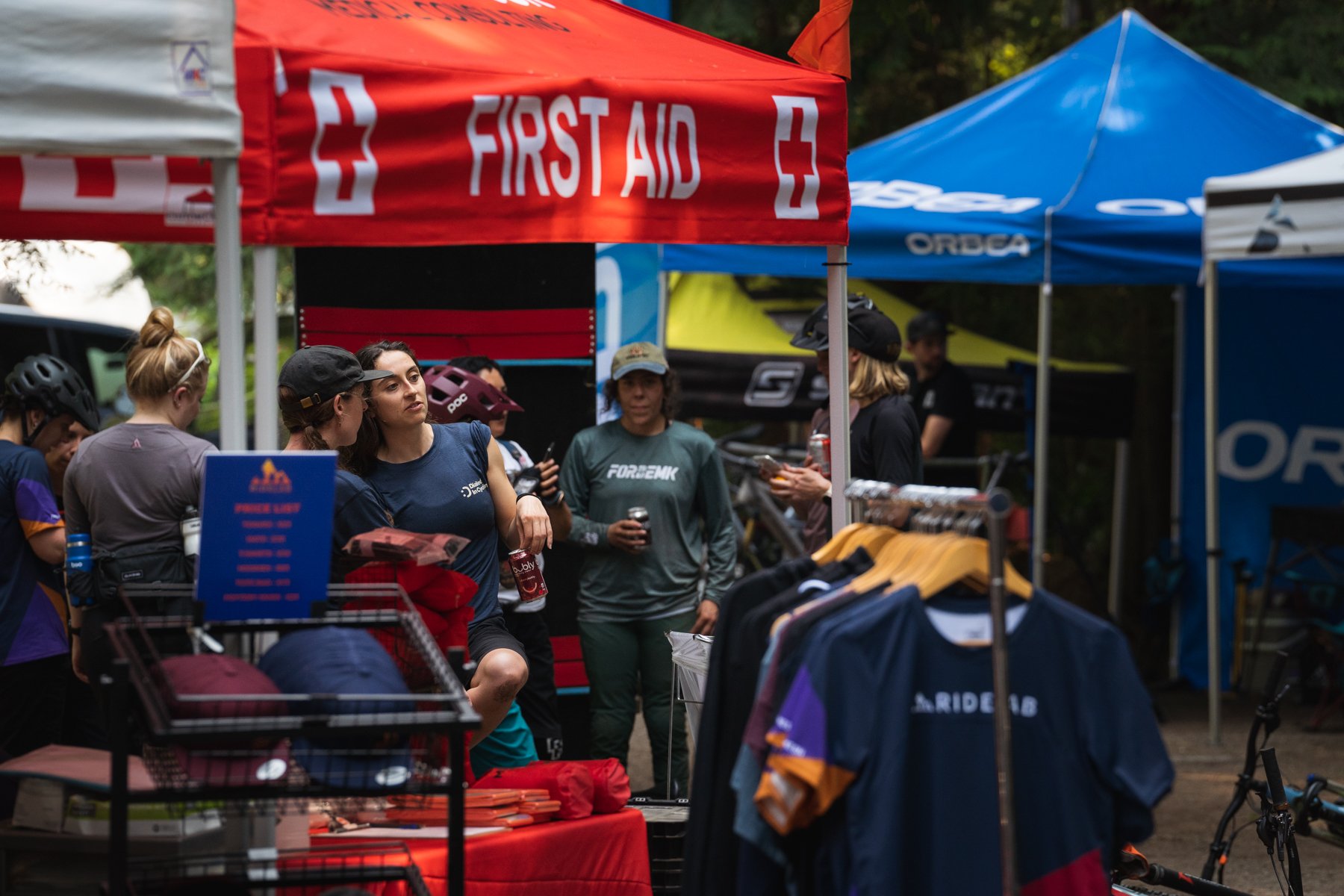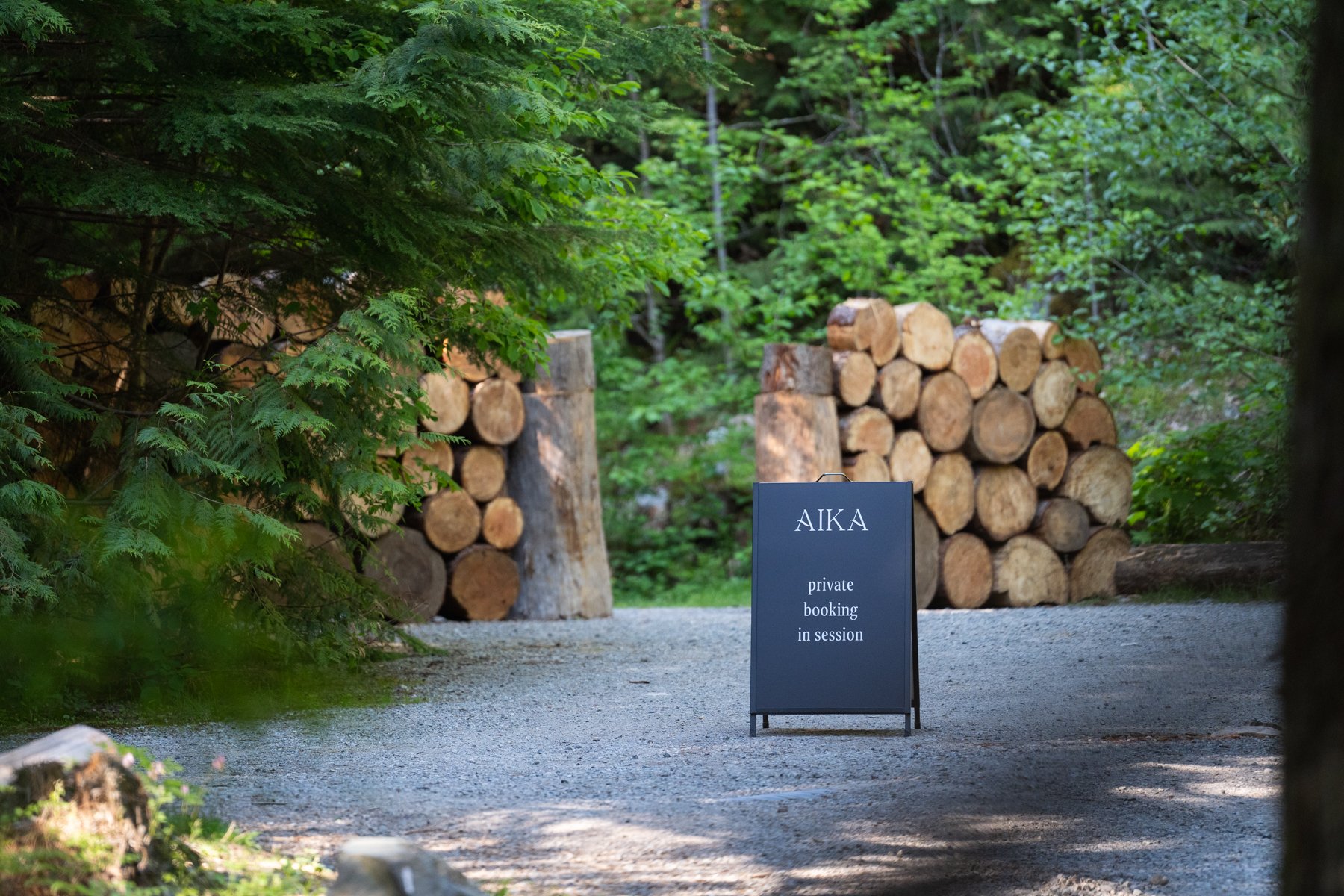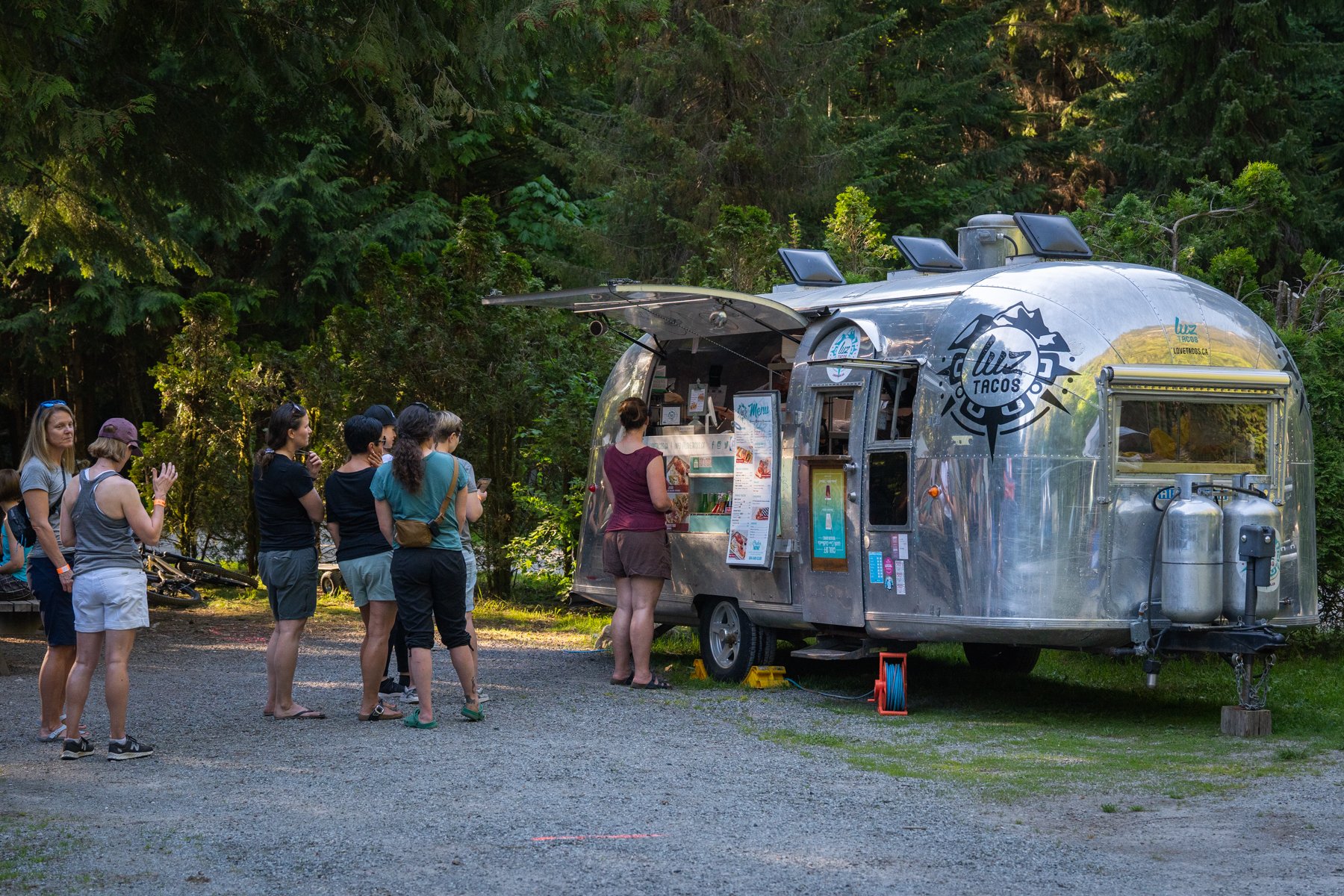 Riding
RIDELAB organized their rides without sign-ups ahead of time. Every evening, before a ride day, the ride boards went up and everyone crowded around to strategize. There were five ride categories to choose from: E-bikes, Adaptive Bikes, and three Analog groupings with beginner, intermediate and advanced options. Within each of the three "analog" ride groups there were rides catered more to those who wanted to pedal a lot, preferred a chiller uphill pace, or maybe were seeking a shuttle that day. Each ride board told a story – who was the guide and sweep, what trails were going to be the focus, and the style of riding. Did you want tech, jumps or flow? Riders' choice, every day.
Each ride featured a guide with PMBIA certification and a knowledge of the local trails. Most of the guides were local Squamish coaches and instructors, all amazing and excellent at what they do, with some special guests sprinkled in like Hannah Bergemann, Katarina Nash and ALN. There were also lots of local and special guest sweeps out with each group – brand ambassadors, pro-riders and even some "normals" ...like me. Most rides were capped at 8 riders, with a few rides exceeding 8 if extra sweeps or guides could be added.
Rides ran from approximately 9 to 3 each day, but the week brought the HEAT so these times were not strict, and sometimes included a lake stop or creek dips to keep cool. With rides having both guides and sweeps, there was also the option to cut things a bit shorter if some of the group was angling more towards a lake jump, but the others still wanted that one more trail. I don't think anyone left this week feeling like they were short-changed on riding time. I participated as sweep on three advanced rides during the week, and I was definitely happy to take a day off my bike on Friday.
RIDELAB isn't a clinic, it's a ride festival, but I could see growth, improvement and coaching happening all around me. The energy of being surrounded by other women wanting to try new things is infectious, and the guides are all natural coaches who want the best for their groups. So many participants came back from each ride stoked on a new thing they tried, a feature they finally rode. Confidence and excitement grew each day. I know it all sounds a bit cheesy, but it's so rad to see people get that boost, and when women see other women conquer a fear or face a challenge, it helps everyone rise together.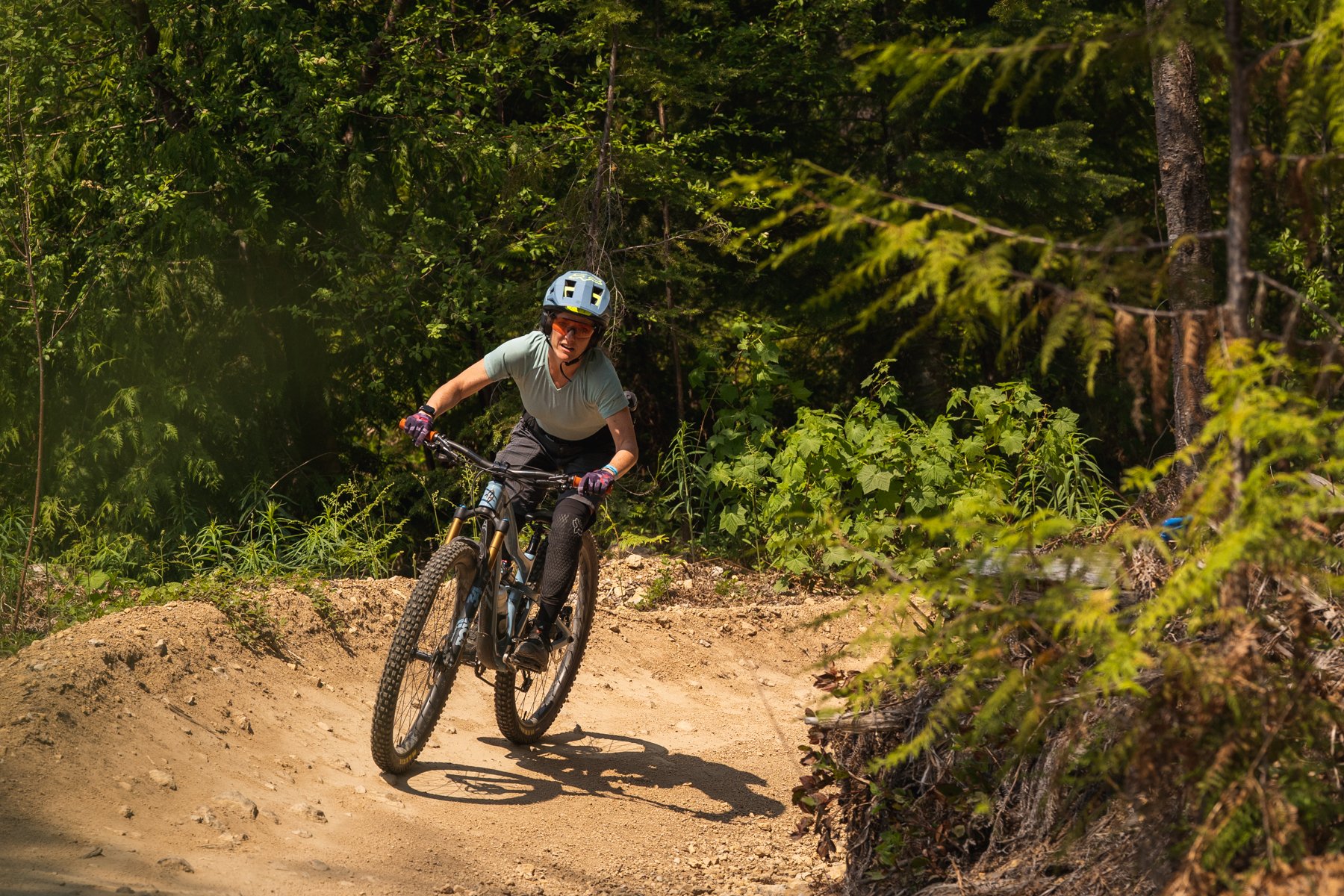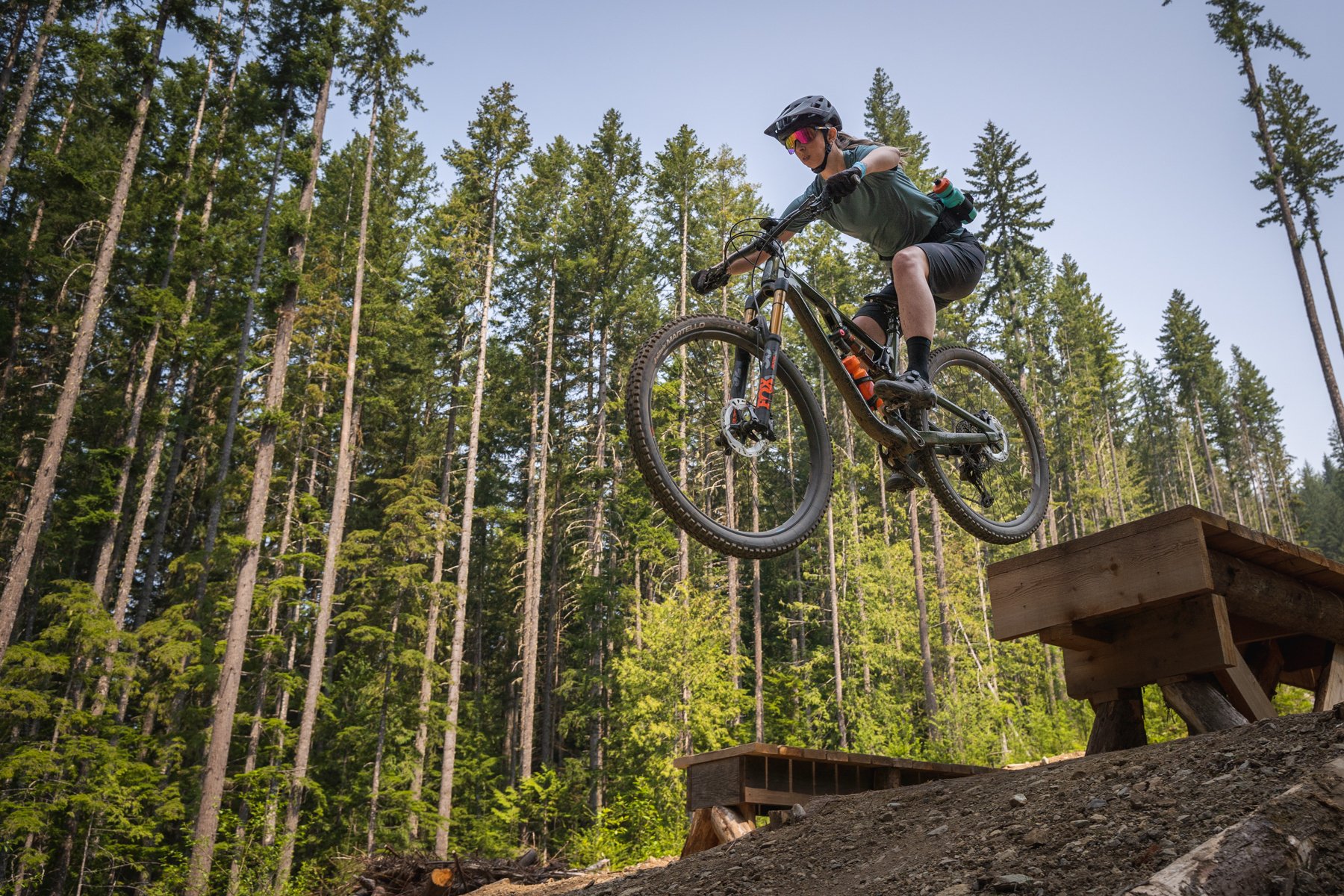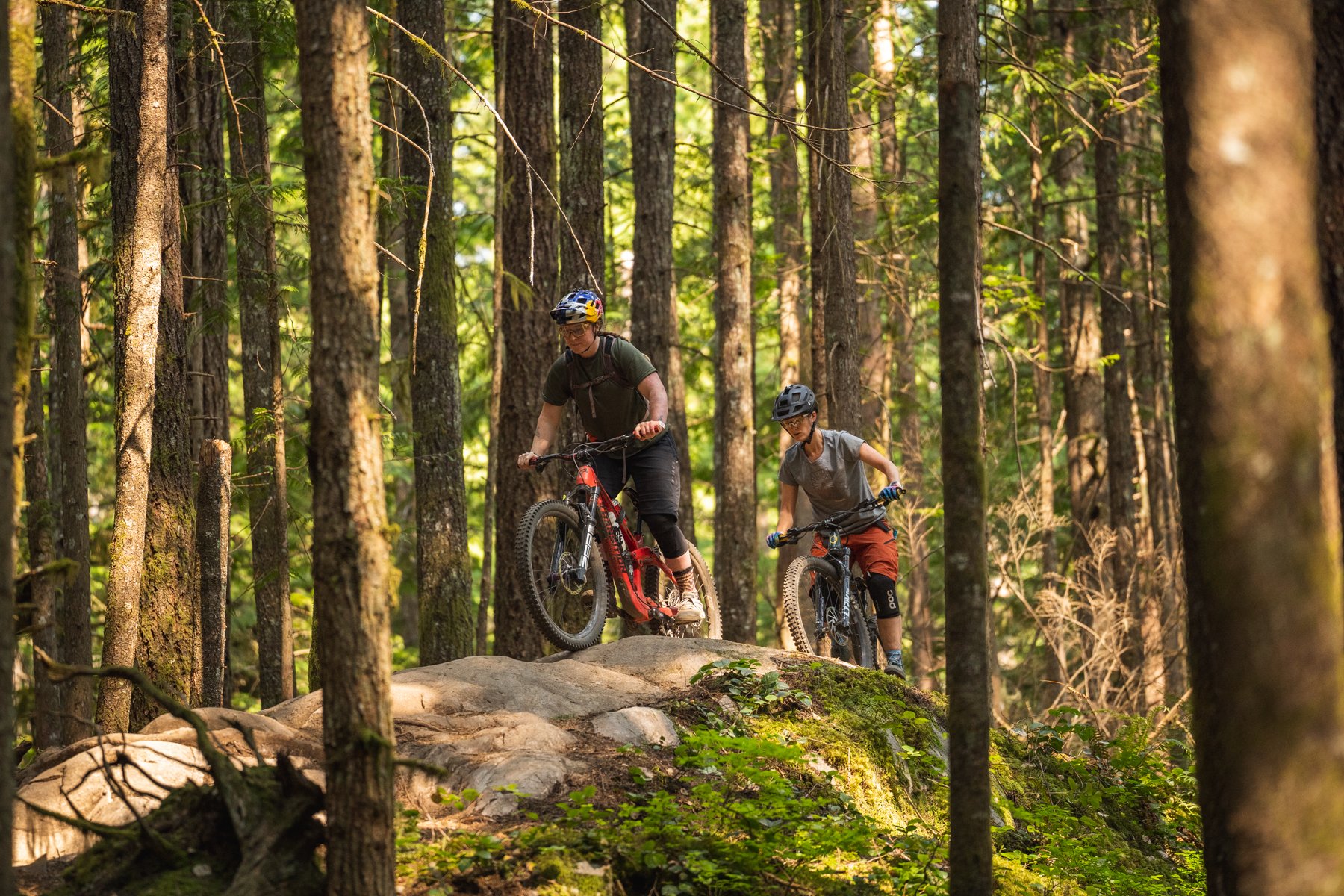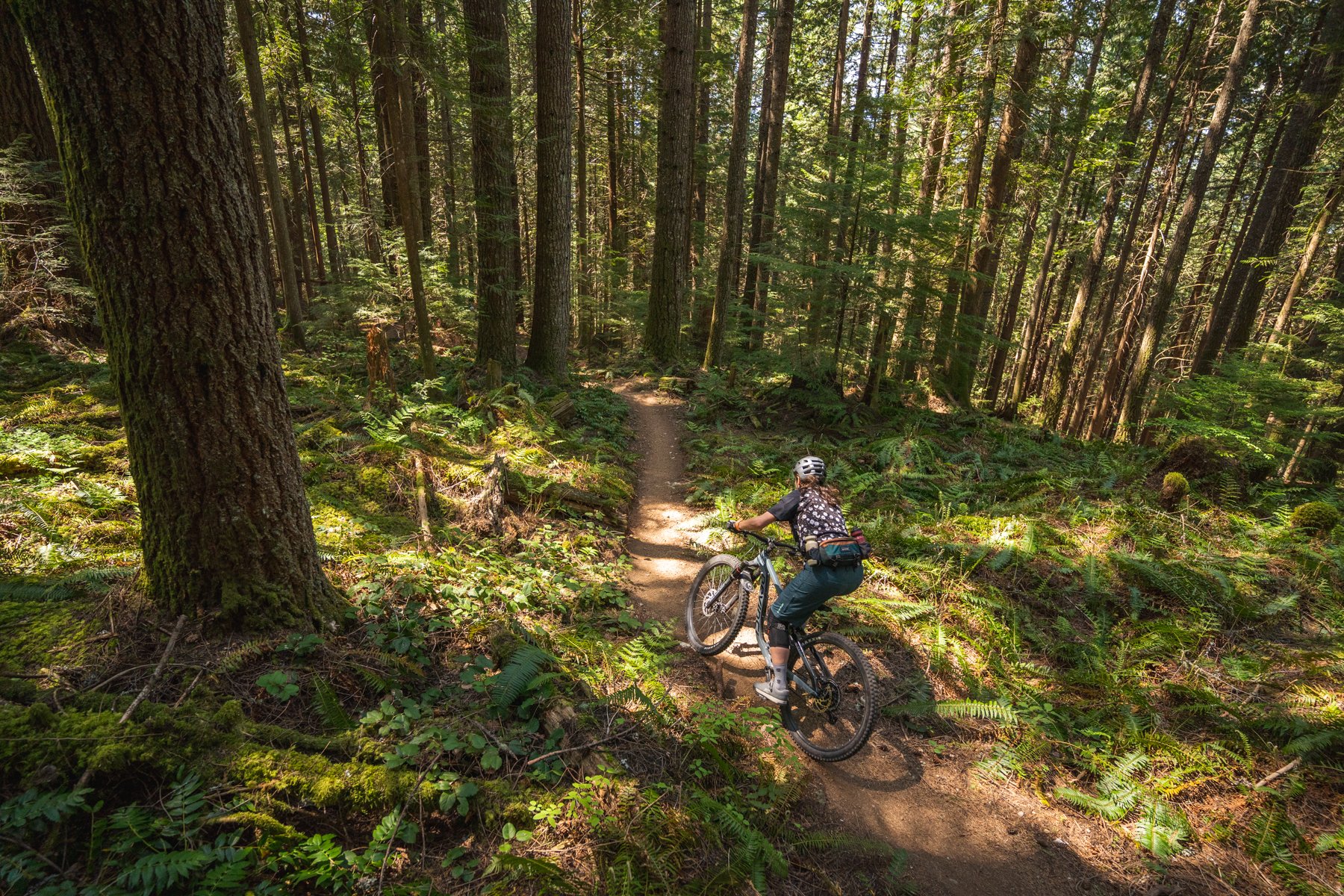 Off Bike Activities
On top of three solid days of riding, there were ample opportunities to learn. Each evening featured tech talks and a special event afterwards – there was never any shortage of things to do. Most of RIDELAB was MC'd by the hilarious, edgy and effervescent Debora De Napoli. She put so much energy into her MC role, I think I'd still be napping.
Tech talks covered the things you would expect like bike set-up and maintenance with Ash Kelly giving talks on suspension set-up and brake bleeds, learning about the magic of e-bikes from Kelli Sherbinin and Elladee Brown, and information from sponsoring brands such as 7Mesh and RaceFace, but the talks also dove into some other deeper topics.
We heard a very personal account and got a lesson in breast cancer screening from cancer survivor Amalie Gunn, mental preparation and focus tips from everyone's riding crush Hannah Bergemann, and a deeply vulnerable and raw talk from Flo Espiñeira on their journey to become the professional Orbea rider they are today and the many obstacles that Flo faced growing up in Chile as someone who didn't conform to gender and identity norms. All the talks were excellent, but Flo's account really left an impression on me. The vulnerability and openness Flo showed in sharing their story to such a large group was truly incredible and inspiring.
After a lively and interactive welcome ceremony on Day 1 with Dominique Nahanee of the Sk̲wx̲wú7mesh nation, we were treated to the musical talents of Rachelle van Zanten, a roots, blues and rock guitarist who kills it on slide guitar, has a great voice, and loves to mountain bike.
The second ride day was the most packed with a panel discussion about place and inclusivity featuring Michele Lobo from Indigenous Women Outdoors, Anita Nadu who has too many accomplishments to list and include being a pro-rider and outspoken anti-racist activist, Moniera Khan, an absolute light of a human being and adventure athlete focussed on all-body inclusion in sport, Betty Burrell the legend otherwise known as North Shore Betty, and Sierra Roth, a paraplegic mountain bike and motocross athlete who is a complete badass and advocate for getting more "butts in chairs". The panel talked about inclusion, personal challenges, victories, place in sport, and shared such varied experiences and perspectives that every single person in the audience was left with something new to think about and consider.
Movie night featured films from several of the RIDELAB speakers – the Debora Effect, North Shore Betty and Inseparable: Myia.
If three days of riding didn't wear out the participants (and sweeps and guides 😉), Thursday night capped off with a raging dance party featuring DJ Foxy Moron from Whistler that brought out all the moves. I personally left with a few birkenstock blisters from all the grooving.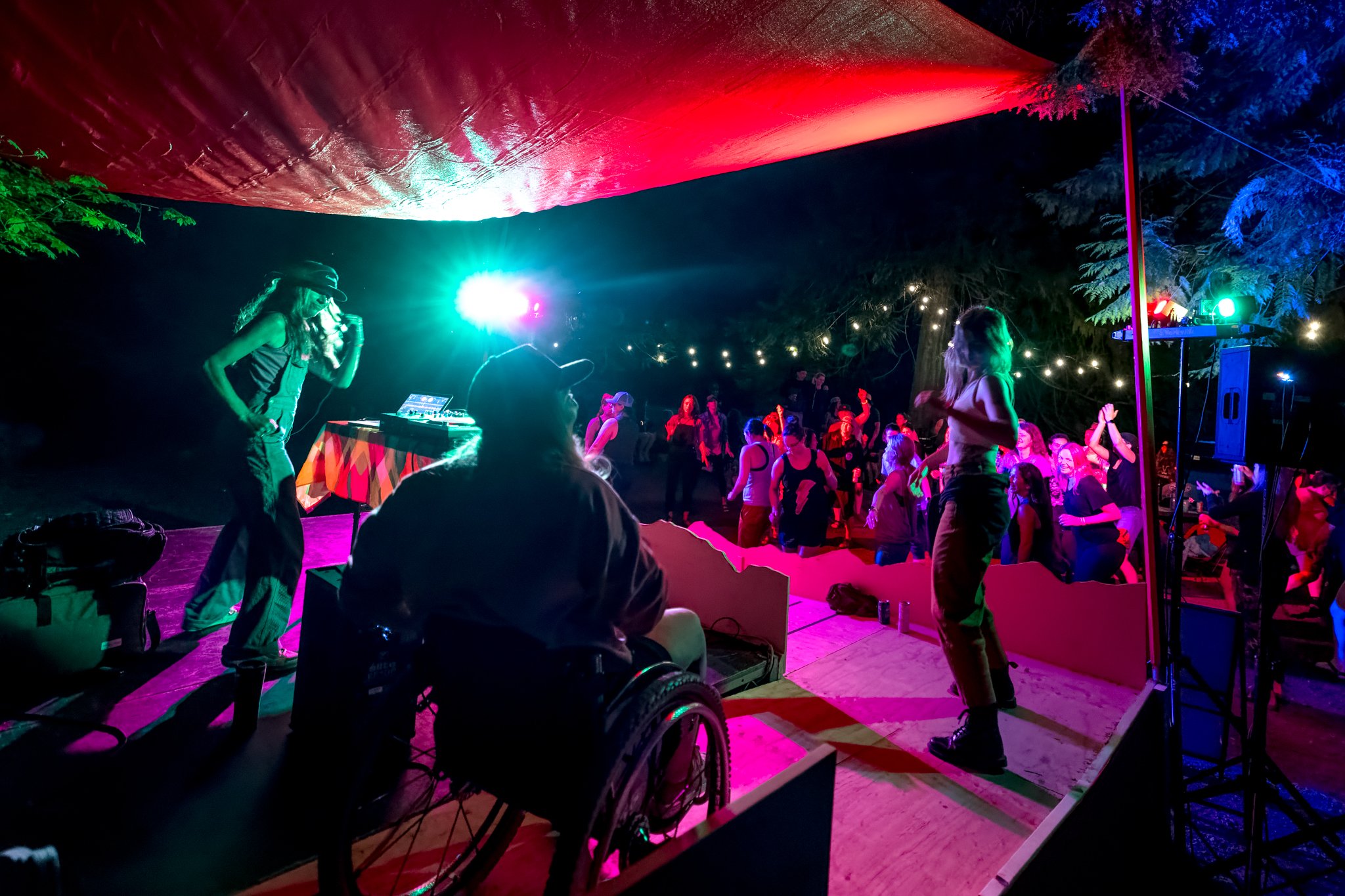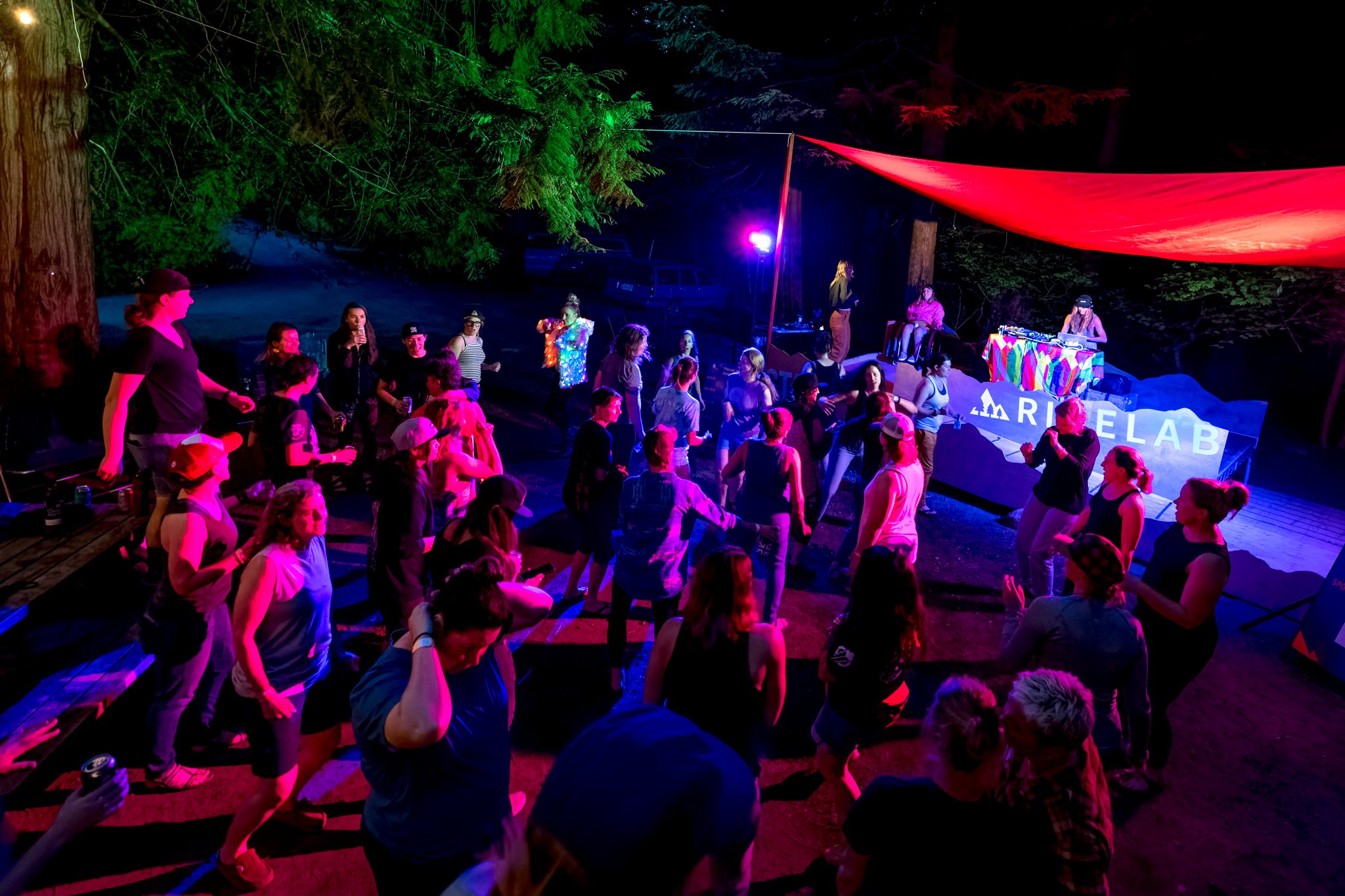 Community
RIDELAB focused on supporting three different community organizations through committing to donate a portion of the proceeds from the event to Indigenous Women Outdoors (IWO), Ride Like a Girl and SORCA (Squamish Off Road Cycling Association). In addition to monetary support, we also saw several IWO Board members participate in the event as speakers and guides, and the massages by donation were to the benefit of IWO. A trail day with SORCA was on the calendar for Friday of the week but there was not much promotion of the trail day as part of the event, so it would be nice to see a trail day receive a bit more focus in subsequent years.
Being a women's mountain bike festival, RIDELAB definitely had a focus on highlighting women in the guiding, mechanical, photography, first-aid, technical and organizational roles. There were also several men who played key roles at RIDELAB, contributing video and photography skills. Dan Libman from Dialed in Cycling was lead guide and several event and brand staff offered mechanical support and ran bike demo fleets. I saw some male partners at apres events, or milling about and I really liked the vibe this created. RIDELAB is all about women riding, supporting each other and growing, but I really appreciated that the event never took the approach that women need the absence of men to achieve that. Everyone at the event was welcome, supportive and friendly, creating a happy environment all about good times and celebration!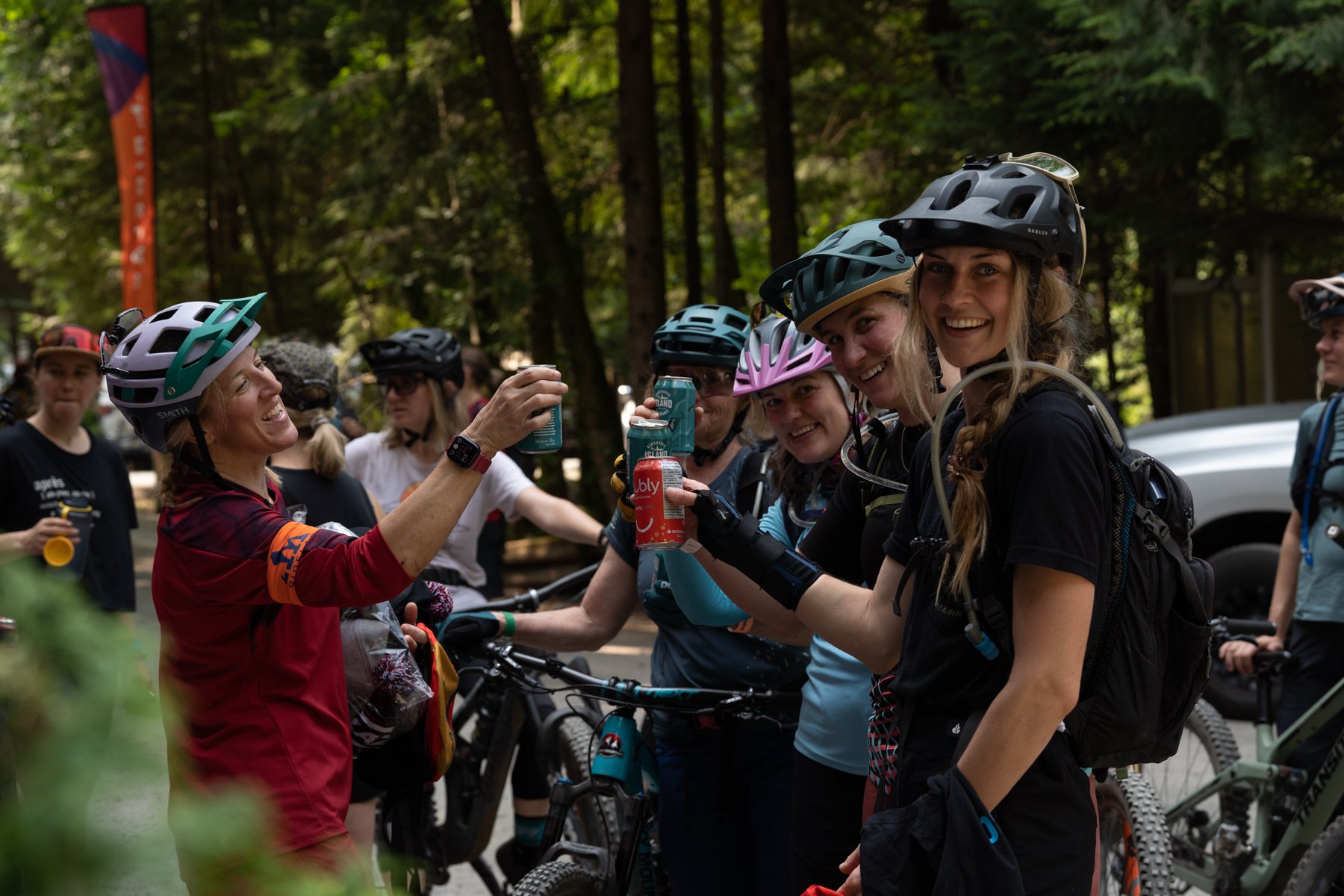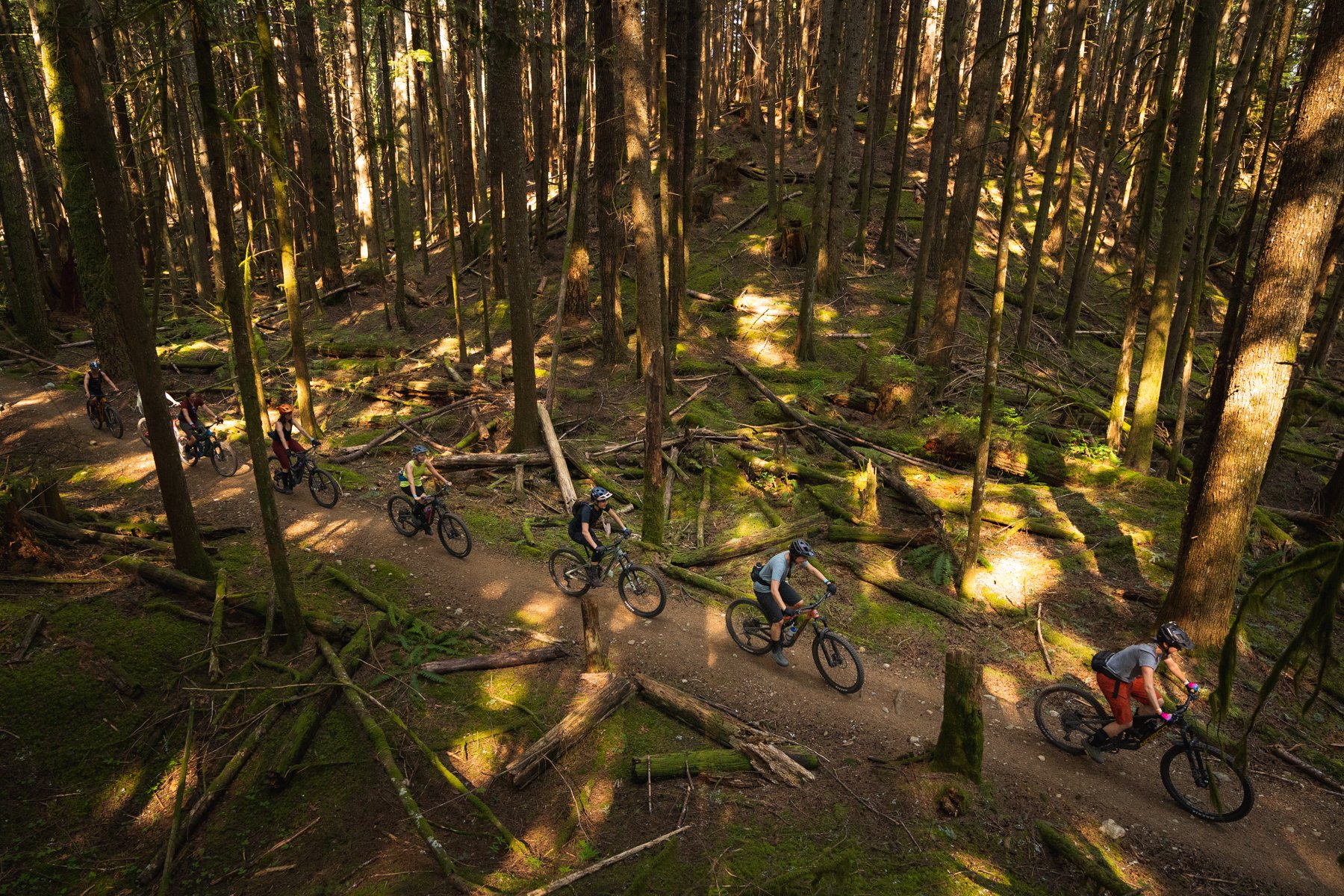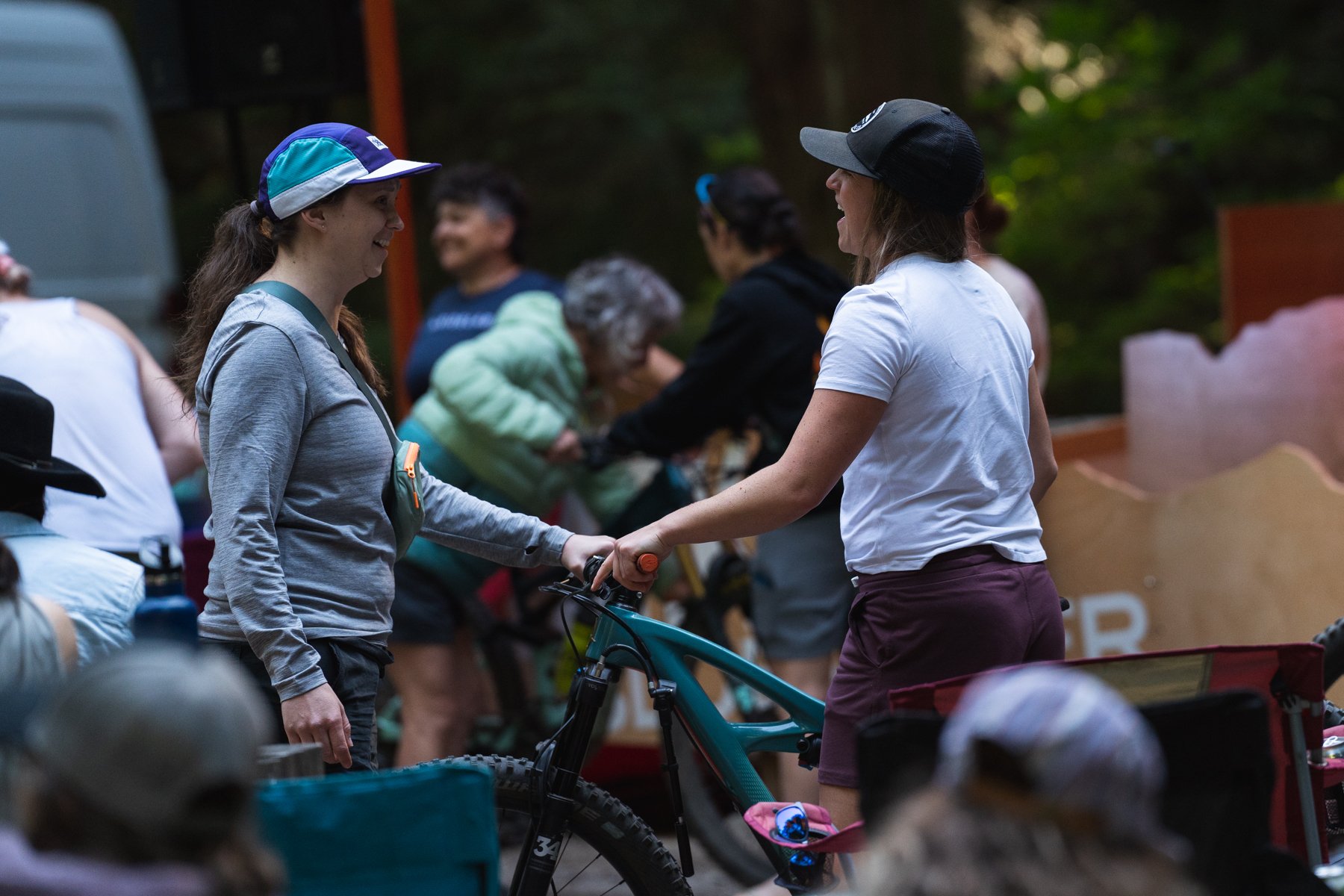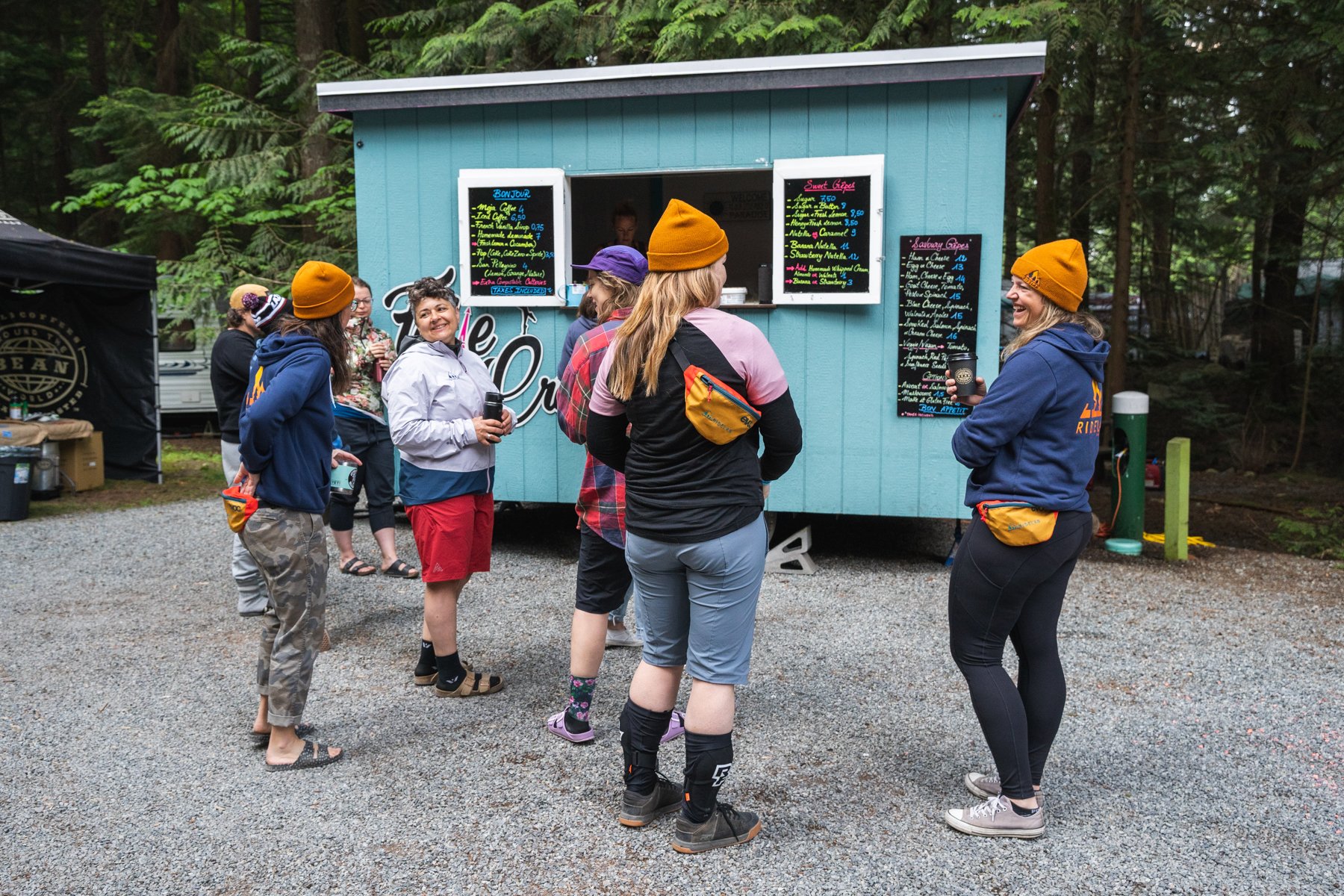 My impressions
An event like this was long overdue in the Sea to Sky region, and I'm really impressed by how well Karen and Lisa executed this first year of RIDELAB. Even though this year was amazing, all the staff were also receptive to feedback from participants about how to make subsequent years even better, so I'd wager that RIDELAB is here to stay with the only direction being up.
The location is great. There is an option to ride to the trails, but since MTN Fun Basecamp is on the outskirts of Squamish, certain areas are harder to reach without shuttle assistance. The campsite itself was treed and pleasant but the event could benefit from more dedicated washrooms and hygiene amenities, what was there was a bit sparse for the number of participants. Campsites were clean and well spaced and most people camped on site which made for a nice post-ride atmosphere.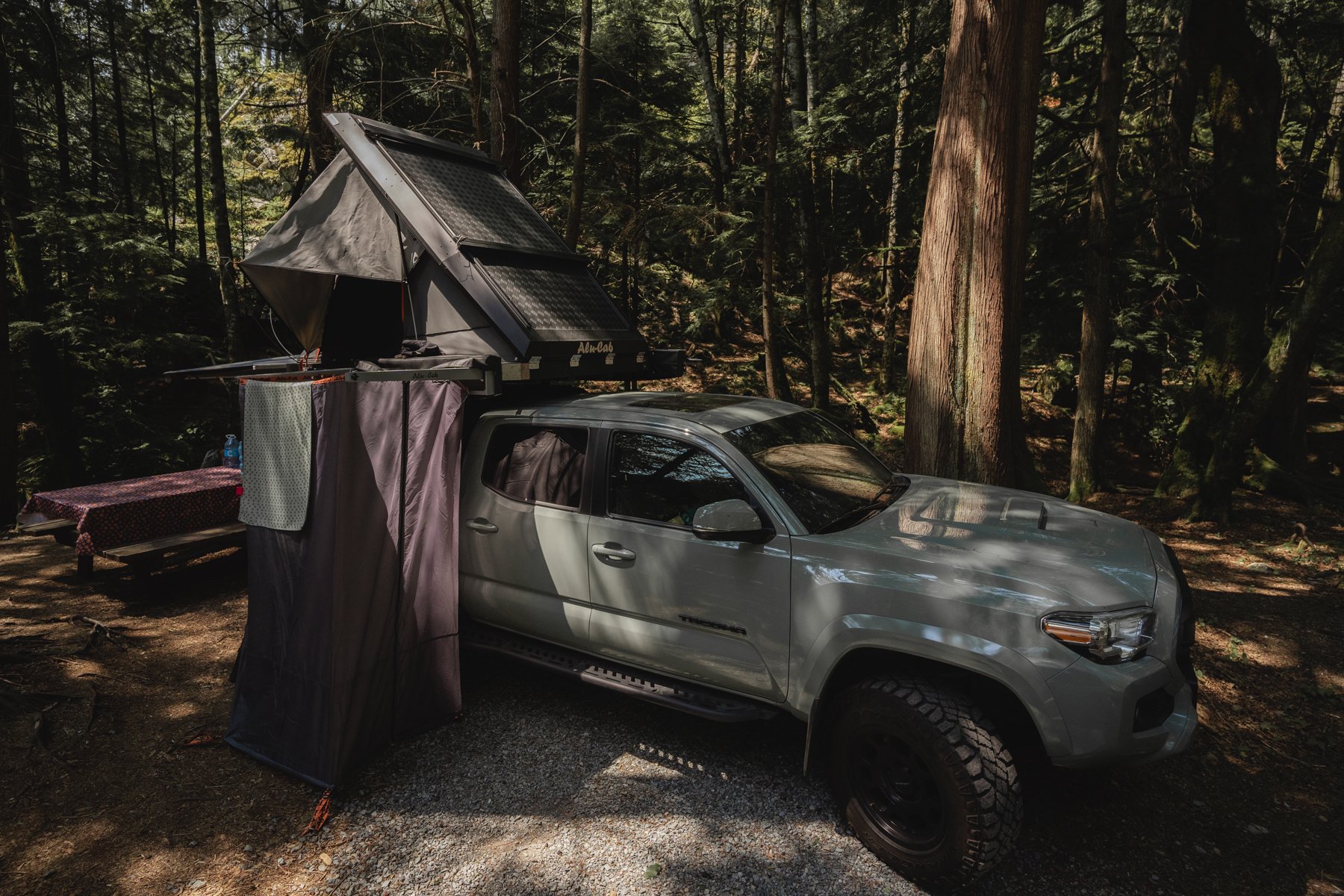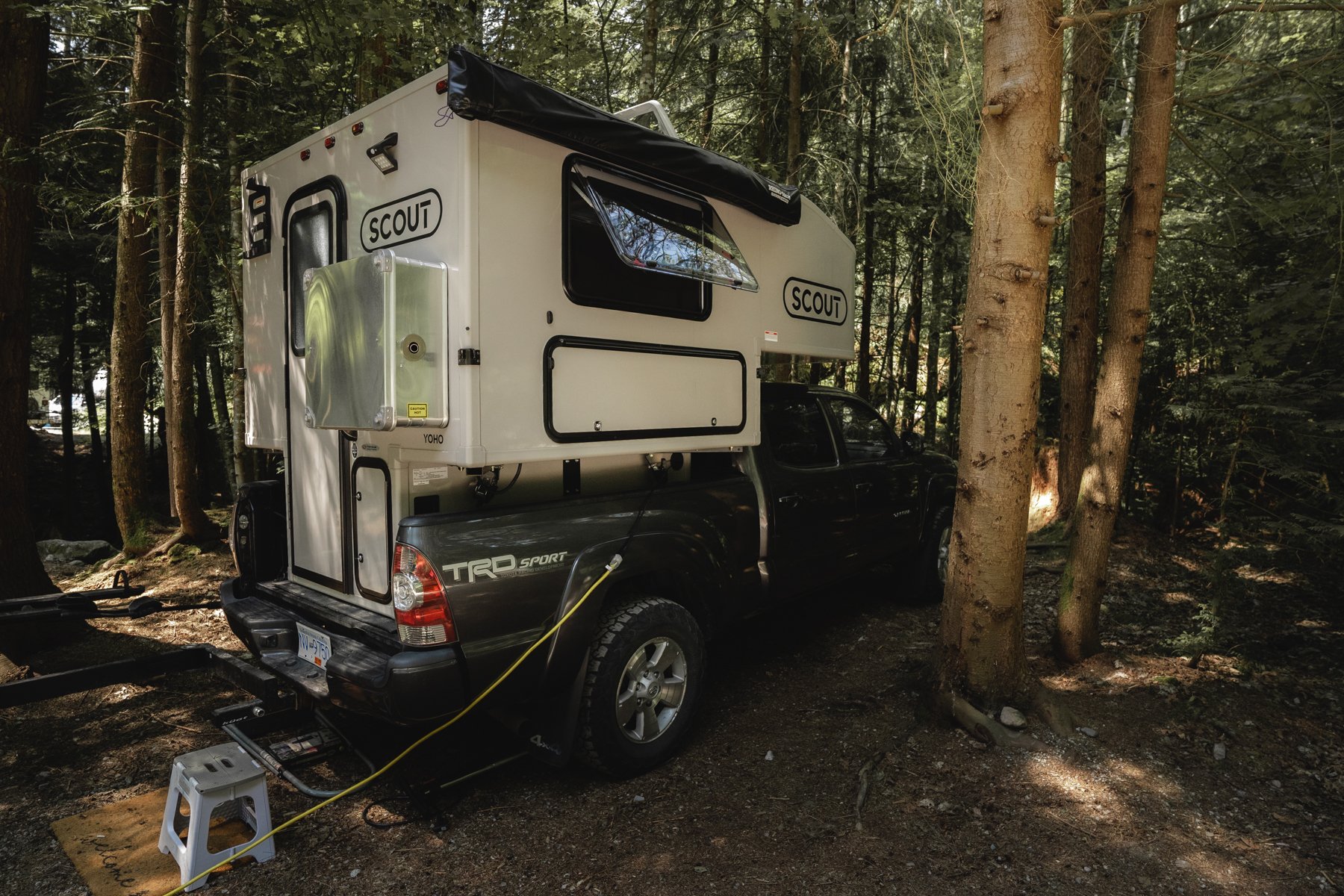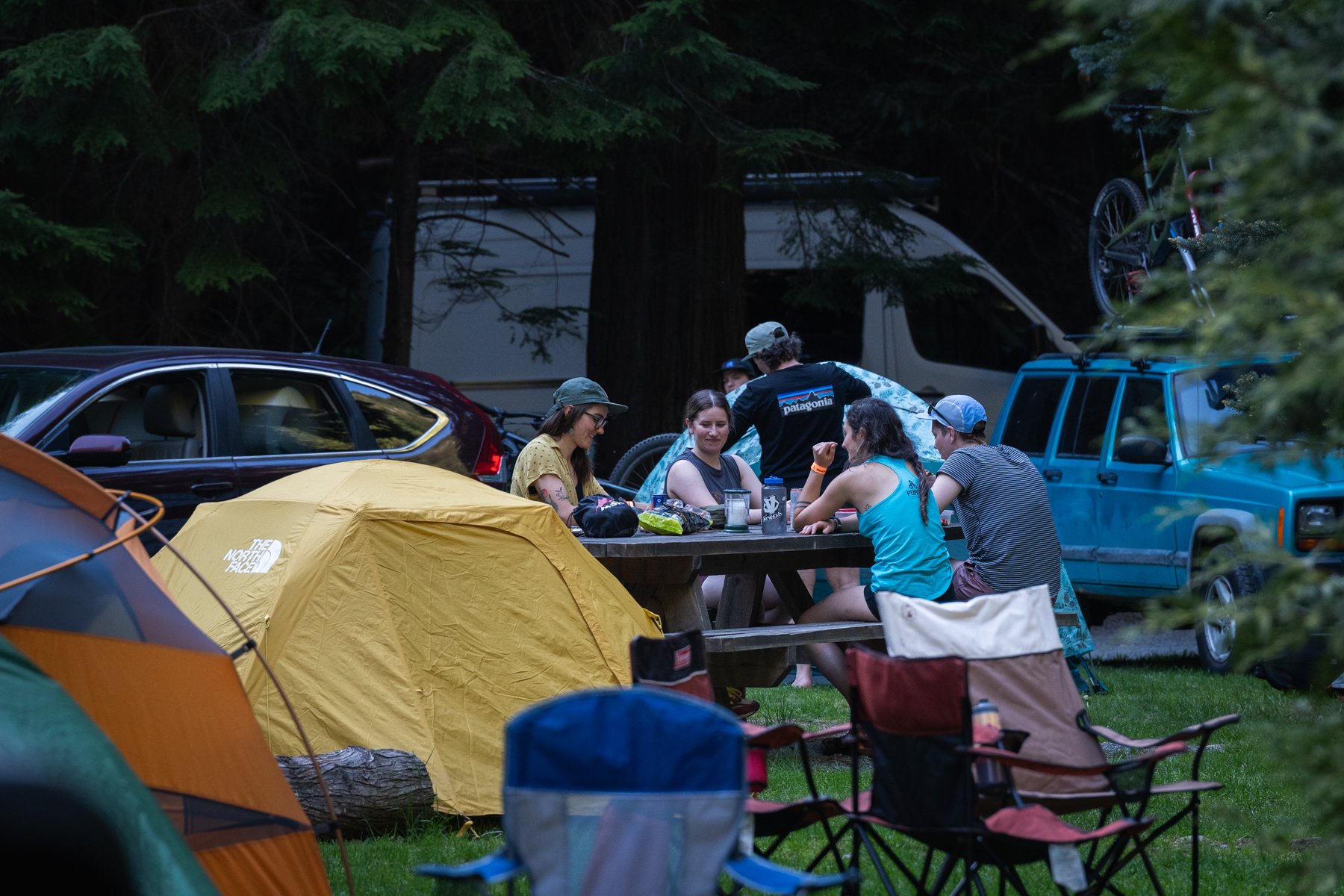 The variety of rides and different levels offered was awesome and there was always something for everyone. However, the rides often filled up quickly and sign-up started at random times during the day so participants truly set on riding with a specific guide or type of trail would be out of luck some days, but with plenty of equally fun back-up options on the menu. For that reason as well, it's important to remember that RIDELAB isn't an instructional event; it is a place to try new trails, meet new people, learn new things and give more high-fives than you ever thought possible. If a rider is looking for dedicated coaching in a multi-day progressive format, a smaller group clinic would probably be more suitable.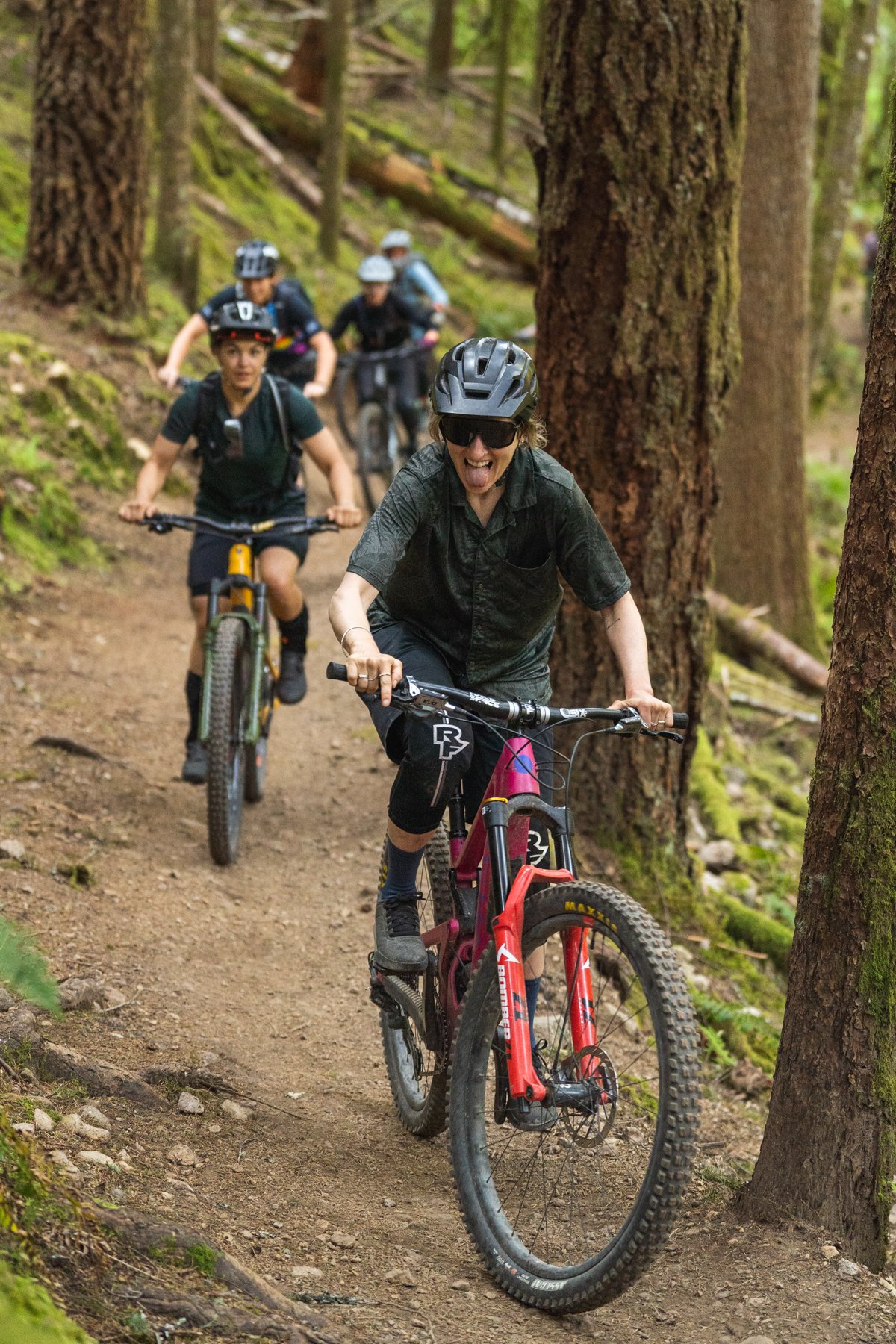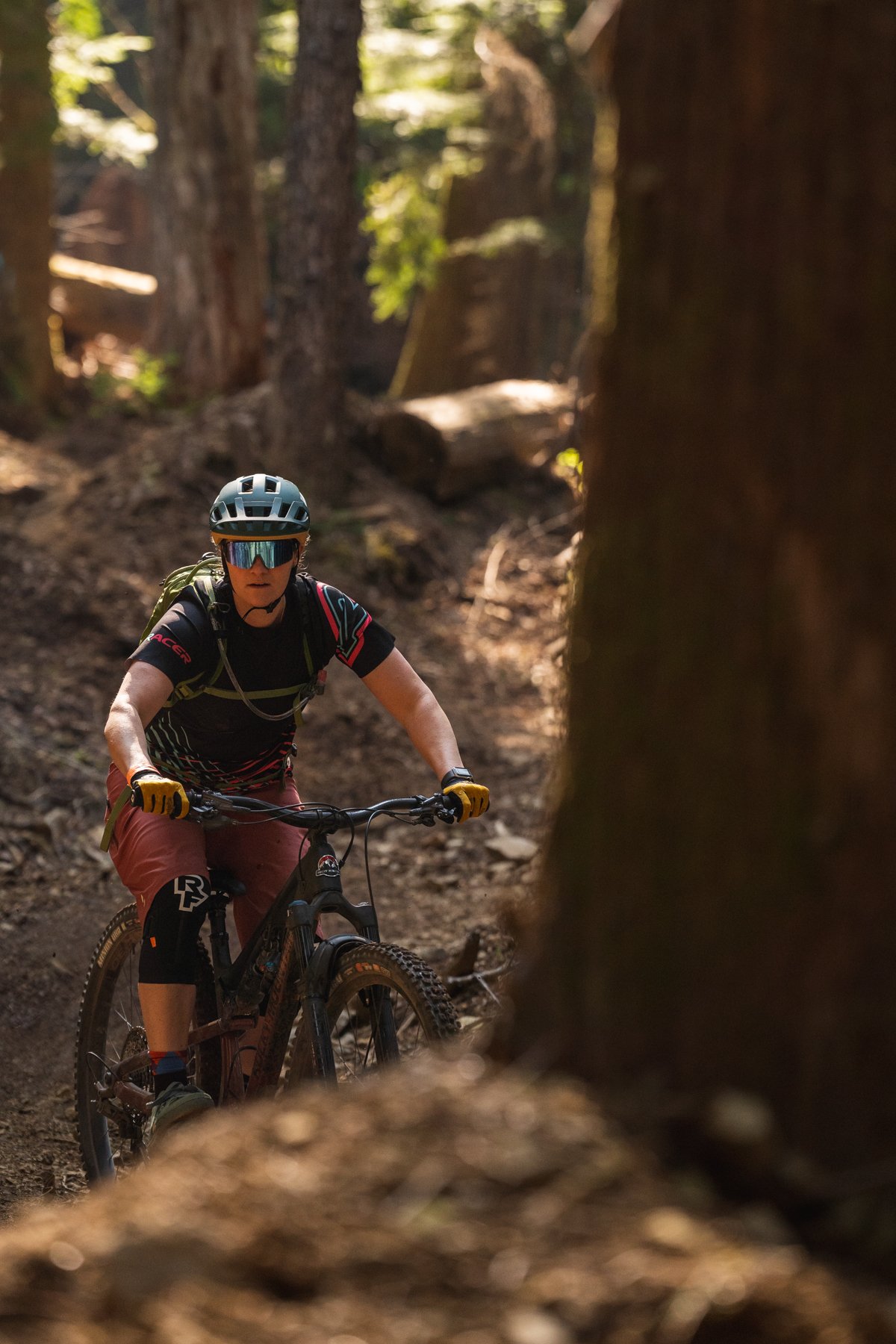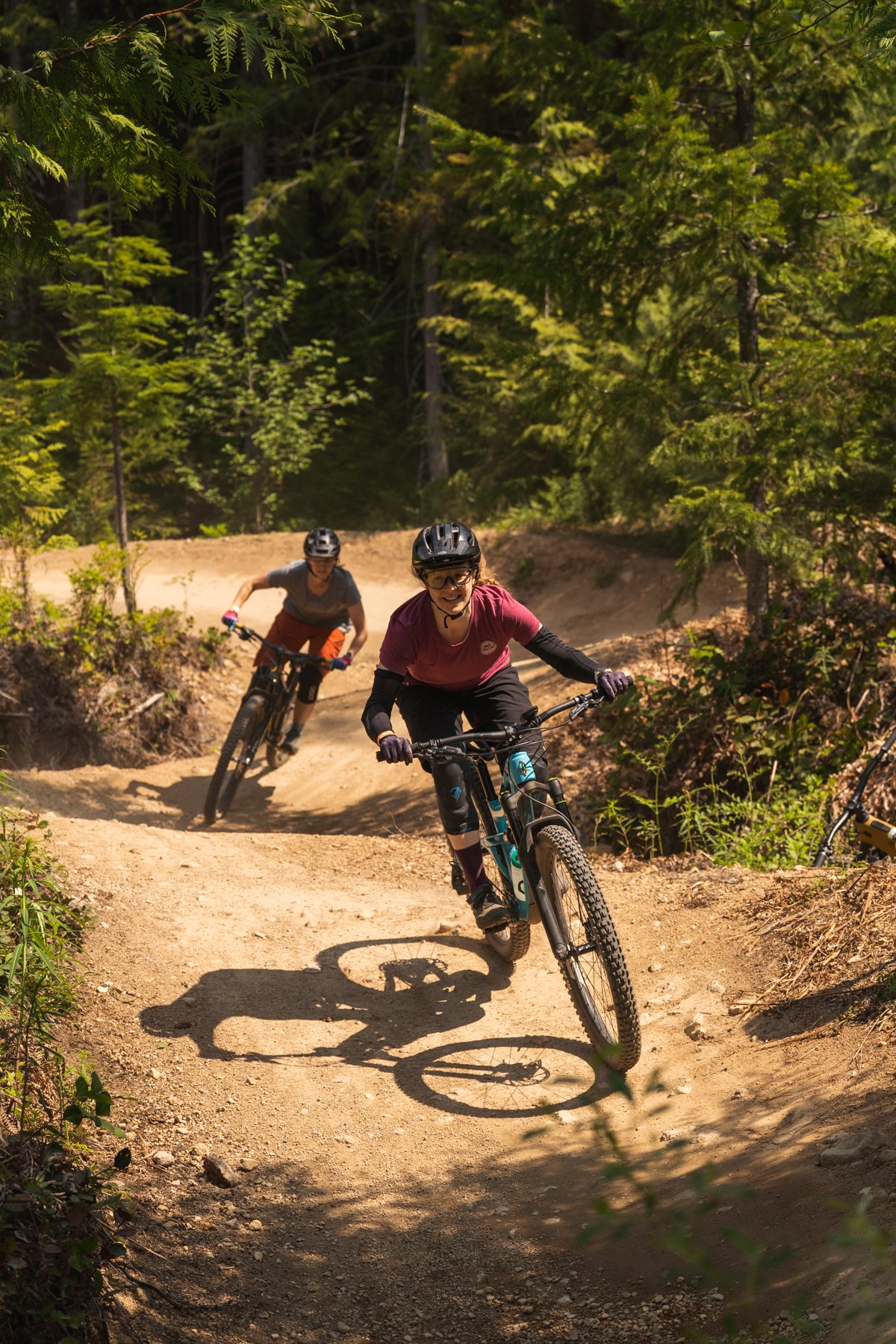 I left RIDELAB with new connections, deepened friendships and a stoked-up love of riding. Participants came from the Sea to Sky region, Vancouver Island, Alberta, Washington and even further. I saw so many people chatting like they have known each other for years only to discover they just met, and I heard lots of people planning to connect after the event was over. One person I met had only ridden a mountain bike once before this event, and she had a smile on her face everyday. I also met women who had been riding for many years and just felt like they needed a boost, or an experience with a supportive community to re-ignite their love of the sport.
If you are looking for a fun filled and packed week of riding with the friendliest and most supportive people you could meet, RIDELAB might just be for you.