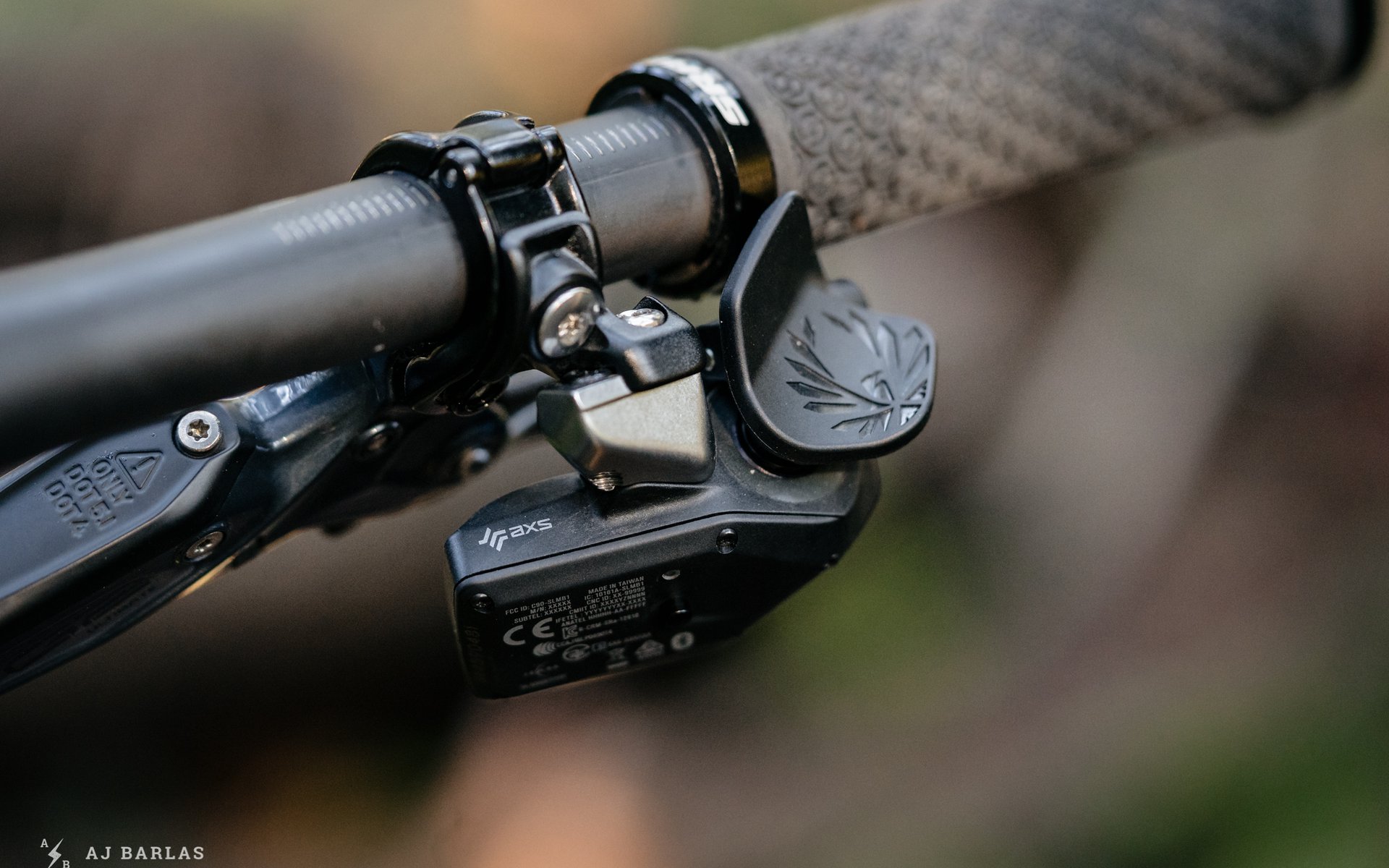 SRAM's impressive new wireless group and dropper post
Ride Impressions: SRAM's Electronic AXS Wireless Group
---
For product launch details, spec, pricing, and other info on SRAM's Eagle AXS XX1 and XO1 drivetrain and RockShox Reverb Dropper Post, head to our launch article here.
---
It's not like we haven't all seen the spy shots or heard the rumours. SRAM has been hard at work for years to bring their electronic shifting group to the market. Shimano beat them to the punch by almost five years with the announcement of XTR Di2 back in May of 2014. But even then, in the punch-counterpunch duel between the two, Shimano's path and SRAM's were divergent: Shimano kept betting on and improving the front derailleur, insisting the global market demanded it, while SRAM went all Steve Jobs and insisted they knew what the mtb market needed better than some riders themselves, and worked diligently to assassinate the front derailleur altogether (they proclaimed success in March of 2016). 
Battle lines were drawn, with Shimano going all-in with options (1-, 2-, and 3-by systems with a truly excellent front derailleur and both XT and XTR Di2 options) and SRAM eliminating options because 'who needs 'em when you've got a 10-50?'. At present, it can't be denied that the market has spoken in favour of 1x systems with the widest possible spread at the rear cassette. SRAM's 10-50 tooth Eagle has trounced Shimano's 11-46 in the OE war (SRAM holds a healthy majority of the mid to high end OE market). Shimano has announced their own 12-spd 10-51 tooth cassette to go along with the latest iteration of XTR - but 9 months on from that announcement, they haven't delivered complete groups yet. While there's no doubt it'll be great when it arrives, the other stinger is that while Di2 is also excellent, it isn't selling. We simply don't see it in the wild here in BC. It's certainly a great option for racers, and the technology is impressive, but the modern mountain biker doesn't want a front derailleur, no matter how well it works, and neither Shimano's vaunted reputation for quality nor electronic wizardry is going to put that genie back in the bottle.
So with all of that preamble out of the way, it becomes a little easier to understand why SRAM wasn't in a hurry to get their electronic group out of the barn. Eagle has kicked ass from day one, with incredible quality, design, durability, and aesthetics, and the trickle down from XX1 and XO1 to GX and then the insanely affordable NX has meant that they are winning fight for spec at every price point. Certainly it didn't seem like another electronic group would be earth-shaking. Except for one little thing.
SRAM eliminated the cables. 
Not just from your derailleur. Also from your dropper post.
As brilliant as Di2 is, it fails to make the bike simpler - in fact it does the opposite. Cables are replaced with wires, and those wires are harder to install than cables because you can't just cut them to length - instead you have to select a combination of pre-selected lengths so you can plug them into the receivers on the shifter, head unit, battery AND derailleur(S). A battery pack must be fitted somewhere - preferably inside the frame - and to charge, you don't remove the battery, you run a cable from the head unit to a charger. That digital head unit will show you what gear you were in, your shift mode (only necessary because of that pesky front derailleur), and how your battery life is looking, (not all that necessary because those big batteries last a hell of a long time), as well as connect to your wirelessly controlled suspension if you wanted it to as well as other ANT+ accessories. All. More. Complications.
It worked really well. Shifted fast and precisely. Preserved chain and cassette life. It covered all the bases, but it just all felt like a lot of work.
By eliminating shift cables (or wires), SRAM did what Shimano should have been trying to do all along: use electronics not just as a performance improvement, but also as a way to make the bike simpler. And more beautiful. Just like removing a front shifter, cable, chainring, and derailleur made bikes simpler and better looking, it's even more pronounced when you remove two more cables from the front of the bike. We still need 'em for brakes, by the way (there's a reason wireless brakes don't exist on your car), but don't be fooled into thinking someone isn't working on it. Whether we're prepared to trust that is a story for later.
Setting up SRAM's Eagle AXS XX1
I know I should start by recounting how easy it is to set the system up, but I want to get to riding impressions. Suffice to say, we got a quick run-down of the setup process, and it's faster and easier - by far - than installing a mechanical Eagle group. Bolt on the shifter (2 minutes if you drop a bolt on the floor and have to look for it), set the positioning of the paddles (2 more minutes, give or take), bolt on the derailleur and run the chain (3 minutes), set three limit screws (5 minutes max), pair the two together. Note: we originally reported that you need to use the app to set AXS up, but that is NOT the case - you can pair an Eagle AXS shifter and derailleur or Rock Shox AXS Reverb post and shifter manually, this video shows how easy it is. Use the trim function on the shifter (if it's even necessary), and then go ride. 
Rock Shox Reverb AXS Dropper Post Set Up
The speed of the Reverb AXS Dropper setup is an even more drastic reduction in time from a non-wireless unit - forget fishing around for a cable, or bleeding it. Simply bolt on the shifter, put the post in the seat tube, pair the two units with the app (or manually without the app), and you're off. Certainly fast enough that you could run the same post on two or more bikes (each with their own shifter - or not) and swap in between them. As an added bonus, the new Reverb has a redesigned head post head that employs a single bolt to set your rail position and another on the front of the post head to tweak your saddle angle. Rock Shox has also added what they call Vent Valve technology, that allows you to separate the air and oil should they decide to get together and party. No disassembly required: just depress the valve, compress the post, and get back to riding.
Riding SRAM AXS

After a sneak preview and product walk-through in December, we had a chance to ride a SRAM Eagle AXS XX1-equipped Specialized Stumpjumper on Mount Seymour last week. Having spent time on Shimano's XT and XTR Di2 groups, I felt like I knew what to expect, more or less: fast, precise shifts, with minimal button pressure, and, once you get used to it, a revised expectation about how fast your bike can be slammed into the next gear - or three or more gears at once. Over the course of one ride, it's actually hard to wring out all the performance of it, because you're trying hard to stay composed while you play around with the gears, as your inner voice starts to mess with you: 'How fast can I jump halfway through the cassette as we approach that next hill? Just how much faster is it to hold the upshift button down, rather than hammer it repeatedly with my thumb? I know this AXS stuff is supposed to shift well under load, but how hard am I willing to test that one out? Can I trick the seatpost or is it just going to do exactly what I ask it to?'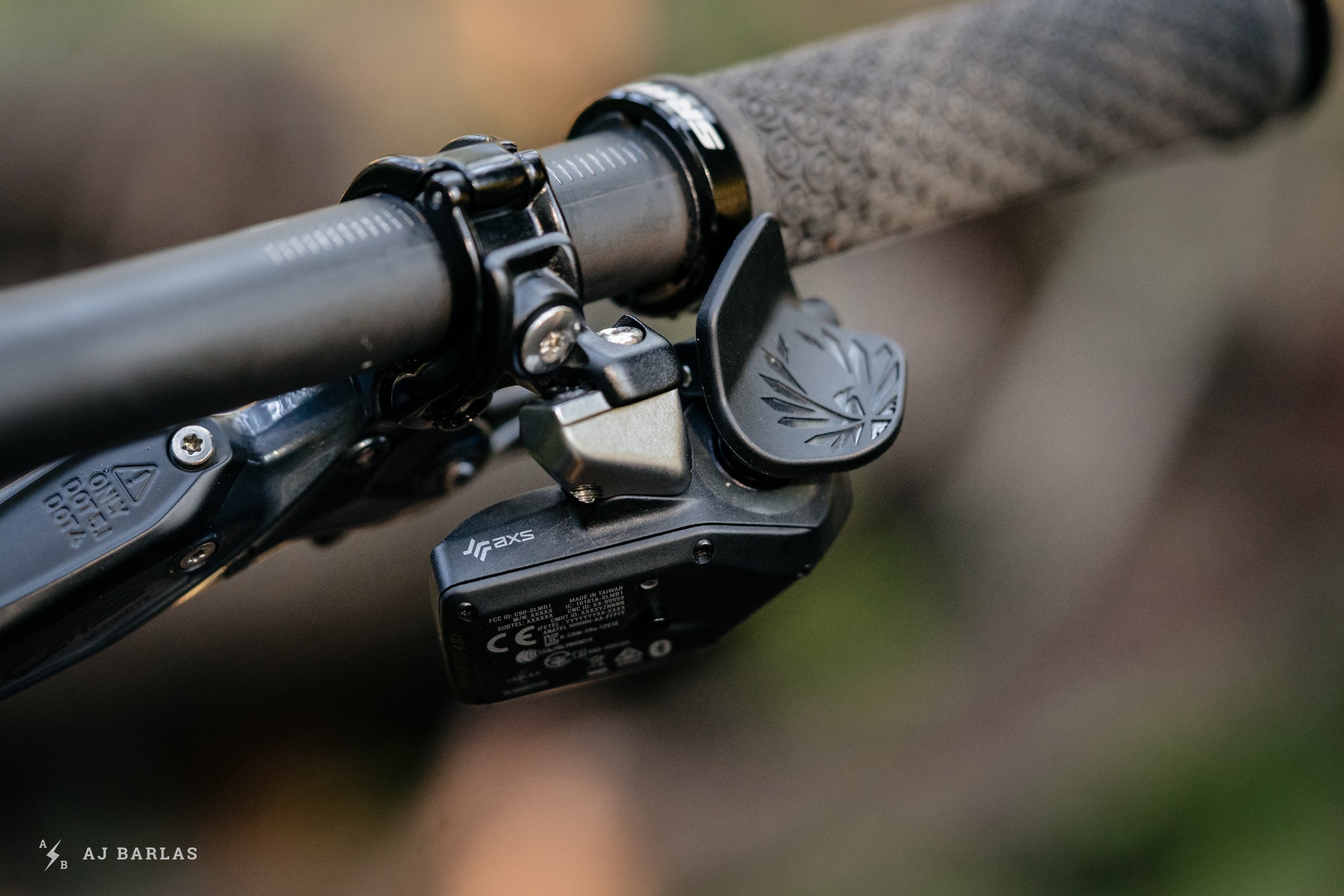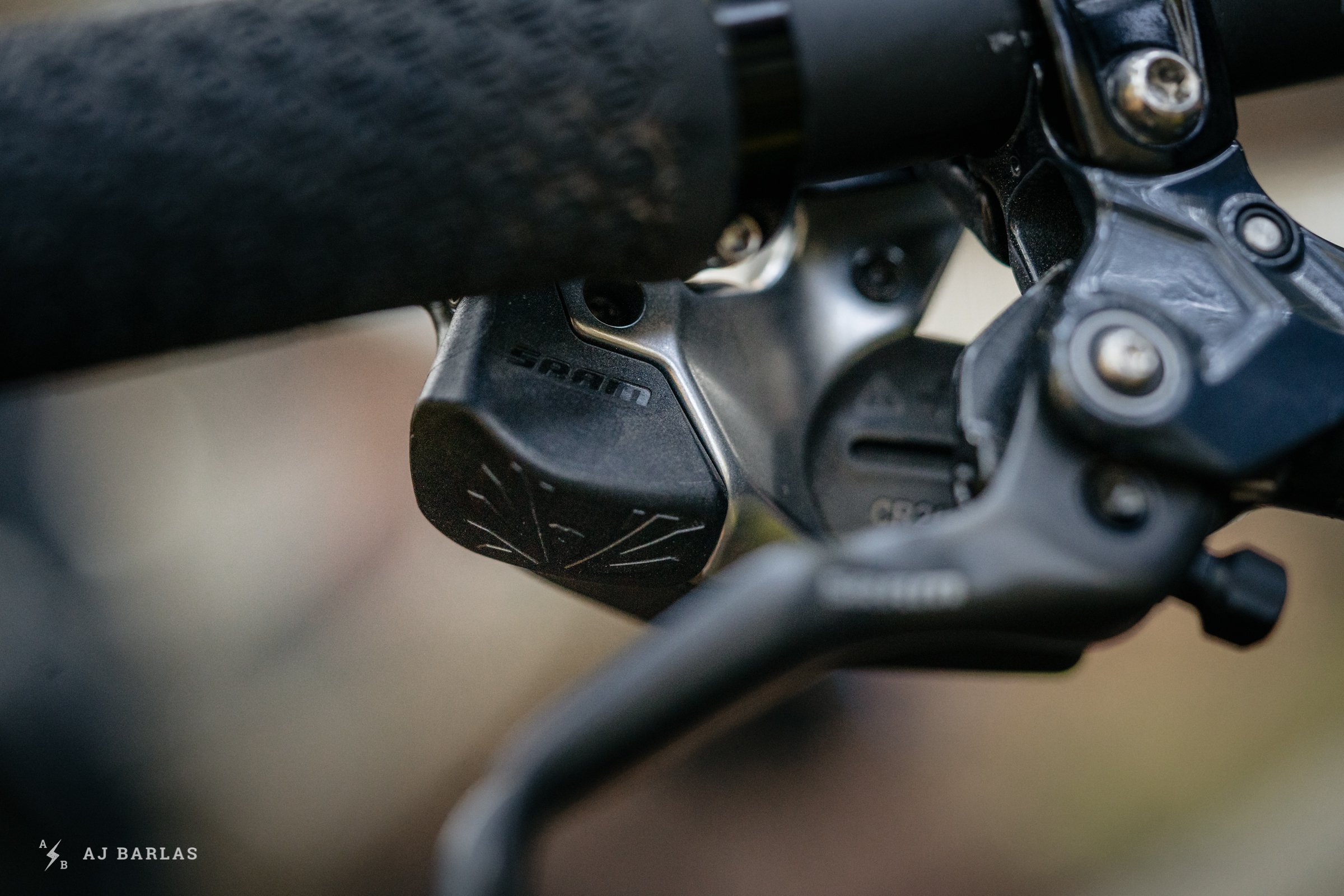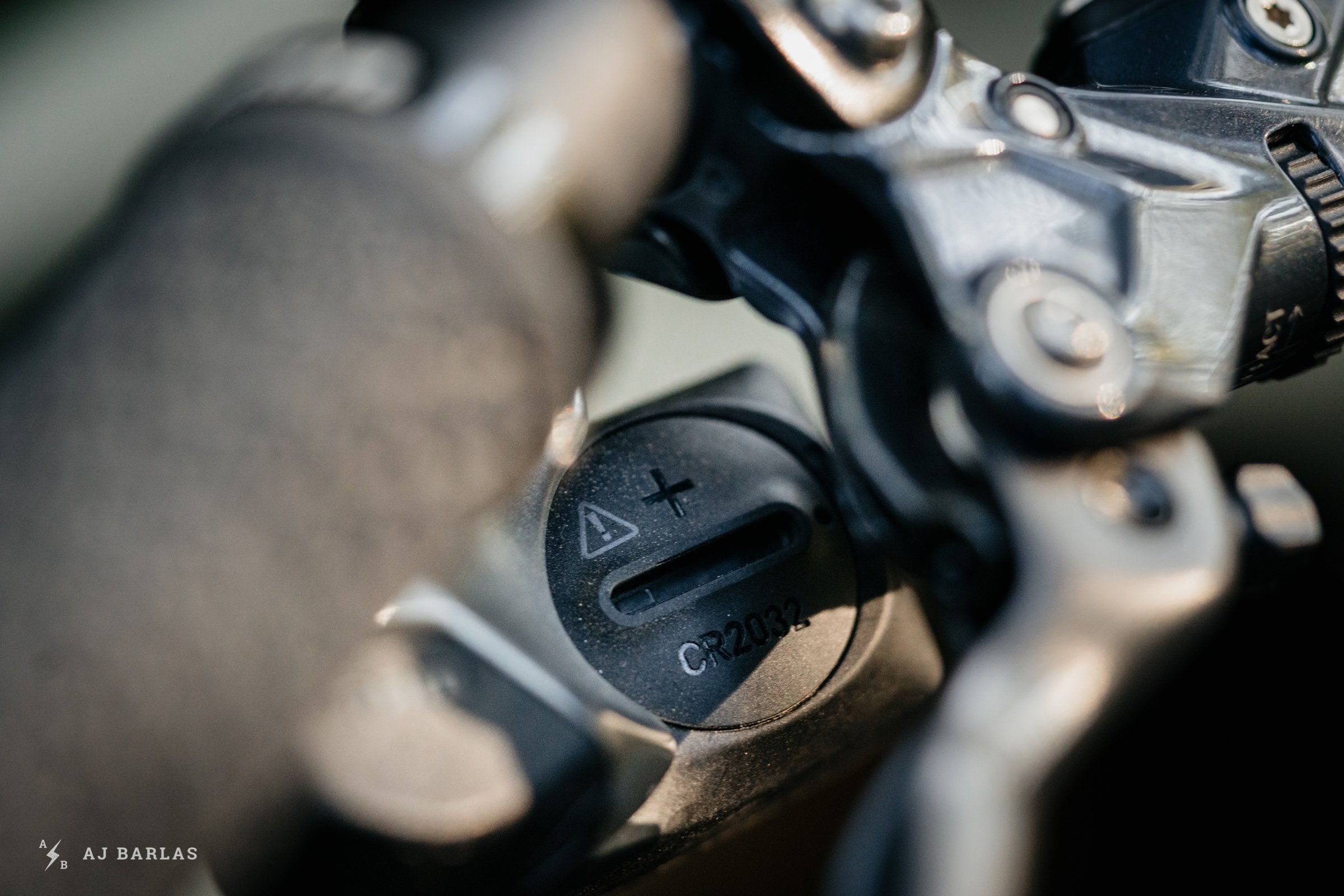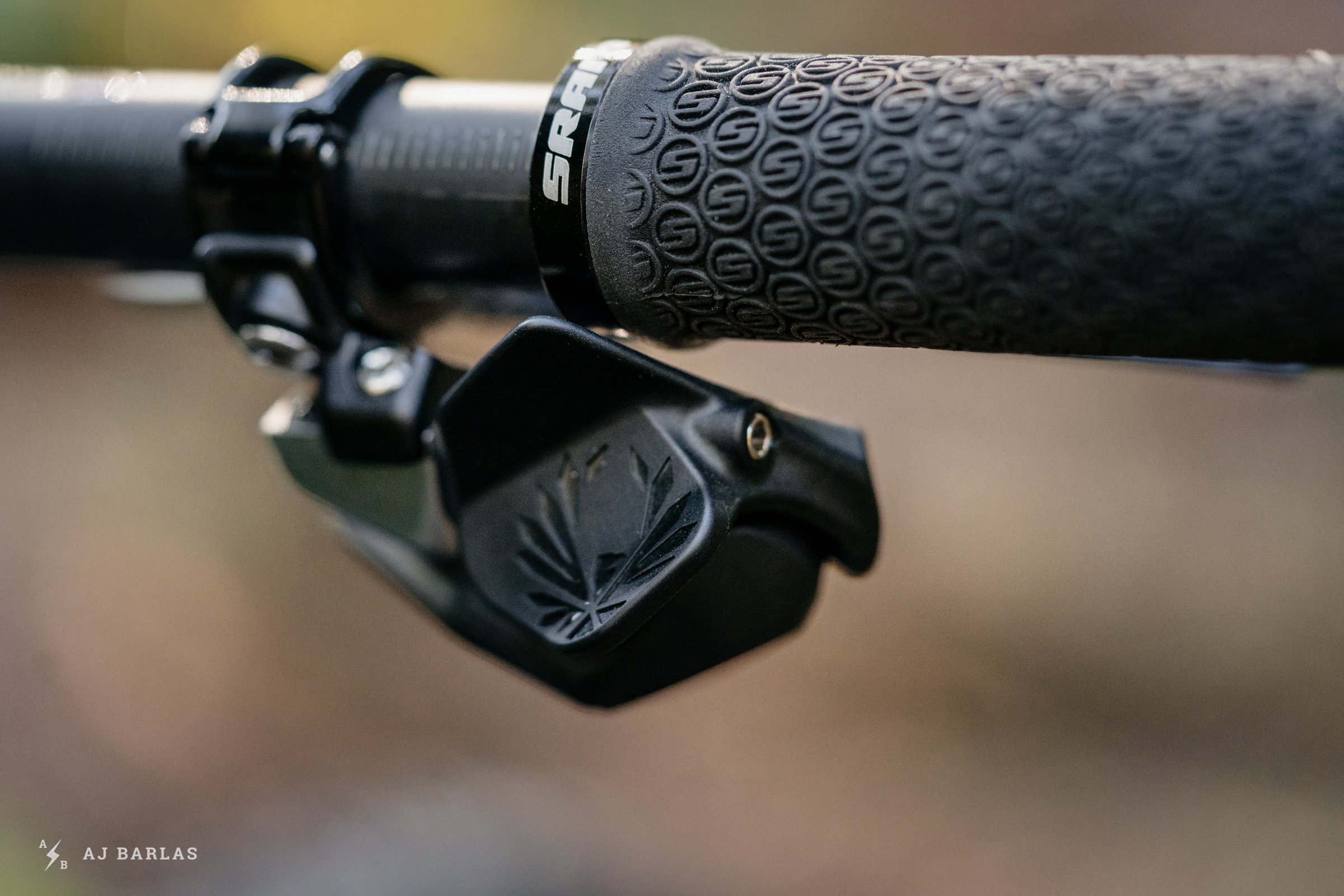 The only time AXS messed up was when I deserved it. Once, after using the app to reverse the shift button assignments so that down was up and up was now down, I inadvertently upshifted three times at the base of a steep climb when what I wanted were three downshifts. Another time, as I was looking down to try to figure out why I could only hear the rear derailleur's motor make a noise when I upshifted, I almost rode off of a bridge. These are not problems that would hang around for long. Once you decide which button you are comfortable with for up and down shifts, it's just as intuitive as using any other shifter. I was comfortable as it was, but longtime SRAM marketing rep Tyler Morland wanted me to see how easy it was to make a change with the app, even in the middle of a ride. Yep - easy.
Button action is light and smooth. If you've never tried an electronic shifter, it might take a ride or two to get used to the light action, and trust that a press = a shift, but you're not going to miss an electronic shift, whereas you certainly can miss a cable-actuated one. You just read that and are now thinking I'm describing a problem you don't have, however one thing you will notice is that a button push is a much more subtle action than the throw on a shift lever. Again, this isn't a game-changer (I only wrote that in order to tell you how much I hate the term 'game-changer') but it's a subtle refinement that you notice most when switching back from electronic to cables.
Shift speed is very fast. The AXS app lets you enable or disable the ability to hold your shift 'touch point' for multiple up or down shifts - this is a good thing since some people will like the ability to do that more than others. When you do hold it down, your shifts are quick and precise. However, you can shift even faster if you hammer the touch point repeatedly. As fast as you can imagine tapping something thrice, you can have that many shifts completed less than a second later.
Riding RockShox's AXS Reverb Dropper Post
If there is an adjustment period necessary to get used to AXS shifting, it is minimal. For RockShox's new wireless Reverb dropper post, the adjustment period is non-existent. Functions are exactly the same: hit the touch point to drop the post and sit on it, or touch it to raise it up again. Micro-adjustments and infinitely adjustable height are possible just like with the current Reverb (and most droppers), and there's no funny stuff in operation - it works exactly as promised. It's not voodoo magic, but it is mighty impressive to see how easy it is to set up and get it running.
The post head and internals have been redesigned; the former will make it easier to install and set your saddle's fore-aft positioning and angle (with a single bolt) whereas the latter comes with a new Internal Floating Piston with less friction for easier post actuation and less downward force needed to get it out of your way. On my ride I didn't notice a huge speed difference, but I would need to ride two generations of Reverb back to back and then decide. Once we've put time in on a test unit (and had a chance to tear it down), we'll be able to bring a lot more detail about the guts and performance of Rock Shox's fancy new wireless dropper.
Like with the Eagle AXS shifter, the motion required to carry out an input is far smaller than with a cable- or hydraulic-actuated shift or post position change. This is where one element of overall speed comes from, and SRAM is reporting that after thousands of hours of testing across more than 100 testers, people are shifting and using their droppers at least 20% more. Interesting.
SRAM AXS battery
We're a long way down the road from the 2014 release of the first electronic shift group for MTB, and there's no question SRAM benefited from five extra years of battery technology. The battery that powers the rear derailleur is the same spec as the one used for the AXS Reverb. It is said to give about 20 hours of ride time (for the derailleur) and about twice that on your post. But despite the shorter ride time than Shimano's battery, SRAM's configuration has several advantages. First, since it is attached to the derailleur or the seat post, rather than mounted inside the frame, you can simply remove it to recharge - which takes about an hour - rather than have to plug in the bike's head unit. We charge a lot of things on an almost daily basis these days - phones, watches, speakers, lights, etc - so it doesn't seem like a big deal to have to plug in your derailleur's battery either. Second, they're small, so it's easy to carry an extra on a ride or on an expedition style trip when charging opportunities may not come up as often as you'd like. Third, the post and derailleur's batteries can be swapped, so if your derailleur battery fails, you can pilfer your post's battery and get yourself home without losing the ability to shift. Detractors will complaing about having to charge a part of their bike, but to me this doesn't feel like a stretch at all.
The SRAM AXS App
I don't have hands on time with the app yet, and SRAM will be rolling out updates as groups end up in consumer hands and bugs inevitably rear their heads. From what I saw, though, it is a clean user interface, easy and fast to use, and offers options. Options include things like whether or not you want to use it to track your shifts and mileage on your AXS component (it'll tell you when it's time to lube your chain, or check for chain or cassette wear). It'll track the number of shifts and perhaps offer some insights into your riding - maybe that'll help you choose a different chainring size, or any number of other bits of info that may be useful. 
You may be thinking you don't want your riding info going to SRAM. They get that, so you don't need to use the app for anything other than setting up your AXS components - and you can do it while logged in as a guest. But, as they roll out more features, you'll have to decide whether you want to participate in info gathering in exchange for access to some of those features. The app will also allow firmware updates OTA (Over The Air) so it may prove useful even to users who don't want to have much else to do with it.
Do you need AXS? Of course not. In fact, between the communication coming from SRAM about the new group, and talking to people like Morland, a few things are clear. One, nobody is presenting this as the new 'gotta have it'. The technology is super cool and it's absolutely a step forward for shift performance and has other benefits like durability, ergonomics, and others, but it would be a stretch to present it as 'more fun' or 'something you need'. It's a great application of technology and it opens doors to other possibilities, but you're not missing out on something if you're not riding it next season. Riding is still riding and you don't need a wireless group to have fun on your bike. 
Two, while it sounds like OE uptake is pretty good (at the high and very high end of the price spectrum), there is still a bit of uncertainty about how well it will sell. While electronic groups have been popular on the road side of things, there's not a lot to go on for the fat-tire crowd. However, mountain bike prices continue to creep up, and sell at those elevated prices. You will see AXS Eagle groups and Reverb seatposts on the trails this summer, but it's hard to say with what kind of frequency.
So, hard to give you a final take yet, it's still early days. We'll hope to have our hands on some test parts soon that we can spend more time with, and then we'll be able to properly break everything down and give it a proper review. At the very least this represents a big leap forward and SRAM has to be commended for the design and execution of this new technology.
---
Once again, if you haven't already, head over to our other article on SRAM's new AXS components, to
learn more
about spec, pricing, and availability.
---