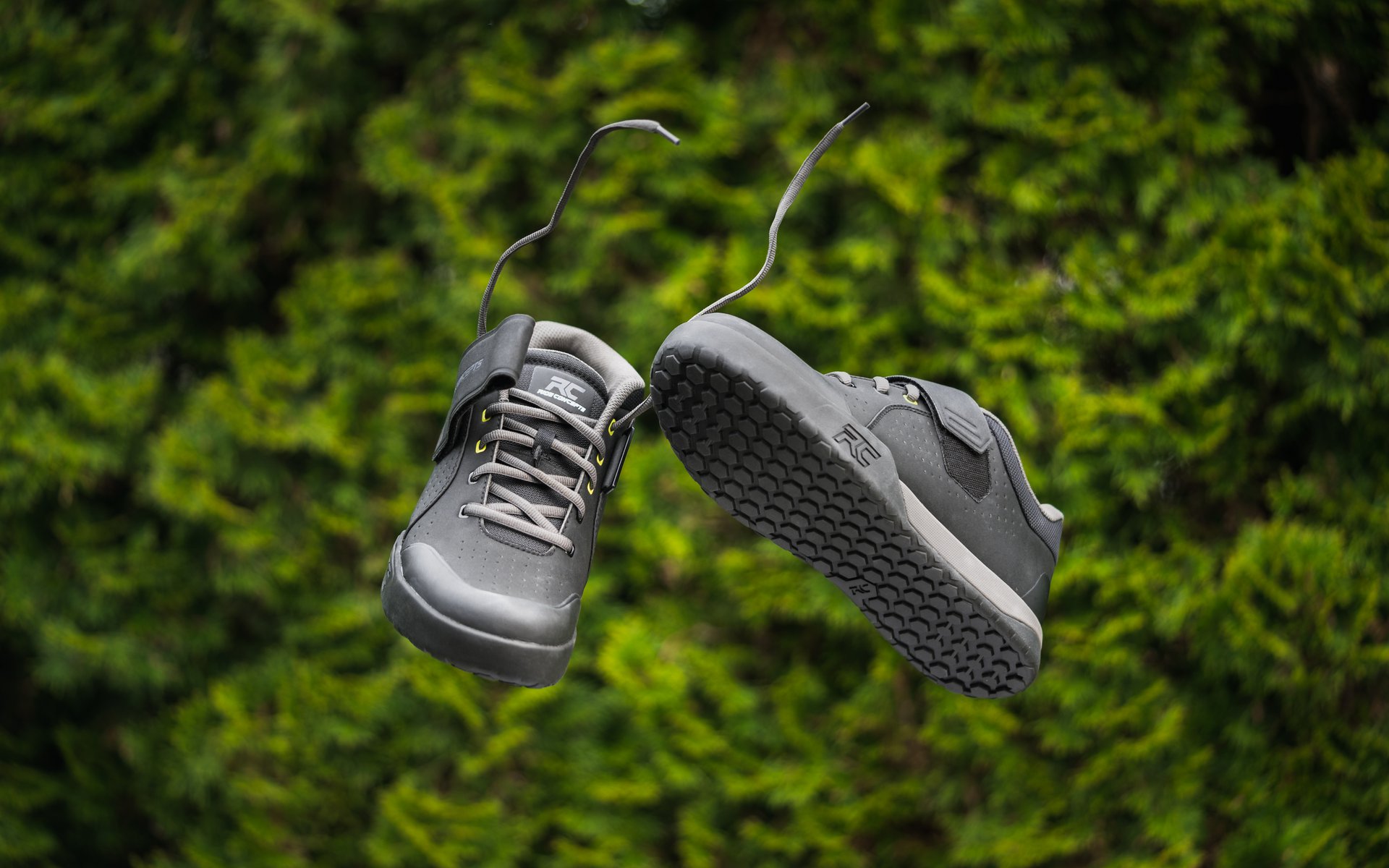 High Protection Without Extreme Grip
Ride Concepts TNT 2.0 Shoe Review
Spring 2021 was the most frantic for shoe releases in recent memory. Brands were dropping new kicks so often that when Ride Concepts announced their new TNT flat pedal shoe, we decided to hold off our article and provide a review after things settled down.
A few months later everything in the shoe release world has eased and I've had a chance to ride, hike, dig and casually wear the new Ride Concepts TNT shoe. I'll address the elephant in the room immediately; if you're a grip snob when it comes to flat pedal footwear, sticking to Specialized 2FO DH or FiveTen Stealth Rubber is a wiser strategy. If you are grip agnostic, or maybe pan-gripual, these are great shoes with heaps of nice features.
Highlights:
Rubber Kinetics | DST 4.0 MAX GRIP Rubber Outsole
Power strap for additional retention (or lace management system as some refer to it)
Microfiber synthetic upper
Fully gusseted tongue
Moulded rubber toe cap and heel protection
Men's Sizing (US): 7–13 with half sizes every step between
Weight: 1,068g (size 11 US / 44.5 EU)

FiveTen Impact Pro 1,210g (size 10.5 US / 44 EU)
Specialized 2FO DH: 896g (size 11 US / 44.5 EU)

Price: 160 USD / 240 CAD
What's New
Probably the most important update to the TNT is found in the outsole. The DST 4.0 Max Grip rubber compound, built in partnership with Rubber Kinetics, has been updated to provide more traction. Ride Concepts has also changed the larger 14mm hexagons in the tread pattern to 12mm, aiming for the smaller polygons to engage better with pedal pins. At the toe and heel of the shoe there's a deeper recess to improve hiking traction.
The TNT shoe's upper has been updated to a microfiber synthetic material is supposed to improve abrasion and water resistance. Ride Concepts says it's also more comfortable and the addition of an anti-bacterial mesh lining is an effort to keep the stench down. Ride Concepts has developed the TNT shoe with aggressive downhill and freeriders in mind, but anyone looking for the best protection and a more robust shoe should also consider the TNT. Its construction is sturdy, with a heel and toe cap increasing protection on what's already a well-protected shoe. They're stiffer and a tad bulkier than some others in this category but for reference, the bulk is similar to the latest Impact series of shoes from FiveTen.
A velcro strap across the upper portion works well to keep laces out of the way and maintain pressure without going as far as the full lace closure some riders appreciate. Ride Concepts kept the elastic lace loop on the tongue as well, which seems redundant with the large 40mm wide strap.
The tongue is gusseted all the way around to prevent debris from getting into the shoe. While I usually find this happens around the ankle opening, I have to admit there hasn't been a problem with debris getting into the TNT. That could be thanks to the gusseted tongue but I also find the shoe opening to fit close to the ankle and the higher medial side helps too. The downside is the TNT isn't very breathable and it's a warm shoe to wear.
Beneath the footbed is a soft, black foam that Ride Concepts told me is part of the "footbed from the board last construction." This foam seems to contribute to the comfort of the shoe, especially when combined with the D3O integrated into the removable footbeds.
In Practice
Ride Concepts knows how to develop a shoe. The TNT 2.0 is well thought out and manufactured, offering heaps of features in a robust package. Pedal feel is decent and though I've not spent much time in their other shoes, it feels like it has improved. They tend to feel clunky at first, similar to the FiveTen Impact series, but they're comfortable on and off the bike once they are broken in. I spent a couple of afternoons wearing the shoes on short hikes before attempting to ride in them – a common process I follow – but their sturdy construction still took a few rides before they settled.
After a couple of rides, the shoes were comfortable and provided adequate pedal feel. The outer of the shoe has remained reasonably stiff and the addition of the strap amplifies this impression. There's heaps of material/padding throughout the uppers but it's not overly thick and spongy. The uppers provide a close fit and after a few weeks of not using the shoes, I found them tight. After 30 minutes back in them, comfort returned. I have found the width perfect for my average width forefoot.
The firm outer provides stability and any input is transferred efficiently to the pedal. Support across the sole is good and the shoe walks the tightrope between power transfer and feel quite well, giving good input to the rider but not allowing the foot to cave excessively around the pedal. Power transfer benefits from this support but because the rubber is less grippy than FiveTen's Stealth or Specialized's SlipNot ST, this may be unappealing to some riders. On trails I knew well, I could ride without much concern about losing my footing. The rubber was grippy enough to carry on almost entirely as usual but when things got rougher or on new trails, the lower grip became problematic.
Despite predominantly riding in flats, I prefer to ride as light on the pedals as possible and I often rely on the sticky rubber to keep me connected. The rubber sole of the TNT 2.0 required more pressure to achieve this level of grip in rough terrain and when riding new trails. Any sudden unweighting to smooth rough sections or for quick direction changes often resulted in my foot disconnecting and moving.
In situations where I was able to plan, I could lock in and drive through the bike with extra force, more heavily loading my feet than usual to keep them firmly attached to the pedals. Riding like this required more concentration and focus but also more energy. As soon as my riding became more instinctual, the reduced pressure would cause me to lose foot position.
Ride Concepts' DST 4.0 rubber is soft enough to let the pins penetrate adequately but the rebound characteristics feel as though they're faster than the competition. The rubber doesn't have the 'dead' feeling that others do and it results in the foot being disconnected from the pins more easily than with sticky, slower rebound options. I'm nit-picking here because the DST 4.0 rubber is very close to the feel of Stealth Rubber but it's still not quite there. It's not close to as sticky as the latest version of SlipNot rubber, which is also proving to be quite durable.
Conclusions
With so many options for ride-specific shoes now available, there's never been a better time to ride flat pedals. Less grippy, more grippy, and everything in between, the options to suit individual preferences are great. Ride Concepts have three excellent rubber options available and as their grippiest, the updated DST 4.0 is really good. But if you're a grip snob, the TNT 2.0 isn't likely your cuppa.
For riders after a little less-than-Stealth grip but a similar level of protection, these fit the bill perfectly. Pedal feel is somewhere between the Impact Pro and Freerider Pro, but bulkier than the latest models from Specialized. The shoe construction is excellent and with the rubber toe cap, there's plenty of protection. The velcro straps doubles as a nice lace management system and the secure fit is great.
Ride Concepts' TNT 2.0 is comfortable, offers heaps of protection and is close to the level of hold available with other grippy flat pedal kicks. They're a great high protection option for riders in need of grip that is just below the highest traction currently available.
More info on the Ride Concepts TNT 2.0.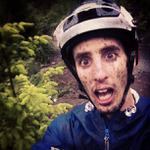 AJ Barlas
Age: 39
Height: 191cm/6'3"
Weight: 73kg/160lbs
Ape Index: 1.037
Inseam: 32"
Trail on Repeat: Changes as often as my mood.
Current Regular: Every test product spends time on Entrail