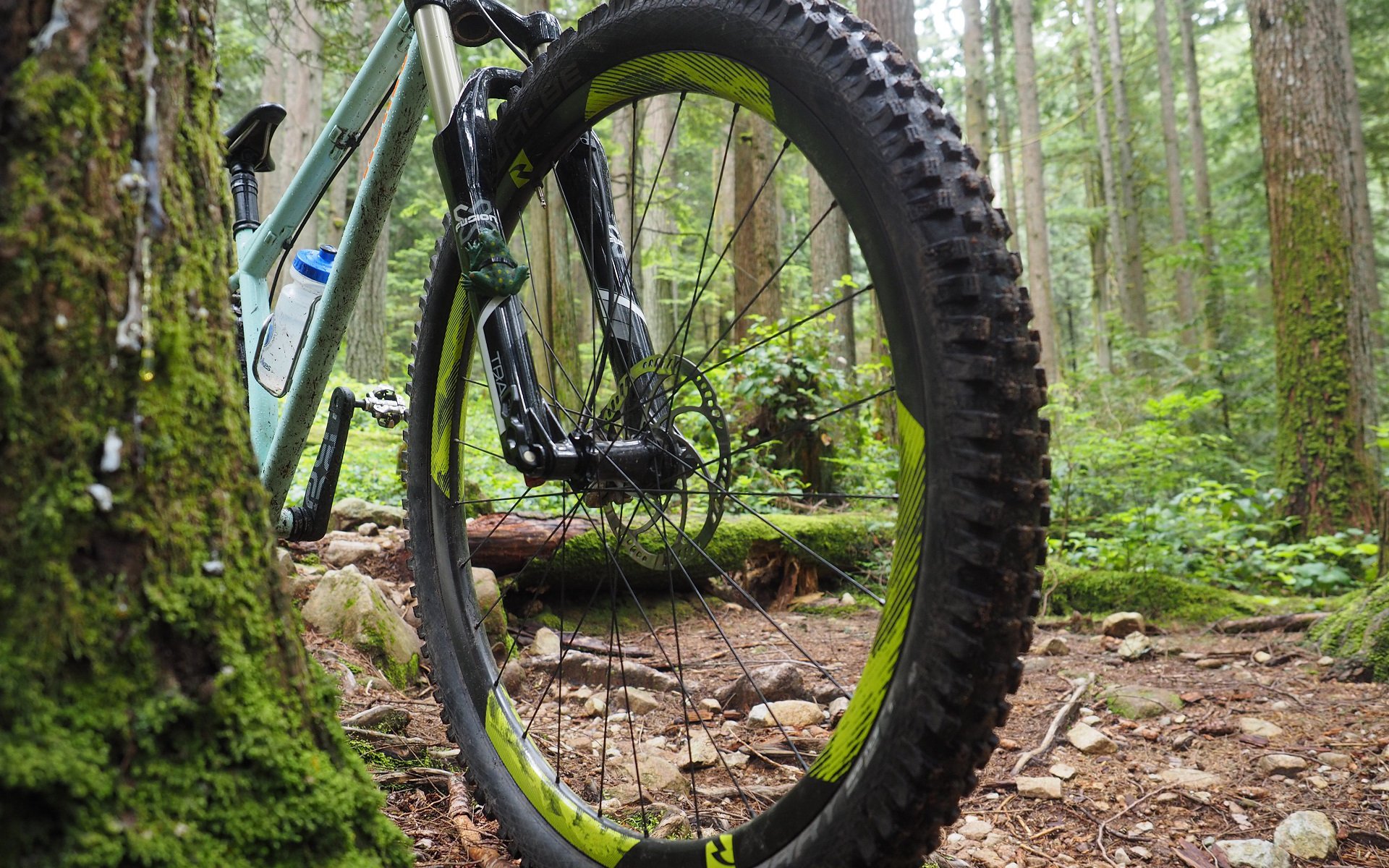 REVIEW
Reynolds, Honzo and Ned's : A Carbon Wheel Review
Bleeding Tires
I've just rolled in from another awesome ride and it's time for a beer. Pedaling from home, even if it's thirty minutes of pavement in each direction to hit the trails, is my favorite luxury and rolling in the door after a solid effort always has me smiling. I'm singing* a catchy tune by Ed Sheeran and I don't even care that it's not underground, indy, punk or old-school hip hop enough to be mountain-bike-cool.
As I hang my Honzo from its hook.... what's this? There is Stan's sealant bubbling up from around a pile of the center knobs on the front tire. Oh, and the back tire too.
For tires, I have a Schwalbe Magic Mary up front and a Hans Dampf in the rear. Both are the Trailstar compound. I could clean up the rubber and list them on the buy-&-sell as "83% life remaining" and by appearance, no one would argue. I cracked the bead and added some more sealant.
I don't feel like either tire owes me anything. They've had a hard, hard life. I tried to ruin the Industry Nine hub by running it on my single speed and in turn I thrashed the rims by riding that bike down a rock garden called Ned's on a regular basis.

...some men aren't looking for anything logical, like money. They can't be bought, bullied, reasoned, or negotiated with. Some men just want to watch the world burn." - Alfred Pennyworth
In addition to being a great year-round trail option that can be ridden in any weather, Ned's consists of the perfect sport surface to dial in bike settings. It eats wheels three meals a day and moves onto tires for dessert. It's at the top of a solid climb and doing a couple laps has enough climbing that I may actually accomplish some of my Fatness Goals.
For their part, the 28mm internal, hookless bead Reynolds hoops are stiff without being harsh, light without being wispy, easily air up tubeless, feature excellent Industry Nine hubs with near-instant engagement and they look great. They've also held up to months of abuse.
Despite this recent experience, I have a personal aversion to carbon fiber rims and cranks. I've had enough bad carbon experiences in certain product areas that I'm paranoid about sticking both thumbs in the air lest they be chopped off by a bladed spoke. The Reynolds Assurance Program helps put my mind at ease but I still want to be certain.

Solidly built but I would expect nothing less from a wheelset with a $2500 USD price tag. At that price, I would definitely consider forking out the ~$300 for the Reynolds' Assurance Program to cover crash replacements and other unexpected tear-inducing situations." - Dave Smith
Musical Rides
In the immortal words of Robert Munsch's Mortimer: "Clang, Clang, Rattle-Bing-Bang, Gonna make my noise all day!" I've hard crunch bottomed the rear rim on my trusty Honzo enough times per ride that if I'd only recorded the various sickening sounds Matt Dennison could have turned them into a wicked bicycle themed horror movie soundtrack.
That's not saying that the Reynolds rims are loud, if anything the carbon hoops damp sound more than aluminum. Even my Industry Nine hubs are reasonably quiet thanks to some teardown & winterization. It's just that even with 28-29psi in my rear tire I'm bottoming the rim regularly riding down Ned's.
I did my able best to choose sh*t lines** and on multiple occasions frightened birds took flight to the percussion of my rear rim bottoming on a sharp rock. I had more than a few minor giggle fits examining the rims after my crunchier runs.
This would be a good time to apologize to anyone who doesn't want to play bikes with me anymore because anytime I'm on the Honzo I'm suggesting Ned's for trail choice. My regular rim-on-rock queries: ("Did you hear that one?") might get a little old as well.
The ride quality is excellent. Perhaps it is a nuance that only someone on a really stiff hardtail would notice but these rims have more give than most carbon hoops I've ridden. They are efficient and easy to get up to speed without delivering the ass whooping of other carbon rims I've tried.
Reynolds, Honzo & Ned's
The Reynolds Blacklabel wheels come built with bladed spokes and Industry Nine hubs. Along with Jeff at Bikeroom I serviced them from new and then never looked at them again. I mounted them on my trusty Honzo, first with some old rubber and then with some fresh Schwalbe tires, and then rode them all over the North Shore and surrounding areas with an unnatural focus on Ned's Atomic Dust Bin.
I'm not saying these rims are invincible. When a composite force meets an immovable rock there is only one party with any risk of losing. Sh*t happens as they say and the Reynolds Assurance program is a saving grace on that front (note - the program is not included in the price of your wheels). The fact is that I treated them cruelly and the Blacklabel wheels stuck by me.
These wheels are expensive. $2500 USD expensive. It's a lot of money. It's A LOT of money. But, anyone considering spending big dollars on a set of carbon hoops would do well to consider the ride quality and overall package of the Blacklabel wheelset as part of their research. Buying a Pivot? They are available as an upgrade from new.
For more information check our Reynolds Blacklabel here.
*My singing has been compared to the sound of two cats gently mating.
**With my hack skills the lines choose me.