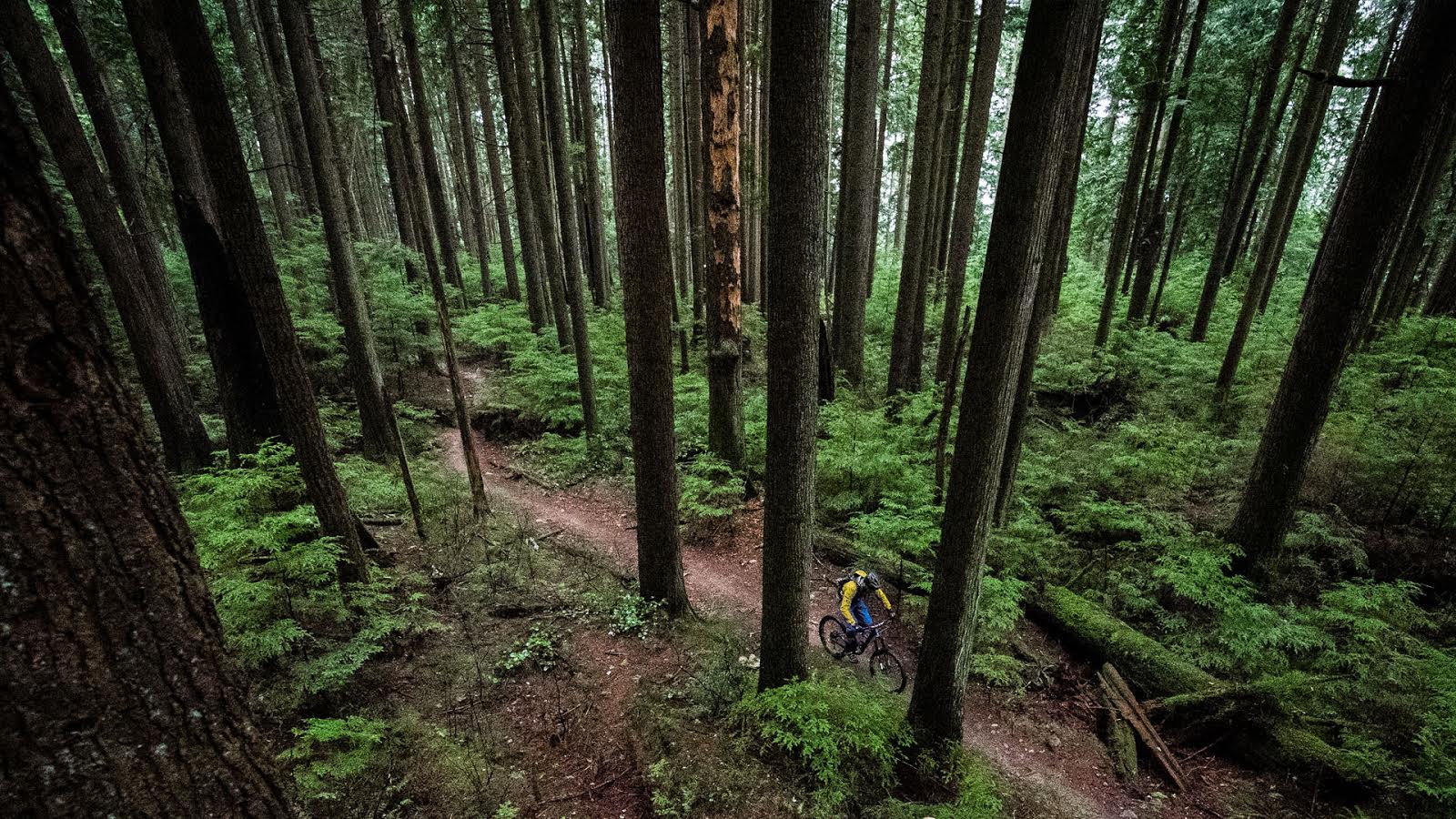 Reynolds 27.5 Enduro Carbon Wheels
I've got about 10 rides on Reynolds' creatively-named 27.5 Enduro wheelset and while things are mostly peachy thus far, I'll need many more miles on them before I make any bold pronouncements. In case you are wondering, they are aimed at the enduro market, which has come to mean something independent of enduro racing. To me that means these wheels should allow you to ride dh tracks at almost dh speed, pretty much like Aaron Gwin chasing rainbows, while allowing you to climb like Lance being pursued for a urine sample.
Until recently Reynolds MTB rims were laced to DT Swiss hubs but Reynolds now partners with Industry Nine. The I9/Reynolds partnership began the other way around, with Industry Nine using Reynolds rims for their Torch Wheels.  The I9 hubs made for Reynolds are distinctive in that they feature centre lock rotors, but the characteristic angry bees howl  remains.
Tires mounted easily and they were easily set up tubeless after I ditched the stock rim tape. It was bubbled and wouldn't make a smooth seal on the inside of the rim (even after I inserted a tube, over-inflated it and left it over night). Rim tape is essential because the rims are perforated for each nipple. The rims are 29mm deep and the inner width is 28mm, wider than some (Enve M60 HV are 26mm) and narrower than others (Ibis 741 are 35mm) in the category.
The I9 rear hub wasn't set up with an XD Driver when it arrived but an XD shell, which I wanted to use, was provided. The bearings, springs and pawls are interchangeable between the standard and XD driver shells so I pressed out the bearings and removed the pawls and springs. That was the easy part. Pressing the bearings back in was no problem either (because we have the correct tools), but getting those annoyingly microscopic springs set up under the pawls was an hour and a half of frustration for me. Be thankful I'm not your dentist. Frequently a tiny coil would ping free and land with an imperceptible tinkle somewhere in the workshop. I spent much of that 90 minutes with my nose near the ground as I struggled to get the 6 springs and pawls into place. Mercifully I was sent three spare springs; that's exactly the number I lost. (Reynolds assures us this wouldn't happen for consumers and that the empty shell was sent by mistake).
The I9 hubs mate with straight pull spokes, removing the troublesome elbow that is prone to break, and making swapping a spoke quick and easy; no need to remove cassette or rotor to do the job. In fact you could leave the wheel on the bike if the nipple doesn't need replacing. The wheels are laced three cross with 28 bladed spokes per wheel front and rear. The next time you are in a bike shop ask them if you can compare a bladed spoke wheel with  a conventional one. Grab each by the axle and spin. You'll notice that the bladed spokes produce less sound as they rotate. For me this difference is easily noticeable and it's enough for me to feel better about having bladed spokes under me. And this is completely ridiculous. By the time any airflow gets to the spokes of even the front wheel it will have been displaced and made turbulent. This sounds to me like any advantage is either non-existent or so small it can't be measured. But I don't care. I like them. I'll ask Uncle Dave what he thinks. Dave?
I've always been of two minds about asymmetrical wheels. Allowing more even spoke tension from side to side makes sense, as does more even dish, but something about not having the weight of rider and bike push down in the centre of the rim and tire feels wrong. Does it feel any different to me? Not at all. Is there any scientific rationale for my misgivings? I doubt it. In fact people with degrees in engineering and physics seem to think asymmetric rims are the way forward. I simply find it interesting that asym rims pop up now and again and then disappear for periods. And if the advantage was significant, particularly in the age of carbon rims, why aren't they ubiquitous? Hopefully I'll get some answers below. Thank you.
Reynolds may not be as well known for their carbon prowess as some others, but as Jon Harris discovered, they appear to have the pedigree and technological cred necessary to make a world class wheel.
So far…
Stiff. Perhaps not as rigid as the Enve M60 Fortys I recently finished testing, but quite close. They are nice and light at 1565 grams and nice and expensive at US$2500. You can buy a no questions asked insurance policy (RAP) if you like as well. It's $149/year, $229/ 2 years or $299/3 years. So far they are tough, and today I pinged off a couple of rocks loud enough to scare myself – without any casualties. But more time bashing is needed. I'll probably ride these longer than Reynolds expects before I do a final review. I hope they are okay with that.
Check out Reynolds 27.5 Enduro Wheels here or check the 29ers here.
---
Looking for more carbon in your life?