A run for the 5.10 money?
Reviewed - Northwave Clan Flat Pedal Shoes
I find life to be a constant see-saw between trying new things, and sticking with what is comfortable. Take tea, for example. For years, I hunted the perfect tea blend, cycling through a steady stream of English, French, Japanese and Chinese teas. They stacked up, until they finally took over an entire cupboard in my house. Finally, I realized that all I was trying to do was replace my first love: Murchie's #10 Blend. I figured that out, and I haven't looked back. Now, I just buy a pound of #10 twice a year and rest peacefully knowing that I've found my perfect tea..
The same now goes for flat pedal shoes. For years, I sought something that might replace my OG 5.10 Impacts. Once again, I cycled through a steady stream of the offerings from other brands, before realizing that this was a pointless task. I settled in on a pair of Freerider Pros and I stopped looking for anything better. When the offer to test these (these being the Northwave Clan flat pedal shoe, available now with an MSRP of US$149.99) came about, I had a strong urge to give them a pass. "Stickiest compound on the market," was the promise made.* "What the hell?" I thought. "As long as they don't send those hideous blue ones."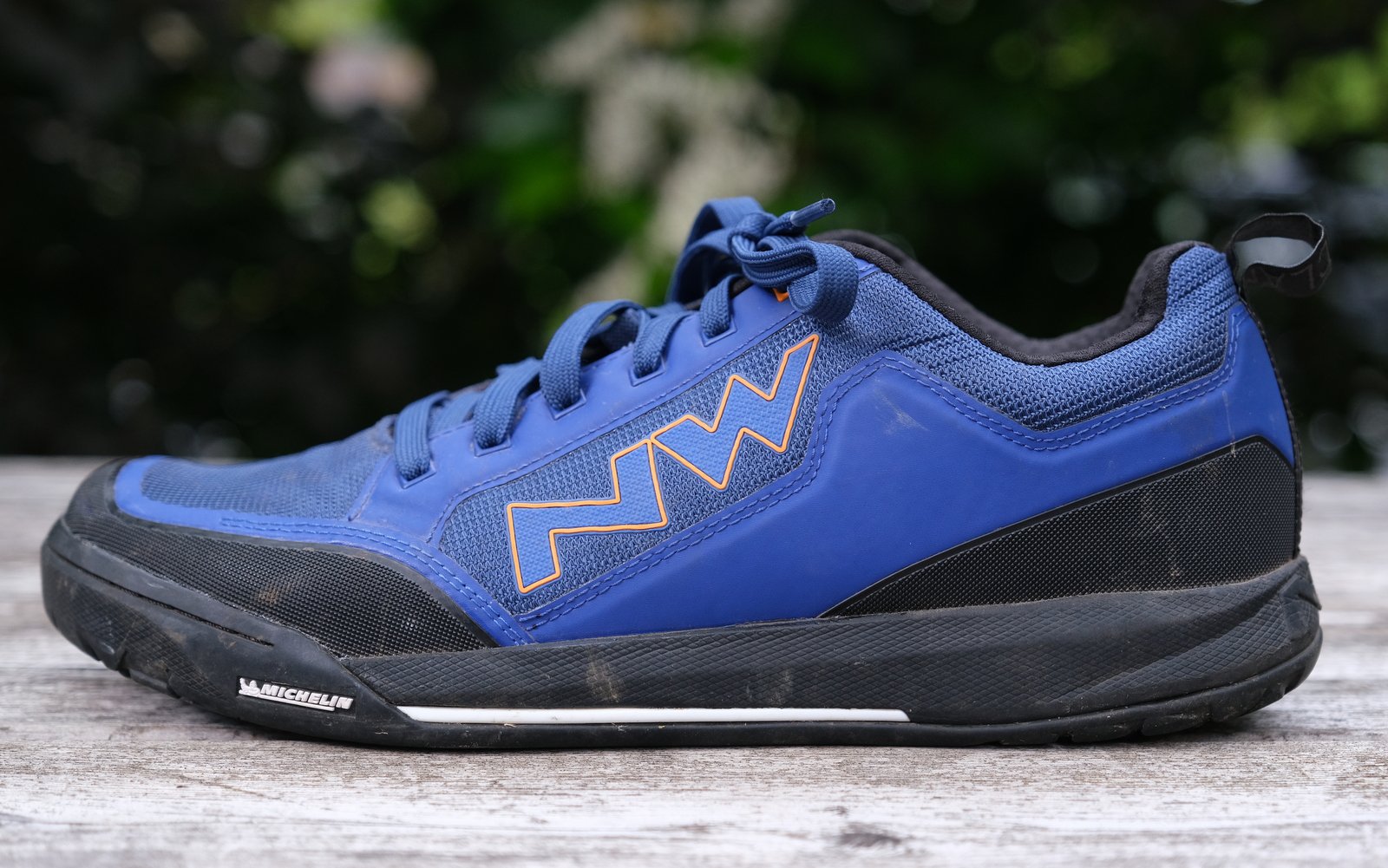 Non-Riding Impressions
May of us have a person in our life that quickly put our mountain bike fashion choices into perspective. When I strapped these on one morning for a quick city bike ride around town, I got a pretty serious shake of the head. These shoes aren't subtle.
And that lack of subtlety is more than skin deep. These shoes are substantial. They feel solid. Not necessarily heavy...but they're certainly not light. The uppers are stiff and robust and they feel like they can probably see you through some stuff. You don't ease into these shoes. You have to undo all of the laces, and pull the tongue way out and deliberately work your foot into them. They're a serious piece of business.
Walking is fine. Although stiff, they don't feel aggressively so, off of the bike. The soft sole provides a healthy amount of cushion and give. Grip when you are clamoring off the bike is mixed. There's a bit of tread under the toe and heel, but the majority of the sole is quite flat. They wind up gripping on rocks and wood fairly well, but loose dirt can be a bit of a challenge. Extra motivation to stay on your bike, is one way to look at it.
Riding Impressions
We've mentioned "stiff" a few times already. Of all of the flat pedal shoes I've used recently, the soles on these are pretty far over on the "stiff" spectrum. Your foot feels very supported and protected. They're in the vein of those previously mentioned old school 5.10 Impacts, and feel like a shoe you might turn to in order to keep your feet intact through a long day of bike park riding.
Of course, you're not going to use these for a long day of bike park riding if the grip isn't there. I know, certain people out there talk about how they appreciate flat pedal shoes that offer a bit less grip so that they can easily move their foot around on the pedal. I mean, some people like to make videos of themselves peeing on other people. Life takes all sorts. For the rest of us, we look for shoes with lots of grip.
The grip
The first off-road ride in a new pair of flat pedal shoes is always a bit nerve wracking. Slippery shoes leave me unable to ride with any sort of confidence. That first ride is a moment of truth where the next few weeks of your life are revealed: Do I have a new pair of shoes that I can wear on my bike, or do I have to write off a fair chunk of my leisure time in the name of giving these banana peels a fair shake? In a sense, judging a pair of flat pedal shoes is just about the easiest job for a bike reviewer. Which makes it so odd that this one continues to drone on about nothing.
So, getting to the point, these shoes grip. Quite well, actually. The first ride worked out surprisingly well. I gradually worked myself up to harder and harder trails in worse and worse conditions, and...not a peep. The shoes just did exactly what I expected them to do. I switched back to my Freerider Pros for a few rides, and it made absolutely no difference. I rode around my neighbourhood with one Northwave on one foot, and one Freerider Pro on another foot and...no difference. I mean, under certain conditions and angles one would do better than the other, and vice versa. But I for sure could not definitively say that one was better than the other.
And that, is really all that needs to be said about that.
There is one potential negative that comes along with all of that grip. The soles did start to show a fair amount of wear, pretty quickly. Now, with a good 20-25 rides under my belt, they're definitely looking worse, but not decidedly more so than they did after the first 5-10 rides. I even have a theory that some of that wear is helping the shoes to grip a bit better. It's like the pins on my pedals needed to build a little nest for themselves, and now that they have, everybody is getting along just fine.
Otherwise, the durability seems really great. The seams are all intact, and everything is exactly where it is supposed to be. There's no peeling soles or fraying laces or tearing lace holes. The uppers look like the day the shoes were removed from the box.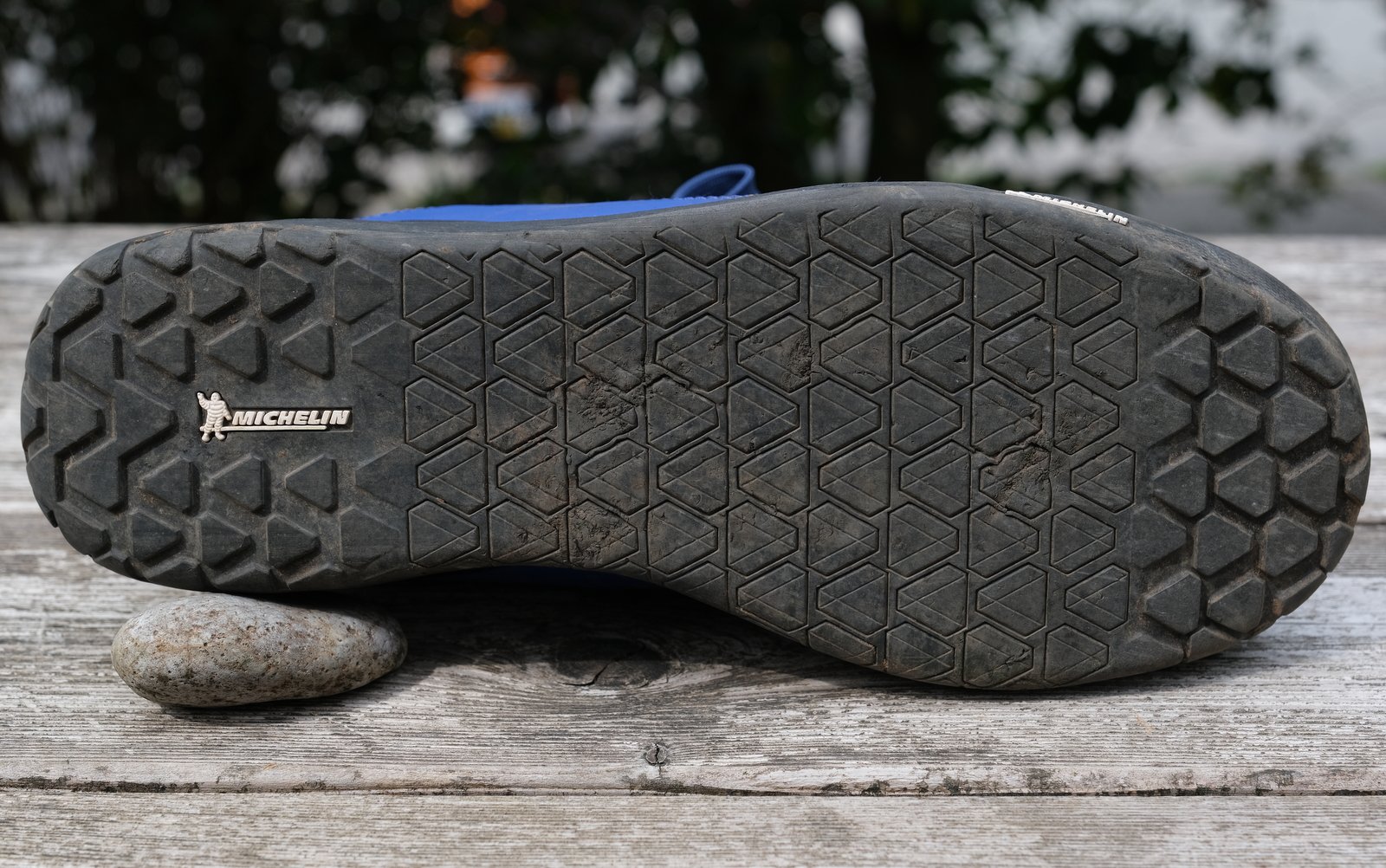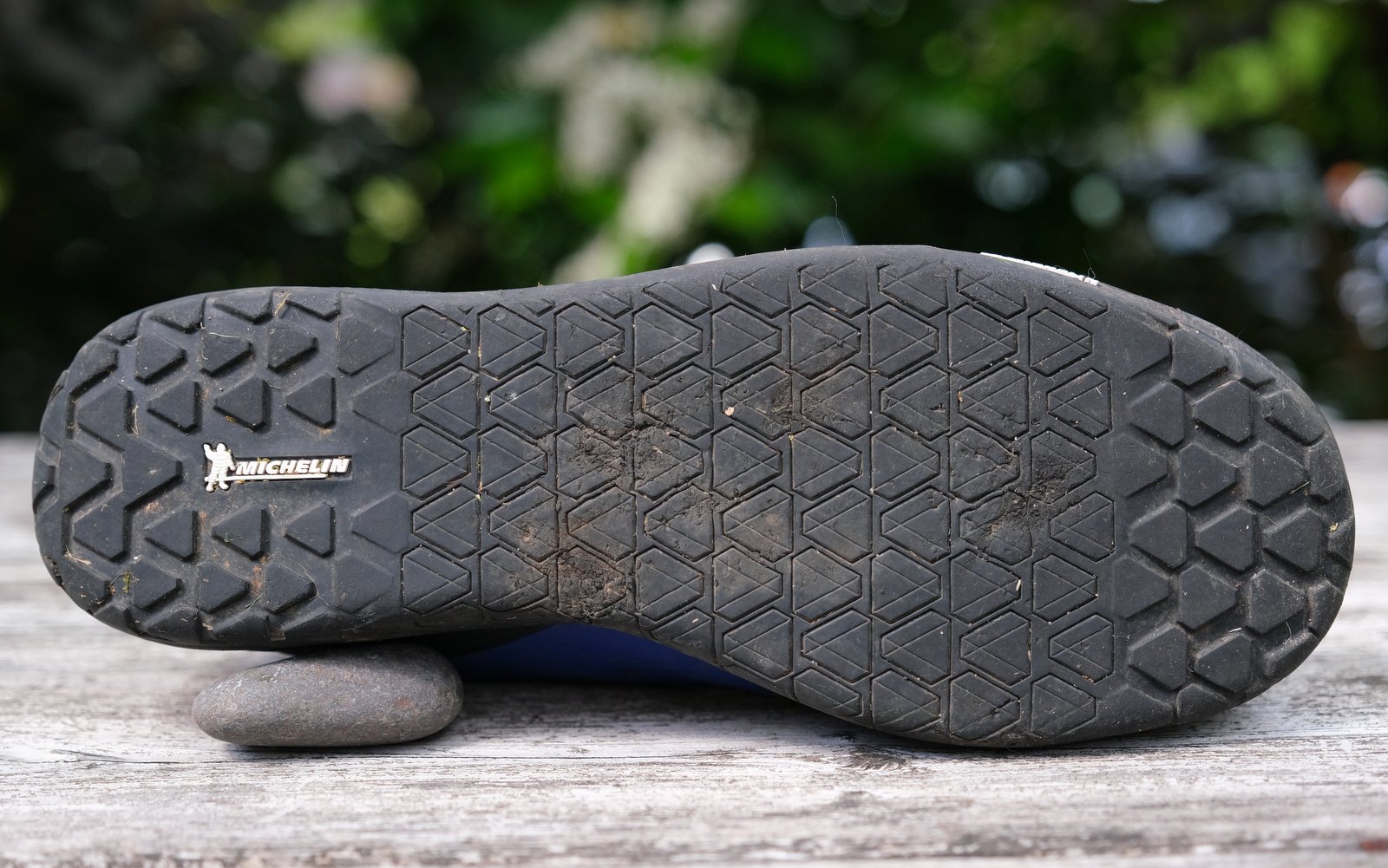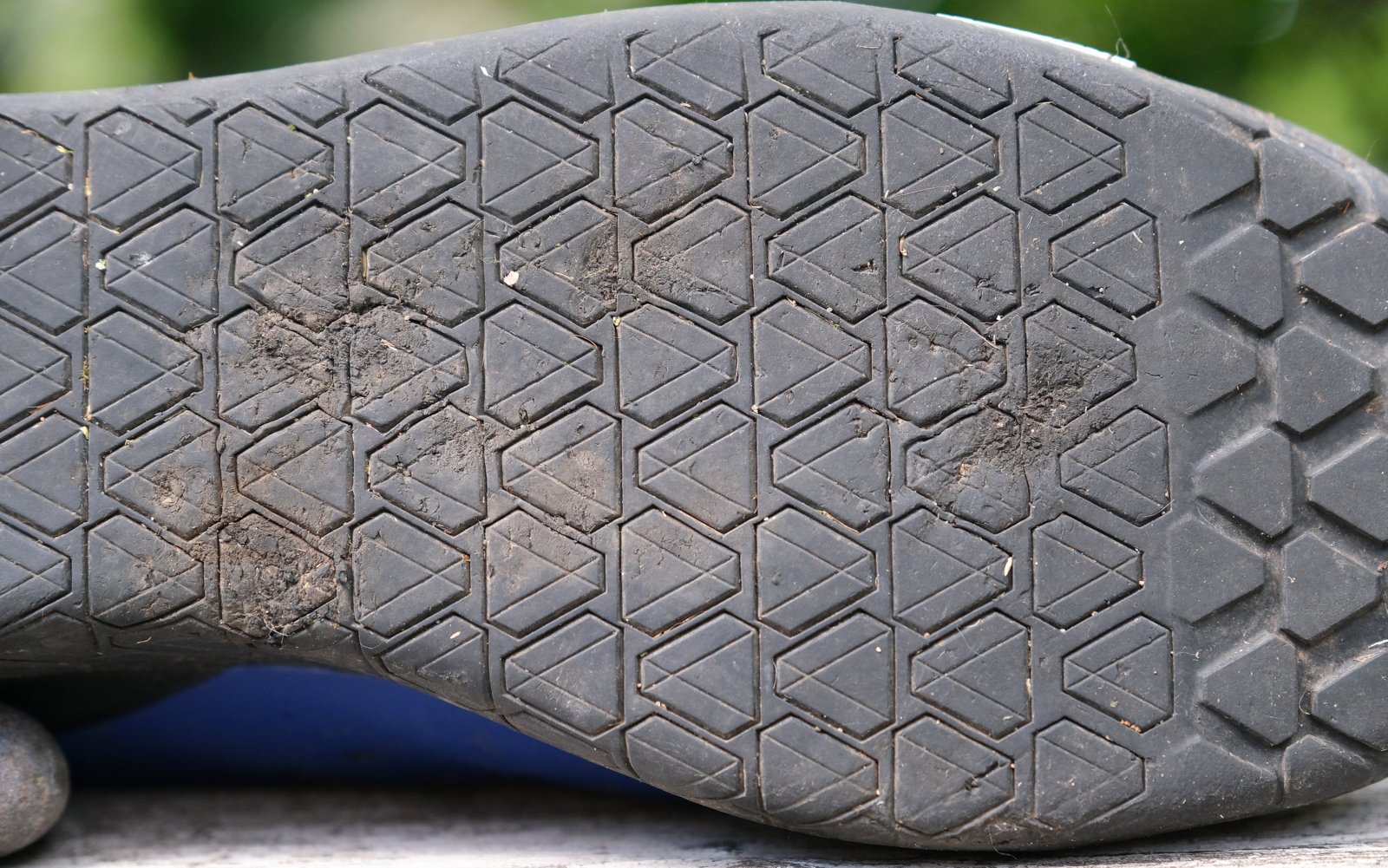 Conclusion
So there you have it. It sounds like there are a few new options out there now that are challenging 5.10 at their flat pedal domination. If you're looking for something different, these are a pretty good bet. They're a solid, well built option and the grip is certainly there. And they're available in black or gray if you're not feeling up to the day-glo blue. I'm going to keep my Freerider Pros, but I haven't felt a need to wear them for quite a while now. And if a pair of black or grey Clan's every showed up on my doorstep, I'd be even less likely to go back.
Uncle Dave
*The full exchange was actually a piece of sketch comedy that played out over several months and that gave me a fair amount of pleasure. It started with Alex sending me an e-mail, asking me if I wanted to test these shoes out. I thought I should run it by Cam before committing. I sent him this two line e-mail:
"Hey Cam. What do you think about me reviewing these shoes? I'm a bit skeptical, but Alex says they are the stickiest on the market."
Cam quickly wrote back with:
"I'll bet Alex is a roadie who has never ridden on dirt."
Which I followed up with:
"Actually...I think he raced a couple of WC DH's."
And he shut it down with:
"Ya, sure. but probably not on flats."*
A few months after that, I sent Cam this link about Alex. He does occasionally ride flats.
*I feel the need to state that this is not an accurate quote but I will let Dave use poetic license - Ed.
---
For more on Northwave Clan shoes click here...