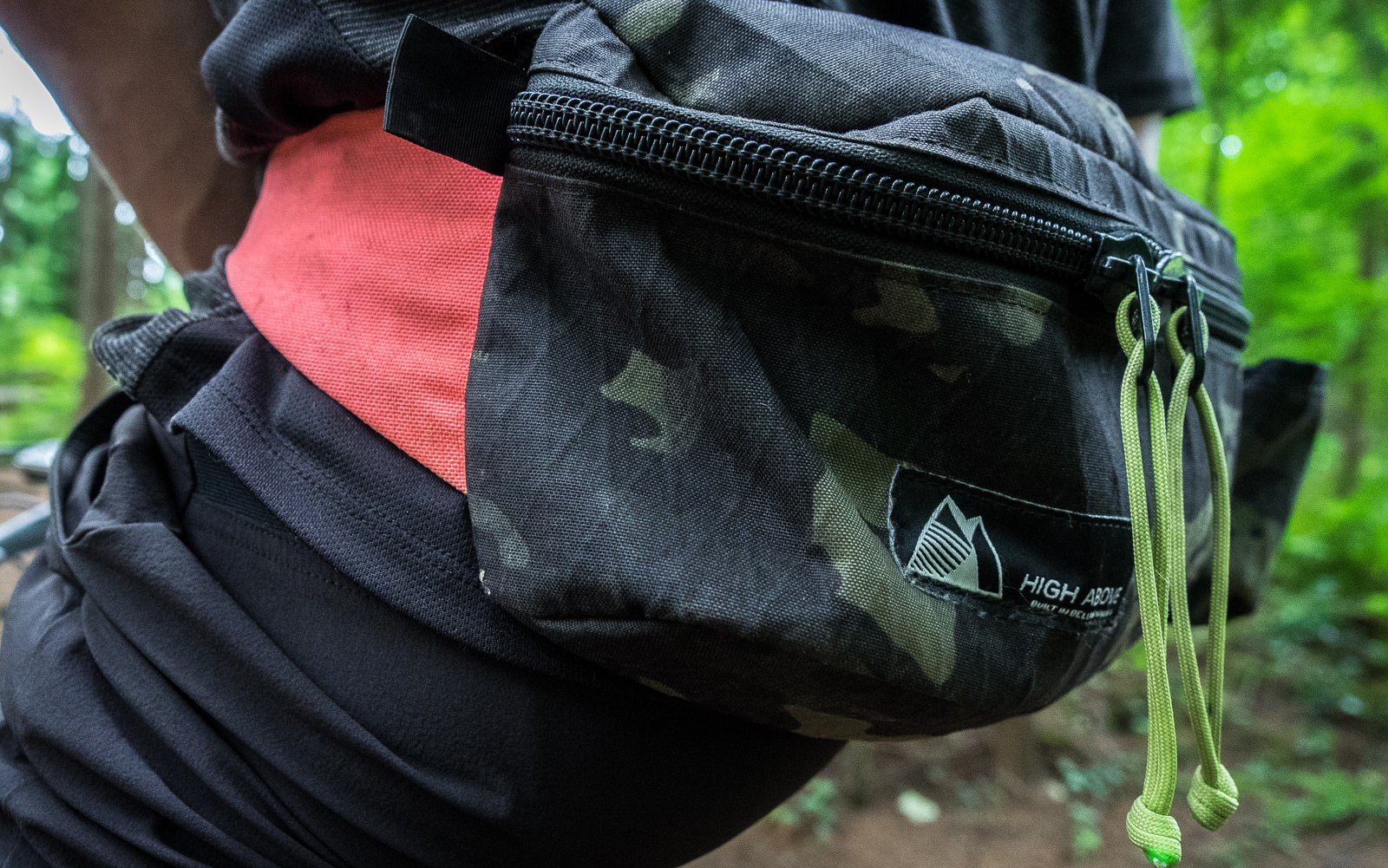 Reviewed: High Above Cascadia Hip Pack
Two years ago, anything Enduro seemed like all anyone wanted to talk about – or make fun of. That poor #endurbro horse is so beat I heard it was taking subcontract work as a whipping boy for whoever invented electric MTBs. If there was ever an enduring symbol pinned to the Bull's Eye of the dart board of Enduro mockery, it was the hip pack. Before you insist that it be called a fanny pack, let me educate you on what a fanny is. According to the nation that just decided to go it alone and give the EU the old heave-ho: It is a vagina. That's right, we have that word ass-backwards over here.
Bum bag I can accept. Hip pack is what many prefer. But fanny pack – let's just let that one go silently into the night, like Panaracer Smokes and 680mm bars.
Bum bag doesn't sound great, but it's technically accurate. Hip pack works. But fanny pack it isn't – not when you know the origin of the word Fanny. And some women have that name. But I guess we all know a dick or two.
The High Above Cascadia Hip Pack
It was also almost two years ago that I posted a review of Dakine's hip pack. And I liked it. But I stopped using it. Don't know why, exactly. Maybe because summer beer drinking season came along and I needed a pack to carry a tallboy to the top of a climb. And then "might need a jacket" season came and I thought the hip pack wouldn't be big enough. Maybe I wasn't convinced that hip packs made sense for a lot of rides. Thanks to the High Above Cascadia hip pack, I can say that I am convinced now.
Handmade in Bellingham by owner John Canfield (no relation to those Bros.), High Above bags come in two sizes (the Cascadia and the smaller Das Radpack) and a variety of colours. You can even go semi-custom and choose your own colours. I got to specify the Black Camo, which looks sweet, but John's messed up sense of humor meant I ended up with hot pink side flaps – which I guess I've grown to like since I haven't coloured over them with a Sharpie, like I threatened. Maybe the pink keeps people from making fun of me to my face. Either way, it's a good looking bag and the quality of the stitching and craftsmanship is evident.
The material is waterproof, but the zipper is not. While I haven't had much trouble with the insides getting wet, the addition of those would make this a proper 4-season riding bag – or a cool custom option.
There is a main compartment, accessed by a two full-width zippers with pulls long enough to reach without moving the bag around to the front. Yes, if you want to keep the bag on and access the insides – then it does become a fanny pack (damnit!) but that is easier than taking it off every time you're after a multitool.
Feedback
Which brings us to one of my small complaints about the bag. The main compartment and its two inner pockets do a reasonable (if slightly basic) job of organizing the contents. However, the bag's usability and organization would improve if there was a key hook and maybe a zip pocket or just a bit more in the way of content division. Alternatively, the side panels would benefit from a size increase and the addition of zip pockets – or at least one of them. Being able to accommodate a multitool, keys or even a phone in a hip pocket is standard now, even with small packs and hip packs. It would undoubtedly drive the price up from a reasonable $75 to something approaching $100 but for me, it's a miss to not have it at least as an option.
Loosen the straps and slide the Cascadia around on your waist to access the contents – or take it off and dig around. Neither is perfect, but then again you can't access your SWAT bib pocket or backpack while you're riding either.
If I had another complaint, it would have to do with the straps. They are wide and distribute the weight of the pack well, but there is nothing to tuck the excess flaps into, so they just kind of hang there. And finally, the buckles keep the strap cinched and release easily when you need them to – but also sometimes when you would prefer they stayed at the length you chose. In other words, you have to re-tighten the straps each time you put the pack on. Like I said, small complaints.
Otherwise, the Cascadia is terrific in every way. It fits well, stays in place when riding on all kinds of terrain, and does not flop around back there unless I really pack it full. And by full I mean it's possible to get all of this inside (barely): Jacket, tube, bar, gel, mini pump, CO2, levers, digital air gauge, car keys, wallet, pliers/blade, and a second bottle or a can of beer.
Big haul in a compact bag: wallet, Clif bar, SOG pliers and blade, digital gauge, tube, mini pump/CO2 inflator, iPhone clip-on lenses. Not shown but in there: multi-tool, tire levers. And a jacket would still fit – barely. Plus a beer or bottle in the Bottle Rocket attached to the side.
Not all inside the pack of course – the beer or your second bottle will fit inside a Bottle Rocket (a $12 addition to your order). A bottle fits tight (almost too tight until you break it in a bit) whereas a beer will be just slightly loose. Add a strap, John! I lost a beer or two until I started wrapping an elastic over the beer. I haven't tried using a koozie but that should do the trick. Plus, then you have a koozie.
A beer fits loosely (needs a koozie or an elastic to help keep it in place) but a bottle fits tightly. After several uses the bottle will slide in and out but initially, it's a bit of a chore to remove. Certainly not happening while you ride.
For rides where one – maximum two – bottles of water is enough, and where you don't need a kitchen sink's worth of tools and supplies, the High Above Cascadia is a great option. Unlike with the last hip pack I tested, I'll be continuing to use this one (maybe the Dakine will get rotated in as well). For $75 (US) I think you're looking at a great deal on a handmade pack from the emerging MTB mecca that is Bellingham.
High Above also makes a gear pouch called a Hot Pocket which I have found useful for organizing things like lights or tools when packing. Not a bad $25 accessory for frequent travelers.
---
Can you get down with a hip pack?