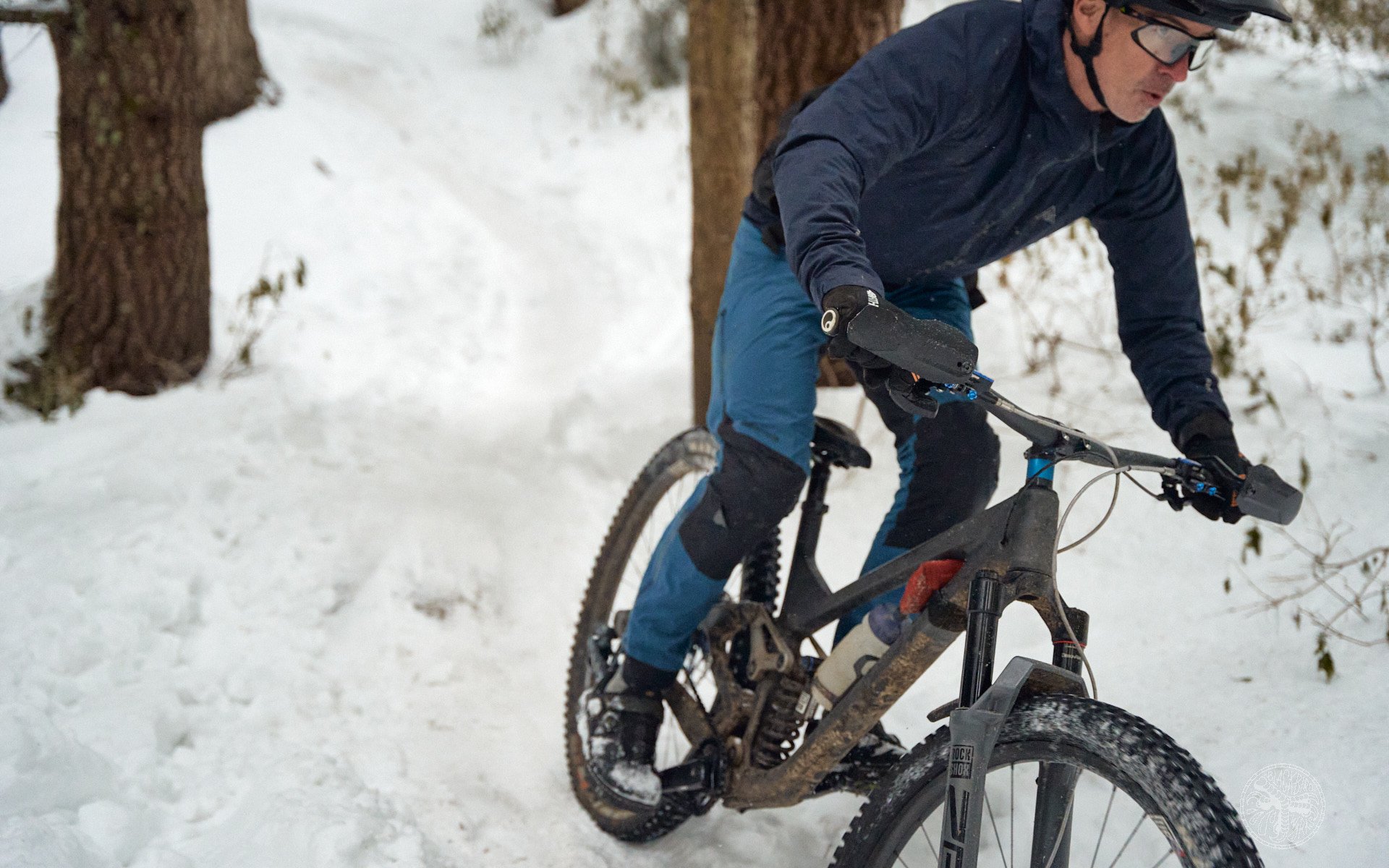 Reviews
Reviewed: BikeYoke's Expanded Sagma Saddle Line
BikeYoke Sagma Lite - Dave Tolnai (words and photos)
With the snow flying, my time on Sagma Lite has been minimal. Still, this is an intriguing little saddle and I'm curious to spend some time on it once conditions are back to something I want to ride in.
Speaking of minimal (always gotta be searching for transitions, people), this saddle has a lot less going on than other versions of the Sagma. There's no bolts, and no bumpers here. Surprisingly, the claimed weight (225g) isn't far off that of the more feature packed siblings.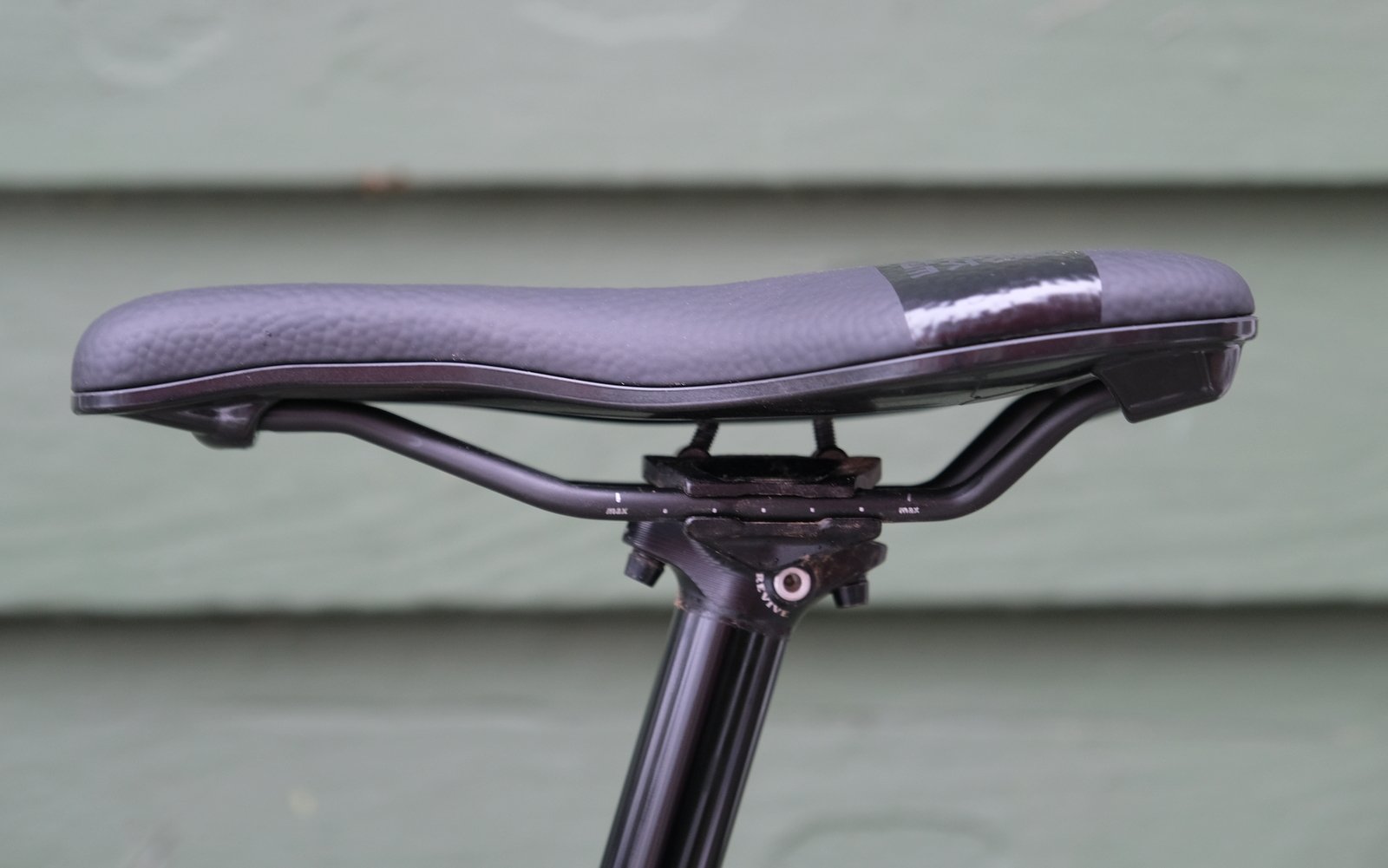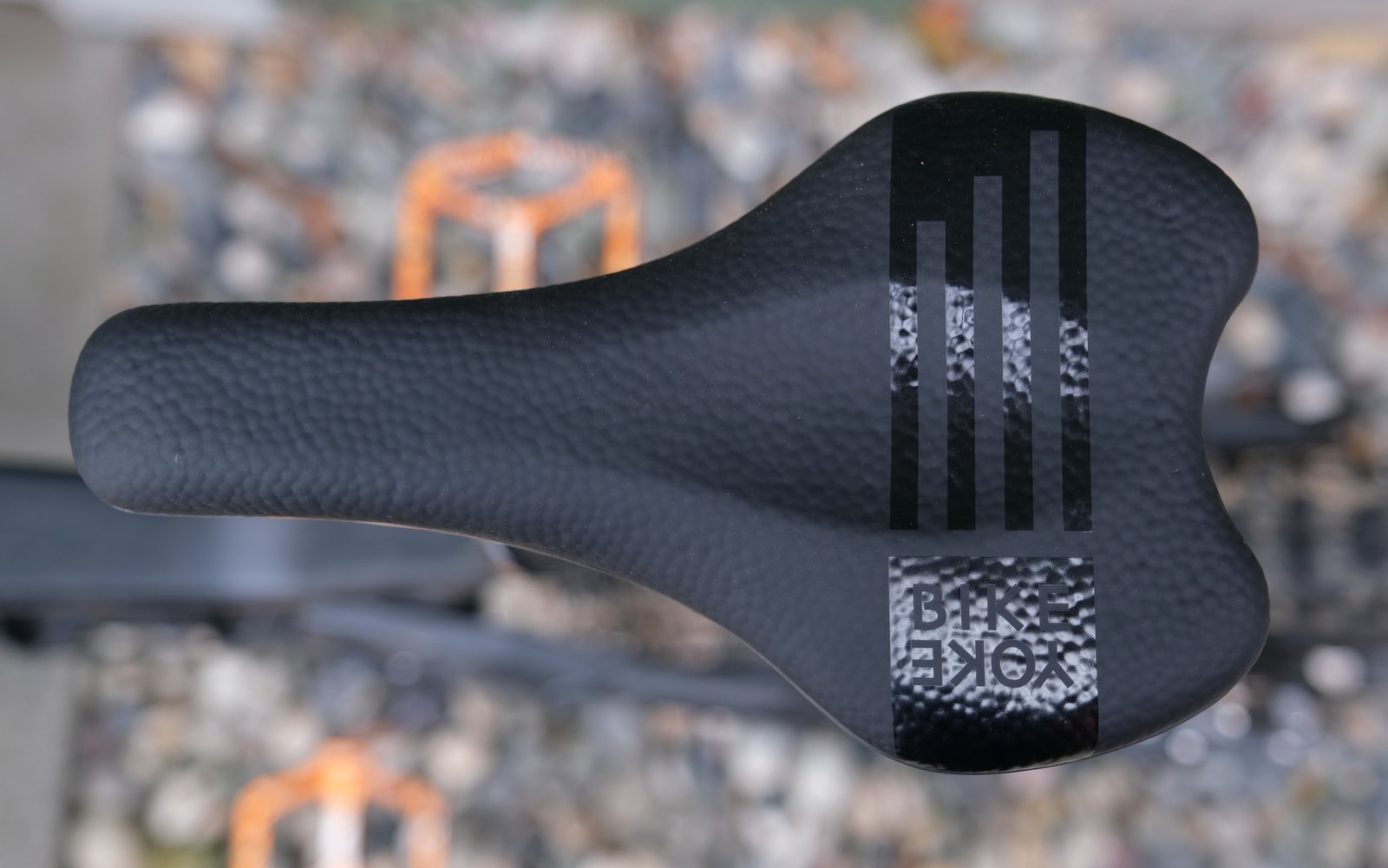 Shape and Thoughts
Upon first impression, this seemed like a weird little saddle. It's quite flat and the shape is unusual. The nose especially is short, and this gives it a stubby appearance. The saddle does away with much of the body of a traditional saddle, flattening everything and using foam to create the shape. Despite how thin it looks, there's probably more foam here than with most saddles.
Putting it side by side with a few other saddles, I was surprised to see that it actually wasn't all that different. Although it looks quite wide, that's just the perspective of the short and flat nature. It really is just that stubby nose that sets this saddle apart.
The material is quite interesting as well. I have no idea if it's exactly the same material, but the padding and "cover" (as it were) feel exactly like a pair of Adidas Ultra Boost runners. Soft and squishy yet supportive.
Also noticeable is a lack of bumpers or reinforcement on the top cover. And impacts or abrasion are going to be right on the foam, and it will be interesting to see how that holds up to real life wear and tear.
Rails on this one are steel, but there is a carbon fiber railed version available as well (see below).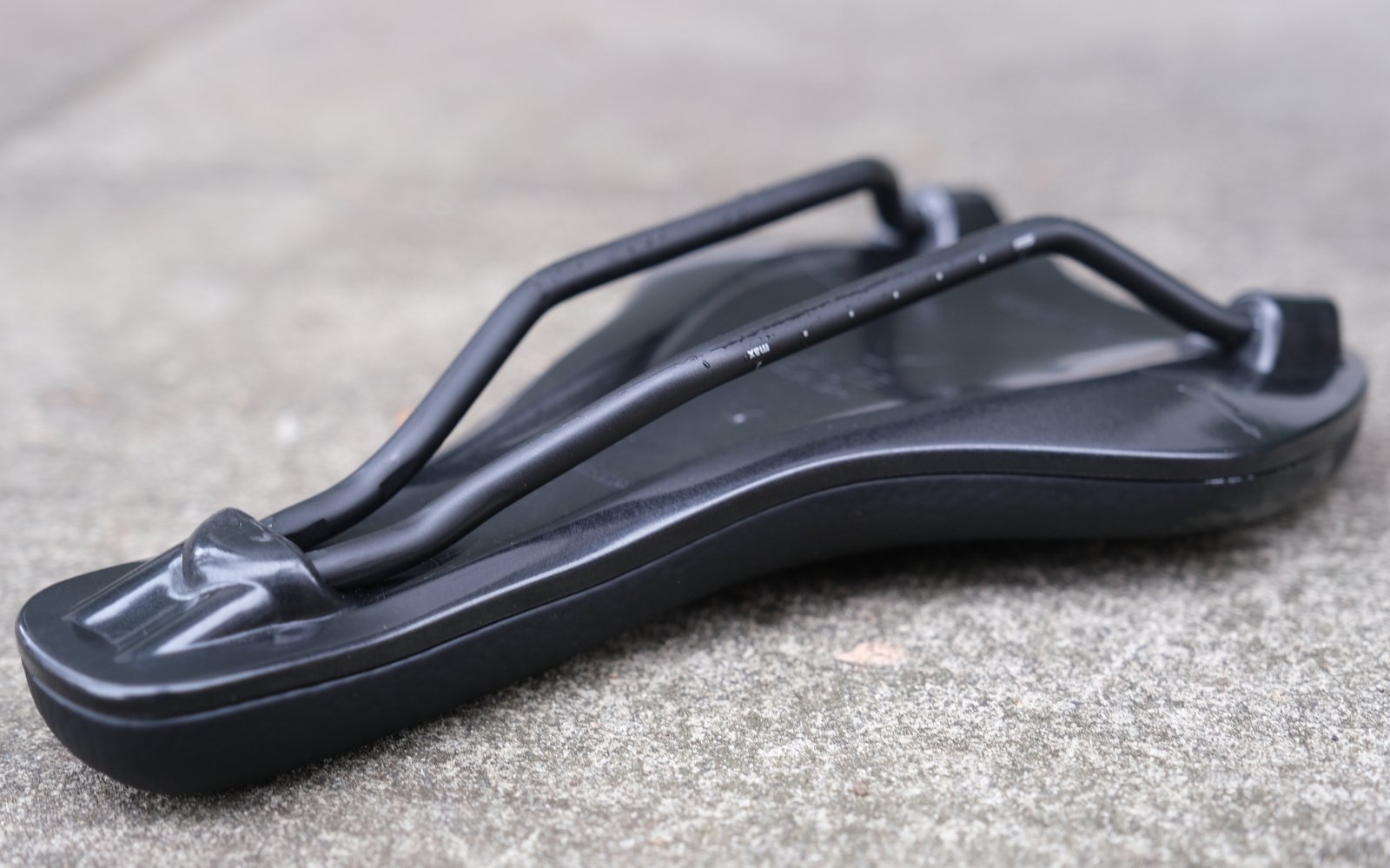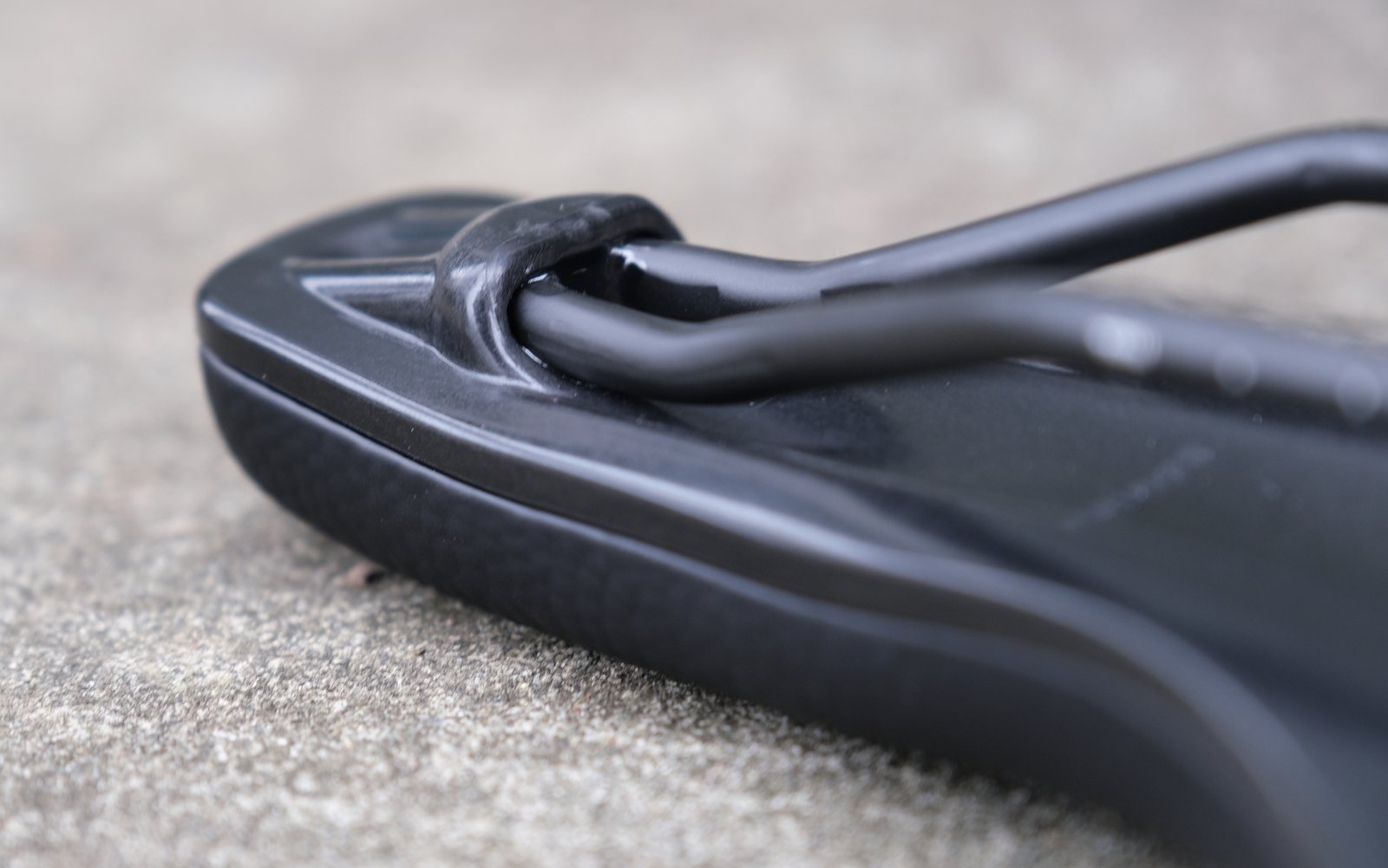 Installation
While installation is probably something you only worry about a few times in the life of a saddle, it can be enough of a pain in the ass to be a consideration for some. The relatively flat bottom on this saddle makes installation a breeze. It's easy to see all of your hardware and get your fingers in there if necessary.
First Sits
As I said above, I wouldn't even go so far as to refer to "mileage" with my impressions of this saddle. The most surprising thing is how narrow under butt it feels. While it looks wide, it narrows substantially at the back of the saddle. It feels like it just catches my sit bones.
The foam holds up to first impressions – surprisingly supportive for how squishy it is. It leans firm when pedaling, if anything.
Putting it all together, it's quite flat, a little firm and fairly small. Again, it hasn't seen a lot of mileage, and I'm looking forward to putting some mileage on it – probably in the new year the way things are going.
The BikeYoke Sagma Lite retails for 89 EU / 89 USD and comes in black only
---
BikeYoke Sagma Lite Carbon - Cam McRae (Photos - Deniz Merdano)
When a company screws up a product you like, or discontinues it, there's a nasty sting of inevitability and helplessness. When they take something you like and make you like it more, maybe even by simplifying it, as opposed to Apple's tiny iPhone upgrades, it's a rare time to celebrate. BikeYoke has done me that solid by taking a product I liked quite a lot and then removing an element that for me didn't add much utility. I know Andrew Major likes the suspended version of the Sagma, which allows the rails to rest upon elastomer bumpers (more on that below from Pete) but I didn't notice them while riding, nor did I miss them when I switched to a bike with a conventional saddle. This is possibly because lately I haven't been doing as much climbing lately, except on what many of you call mopeds, and when I do climb a mountain bike, I tend to spend a lot of time out of the saddle. I'll install the the original Sagma on an eMTB and see how it works for me there.
I was, however, keen on the Sagma in every other way; the pebbled finish on the cover, the firm but forgiving density of the "idbeads" foam, the shape and short overall length, and the comfort it offered. So much so that, despite my neutral opinion of the bumper system, I was quite happy to keep it on my Yeti SB150 until now. Since I now have the option to keep everything I like about the Sagma, while saving 56 grams and adding a little carbon, you've got my attention. I'm a recovering weight weenie but if there's a reasonably priced, no compromise way to make my bike a little less tubby, I remain quite keen.
There is a small element of the original Sagma that isn't to my liking, and that is the shape of the back of the saddle, which actually came to bite me in a small crash. Having two protruding sections in the back rather than a more smooth face means there is more opportunity to injure yourself when you go down. A small gripe but a gripe nonetheless.
Talking About Size
These saddles arrived without the opportunity to request sizing and this time around I got a 142 mm width version. My original Sagma is a 130 mm version, which seems to fit me fine. The 142 is comfortable as well but if given the choice, I would have selected another 130 because the more you can get a saddle out of the way, particularly for cornering, the better it is.
I had a little unscheduled durability test for the Sagma when my bike flew off the top of Graham Driedger's car (more to follow in my article about Nock Handguards). The saddle did take a significant hit that is evident by a slight gap in the rear of the saddle where the cover meets the shell. It's hardly noticeable and it remains entirely functional.
My rides on the Sagma Carbon Lite have been comfy and hassle free. The install was a little tricky on the OneUp V2 post because of the drop rail design, which reduces the distance between the bottom of the saddle shell and top of the saddle clamp, but not horrendous.
The BikeYoke Sagma Carbon Lite retails for 139 EU / 139 USD and also comes in black only.
---
BikeYoke Sagma Carbon - Pete Roggeman (words and photos)
After a few rides on the BikeYoke Sagma Carbon, I can tell we're going to be friends. While the short, squat shape is unusual, I found myself liking it more the more I look at it. Of course, that doesn't matter at all if it isn't comfortable - thankfully, the chonky little Sagma is a great platform from which to sit and pedal, and I really appreciate the shorter length. I do move around fairly often on my saddle when riding, but the Sagma's size didn't seem to limit my options or comfort when perched on the nose for a steep climb, and it gets out of the way easily when descending or heading right and left on the trail.
At 212g, this Carbon Sagma is right on target with their claimed 210g weight for the 142mm wide version. The foam is comfortable without feeling too plush (I prefer firmer saddles) and I want to compare it to a thinner, firmer version of a memory foam pillow: there's a bit of give 'off the top' but an overall feeling of significance underneath.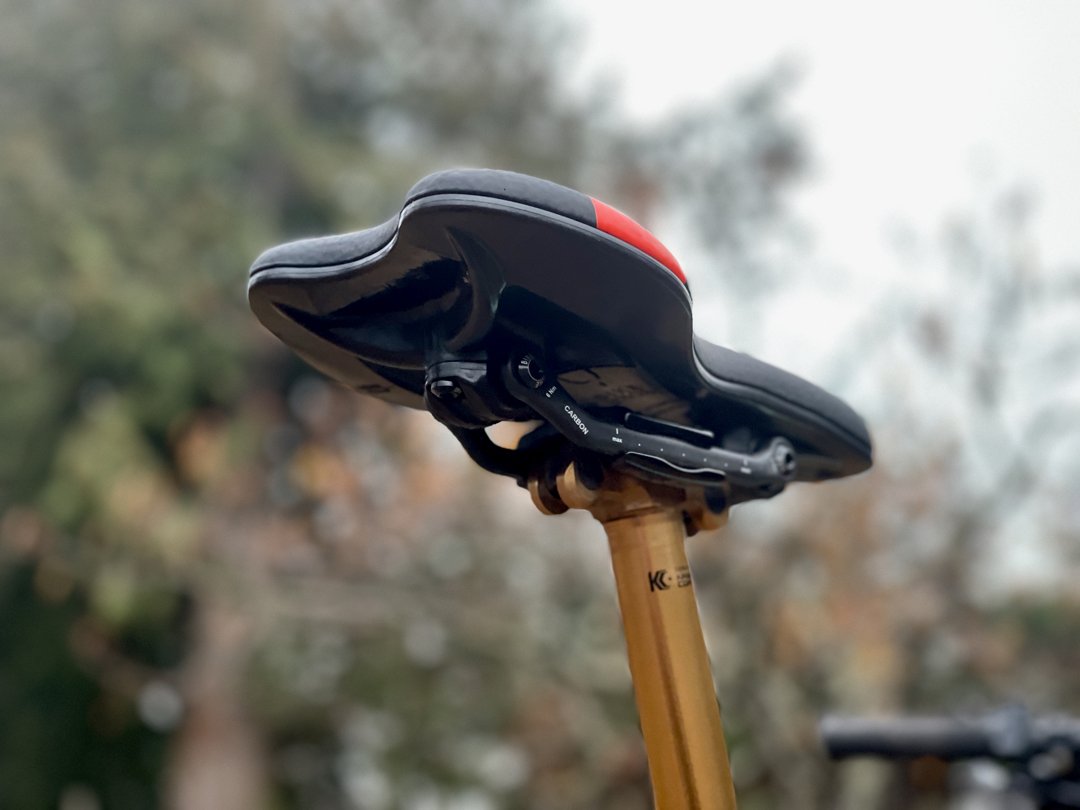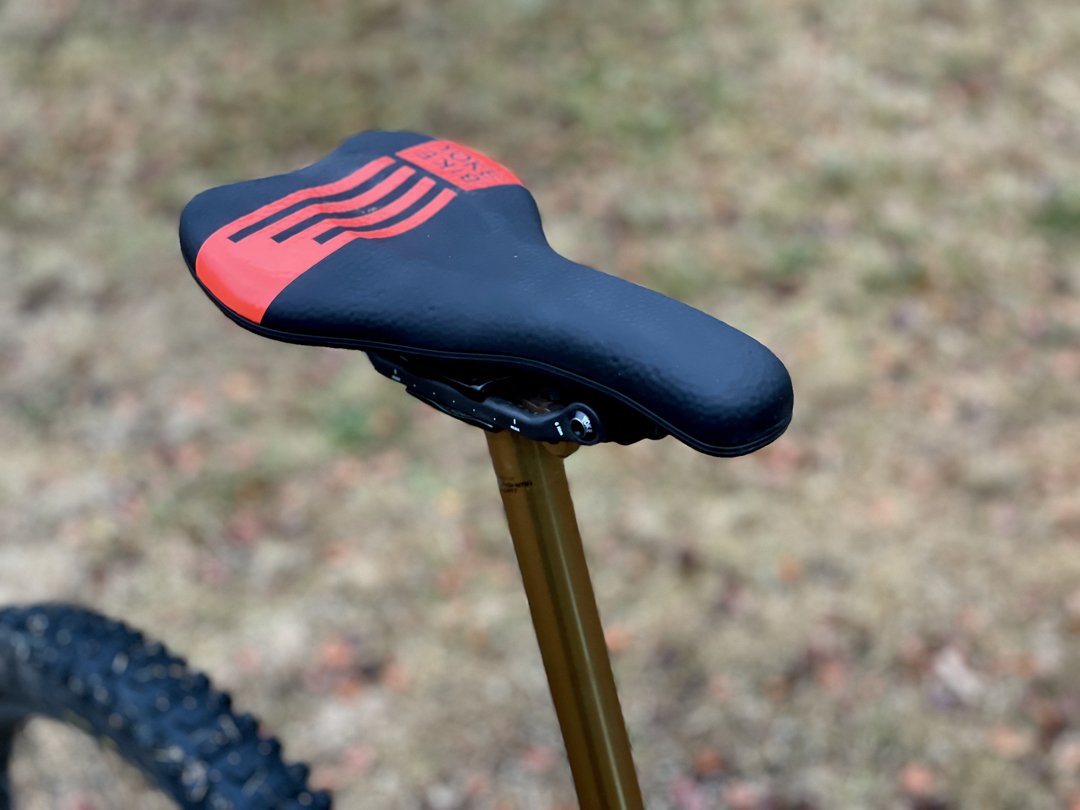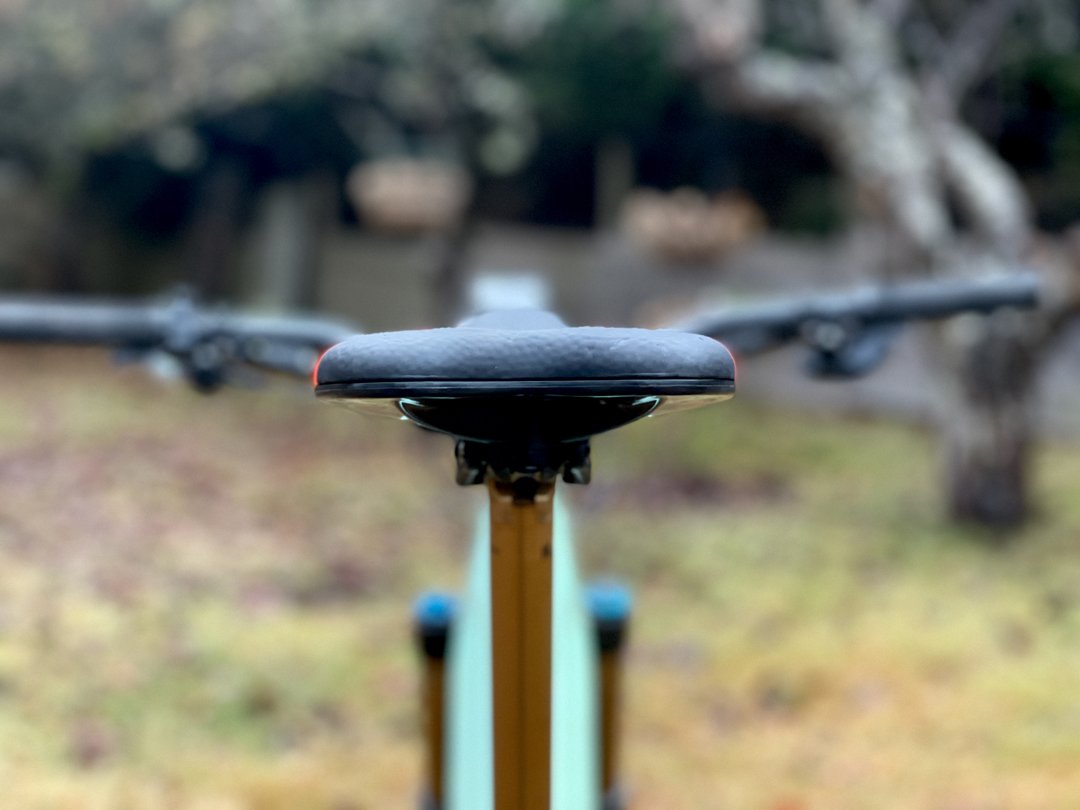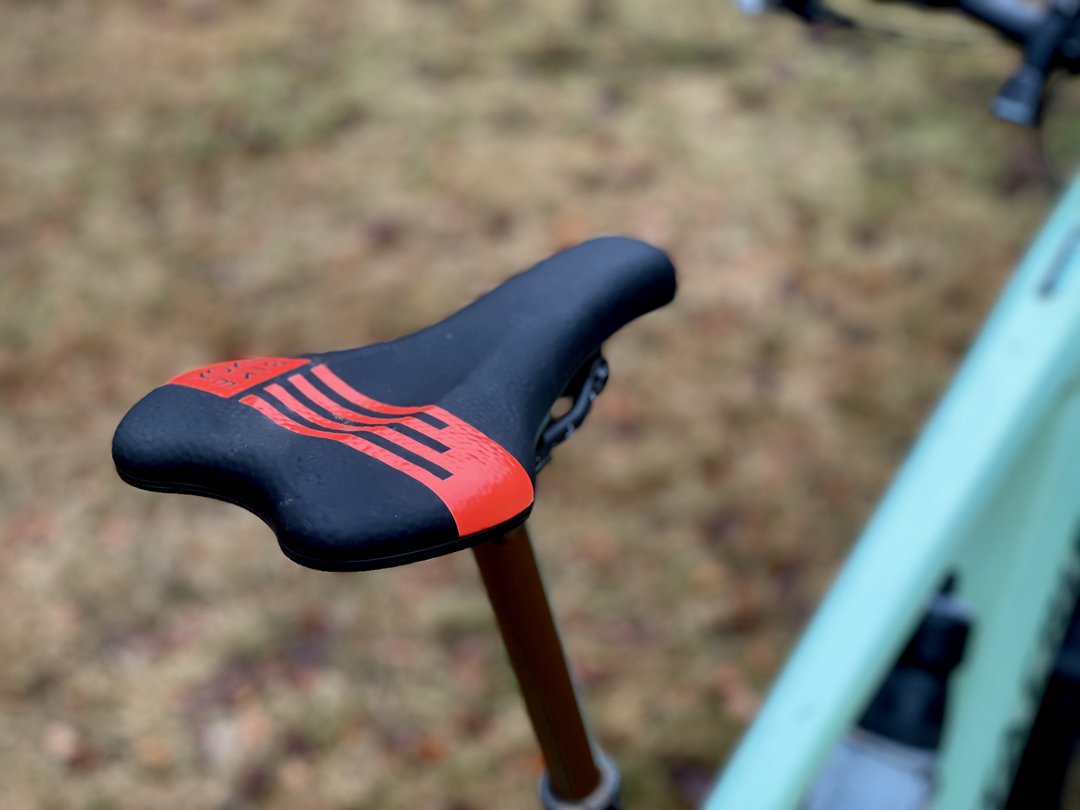 The elastomer suspension system came set up with two regular bumpers and I've left it like that, not wanting it to be softer (my test saddle came with two added 'S' or Soft bumpers, but retail versions will come with one Soft and one Hard, and two Regulars installed). You do feel it give beneath you as you pedal, but it's more of a flexy saddle shell feeling rather than a ton of movement. I haven't had it on any long rides - those become rare for me this time of year - but so far it's really interesting and I'd love to get it on for some XC rides when your proportion of time in the saddle is higher, at least in my experience.
Installation took about 3 minutes. I'm a naughty boy and used the stock Fox Transfer clamp which call for a max rail height of 9mm (the Sagma Carbon's rails measure 7 x 10mm) but I'm working on getting the right rail plate, which is a simple item to get from any dealer or Fox directly. Don't do this at home with your carbon-railed saddle, folks - make sure you're using the right post hardware.
I'll check back in after I've had more time on it, but early impressions are super positive and I'm now officially in the short saddle camp.
Colours available: foxy orange, blue, pink, lime, ruby, black
The BikeYoke Sagma Carbon Lite retails for 169 EU / 169 USD