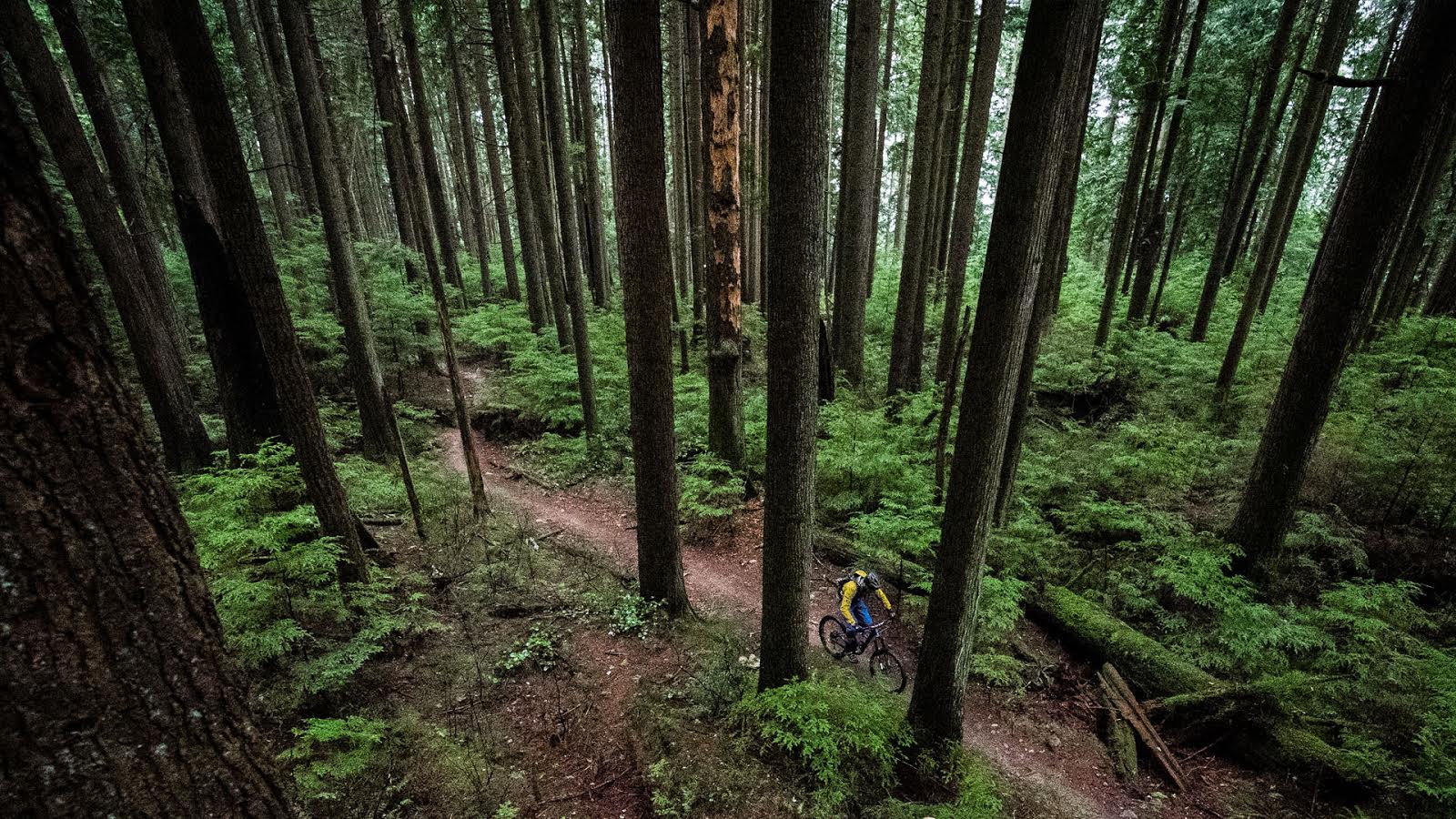 Reviewed: 2015 Scott Voltage FR710
I think riders can be split into two groups: those that think new bikes are too expensive and those that don't care. I fall into the first group and am currently in the market for a new bike that I can ride in a bike park every weekend. My riding buddies are going to give me more props for hitting a big line or looking stylish on the jump lines than they will for getting to the bottom first. As a result, I want a bike that's comfortable, durable, and affordable. I don't need a race machine. The 2015 Scott Voltage FR seemed to check all my boxes. It was recently updated from a well-liked freeride bike to what I consider a freeride/park jump bike with modern geometry and 650b wheels. It is stiffer, more stable, and hasn't lost its fun jumpy nature. Complete builds priced between $2249 USD to $4249 USD make the Voltage FR a great less-expensive option.
As part of the Voltage's update a couple of major issues with its predecessor have been addressed. First, the Voltage was previously only offered in two sizes which were both on the smaller side. The Voltage FR's largest frame option – the size I tested – is quite long and has a very roomy cockpit. This makes the bike stable and allowed me to move around on the bike more than usual in the air and on the trail. I found it comfortable and missed the long cockpit after I gave the bike back. While I consider the updated frame geometry an overall positive, the Voltage's length does mean the bike demands more work in tight single track. Wide open jump lines and fast straight flowy single track lines are when the Voltage is really in its element.
The other issue the new frame addresses is a stiffer rear end. A brace has been added between the seatstays and the shock linkage. A noodly rear end used to be a concern, but it isn't anymore. While stiff, the rear end also felt long. This probably added to the aforementioned stability, but it didn't help with manuals. I found it easier to pop the whole bike over something than just get the front wheel up. One other thing I noticed about the rear end was that I had to really torque the rear axle to keep it from unthreading. The Gambler uses the same dropout system as the Voltage – simply threaded into one side of the frame with no other mechanism used to hold it in place – and I haven't heard of rear wheels dropping out of either, but I still think it's worth mentioning riders should double check the rear axle from time to time.
The Voltage is a very simple single pivot design. I found I was able to go into jumps with less speed and use the bike to pop myself up and over the distance. I also liked the lively characteristics on single track; jumping over doubles and into or out of corners was a blast. What made it even more enjoyable is that the Voltage is still a stable, long travel park bike so jumping into questionable lines rarely got me into trouble. I just generally enjoyed the way the Voltage responded to my feedback. As someone who likes to feel the trail and jump around on my runs, this bike was a pleasure to pilot.
On the flip side, single pivots inherently lack braking independence and I immediately noticed that the Voltage's rear suspension felt firmer under braking. As someone who currently owns a couple of single pivot bikes I can say that this is an attribute one can adjust to, but it is fairly pronounced on the Voltage.
Small bump sensitivity on the Voltage was also noticeably less than other downhill bikes that are common in the Whistler Bike Park (specifically the 200mm 26" carbon Santa Cruz V-10 I did a quick back-to-back with). The Voltage isn't the perfect plow bike, but I don't think that it's trying to be. It's a poppy, stable playbike, not a gnar-gobbling race machine.
Before judging too harshly for a bit of a rougher ride, remember that the Voltage has a complete starting price of $2249 USD and goes up to $4249 USD for the top spec that was sent to NSMB for review. In other words, a complete Voltage can be bought for significantly less than some of the other long travel options you can find being regularly abused in the Whistler Bike Park. The bike's weight is also competitive at a claimed 35.27 lb. weight without pedals for the large size (and my scale didn't disagree).
As for the spec, I was pleasantly surprised by a few things. The 180mm Fox 36 up front was air sprung which made it really easy to set it up for different testers. The fork also felt well-matched to the rear end. The Magic Mary tires with a softer compound tire up front wore well (not super fast) and showed good attention to detail from Scott. I had no issues with the house-brand Syncros components during the test and thought the overall weight of the bike came out rather respectably. My only real gripe was with the Shimano XT brakes which I sometimes felt did not have sufficient power in certain demanding situations, like at the tail end of a double right before a tight corner. I prefer maximum braking power in the bike park as I find that it's easier on my hands after a full run. If this were my personal bike I would have put on Shimano Saints or Avid Codes.
I was quite impressed with the Voltage, and had a lot of fun on it. Unfortunately I found a total deal breaker for me: when I was really hanging off the back of the bike on steep rough trails, the tire came up and struck me between the legs on a few separate occasions. I thought I learned from the first couple of times that it happened and was trying to ride the bike in a more neutral middle position, but it didn't take long for me to forget and have it happen again a little more firmly.
In my experience, I have a lower position on the bike than the majority of guys that I ride with. I like my saddle slammed and my stand over low. The Voltage accommodates both of these things, but occasional surprises from the tire made the Voltage FR a poor fit for me. Not everyone will have this problem, but riders who tend to be low off the back of the bike should be wary of the rear wheel on the Voltage.
Overall I enjoyed my time on the Voltage FR 710. It's a great price-conscious option for those of us that just want to go have fun on two wheels. For between $2249 and $4249 USD you get a playful park bike that can take the big hits. Highlights include a poppy suspension platform, and long modern frame geometry that's comfortable and stable both in the air and on rough descents. The frame also has nifty adjustments which can be read about in Kaz's first impression article, or Morgan's first impression article. The flip sides to the inexpensive, poppy, and stable frame are a simple suspension platform and long chainstays. It's up the rider as to what compromises they're willing to make. I'd say a rider who loves to send big jumps and occasionally spends some time blasting some wide open single track should definitely consider the Voltage FR.
---