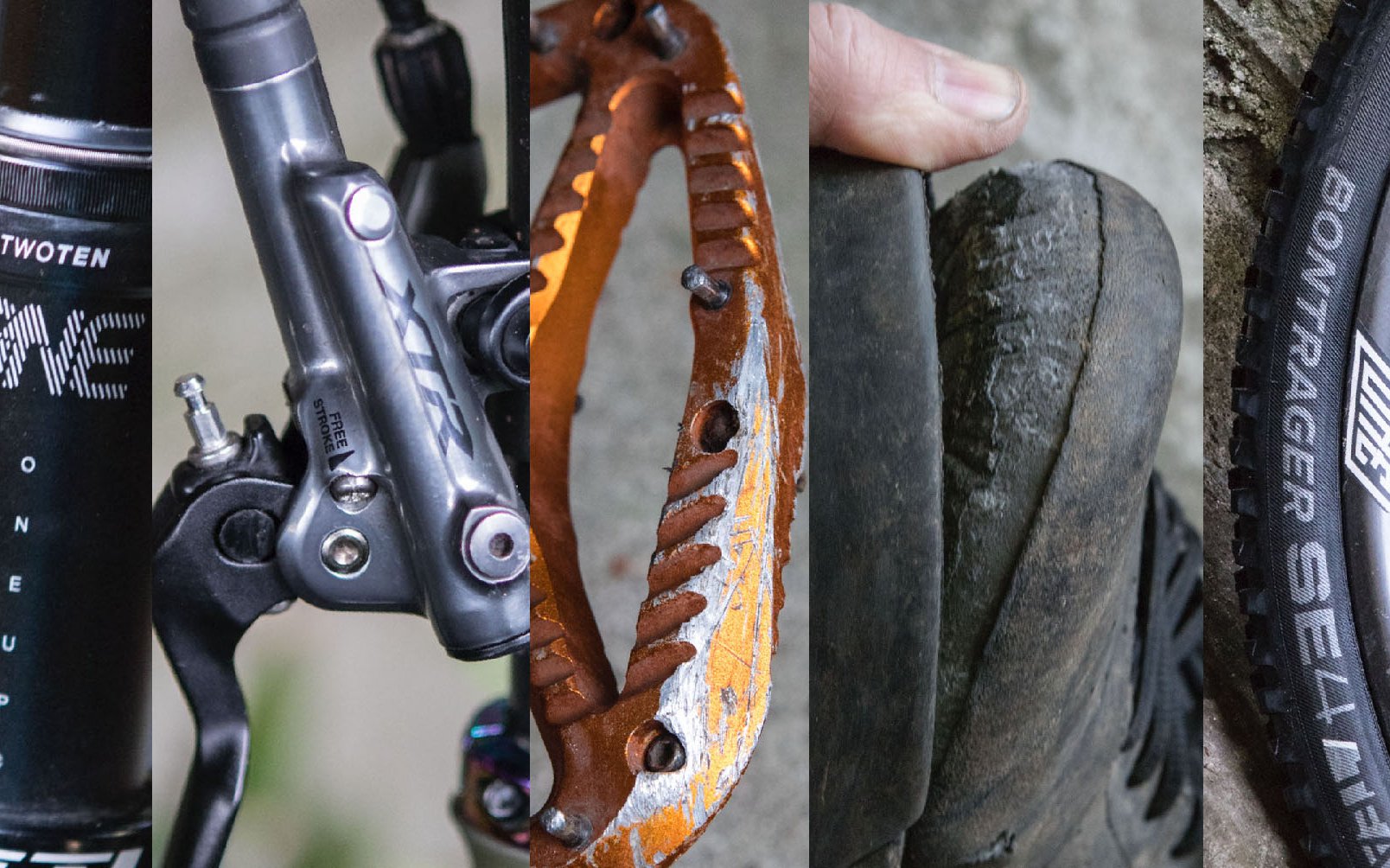 Long Haul = New Info
Review Updates - Spring 2020 Edition
The arms race of trying to have the first review out for a product has some limitations. Any discerning rider will tell you there are vital aspects to be learned about a product in the second 60 days that didn't reveal themselves in the first 60 days. For many products you can extend that interval and that statement will remain true. It may be that something wears prematurely, begins to rub your skin sore, or maybe this gadget combusts spontaneously in the presence of a blood moon. Good news sometimes takes time to show up as well. The Shimano XTR drivetrain I've been riding has actually improved over time and durability can only be guessed at until many months of hard use have passed.
This is often some of the most valuable info both for those who have already purchased the gizmo in question and for those who are considering it, so we're trying to put more emphasis on follow up, when new information arrives or to confirm that our initial impressions have held steady. If you missed my first instalment, published in February 2020, it's here.
Ride Concepts Livewire and Hellion Shoes
Good News - Livewire
Initially I tested a pair of Livewires and they made my feet very happy. I continue to appreciate the grip, the relative stiffness of the sole, the protection, and the attention to detail. These have been a homerun, particularly considering the excellent value they deliver at 100 USD. My initial impressions of the Livewires were published in Sept. 2018, when I was a born again SPD rider. That winter, when the snow was sticky and clipping in became a hassle, I went back to flats, and I had so much fun I once again spurned pedal bindings. Which means that aside from a few gaps I've worn these shoes on almost every ride since, with an exception you'll read about below. I'd say we're talking about over 200 rides with Livewires in a couple of years. Grip has been great, but not too gluey to prevent a reposition when standing, and the fit, with a generously padded heel cup is great. I don't have to worry about cranking the laces because the shoes are so well formed.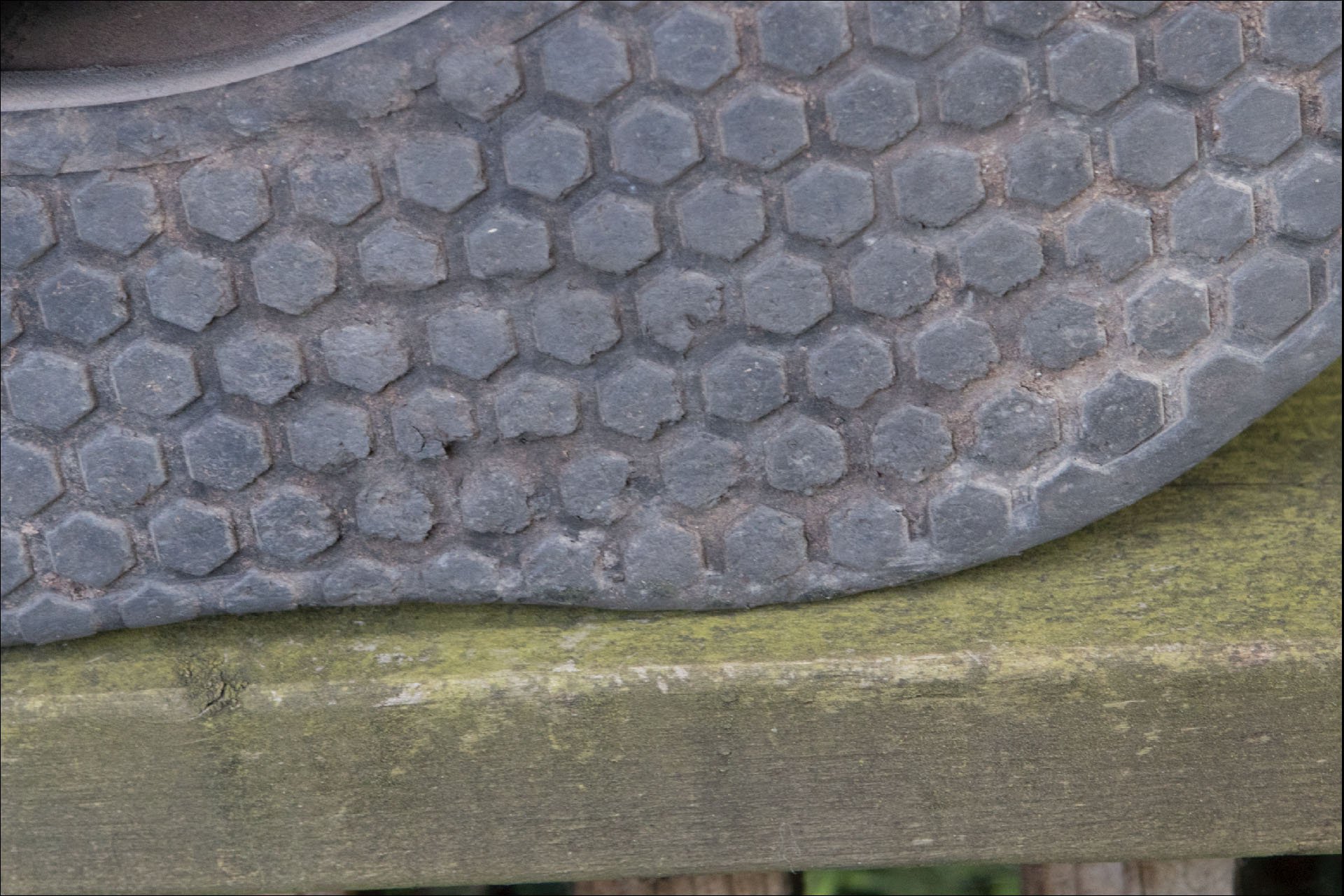 The gusseted tongue keeps out the muck and they are surprisingly resistant to moisture when it's pissy out. All in all they are standing up remarkably well and it's clear they have no thoughts about retirement. They are performing as well as they did when new.
Less Cheery - Hellion
The Hellions came into my life because they were too big for AJ and I started rotating them with the Livewires, particularly during the wet season. If they weather was good I would wear the Hellions for awhile, and then when the inevitable rains came I'd swap. I didn't have the Hellions at the beginning and I didn't start wearing them immediately, but they probably have 50 rides in them. The Hellions are a level up at 130 USD and they have a more weather resistant upper. Performance was similar and both shoes feature a D3O insole which likely contributes to the well protected feel underfoot.
Unfortunately at some point the outsole came unfastened from the upper. I only noticed this when I was cleaning up my workshop and I don't remember any impact on the trail, and while it's possible I smoked something with my foot, it seems there was a problem with adhesion. I spoke to Ride Concepts and they told me they haven't had customers complain about this and it's entirely possible this is an anomaly, and they were holding up well by every other measure. Based on the excellent performance of the Livewires, which have been put through hell in every kind of weather, I would bet this is the case. In fact the Livewires have been the most durable flat pedal shoes I've worn to date. I'll use some epoxy or Freesole to resurrect the wounded Hellion and I'm sure it'll be good to go for a long stretch.
One Up Dropper
Dropper posts are sticky. They support the majority of our weight with one skinny stanchion, most are dependent on a well-lubed, tensioned, and routed cable in the line of fire of rear tire debris. If you have never had a dropper fail you are either; new to riding, built like Peter Pan, or incredibly lucky. It's an if not when situation. When you stretch that post to 210mm, one of the longest posts around when it was released, you amplify the potential for problems.
Despite this, the 210 V.2 post I've been riding has been trouble free. I began to think there was a little too much play, but as it turns out the collar, which is meant to be hand-tightened for ease of maintenance, was a little looser than it should be. I checked it again today and it needed a few twists.
The One Up V.2 requires a little more maintenance than your average dropper, but it involves simply unthreading the collar and adding a little grease as necessary. This thing has been incredibly solid and I love every millimetre of the big-ass drop. Going back to a 175mm post is a hardship for me at this point. I continue to appreciate the short stack height and overall length and having trouble-free operation for a year is miraculous.
XTR 9120 Brakes
Over the years I've had some uneven experiences with Shimano brakes. The dreaded wandering bite point, frequently-required bleeds and inconsistent performance have all come my way at one point, so while optimisitic, I was a little skeptical about XTR discs when they were first released. Since that time I've logged some of the longest and steepest descents of my life, and I have yet to come up with a complaint. There is the odd niggle, like the increased noise that sometimes emanates from the otherwise-excellent Ice Tech Freeza rotors and... Actually that's about it.
I've had no over-heating issues, bleeds have held well, and the bite point wanders so little that it's barely perceptible. The best part however is the on-trail performance. The amount of power clamping the rotor with even moderate pressure from my pointer fingers is impressive. Even better it's easy to control. I rolled into a couple of lines I'd never ridden today and feathering comfortably and in complete control allowed me to get them done for the first time.
The only other little niggle I can dig up is the disappearance of my LH reach adjuster. I have no idea what happened to it, but it's not currently functional. I have only on my second pair of pads despite hundreds of hours of use and control and retraction has remained excellent until there is less than 1 mm of pad remaining. Okay, one more. At 325 USD an end plus rotors at 85 USD apiece, these are pricy binders. Shimano generally doesn't hold retailer to MSRP however so you can often find them for less.
These brakes have kept me incredibly happy and in control and I don't expect to give them up any time soon.
We Are One Faction Wheels
I deliberately chose a set of trail wheels, not recommended for bikes with over 140mm of travel, for my 150 rear, 170 front travel Yeti SB 150. Inner width is an unfashionable 27mm, the cross section is 21mm high, and they are very nice and light at 425g. While I'm not terribly hard on wheels, at 160 lbs it seemed to me that mounting and then thrashing trail rims on a long travel machine would be a worthy test.
Both vertical compliance and torsional rigidity have been extremely impressive and I never feel beaten up after a section of trail.
Of all the mistreated components on my bike, that I generally ride as much in winter as in summer, the wheels are perhaps the most frequent victim. I tend to explore the limits of low pressure and, until the last month or so, I have eschewed inserts when I'm testing tires. I have regularly cringed at the sound of a shapely carbon rim making solid contact with a knife-edged rock at the bottom of a rock slab. I've heard noises resembling a crack of gunfire, many dull thuds' and regular thwacks. I've worried at least five times that I'd damaged the rear rim, but it's never shown any battle wounds at all. A bonus is that they continue to look pretty good. Rim cosmetics are generally the first to go, but these still look sweet.
Recently I decided to pull out my spoke key but all that was required was 1/4 turn in a couple of places; otherwise they were dead true. I am very impressed with the made-in-Canada We Are One Faction Rims, which come with a lifetime warranty.
One Up Aluminum Pedals
These have been my pedals of choice when the riding gets gnarly. The long, thin pins get lots of purchase against the sole of my shoes and the overall width reduces contact with bony bits on the trail. I expected the pins to take a beating and get bent out of shape long before this, but only one pin is bent to any degree and it remains in a useful alignment. I have overhauled them once, which was quick and easy, and recently added a little grease to keep them spinning smoothly and silently after they started to rattle some.
About the only element I find less than ideal is the bearing placement next to the crank arm. Moving the bearing out of the platform makes the thin profile possible, but it also pushes your foot outboard a little, and I tend to like being able to push my shoes against my cranks on occasion. For whatever reason this is a comfortable stance for me, which is the antithesis of Chris Kovarik.
The last entry is perhaps the most boring one; the Chris King Headset. It of course remains perfect. Yawn!
An exploding rim or brakes that got hot enough to catch fire would have been more interesting, but sadly neither of those catastrophes occurred. I'll try to select components that are less indestructible next time around so I can find some limits.
Ask away if you have any questions about these or other products I've tested.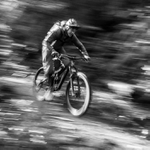 Cam McRae
Height - 6'/183cm (mostly legs)
Weight - 170lbs/77kg
Inseam - 33"/84cm
Ape Index - 0.986
Age - 57
Trail I've been stoked on lately - Lower Digger
Bar Width - 760mm
Preferred Reach - 485-500mm (longer with 27.5 wheels than 29)