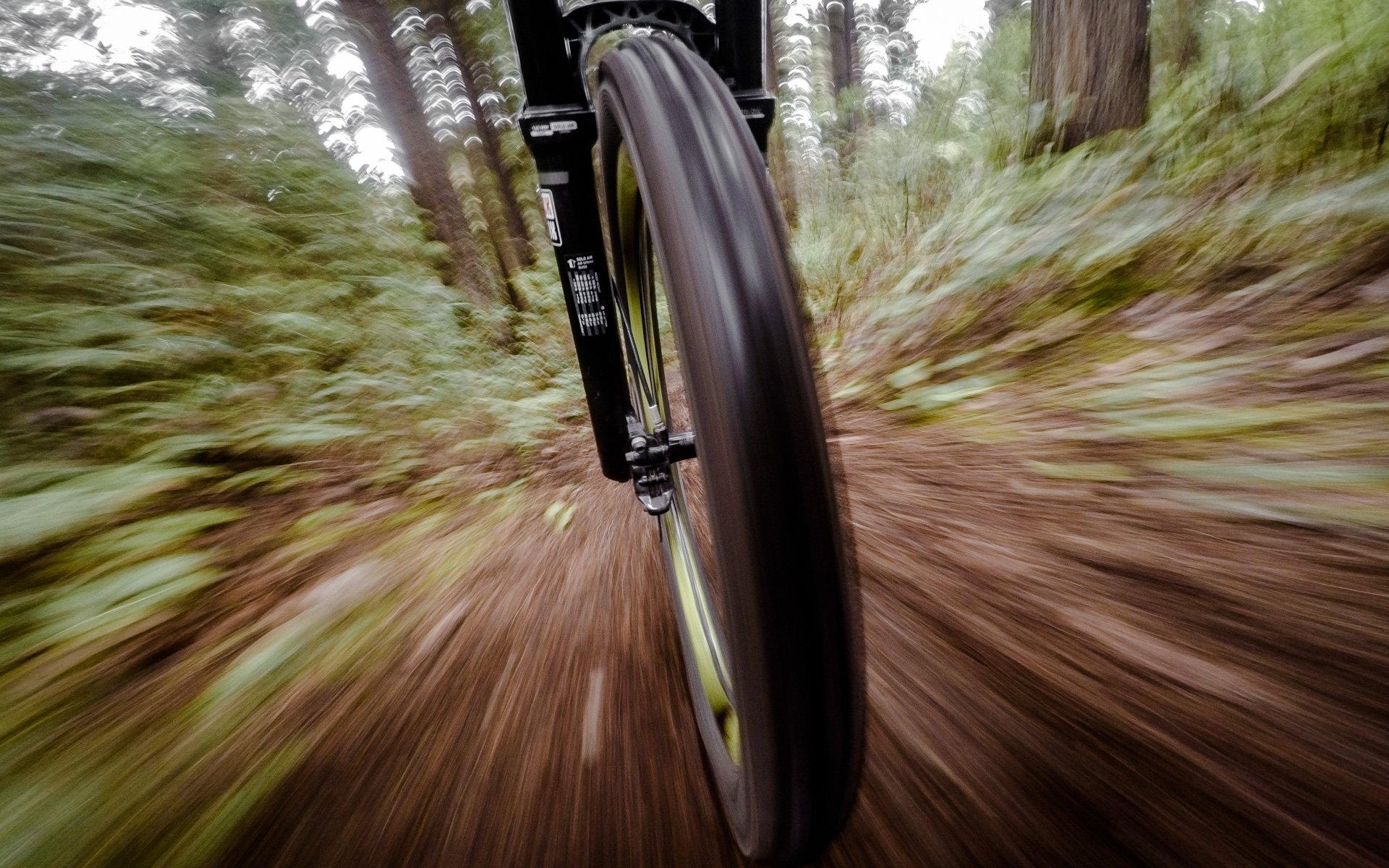 LONG-TERM REVIEW
e*thirteen TRSr Tires
e*thirteen TRSr tires: Long-term review
When I hear the name e*thirteen, I first and foremost think of chain guides and rings. More recently their LG1 wheelsets have made some noise but it was still a little surprising when word came down that they had started to produce their own line of rubber; enter the e*thirteen TRS tires.  The TRS tires are available in a super sticky triple compound as well as a Plus compound in 27.5, 27.5+ and 29 sizes. The Plus version is designed for durability, while the triple compound Race variation, as the name implies, is designed for performance and the rigours of the enduro race circuit.
First look:
When I was first handed these tires they were already mounted to the day-glow goodness of a Reynold's Enduro Wheelset(link to review) and I was so enamoured with the buzz of i9 hub that I didn't even notice the tires. Cam refocused me by raising his voice over the dissonant whir by asking "I'm also interested to see how you like these tires? So far, I've been pretty impressed!" Taking a closer look, my first thought was "huh, e*thirteen is making tires now?"
I'm a creative person by trade and the over-logo-ing and splashy graphics that riddle the bike industry like a schizophrenic racecar is a pet peeve of mine. With simple white on black logo type, my inner design nerd was happy to see e*thirteen had nailed the aesthetics. I have since noticed that the latest iteration of the graphics is far less subtle than the production tires. Obviously, my minimalist eye preferred the quieter graphics but the production sidewalls aren't hideous either. Note to everyone else - less is more.
Mounted to the Reynold's 30mm external/25mm internal rim, the tires square profile looked way bigger than the reported "true 2.35" width". I had some doubts whether the rear tire would safely fit into my Evil Insurgent's rear triangle but sure enough it tucked in between the slabs of carbon with room to spare. A note to those with frames with tighter tolerances - break out a measuring tape prior to purchase.  
The tread pattern of the TRS Race is designed to hang onto trails at high speeds. The side knobs are tall and angled to control roll under the pressures of cornering. The ramped center knobs are spaced to optimize rolling speed and braking traction. The sidewalls themselves are reinforced to sit somewhere between an XC tire and a full on DH casing. At 900ish grams, the TRS Race seems to balance durability and weight which is a good thing for weight weenies but I had concerns about how long these tires were going to hold up. Time would tell.
My usual trails are a mixed bag of the typical North Vancouver terrain and the very first thing you notice on a wet day is if you have the right tires. My first impressions of the tire was that it felt that it rolled a little slower than my usual rubber descending. It wasn't a major difference but it was something I took note of and kept an eye on to see of they rolled a little easier once they were worked in a little. I consistently run my tires at 30PSI and they eventually did seem to roll a little quicker after several rides. I chalked it up to the e*thirteen's sticky compound being a little too eager and I can't really say if I can call grippiness a fault. And let's face it - North Vancouver isn't exactly known for its high speed flow trails. If these tires were to prove themselves it would be on steep, janky off camber root nests and slick as sh!t rock faces.  
After spending a few months riding these tires in all manner of conditions what I can absolutely attest to is that these tires are ridiculously grippy. It didn't matter if trail conditions were shitty or hero dirt - wet roots, dry roots, wet rock, semi-damp rock and everything in between were no problem for these tires. This consistency made it possible to not worry about braking traction and just focus on riding which is the best compliment I think any product can hope to achieve.
If you like a drifty tire in the corners then you may want to look elsewhere because this tire likes to really hang onto corners. With that eager grip I mentioned earlier combined with the 2.35" wide rubber, the side knobs seemed to lock onto dirt, wood and stone regardless of conditions. That consistent grip was there whenever I cared to notice and it was rare for me to complain about tire choice on any given day. Solid.
Carrying a camera pack half the time, I rarely notice a tire's rolling resistance while climbing unless it's dead flat. What I do pay attention to is that I go through rear tires at an alarming rate and where I notice that most is my credit card statements. Sure enough, after a month of hard riding, I spotted a few side knobs that had started to show wear. Thinking that I was going to burn through these tires, I hopped online to check the replacement cost and to my delight, a fresh e*thirteen TRS Race was only $69 USD. Hot damn! When the time comes I'll take 2 at the same price as a Minion in Canada.
On average, I rode 3-4 days a week over the 6 month period of  testing these tires and the photos below demonstrate the amount of wear these tires sustained over that time.  On the left, the front tire has stood up really well with only a few side knobs starting to show some wear. On the right, the rear tire has worn away to the nub but I'll admit climbing a few days a week with a 30lb camera pack may have contributed to the unhealthy wear on this tire. Shortly after this photo was taken I tore a side knob off and flatted the rear tire and took the opportunity to replace both tires with the Richie Rude set up. (Minion DHF/Aggressor DHR ). What I noticed immediately was a loss in traction consistency across a variety of terrain and conditions and for the first time in a few months I was thinking about my tires again.
Final thoughts:

The benefit of doing a long term review is that you get a chance to see if anyone else has had a similar experience. The fine folks over Vital had a similar issue with the speed of the tire and while it is "not quantifiable" I did agree that initially, I felt the TRS rolled a little slower than my usual Maxxis Minion DHF/DHR combo. I swapped back to the Minions for my next ride, tire pressures were double checked and the same trail(John Deere, Mt Seymour) was ridden and sure enough I felt quicker on the Minions in the corners. I am willing to admit my Maxxis bias runs deep and it may have coloured my first impressions on trail.
A few issues aside I have to say that I'm definitely a fan of e*thirteen's TRS tires. This is the first product in recent memory that challenged my notions of the first year curse. The attention to detail and quality of the product is evident down to the last side knob and those with an eye on the bottom line will be pleased to hear that they can get a quality tire that retails for $69 USD.
When it comes to ride quality "confidence inspiring" is a phrase used almost as much as "grarly" in bike reviews so I won't beat a dead horse but yes...they do work exceptionally well in less than ideal conditions in challenging terrain. I found cornering and braking traction to be excellent and the wear was a little worse or comparable to other high-end competitors.
The recco -  Thumbs up icon. I rode the sh!t out of this set of tires and have since recommended them to anyone who rides in consistently wet, nasty, burly trails loaded with slick roots and rock. Shore approved.