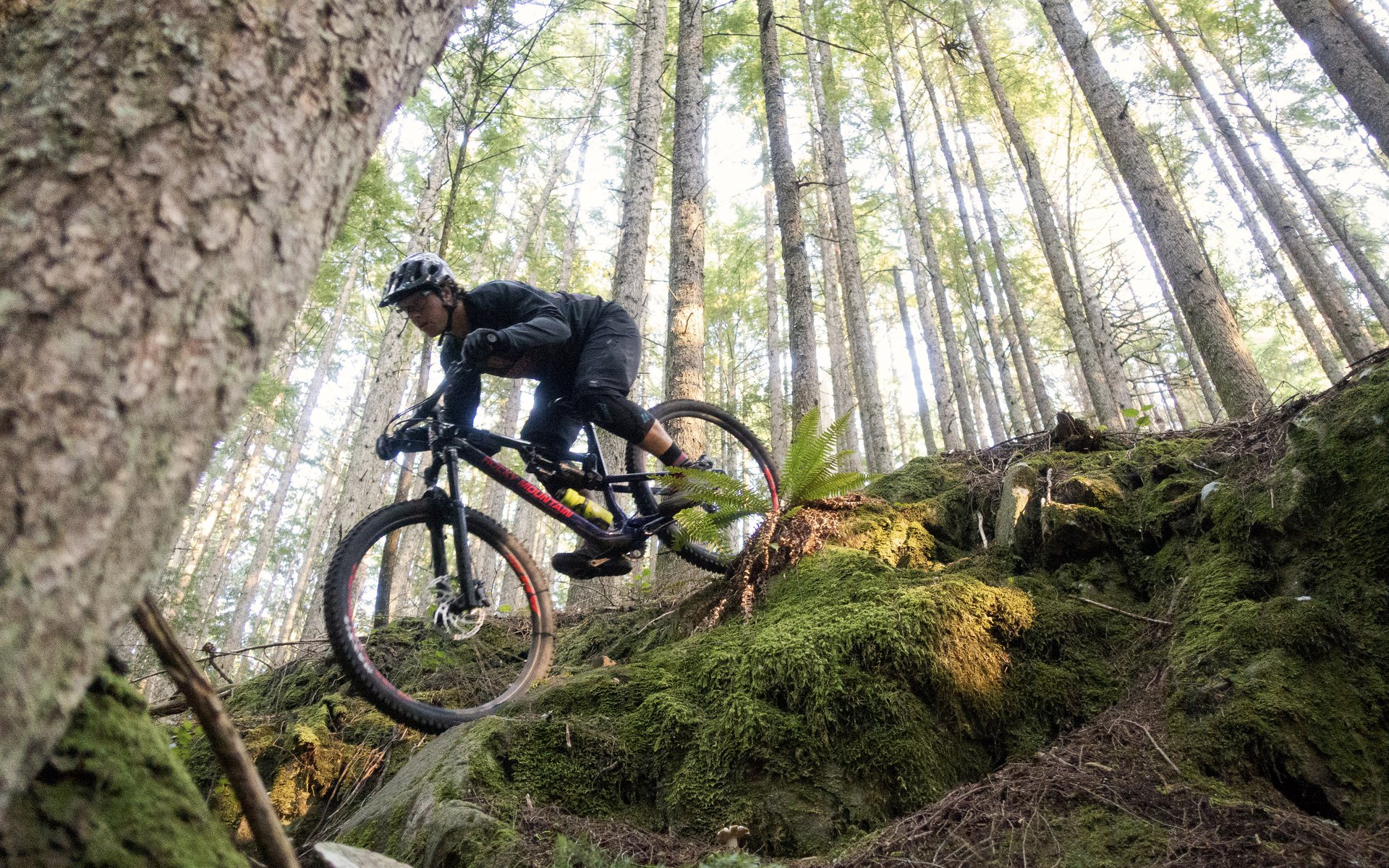 LONG TERM REVIEW
Review: 2021 Rocky Mountain Altitude C70
Rocky Mountain set out to fill a tall order with the 2021 Altitude; capture the top of the EWS podium, and give amateur riders a platform to push themselves into more aggressive terrain and higher speeds. Seeing as Jesse Melamed piloted the all-new Altitude to win two out of three Enduro World Series stops of 2020, I'd think Rocky is wearing the humble Canadian version of a Cheshire Cat grin.
The 2021 Altitude C70 is an incredibly composed machine which climbs efficiently for a 160mm bike and dances and sends over terrain you'd regularly choose to walk. I'd be lying if I told you I want to give the bike back. For my initial impression of the 2021 Rocky Mountain Altitude C70, including details like geo, spec, and pricing head this way.
Rocky Mountain Altitude C70 Key Features
Intended Use: All Mountain/Enduro
Size Tested: Large
Rear Travel: 160mm
Frame Material: Smoothwall Carbon
Wheel Size: 27.5" S/M, 29" dedicated to M/L/XL
Suspension Layout: Smoothlink four bar
Ride-9 geometry adjustment + 2 position chainstay = 18 geometry modes!
Geometry
The 2021 Altitude features modern geometry, but sticks to safe middle-ground numbers instead of going ultra-progressive. Rocky Mountain specs their Ride-9 geometry chip at the lower shock mount, which offers a litany of geometry options. It also alters the suspension's spring rate, which I'll discuss later. The Ride-9 settings allow riders to fine-tune the Altitude to suit a terrain spectrum from steep and chunky to lesser angle flow. Furthering the adjustability equation is a two-position dropout flip chip, giving a 10mm fore/aft chainstay length adjustment.
Ride-9 Numbers:
Due to the staggering amount of numbers associated with the Ride-9 geometry adjustment chips, I'll list the values of position 1 (slackest/most progressive) and position 9 (steepest/most linear). For the full set of geometry values, here's Rocky Mountain's Geometry Chart.
Ride-9 Geometry numbers in Position 1 (slackest / most progressive) and Position 9 (steepest / most linear)
| | Position 1 | Position 9 |
| --- | --- | --- |
| HA | 64.4° | 65..5° |
| STA | 75.4° | 76.5° |
| CS | 438-448mm | 436-446mm |
| Reach | 474mm | 486mm |
| WB | 1249mm | 1248mm |
Bike Setup
I prefer the nasty steep stuff, therefore I started in position 1, offering the slackest angles and most progressive shock ramp. Eventually I settled into position 3, slightly reducing the linkage progression. The 478mm reach was instantly comfortable, the 75.8° seat angle feels very efficient for pedalling without cramping the cockpit. The 64.8° head tube angle is moderately progressive, but rest assured, the Altitude is incredibly composed in very steep terrain. For those who want slacker, an angle set is easily pressed in.
I primarily ran the long dropout setting. I made the mistake of switching to the shorter dropout position before riding what I'd consider one of the steepest and deepest of the North Shore locale. Off the bat, a steep rock face leads into a high speed, wide open loam chute. This drastic geometry alteration affected the stability in an unanticipated manner. I exited the rock too fast, bouncing and tripod-ing down the soft loam chute, luckily pulling my foot back to the pedal, narrowly avoiding a catastrophic wreck. Lesson learned - geometry adjustments shouldn't be done before committing to high-stakes trails in the middle of nowhere. As Rocky Mountain suggests in their incredibly detailed technical manual: Make gradual, incremental changes, take notes, and be methodical. Don't adjust in a hurry before a big ride. Take your time and enjoy the process. Noted! Now that winter is bearing down on local trails, speeds have decreased, and I've been running the short dropout position confidently.
Ride-9 Position 3 Geometry numbers w/ Long Dropout selected
| | |
| --- | --- |
| HTA | 64.8° |
| STA | 75.8° |
| CS | 447mm |
| Reach | 478mm |
| WB | 1249mm |
Rocky Mountain recommends 30-35% sag for the Altitude. I was most comfortable at 30% in the rear end. Fox recommends 15-20% sag for the 36 fork, I settled at 19%.
Fork: Fox 36 Performance Elite
Air Pressure: 95 PSI
Tokens: 1
High Speed Compression: 5 clicks
Low Speed Compression: 5 clicks
High Speed Rebound: 3 clicks
Low Speed Rebound: 8 clicks
Shock: Fox X2 Performance
Air Pressure: 240 PSI
Tokens: 2
Low Speed Compression: 8 clicks
Low Speed Rebound: 8 clicks
Tires were immediately set up with Tannus Tubeless inserts. I ran 19 PSI front, and 21 PSI rear.
Ride Impressions
When I received the 2021 Altitude, my level of riding was beginning to reach the highest level of my previous season - albeit with inconsistencies. Prior to throwing a leg over the purple 2021 Altitude (AKA The Bicycle Formerly Known As Prince), Local Veteran Shore slayer/Occasional Ebike lover Trevor Hansen was quick to point out that I'd been skipping many a rock roll/gnarly section on some of my favourite trails. Whatever, Trevor. The parasitic ride regression permeated to many a feature I'd been regularly comfortable on. This change begged questions: Am I riding with a better sense of self-preservation? Am I trying to colour within the lines of "riding safely" due to COVID? Who knows. The Autumnal Chicken Hansen, at 57 years young, is not letting up with his own gnar factor. He pointed out that I wasn't riding like myself - once on the trail - and left me to drag behind in the loam until I was reminded again at beer o'clock, post ride.
I'm not stretching the truth when I say that the Altitude quickly put me at the top of many questionable features I'd skipped on recent rides, upping the bar to include these as standard operating procedures. This was not a gradual ascent either - I'm talking, two or three days. Then bigger features came into focus (such as the Dynamite Roll) which I'd not hit yet, but aspired to, a looong way in the future. Now, riding confidence and traction provided by the Altitude wasn't overt, but one which nudged you into considering capabilities, albeit very quicky. A natural inception of fast progression, if that makes sense.
The Altitude is an extremely smooth, sensitive and composed bike. Many days have been spent shuttling hot laps on the local North Shore mountains, and admittedly, not as many rides have been spent earning my turns by climbing. Whether the climb was via smooth roads or techy up-trails, I'd nearly always use the climb switch on the Fox X2 shock. This firms up the ride significantly, allowing minimal suspension bob. While activated, the climb switch also provides a surprising amount of small-bump compliance, and I've not experienced this on other bikes with the same feature. This gives max grip to slower technical ups, where one needs to manage their weight distribution while pedalling smoothly.
The Altitude wants to descend fast. Faster than you want COVID to end. Luckily, this isn't a purebred race machine which only rewards advanced riders. The level of small-bump sensitivity is incredible, and it sticks to the ground like shit on your shoe. Janky, awkward terrain leading into a big move is eaten up easily, which lets me keep my eye on the final prize, instead of getting off line and botching it. Rolling into a local, committing, two-step rock feature begins by snaking through off camber roots, down an off camber rock shelf, to a near-flat island of "safety" (with 20ft of exposure on the right) culminating in a steep, funnel shaped rock face exiting into a loose right hand berm. This complex terrain is swallowed by the Altitude. Then, it tells you to go just a hair faster.
A quick yank of the bars will send the Altitude skyward moderately fast, but what I'm most impressed by is how well it tracks, holding a line through slippery, off camber corners. Cornering feels very supportive, encouraging one to turn a hair later than usual. The Smoothwall carbon chassis feels stiff yet not harsh, and rebounds out of corners rapidly. Grip remains high in steep chunder, daring one to keep off the anchors for a just a little longer. The Altitude isn't a plow, but it can plow - preferring to be quick and light over most features, soaking up big hits, and recovering very quickly. During braking, the Altitude is composed and tells me I can stay further forward than I'd regularly be, particularly in the long chain stay setting. On big hits, the end-stroke progression ramps up smoothly, I've not experienced a harsh bottom out. I'm curious to try a coil shock on the Altitude, for even more supple grip, grip grip grip!
Build Notes
The newly redesigned 170mm Fox 36 Performance Elite fork is far more plush than the previous 36 (so much that it reminded me of my first Marzocchi Z1 experience circa 1999), with a near infinite amount of adjustability. In my 2.5 months of testing, the new 36 has unfortunately developed the all too common creaky CSU. This is fairly disconcerting, considering the fork has more or less been improved in every aspect other than addressing the creak. Word on the street is that Fox is now beefing up CSU bonds for the new production run of 36 and 38 forks - time will tell.
The X2 Performance rear shock offers low-speed rebound and compression adjustment, is very sensitive and feels balanced with the front end.
Shimano XT M8120 4-piston brakes are very strong, but I have experienced the wandering bite point. This isn't a deal breaker, but something to be mindful of. A quick lever pump usually alleviates the wonky throw. A 203mm rear rotor would be better suited than the factory 180mm. The Shimano RT-66 stamped rotors are a budget option compared to pricier Shimano Ice-Tech options. On a few occasions after lengthy descending, I thought the caliper had been knocked, but concluded that excess heat had warped the rotor. Lastly, the well-known audible Shimano pad clack showed up, so I attached thin velcro strips between the pad fins and caliper to eliminate the distracting sound.
Rocky Mountain paid close attention to local tire desires, with Maxxis Exo+ Assegai MaxxGrip on the front, and Minion DHR2 MaxxTerra in the rear. The soft compound front tire is the proper tool to tackle snotty roots in the PNW.
The wheelset is Raceface AR30 rims on a DT/Swiss 370 rear and Rocky Mountain sealed bearing front hub. I dented the rear rim almost immediately, and later blew three spokes out of the front wheel. I was diligent about checking spoke tension regularly, but many spokes loosened to an uncomfortable (lack of) tension, so a regular trip to ye olde truing stand is advised. I'm a heavier rider weighing 205lb/95kg, I don't think these wheels will last too long, I'll likely fit more robust rim when these are toast.
The full Shimano XT drivetrain has been flawless, though I did roach a rear derailleur in a clumsy fall, which was my fault. I'd appreciate a bash guard for chainring protection.
Contact points are extremely comfortable.
Raceface Turbine R dropper post has a light action and has remained trouble free.
The finish has held up admirably during many a dirt lay-down. Cables are routed cleanly, and have presented no wear from jostling around.
Molded rubber bits near the drivetrain eliminate any audible chain slap. The underside of the downtube is also nearly fully clad in stealthily molded rubber bits, saving the primo finish from rocks thrown by the front tire, and shuttle rash. There's no need to purchase an aftermarket downtube protector.
Final Thoughts
The $8599 sticker of the Altitude C70 is a bit steep, and I'd prefer to see a stronger wheel set, and a more adjustable damper on the rear. Luckily for hard riders, it's fair to say that aluminum rims are consumables, and won't last forever - allowing the rider to upgrade later on. Besides the wheel issues, the fit and finish of small details on the Altitude is top shelf. The cable routing is clean and the bike is quiet. Rocky goes to the nth degree to eliminate suspension friction, utilizing a bearing eyelet on the upper shock mount. The paint is gorgeous. Bearing shields are utilized to keep the muck out. The flip-chip dropout adjustment coincides with a flippable rear brake mount denoting the direction.
I love the 2021 Altitude. It's a bike which has boosted my riding in a very short amount of time. After seeing a digital maple leaf-wrapped prototype mid summer (Rocky, please put this colour way into production!) I was intrigued to learn that Rocky Mountain was developing a 160mm travel bike, particularly in close proximity to the Slayer release but the Altitude re-establishes its race pedigree with this model. The Smoothlink suspension platform features simple yet elegant lines – not adhering to the current trend of low shock mounting points, but retaining DNA from my high school bike crush, the Rocky Mountain DH Race. The complexities of the Altitude's suspension and geometry adjustability are vast, but the quality of the ride proves that the Altitude is a worthy bike for EWS pros, amateur enduro racers, and trail riders wanting to push their riding to the next level. At 32 pounds, the Altitude can efficiently work all day for the descent, yet is able to smash far harder than I'd originally thought – and I don't think I've come close to finding the limits of this bike yet.