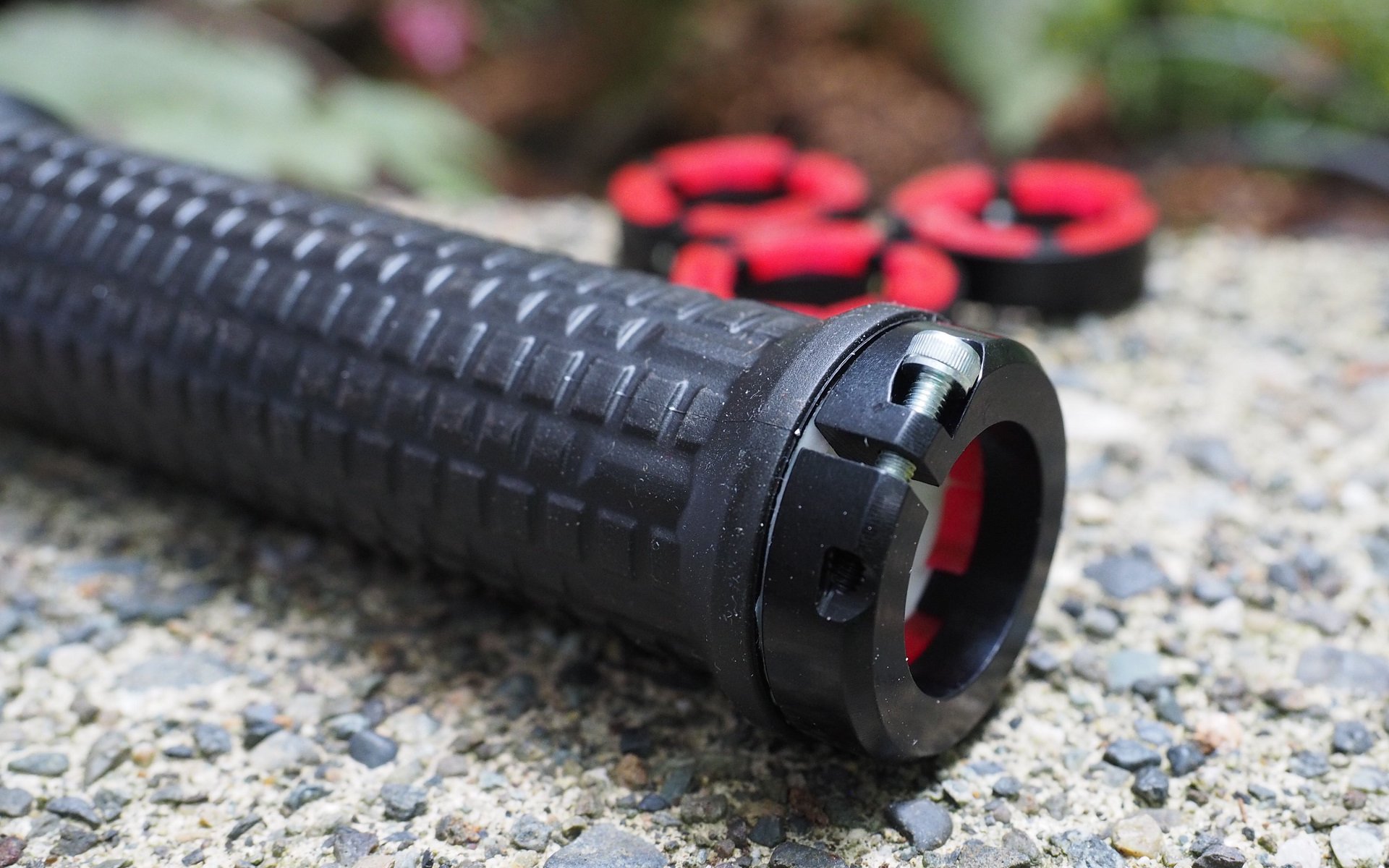 REVIEW | EDITORIAL
Rev Grips Race Series Shock Absorbing Grip System
Micro-Suspension Products
It's really quite simple. As the mountain biker demographic continues to get older in body,* there will be an ever-growing number of micro-suspension products aiming to prolong our perhaps Quixotic quests to play mountain bicycles in the woods. These small-batch, limited-market, components won't be cheap but at the same time they aren't a lust purchase, like a ti-bolt kit or anodized widget, so their value has the potential, to be astounding.
*though, of course, not in heart
This is a more budget-friendly version of the Rev Pro. The Race version grips lack the tunable rate, aggressive machining, and rainbow of colour options, but for 60 USD instead of 90, they are good value if the 'medium-soft' bumpers work for you .
How do they work? The grip itself rotates around my handlebar suspended by a series of four rubber bumpers housed in each machined lock-on collar - eight elastomer bumpers per grip. Do they work? The trail-noise canceling effects are real but the benefits of those effects will vary by the rider. They are a huge benefit for riders who claim Rev grips are the difference between loving mountain biking and not mountain biking at all.
Elastomers?! I know, I know. Though often ridiculed for their leading roles in 90's suspension applications, and clip-in pedals that wouldn't always clip out, elastomers continue to humbly submit themselves to our service some twenty years after Proflex bikes and Judy Type-II fork spring upgrades began their (too) long, (too) slow fade into obscurity.
In this application, the grips are suspended progressively for a couple of millimeters of rotation in either direction, so about as much travel as my 90s Judy. The grips themselves don't make contact with the bar and unlike trying to measure the amount of flex in a handlebar, these suckers visibly move. It's initially disconcerting enough that when I first installed them my gut reaction was to pull them off, bin them and pretend they never arrived.
Unlike the more expensive Pro grip, the amount the Race grips move isn't tuneable; they're preset at the most commonly preferred setting, called medium-soft, and in my case, this is a great feature. If I had been sent the Pro grips I have no doubt I would have tuned those suckers until they moved so little I'd get more play from a worn-out set of lock-ons. Instead, I just opened my mind and went for a mountain bike ride.
Installation
Rev grips really aren't a big deal to install but I had a stressful flashback cutting the little elastomers from their rubber umbilical cord. The process reminded me of my attempts at making models as a kid, which were complete failures. Once I recovered it was smooth sailing following the instructions.
One part of my experience that the average user is never going to encounter is removing and re-installing these grips between various bikes and handlebars. Each time I find it just a little bit trickier to get everything lined up and after about a half-dozen installs I had to replace a couple of the elastomers that were damaged in the process.
I also ended up needing to replace one clamp after many re-installs. I'm not fully prepared to throw myself under the bus for hamfistedness, as I'm known for my gentle touch, but at the same time, I'm totally prepared to give Rev a pass here considering how many times I tightened these beauties down. If they were my own, I wouldn't feel bad about having to purchase a single 9 USD replacement clamp.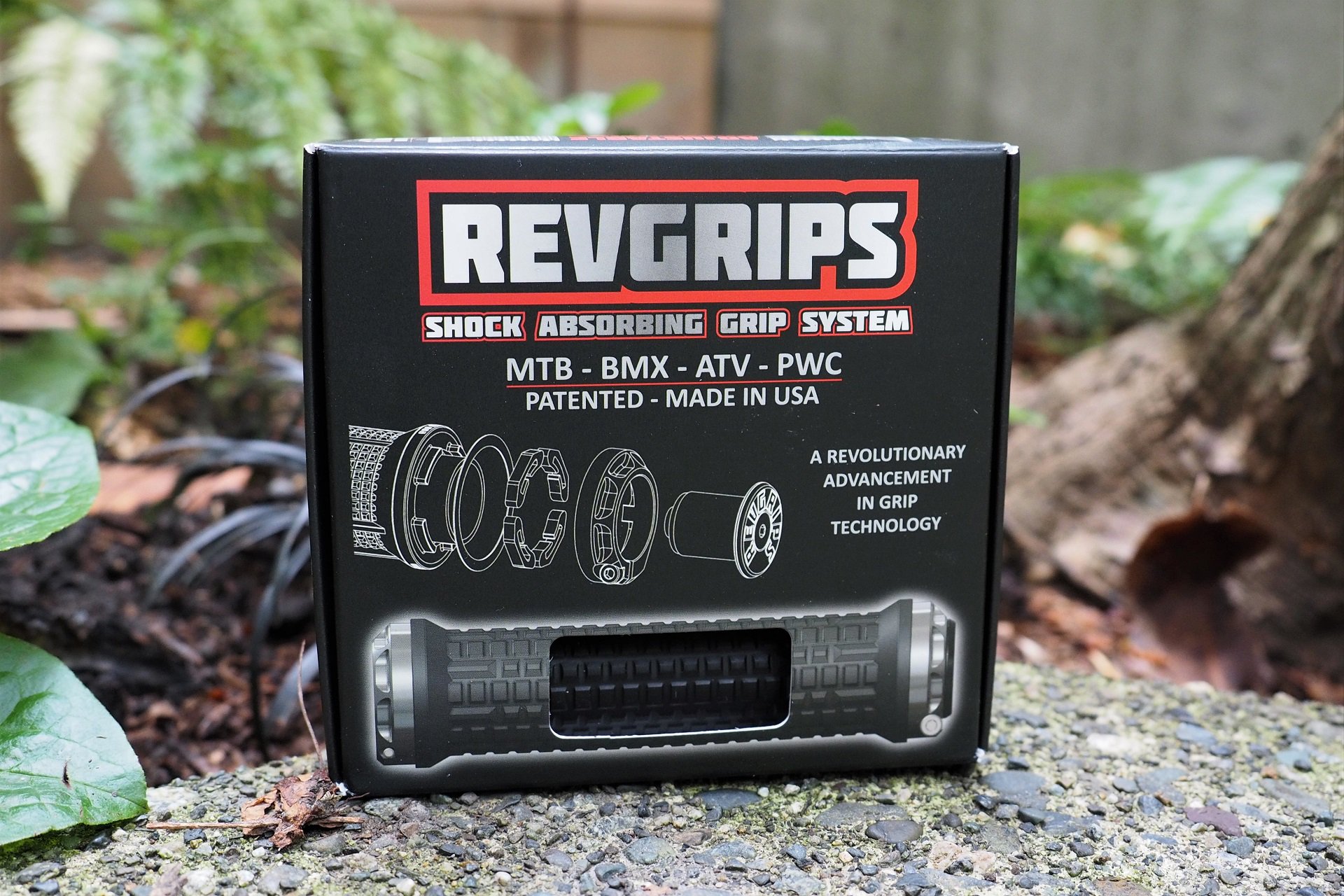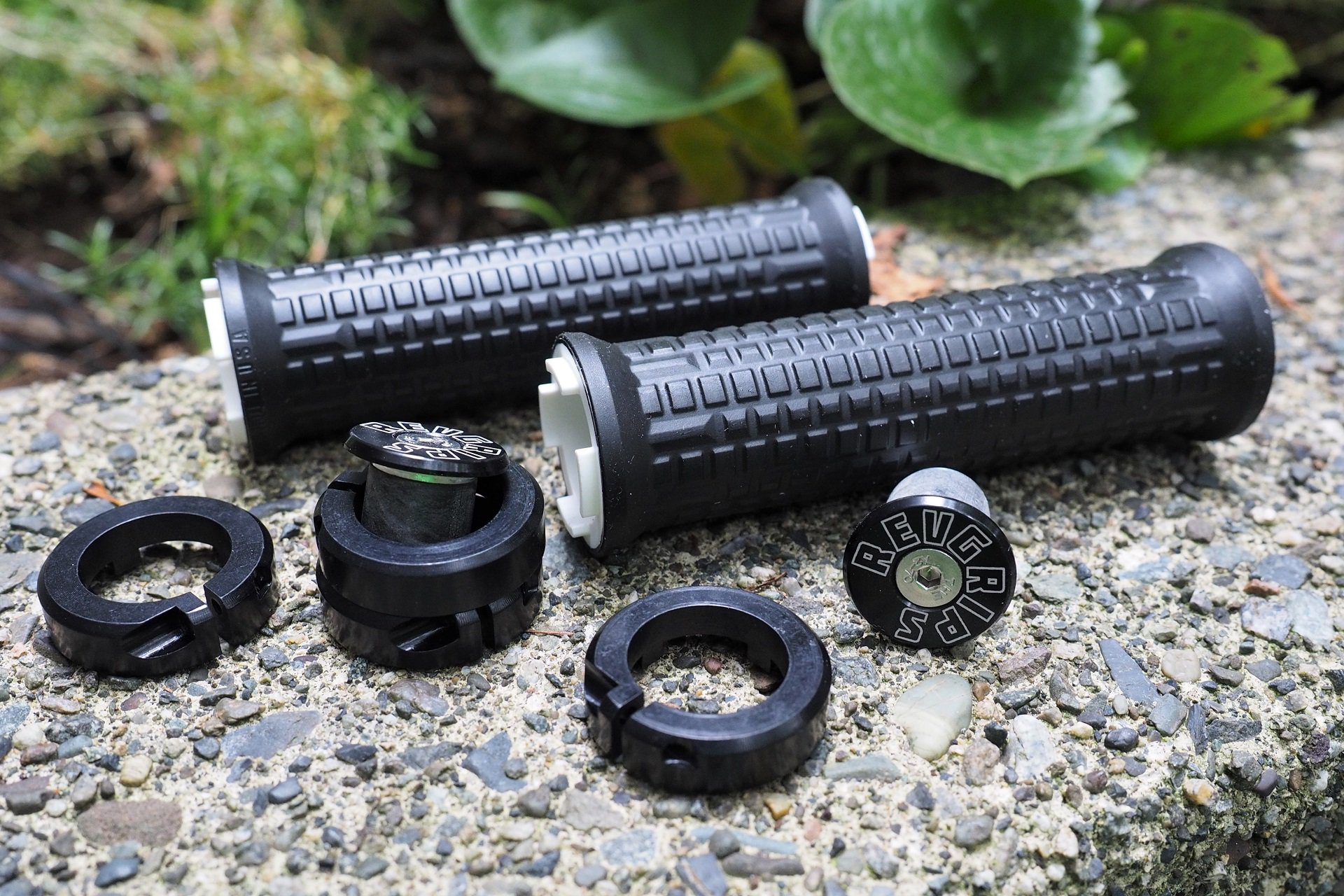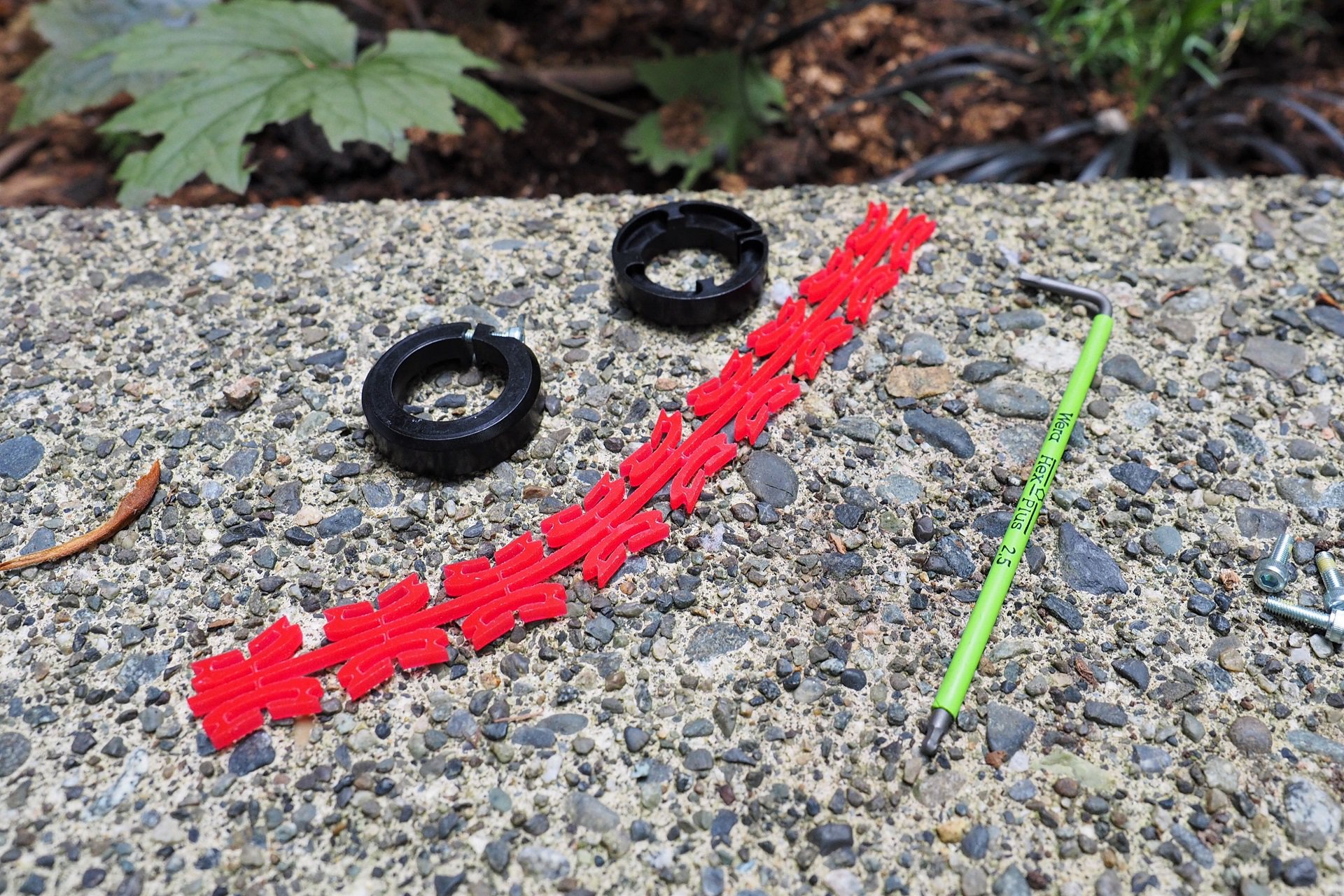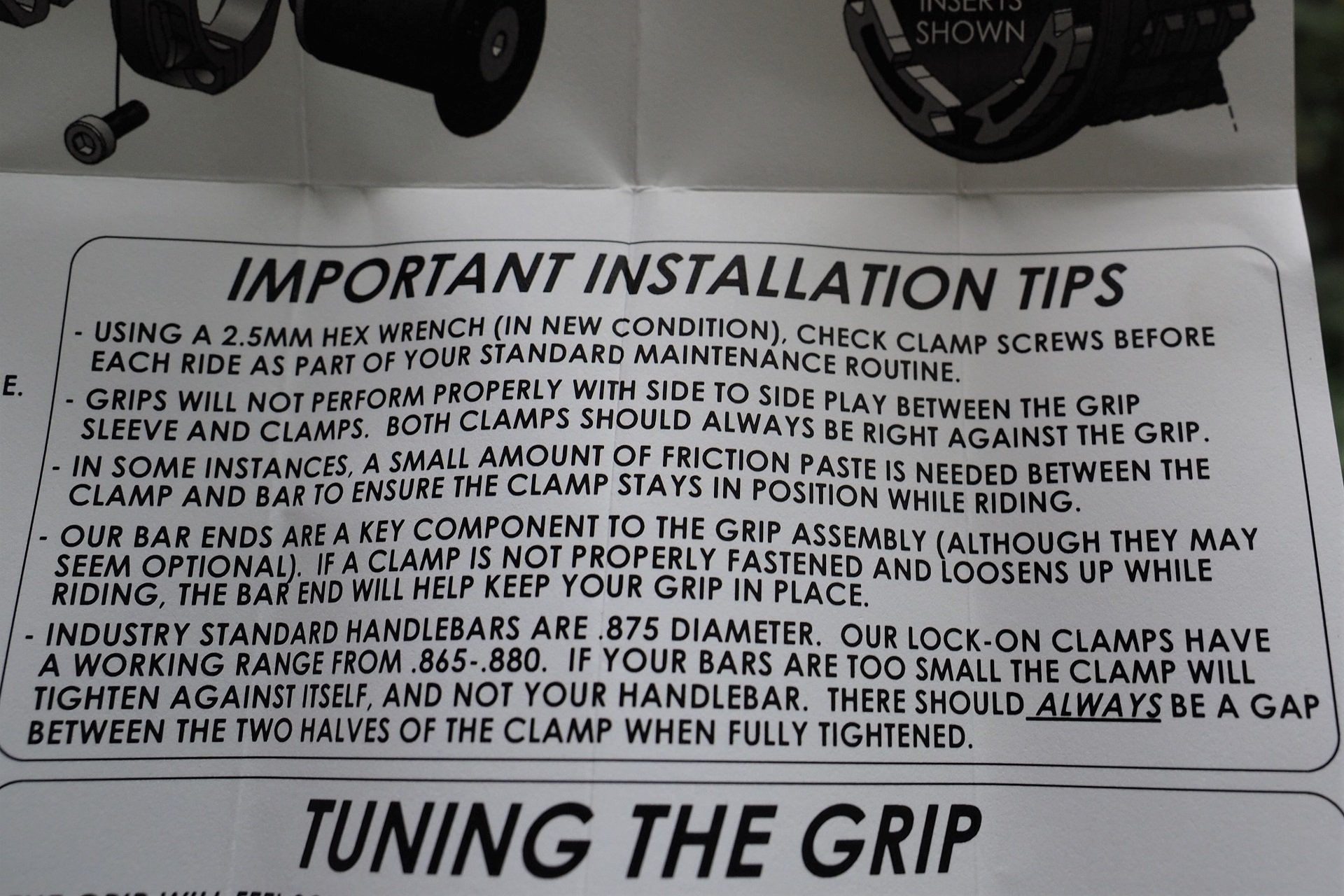 Without grip-on-bar contact, Revs rely entirely on the clamps holding them in place. I probably wouldn't have trusted them at first so I devised an installation test, reefing on them with my rubber strap wrench until I was certain they would not be spin on my handlebar. Since I ran them on a number of bars from smooth carbon, to the textured-graphic PNW, to anodized aluminum, I repeated this test each time for peace of mind.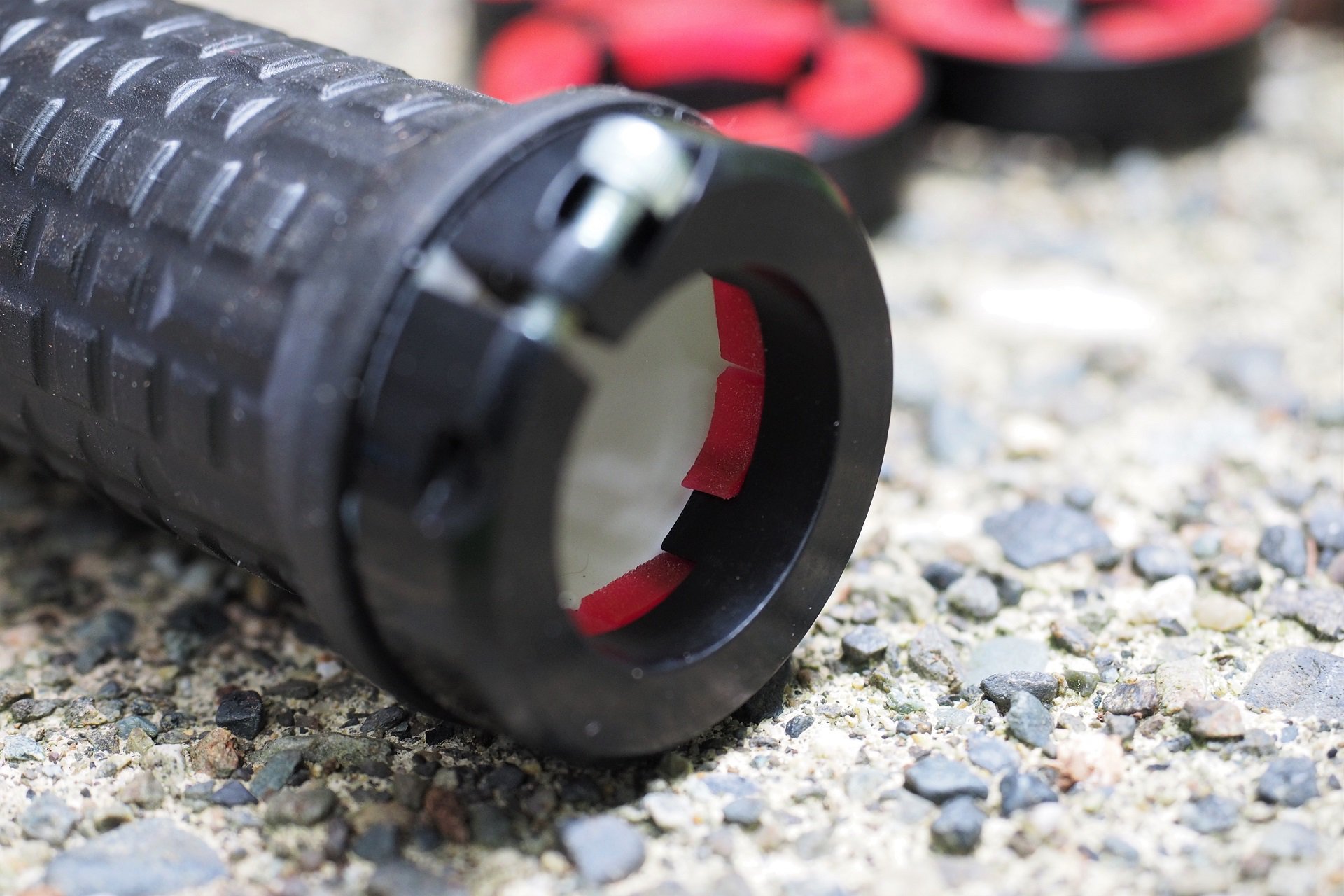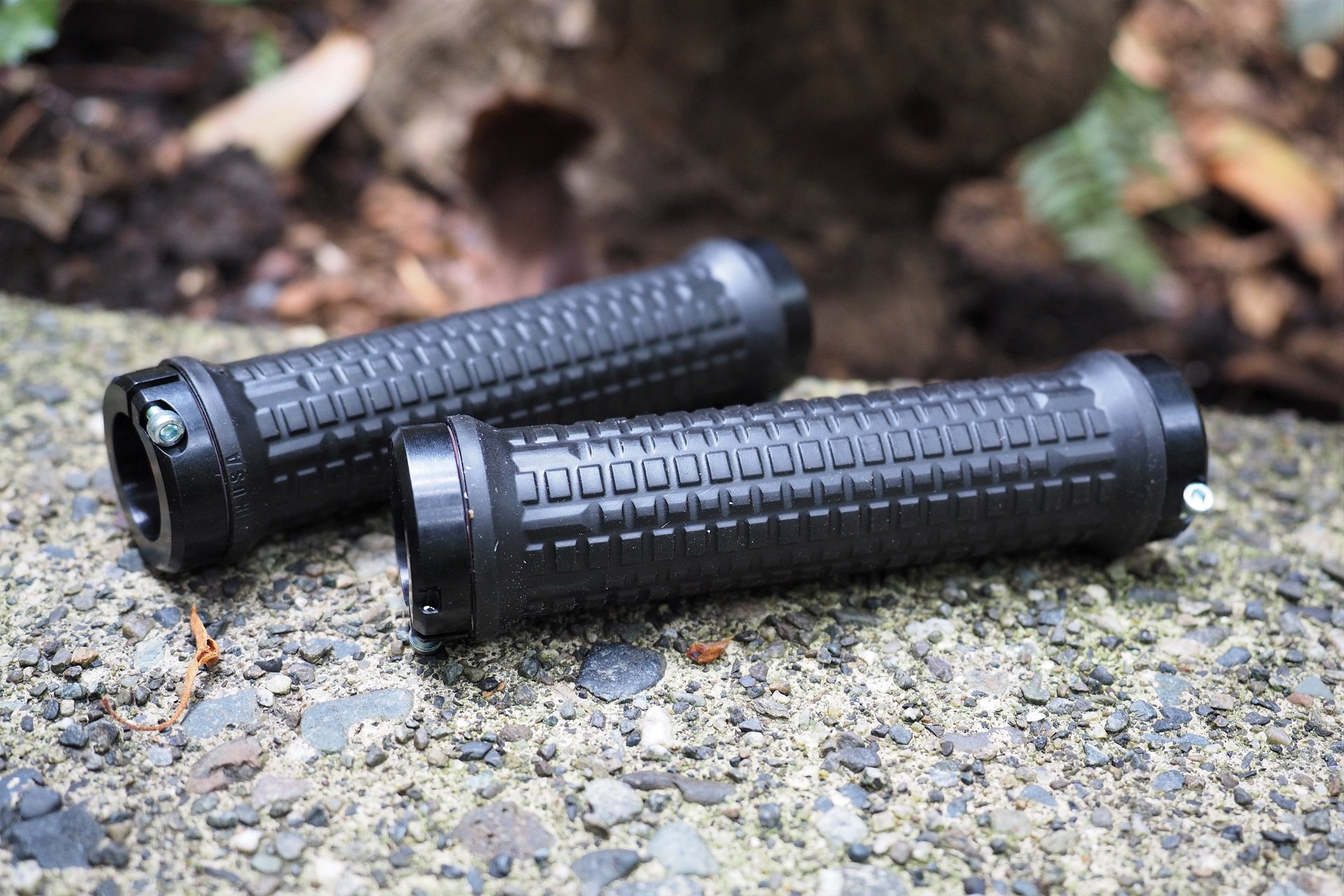 The end caps, which prevent the grips from sliding off even if improperly installed, are a big deal for Rev so I certainly didn't remove one to run a Wolf Tooth EnCase tool for a while, with no issues at all. That's not saying my absence of a catastrophic failure is evidence that such a failure can't occur; however I've never had a lock-on grip come flying off a bike while riding and I'm not concerned with these either.
That's not true for everyone however and I've come across a ridiculous number of bikes with scary-loose lock-on grips working in shops over the years (seriously, go check your grips. I'll wait). For those folks, Rev bar ends stay in place very solidly and could save them from some serious mishaps by preventing their grips from sliding off their bars. If this sounds like someone you know, Rev sells all their small parts separately and 20 USD is a fairly cheap investment in any friendship worth having.
Niche Needs
Like the Fasst Flexx bars, folks who haven't tried Rev grips - and those who have tried them but don't find them beneficial - have a tendency to turn their noses up at the added cost and complexity. I get it, I'm generally, happy with push-on grips. Rev grips are less niche than Fasst bars - appearance and weight wise - but not every rider will discover a benefit worthy of their cost. Even with a 30-day money-back guarantee there's a bit of a leap of faith involved in trying a set.
I think the less a rider needs a certain noise-canceling product the more likely they are to be skeptical of it. I've communicated with a number of riders now whose on-bike experiences have been made exponentially better by these grips and I have enough hours on them that I can appreciate how they can be the real revelation for some riders. Generally the riders I know who could use these work(ed) with their hands consistently, have had bad injuries, or otherwise suffer from cramping or numbing.
Rev X Fasst Flexx
If I try I can notice these grips in the parking lot, and then never notice them at any point on a ride. Then, just like Fasst Flexx bars, the first ride after I take them off I'm notably less comfortable. They quietly cancel a lot of noise without changing my riding experience at all.
Speaking of the Fasst Flexx bar, I think there is some benefit when overlapping these products, both in terms of reduced forearm pump and being less beat up after a long day. I can appreciate where some riders are combining Flexx bars, Rev grips, high-end fork dampers, and spring conversions in an effort to make their trail experience survivable if not significantly more fun. The Flexx bar creates a gentler riding experience for my elbows and shoulders, while Rev grips are all about easing the repetitive strain on my hands and forearms.
The Hidden Costs
I'm a massive fan of Sensus Swayze push-on grips, and I prefer the feel of the squishy rubber and grip pattern over Revs every day of the week, but my hands feel notably better after a long gnarly ride with Revs than any other solution I've tried. I've recommended these grips to reams of my friends because of the numbness and/or pain they manage when riding.
There are two hidden costs not included in the sixty bucks that I should note. I don't have any struggle going back and forth between Rev Grips and my typical push-on setup, but others aren't so lucky and most folks who prefer Rev grips run them on all their mountain bikes. There's also the issue of the grip clamps themselves being very wide to the point that I'd go up at least a full cm of bar width, if not two, to accommodate them. With my push-on grips I run a 780mm bar and with Rev grips I prefer 790-800mm.
Whether your hands have always gone numb descending, or you're just trying to reduce 'the claw' after holding onto the brakes through a series of bumps, there's a good chance Rev Race grips would work for you. They're 60 USD and they could easily disrupt your current status as a mountain biker; longer, harder, gnarlier, more frequent rides could be in your future.
Wrenching on bikes is particularly hard on the hands and forearms and the more time I spend on the tools, the more I appreciate these grips. There are days when I daydream about installing Rev Race grips on everything I ride offroad. There are other days where 13 USD Swayze grips, some spray paint, and some stainless trap wire seem like all I'll ever want or need.
Depending on what you currently run, 60 USD is probably less than twice what you paid for your last pair of standard lock-on grips. Needless to say, there's a lot more going on here.
Rev Race grips work perfectly for me and I prefer the simple aesthetic so I won't be spending the extra to get Rev Pros when these need replacing. I notice the difference in my hands on every bike, regardless of how much or little travel it has and while I don't need them I certainly would like to ride them on every rig.
Here's hoping more interesting, well thought-out, bike fit, and mirco-suspension, solutions are on the way.