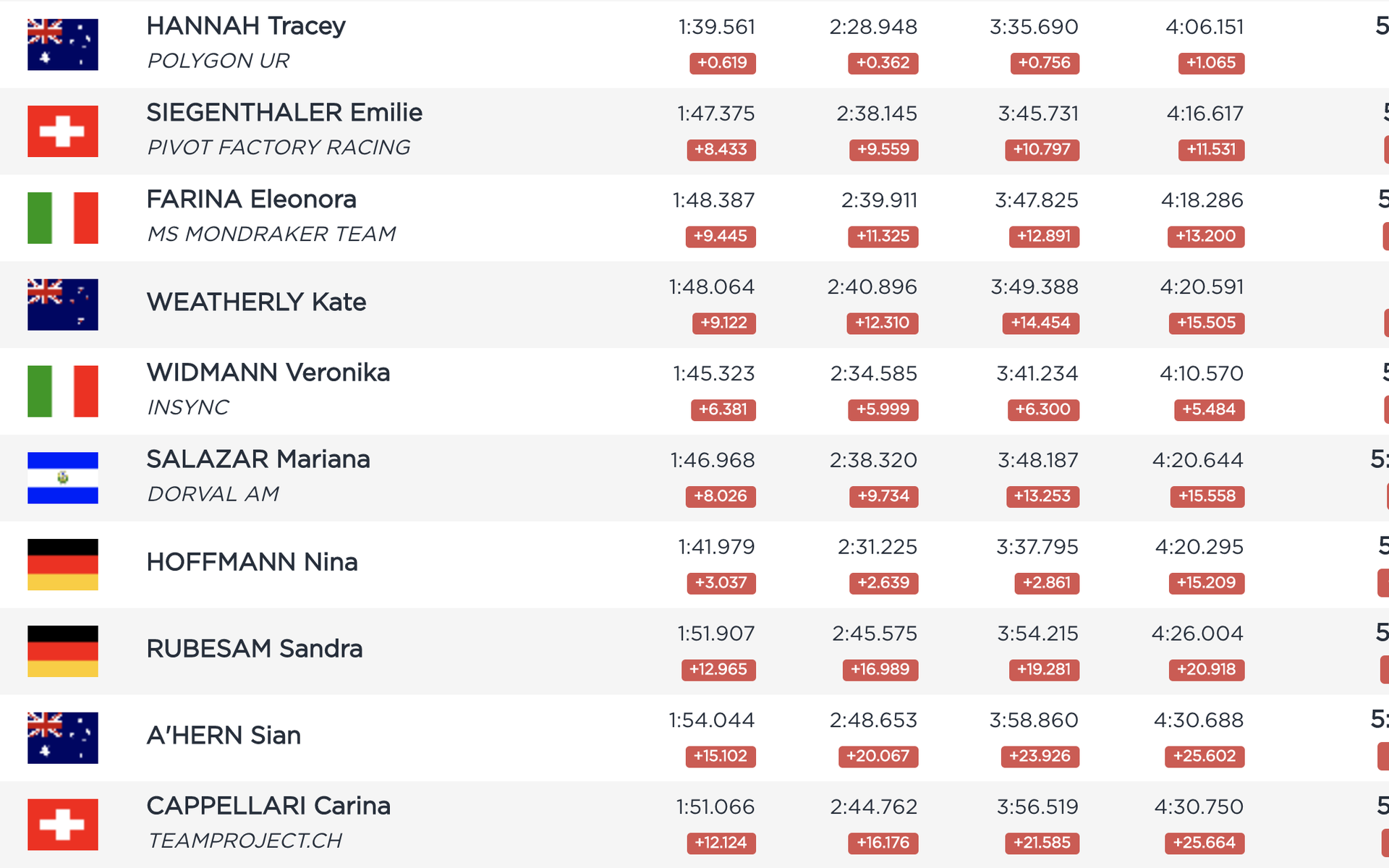 RACE NEWS
Results: Vallnord DH World Cup 2019
Elite Men
Conditions in Vallnord were the worst—or best, depending who you ask—we've seen since first racing here in 2008. With temperatures pushing the mercury up around the 30ºC mark there was no reprieve for racers. And while it looked like they were having a blast (pun intended) during practice, it made for absolutely brutal racing.
Aaron Gwin's bad luck continues and he fell victim to the tough conditions. Gwin connected with a tree after getting off line in practice this morning. He's suffered a shoulder injury and complained of not being able to lift his arm, leaving him sidelined again. Reece Wilson went down hard toward the bottom of his race run, sliding around in the deep dust before jumping back on his bike to finish his run. Payot went down, Iles kissed the ground, and many more as the challenging conditions made it hard to know how hard to push.
Remi Thirion, won the first race on the current track in 2013 and put in a scorcher in finals this weekend. He sat on the hot seat for the majority of the race with a time that would've placed him in fifth during qualifying. It was enough for eighth on finals day. Jack Moir, another rider who enjoys sliding around like he's surfing the dirt, sat behind Remi in second for an equally long period during finals.
Greg Minnaar was the first of the top 20 to cut into the split times of Remi. At one point Minnaar was up by 1.387 seconds but when things got steep at the bottom he began losing time. Remi's 2013 run proved he's comfortable going break-neck speeds in steep sections and showed today that he still is. Bernard Kerr was on a steamer and mid-run was up by more than 2.5 seconds. But at the next split he was strangely down close to 3.5 seconds, losing six seconds in one section of the track. It didn't look like he went down and he still hit the Whopper—a risky gap line he was first to hit during practice—leaving viewers and the commentary team of Rob Warner and Claudio Caluori baffled.
Laurie Greenland was the first rider to split the top two of Thirion and Moir, slotting between the them with a strong time. He's done well on this track before, finishing fourth in 2018. But his teammate, Brook MacDonald came down and slotted comfortably into first place. After almost 30 riders, Thirion was bumped from the top spot by more than a second. Danny Hart followed and bumped the Bulldog before he had time to get comfortable in the hot seat. Hart ripped down the mountain putting in faster times at every split in the process. He went into first by more than a second with five riders to go.
Then Vergier dropped. His first section was slower than Hart's but throughout the rest of his run he took time from the U.K. rider. Vergier put an incredible five seconds into Hart and was far enough ahead that the rest of the top five struggled to make up the time. Amaury was first and put more than a second into Hart's time but was left short of Vergier. It was the same story for Brosnan, who came left everything he had on the track and was clearly spent in the finish area. His time was close to Vergier but wasn't enough.
But then Loïc Bruni, the fastest qualifier, started his run. Bruni has found his consistency this season and was number one in the overall after qualifying fastest here this weekend. He's riding confidently and at the first split had put more than two seconds into his brother from another mother, Loris Vergier. He lost time to Vergier in the lower half of the track but the damage was done. His strong start paid off and he took the win in an exciting finish to one of the most entertaining racers to watch (seriously, go watch the replay).
Loïc Bruni leaves Andorra number one in the world and looking strong as we head into the tail end of the season.
Men's Final Results
Loïc Bruni – 4:11.055
Loris Vergier – 4:11.478 (+0.423)
Troy Brosnan – 4:12.257 (+1.202)
Amaury Pierron – 4:14.003 (+2.948)
Danny Hart – 4:16.650 (+5.595)
Men's Overall After Vallnord
Elite Women
The women's race was an eventful affair. Riders struggled to gauge how hard to push in the extremely dry conditions with many giving it a little much and causing minor crashes. Tracey Hannah slipped up in her qualifying run and set off early in the finals because of it. But like her qualifier, she slipped up again in the final. She still did enough to post strong time with racers like Rachel Atherton, Cabirou and first place qualifier, Nina Hoffmann to come, Hannah didn't look confident.
It was third place qualifier, Rachel Atherton who first bumped Hannah down the results sheet. She slot into first place with a time that took almost eight seconds out of her qualifying time.and close to six seconds into number one qualifier, Nina Hoffmann. Second place qualifier, Marine Cabirou looked solid in her race and was within touch of the time set by Rachel Atherton but it wasn't enough. She came down into second position with a reasonably clean run.
Hoffmann has posted her best World Cup results in 2019 and continued that trend when she qualified first here in Vallnord. Her race run was an eventful affair that showed she was riding on the edge. Despite the mistakes she remained within touch of Rachel Atherton's time until she eventually went down in the steeps towards the bottom. She came out her left shoe in the crash and rode the rest of the run in her sock, crashing again at the finish line. She now knows the pace is there but will need to clean up the race run if she's going to take a finals win.
Rachel took the 39th World Cup win of her career but Tracey Hannah retains the leaders jersey.
Women's Final Results
Rachel Atherton – 5:00.622
Marine Cabirou – 5:03.119 (+2.497)
Tracey Hannah – 5:07.753 (+7.131)
Emilie Siegenthaler – 5:13.481 (+12.589)
Eleonora Farina – 5:15.720 (+15.098)
Women's Overall After Vallnord
Junior Men
The junior men's race was tipped on it's head. Current series leader and winner of every round in 2019, Thibaut Daprela had a big crash in the lower half of the track, losing close to 30 seconds. He finished back in 18th place. Second place qualifier Kye A'Hern crashed in the first section of track and by the time he hit the first split was already down more than three minutes.
With two of the top racers not posting their usual race results we saw Matteo iniguez's time of 4:27.192 hold for his first World Cup win. Nipping at the fast Frenchman's heels were two young Canadians who have had strong results this season but now have their best results. Lucas Cruz and Pat Laffey kept it together in their race runs to finish second and third respectively.
Junior Men's Results
Matteo Iniguez – 4:27.192
Lucas Cruz – 4:29.906 (+2.714)
Patrick Laffey – 4:30.371 (+3.179)
Junior Men's Overall After Vallnord
Junior Women
Valentina Höll continued her winning ways in Vallnord and posted a final time that would have slotted her into fourth in the elite women's field. She's looking ready to challenge the fastest women in the world when she bumps up to the elite category in 2020. The USA's Anna Newkirk finished in second, losing time to Vali down each section of the track to finish 12 seconds back. Her time still would have put her in the top ten of the elite women's field. Atherton Bikes junior, Mille Johnset rounded out the top three.
Junior Women's Results
Valentina Höll – 5:09.166
Anna Newkirk – 5:21.245 (+12.079)
Mille Johnset – 5:29.882 (+20.716)
Junior Men's Overall After Vallnord