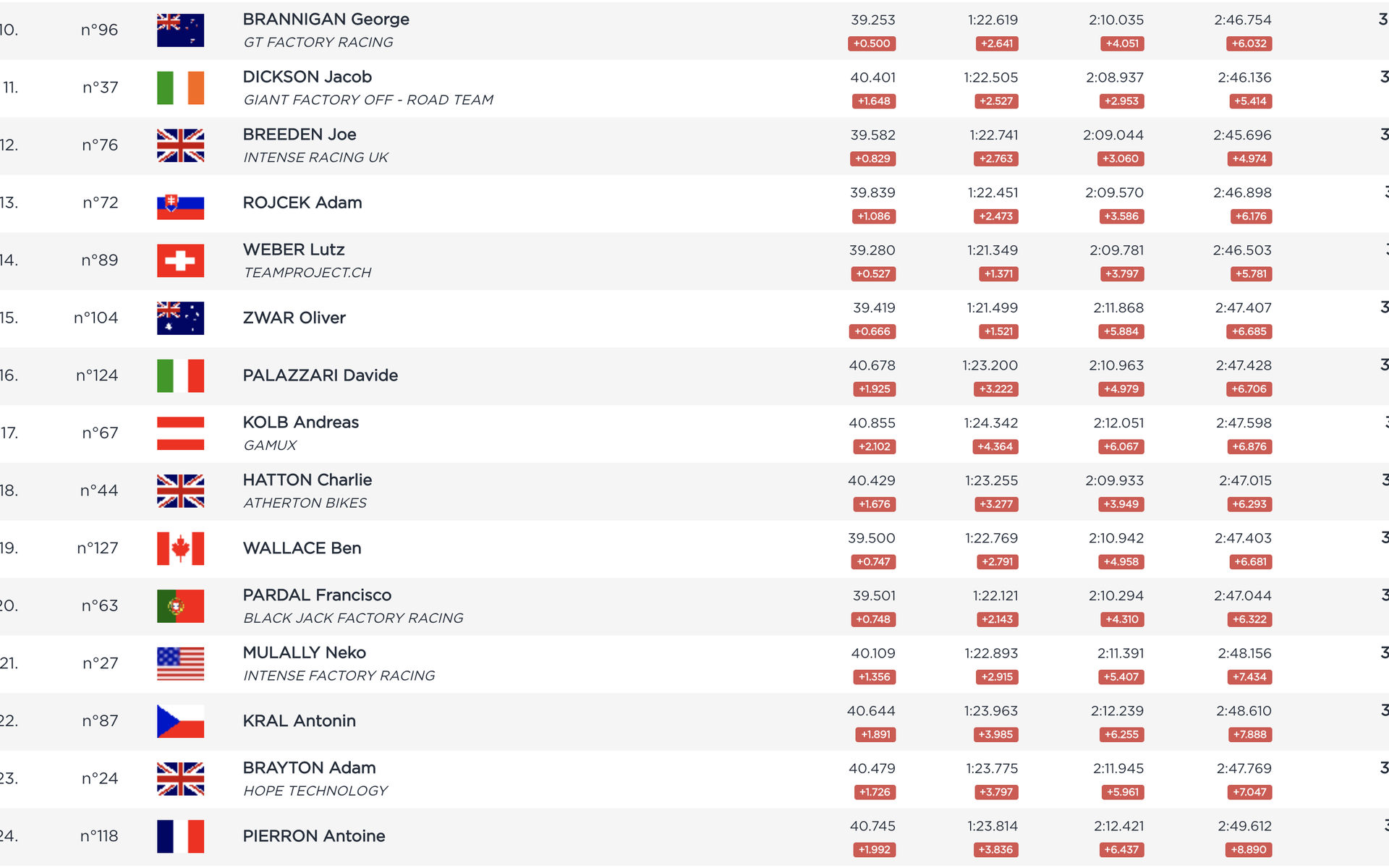 RACE NEWS
Results: Maribor DH World Cup Qualifying
Elite Men
Tricky conditions thanks to the predicted rain have wreaked havoc on racing during the qualification round in Maribor. At the end of the day we have two Canadian racers filling the top three, sandwiching legendary racer, Aaron Gwin in second. With rain predicted to continue for racing on Sunday morning could we see the first ever World Cup podium with multiple Canadian racers?

Mark Wallace: 3:17.756
Aaron Gwin: 3:19.608 (+1.852)
Finn Iles: 3:19.957 (+2.201)
Laurie Greenland: 3:20.880 (+3.124)
Loris Vergier: 3:22.160 (+4.404)
Elite Women
In the women's race Australia Tracey Hannah came out on top, more than two seconds ahead of Rachel Atherton. One would expect Rachel to be more comfortable in the wet than the Aussie but that wet weather experience wasn't enough today. Tahnée Seagrave rounded out the top three, another couple of seconds back from the Australian.
Tracey Hannah: 3:30.206
Rachel Atherton: 3:32.688 (+2.482)
Tahnee Seagrave: 3:34.378 (+4.172)
Nina Hoffmann: 3:36.138 (+5.932)
Monika Hrastnik: 3:37.352 (+7.146)
Junion Men
Thibaut Daprela kicks off the year with a first place qualifier. Following hot on his heels was Canadian Ethan Shandro, utilizing his experience in the wet a surely building confidence going into race day. Aussie Kye A'Hern remains a threat, finishing third, four seconds back from Thibaut.
Thibaut Daprela: 3:04.941
Ethan Shandro: 3:07.772 (+2.831)
Kye A'Hern: 3:09.762 (+4.821)
Emile Rilat: 3:12.955 (+8.014)
Yannick Baechler: 3:13.322 (+8.281)
Junior Women
Valentina Holl remains a force to be reckoned with in the Junior Women's field. She put more than nine seconds into her nearest competitor, Anna Newkirk and posted a time that would have placed her second in the Elite Women's ahead of Rachel Atherton.
Valentine Holl: 3:32.652
Anna Newkirk: 3:42.075 (+9.423)
Mille Johnset: 3:45.005 (+12.353)
Lauryne Chappaz: 4:01.249 (+28.597)
Leane Chardonnieras: 4:14.380 (+41.728)