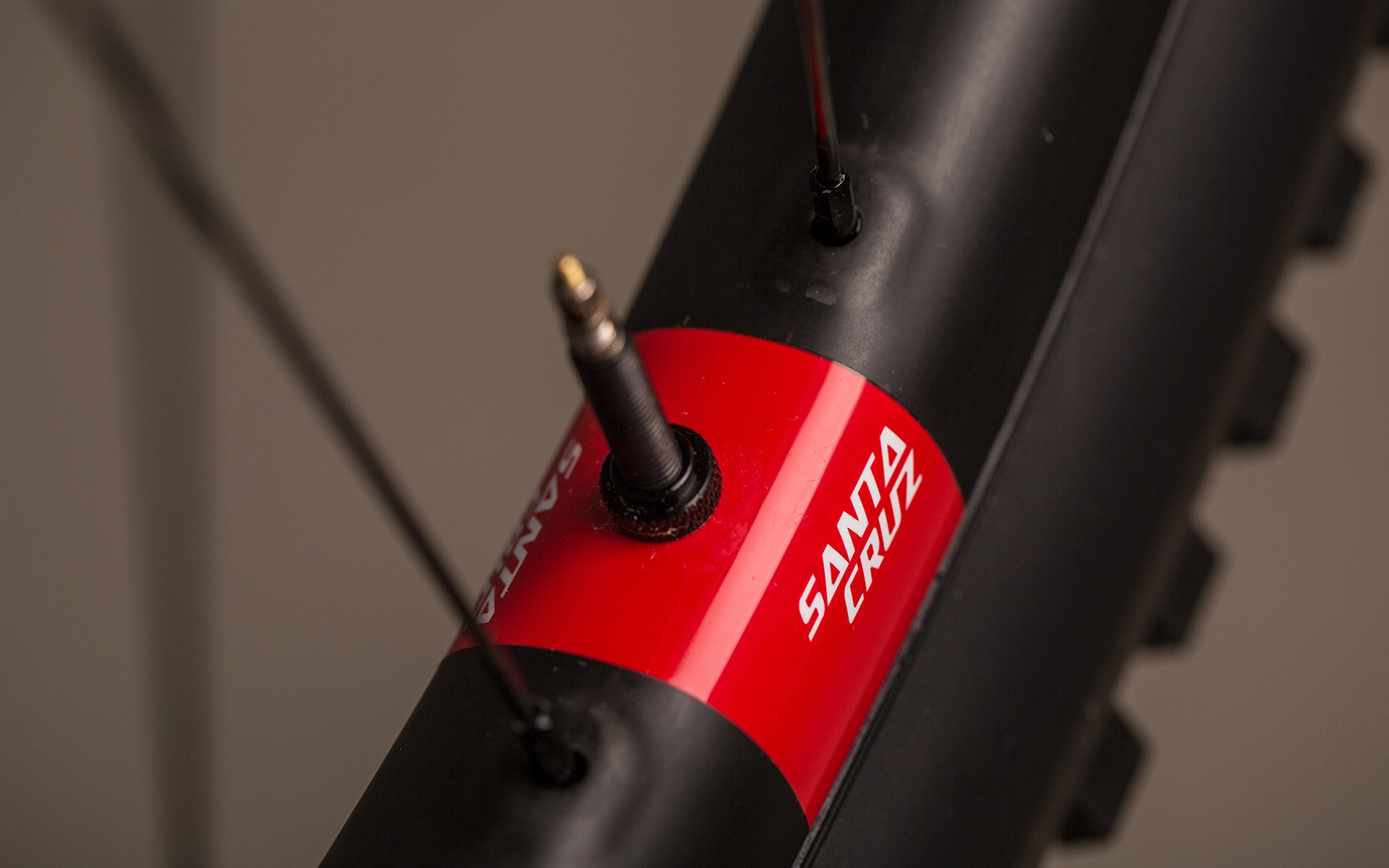 First Look
Reserve: Santa Cruz's New Carbon Wheels
Santa Cruz did much to put Enve Composites on the map. The first time I ever rode Enve rims they were called Edge and they were mounted to a Santa Cruz V10 with 26" wheels. They were vastly stiffer than any rims I had ridden previously and the steering precision was intoxicating. Here we are seven years later and after spec'ing thousands of rims, Santa Cruz is bidding farewell to Enve and starting an in-house wheel program (but the Syndicate will be finishing the year on the Enve dime). Like everything bearing the Santa Cruz name, the rims were designed and tested by SC in California and manufactured in their carbon facility in Asia.
Rims are an automatic next step for any company that has tackled carbon frames. Specialized and Ibis were early to the party but Trek (with Bontrager) joined the fray shortly after as well as Intense earlier this year. The structure is vastly less complicated than a frame and the economic upside is significant. Not only can the retail price of a carbon-rimmed complete bike option be dropped by a stack of cash, the company can now reap fatter margins and sell the product in the aftermarket. And Santa Cruz is damn confident about their carbon-building super powers. When I asked Composites Engineer, Nic McCrae, who was the project leader, about the rational for entering the wheel market his response was; "It's pretty simple—we thought we could do a better job."
Santa Cruz tells us their warranty claims are among the lowest in the business and job one with the wheels was strength and reliability. The sidewalls are fatter than most other wheels I've seen for added burl. Beefing up the area around the spoke holes saved weight overall allowing for a smaller wall thickness between spokes. That weight savings was put into the rim bead where most failures occur. Santa Cruz tells us industry average is 2.7mm while the Reserve 30 in 27.5 is a full 3.5mm thick. 
Testing
Testing has been a big part of the program and it was necessary to design some new test protocols. Santa Cruz determined that the most damaging impacts are those that impact one side of the rim at a time so an impact test that replicated that was implemented. And then they beat the hell out of Reserve rims and everyone else's. The number we were provided (see below) suggest that these are significantly stronger than anything out there. At Sea Otter a Bontrager representative tell me the same thing about their Line XXX wheels. Until we get some real time on these rims there's not much we can say about their ability to take a punch. 
12 Questions with Composites Engineer Nic McCrae
What can you tell me about your overseas carbon manufacturing facility? You seem to have been able to achieve a level of fit and finish that has eluded other manufacturers.
We partnered with a new engineering team in Asia and helped them to put together a brand-new factory exclusive to SC (for rims) where we could develop a rim-specific wax mandrel molding process in privacy. This process is how we got to the strength properties and finish quality we were looking for. In fact, we're so confident in the quality we're getting that we decided to offer a lifetime warranty on these rims, just like we do with our frames.
What was the biggest challenge you faced with this project?
Developing an impact testing machine and a testing protocol that could consistently recreate a trail-like failure mode. Most of the test protocols and requirements in play were ported over from road cycling which has a significantly different set of likely impact scenarios. 
How hard is it to keep costs down with carbon wheels? What generally is responsible for the high cost?
It's not easy, particularly if you're advancing your own design like we are. Although we're a little less expensive than others, our goal was more about production consistency and low-variability than price. We have low scrap rates and low (presumed) warranty rates which keep overall costs down, and that's reflected in our pricing. But we didn't start our carbon rim project by saying "how can we do this cheaply." We looked at it from a quality standpoint first, then tried to work our way into a reasonable pricing scenario for what we feel is a among the best available product.
With frames there are CC and C options that reflect different levels of carbon material and construction, are there plans to offer tiers for wheels as well?
No, not at the moment. These are premium wheels and we wanted to start by making the absolute best product we could. But we will consider a larger range of products in the future.
What is the process to achieve the compliance you sought? How much happens in the test lab vs feedback from riders?
We started from rider feedback and then relied on lab data to understand which design parameters have the greatest impact on compliance. We designed the first rim prototype based on that information and then used test riders through the iterations to get as close as possible to the ideal balance of perceived compliance/stiffness and impact strength. Lacing pattern and spoke type also play a role here as much as rim shape and carbon layup. 
How do you balance a feel that will appeal to most riders vs. the top level athletes who are sponsored by Santa Cruz?
You would be surprised how similar of a feel these different types are looking for. For 90% of us (pros and amateurs), the standard build is spot on. But then for riders with a very aggressive style of riding, wanting a stiffer wheel, you could increase the spoke gauge by rebuilding the wheel with DT Competition spokes (1.8mm) instead of Competition Race (1.6mm), for example.
I assume you rejected some early protos. What were the issues with the first rims to come out of the molds?
We made countless revisions actually. The Reserve 27 27.5" was the R&D platform for us, put the production version is actually the 4th molding tool for this model.  Revisions were mostly about rim bead thickness and height,  bead shelf diameter and bead well depth and profile.
How was the challenge of building and designing rims different from building and designing frames?
It's a totally different ball game. A rim is a very simple shape, and you have way less design freedom since many dimensions are standardized, or very constrained. The manufacturing process was quite early on spotted as the key, and we designed a rim to work as best as possible with the process we selected.
Is the carbon material you use different from say the CC bikes? If so how does it differ?
In both frames and rims, we always use a variety of carbon grades and architecture. Most common grades are T700 and T800 carbon fibers, used as UD Tapes (mostly) and Woven fabrics (localized).
What element of the project are you most proud of?
That's a tough one!  But I feel like the coolest thing was to start totally from scratch. We had a pretty good background with carbon and manufacturing, and lots of experience testing methods, and we drew as much as we could from that. As an engineer, getting the opportunity to literally "reinvent the wheel" is a once in a lifetime opportunity, and I'm really proud of the finished product.
What have your experiences been like riding the wheels? For your riding, what do you appreciate most about them?  
I personally love the way they ride. The right amount of stiffness for every type of riding. Combined with Comp Race spokes and the Torch hubs, they're lively and snappy, but also great at tracking the terrain. I'm particularly enjoying the Reserve 27 29" on my HighTower.
Anything else you'd like to tell me about the project?

I think the one thing we're really proud of is that we took the time to develop something truly unique. We could have rushed this to market a year sooner, but we decided to make sure to get all the pieces dialed and put something on the market that we're proud to put the Santa Cruz name on. I know it probably sounds like marketing BS, but it's really how I feel.
Specs / Build details
You'll have a choice of either DT Swiss 350 or Industry Nine Torch hubs. Don't expect any new-fangled straight pull spokes. Santa Cruz wants you to be able to get spokes wherever you are so they are spec'ing J-bend DT Swiss Competition Race double-butted spokes with Sapim Secure Lock Alloy Nipples. The wheels will be laced 3X with 28 spokes per wheel by technicians at the Santa Cruz facility.
The wheels come with a lifetime guarantee and there will also be a crash replacement program with pricing TBD. The goal is to have you back on the trail as soon as possible. 
Ride Impressions - Pete Roggeman
Today is a big day for Santa Cruz: they rolled out the Nomad IV, the Juliana version, called Strega, and Reserve wheels. Our Nomad tester came equipped with their new hoops, naturally, so we've had some time to roll on them. It's tough to separate out a lot of ride impressions about a wheel when you're also dealing with a new bike, and we never like to say too much about wheels - particularly expensive wheels - until we can comment on their durability. That said, the Reserve 30s on our Nomad are certainly stiff, but not harsh. They hold a corner well in rough terrain, and there is no discernible squirm or flex - testament also to the stiff chassis they're holding up.
The best test will be to run the Reserves back-to-back with another wheelset or two. We'll make that happen as a part of our testing, and also report back with more thoughts once we've spent more time on them. In the meantime, it seems safe to say that given the combination of careful design, Santa Cruz's impeccable track record with carbon, and factors like price, options, lifetime warranty, and weight, we feel confident in saying that they are a viable new contender in the premium wheel arena. If you're contemplating a purchase, you'd do well to factor in Reserve wheels.
Pricing

As an OE upgrade to a Santa Cruz build kit: $1,200 US. No word yet on pricing in other jurisdictions.
With DT Swiss 350 hubs: $1,599 USD

With Industry Nine Torch hubs: $1,899 USD
Availability
OE: July 1st - as the rest of Santa Cruz's updated lineup is rolled out (relax - mostly colours...or is it?).
Aftermarket - Wheelsets or rims only: Fall 2017.