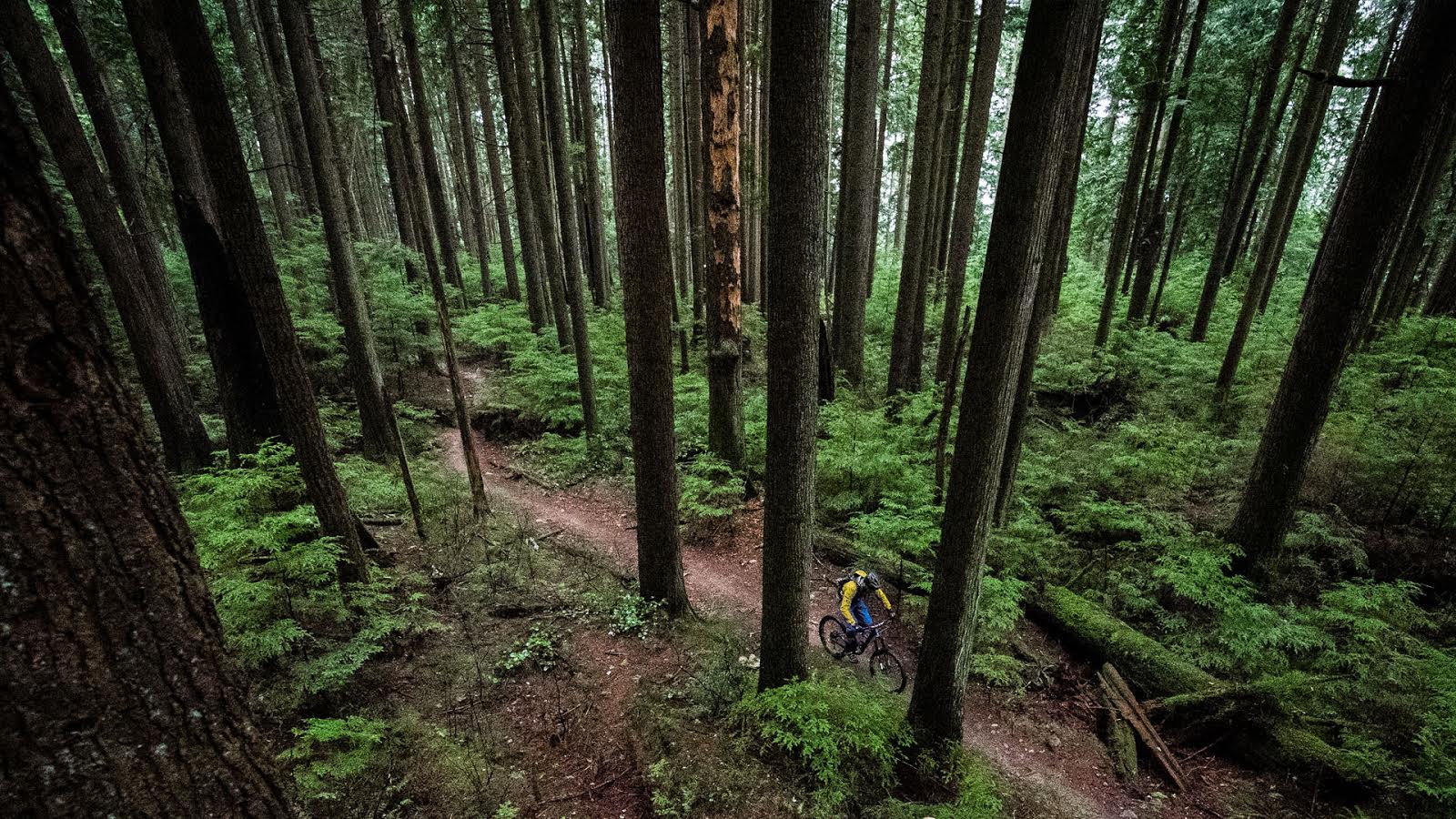 Renthal Cockpit
I've always been a little suspicious of carbon components. Some prior experience seeing just how badly carbon could fail on bikes had kept me running an all-aluminum setup for the longest time, but after seeing just how much abuse modern carbon parts can take, I was curious to give the fantastic plastic a go. Testing the Renthal Fatbar Lite Carbon along with the Apex stem, and a pair of Soft compound Lock-on grips would be the perfect opportunity to try it out.
The Fatbar Lite Carbon bar measures 740mm across, and a 31.8mm clamp diameter. There are options for 10, 20, 30 or 40mm of rise, and all four versions feature a 7º backsweep and a 5º upsweep. Weight is a scant 180g, which is quite impressive given just how stiff this bar feels. It's truly hard to believe just how light this bar is in comparison with others that I've held and used. While some people may look at the 740mm length and declare it to be "too short," I found it to be the ideal length for my Rocky Mountain Thunderbolt Intern Bike, as it complimented the Trail/XC nature of the bike perfectly.
Moving on to the Apex stem, Renthal manufactures it in 10mm increments from a freeride-friendly 40mm to a decidedly XC 90mm. My tester measured 50mm, with a +/-6º rise, and weighed in at 127g. Renthal have done a superb job machining out all the excess weight from the stem, and have taken a rather unique step by leaving the machining grooves visible rather than polishing or sandblasting them away. This gives it a rather industrial look, which I am a definite fan of.
The final piece in the puzzle is the Lock On grips. I chose the Soft compound, as I reckoned it had the best blend of grip to wear, and was looking for something similar to the Sensus grips I had been running prior to this test. The diamond knurl pattern is strikingly similar to the ODI Ruffian, which is my favourite grip of all time. Interesting to note where the grips are manufactured: in raised lettering on the edges are the words "Made in the UK."
Taking this setup to the trail, I noticed an immediate difference in comparison to the setup I was running previously. The 7 and 5 sweep felt extremely comfortable during extended periods of climbing, and the soft compound grips felt great in my hands. Sizing down to a 740mm bar from a 780mm bar also meant I didn't feel like I was driving a bus as much on the way up, and brought back some of the playfulness to the Thunderbolt that had been muted by the burlier parts I had been running.
Going down was always going to be the make or break factor for this setup. While the shorter bar was more comfortable on the way up, I had some small reservations as to whether it'd be "enough bar" on the descent. All it took was one run down a favourite chunky trail of mine to see that the bits worked as advertised. Despite the wispy weight of the bar it was extremely stiff and responsive through the rough, with zero perceptible flex. The grips stayed grippy through the wet, and the lock rings prevented any slipping or twisting.
I've yet to encounter a problem with any part of the Renthal cockpit. The bars have stayed perfectly put once they were mounted, there's been no creaking or concerning noises from the stem, and apart from looking a little dirty, the grips have been holding up nicely as well. Admittedly the colour scheme is a little bit love/hate and it may not work with everyone's perfectly co-ordinated rig, but purely cosmetic issues are the only thing I might raise as questionable.
The Fatbar Lite Carbon bar will set you back $159.99 USD, with the Apex stem coming in at $99.95 USD, and the Lock-On grips $29.95.
Having run this setup for a while, it's going to be a challenge to run anything else. Riders on smaller-travel bikes who are looking for a premium upgrade would be well advised to take a close look at this setup, as well as anyone who is seriously into gram-counting on their bike. It's safe to say I am now a fantastic plastic convert.
---
Matt is clearly now a carbon convert. Does his experience have you considering a cockpit change?