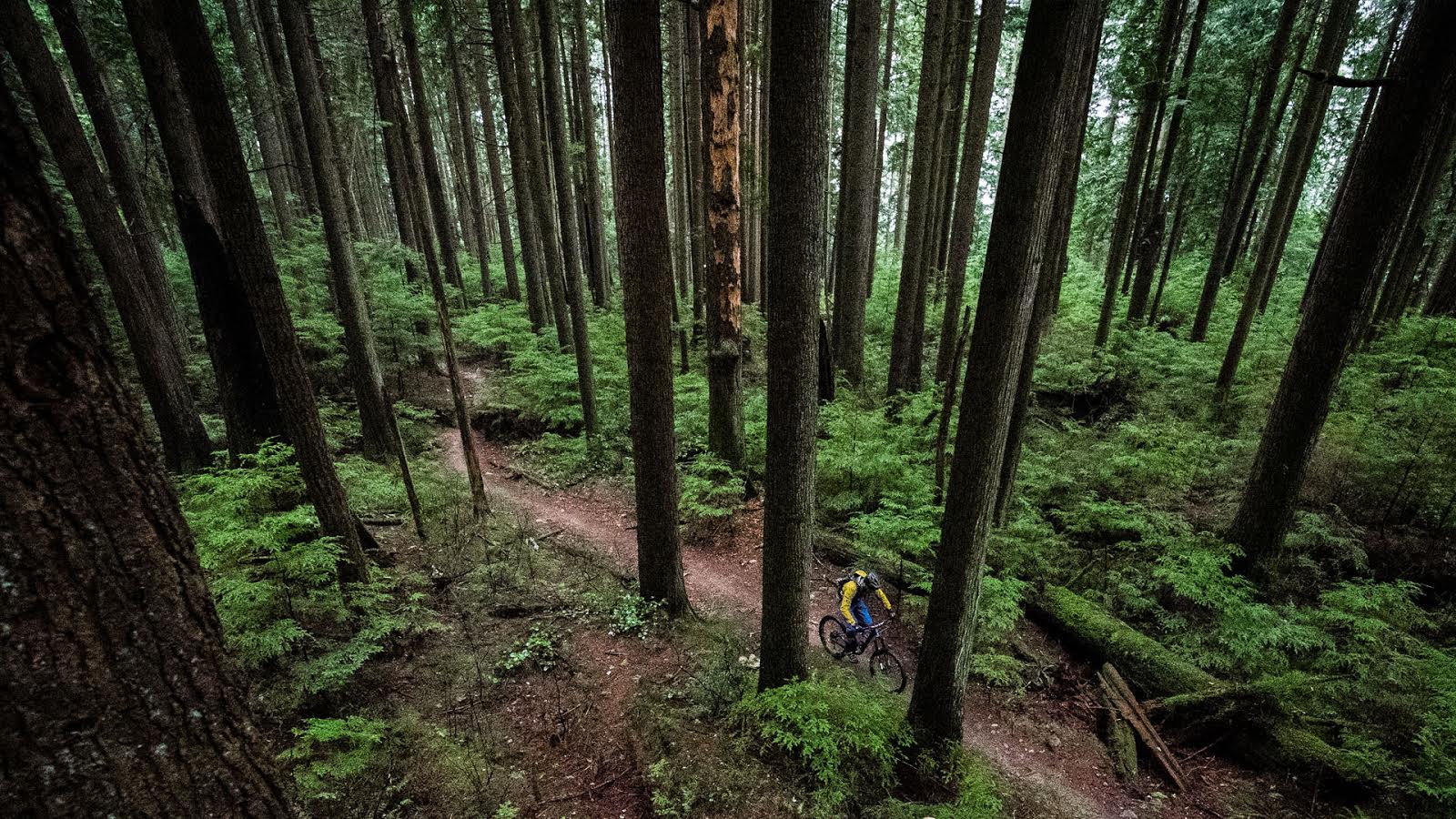 Renthal 35mm Fatbar & Apex Stem Review
Renthal 35mm Fatbar
I know. I know. Yes, I know. There is nothing wrong with your 31.8mm handlebar and this is just a cosmetic change to sell more handlebars. The new Renthal 35mm Fatbar is proof that they agree.
It's simply inevitable that 35mm will become the standard for mountain bike bars and stems. Renthal's 35mm Fatbar bar and Apex stem are two of many examples. It's a huge upgrade. Visually.
The 35mm Fatbar and 35mm Apex stem fresh out of the packaging. 20mm wider and 50 grams lighter than te 31.8 version. I'm going to mention how good the anodizing quality is so many times you'll lose count. It still looks like new after three and half months. Photo: Cam McRae
The design goal of Renthal's new 35mm Fatbar is the only feature I should notice while riding: a full 800mm compared to the 780mm width of the 31.8mm version. If I can crib from my take on their 35mm press release, the idea is "to share the same flex characteristics and ride feel of the 31.8mm diameter Fatbar".
So why bother? Appearance, mainly. Since Easton released their 35mm Havoc bar, everything else has looked a bit spindly. In the same vein that 25.4mm bars looked like toothpicks contrasted with fat tube aluminum frames, 31.8mm bars appear to be the weakest (visual) link when tied to massive carbon front triangles and wide-stance Boost forks.
35mm Fatbar, 35mm Apex stem, and 44mm headtube. The new Renthal bar is definitely the meanest looking thing on my bike.
Renthal Ride Quality
My first Renthal experience came about when I had a test bike with a very short stack height and a neatly trimmed steerer tube that put me in a yoga-like descending position I can only describe as 'downward dodginess'. My preference is for a bar in the 780mm-800mm range and there was a higher rise Renthal aluminum Fatbar available.
As I've attempted to explain to riding friends, it might be all in my head. Fine, I'll own it. But there is a certain subtle ride quality to the Renthal bar that I noticed right away. I don't think it's the fairly normal 7-degree backsweep and 5-degree upsweep. Without giving the review away, I notice it with both the 31.8mm and 35mm bars.
It isn't suspension. It isn't the 'vibration damping' crap that some makers of plastic-fantastic bars like to BS about. I don't notice it with other aluminum bars. Maybe I'm just nuts?
The prettiest thing in the flower garden? Renthal's signature colour isn't for everyone but I like it.
Interestingly, I've also ridden Renthal's carbon Fatbars in 31.8mm and 35mm and while they aren't totally sh*t kicking stiff like many carbon bars, they certainly don't give me the magic feeling of the aluminum options. It's subtly notable on my hardtail and also on a few different suspension platforms.
That said, my biggest joy with the new Renthal 35mm Fatbar is definitely the full 800mm width. My biggest concern was that the plus-sized bar would sacrifice ride quality for appearance's sake. Especially after many of my other 35mm bar experiences.
Adding "35" to the logo is superfluous when you compare the two sizes of Fatbar. The 10mm rise is barely noticeable due to the size of the 35mm Fatbar's clamp. This photo seems like a good excuse to include a link to the Formula R0R teardown.
And so…
The new Fatbar, at 800mm, is 20mm wider than the previous version and sheds 50 grams at the same time. Total weight penalty for the aluminum version compared to the same Renthal 35mm bar in carbon fiber is a claimed 80 grams.
The signature gold colour is not for everyone, but the quality of the anodizing is awesome, as I've noted previously, and the bar still looks new, even after three months of riding, crashing, and tightening various clamps.
The aluminum bar is also half the price of Renthal's carbon version and when I factor in the je ne sais quoi factor, it's the winner everytime.
And that's the big story because in my opinion Renthal delivers on their one claim about the 35mm Fatbar and that's that the ride quality is identical to the 31.8mm version. I love it.
The Apex stem's 240-degree clamps do make it a hair more complicated to mount a handlebar because of how far around the bar they wrap.
Renthal 35mm Apex Stem
The new Renthal 35mm Apex stem is an awesome looking example of machining and design. The bar clamps are flush-mounted at the bottom of the stem and then torqued up top. They contact the bar through 240 degrees which allows Renthal to really hollow out the inside of the stem to reduce weight without any loss of strength or stiffness (the holy grail of bike component design).
The 240-degree clamps do make it a hair more complicated to mount a bar because of how far around the bar they wrap. This means putting the clamps on a narrow point on the bar and then sliding them down to the 35mm wide clamping zone vs. mounting a face plate straight on. In practice this is a non-issue but I thought it was worth noting.
Part way through my test period I started to experience regular creaking and clicking at the bar-stem interface I could not resolve with lubrication. I ended up swapping the stock bolts out and it's been all quiet since. Stock bolt on the left. Fresh hardware was a cheap fix.
A Perplexing Creak
As test bikes come and go, the Renthal 35mm Fatbar and Apex stem spent most of the test period mounted to the front of my single speed and experienced as many rides up the superb No Quarter climbing route as anywhere else. I just stand and crank away on the 800mm bar while singing bawdy tunes until I explode. Then I have a drink of water, catch my breath, and do it some more.
About a month into the test period I started to experience a regular creaking and clicking at the bar-stem interface. I tried copper Anti-Seize, I tried grease, I tried Loctite, I tried grease and Loctite, and it was all to no avail. As a reader pointed out in my Crankbrothers Highline review (thanks, John) I don't know the actual grade of the un-marked hardware on the Renthal 35mm Apex stem; however, a quick trip to my local bike shop for some fresh Grade 8.8 bolts ended up being a really cheap fix and the noise has not returned.
Renthal Traction Grips revisited. They're a lot less mean in the Kevlar compound.
Renthal Traction Grips Revisited
In my initial review of the Renthal Traction Grips I whined about how mean they were. Yes, traction on the Traction grips was amazing, but they killed my hands over the course of a ride.
As predicted, the Kevlar compound was a lot more forgiving with no loss of grip. I have sweaty palms, and this is the first set of grips I've come across that work for me without gloves on, in pissing rain or sweat-drenched humidity.
I still prefer Renthal's standard lock-on grips and a pair of gloves, but if you prefer to ride glove-less, definitely give the Traction Grips a look!
---
Bigger Begets Bigger