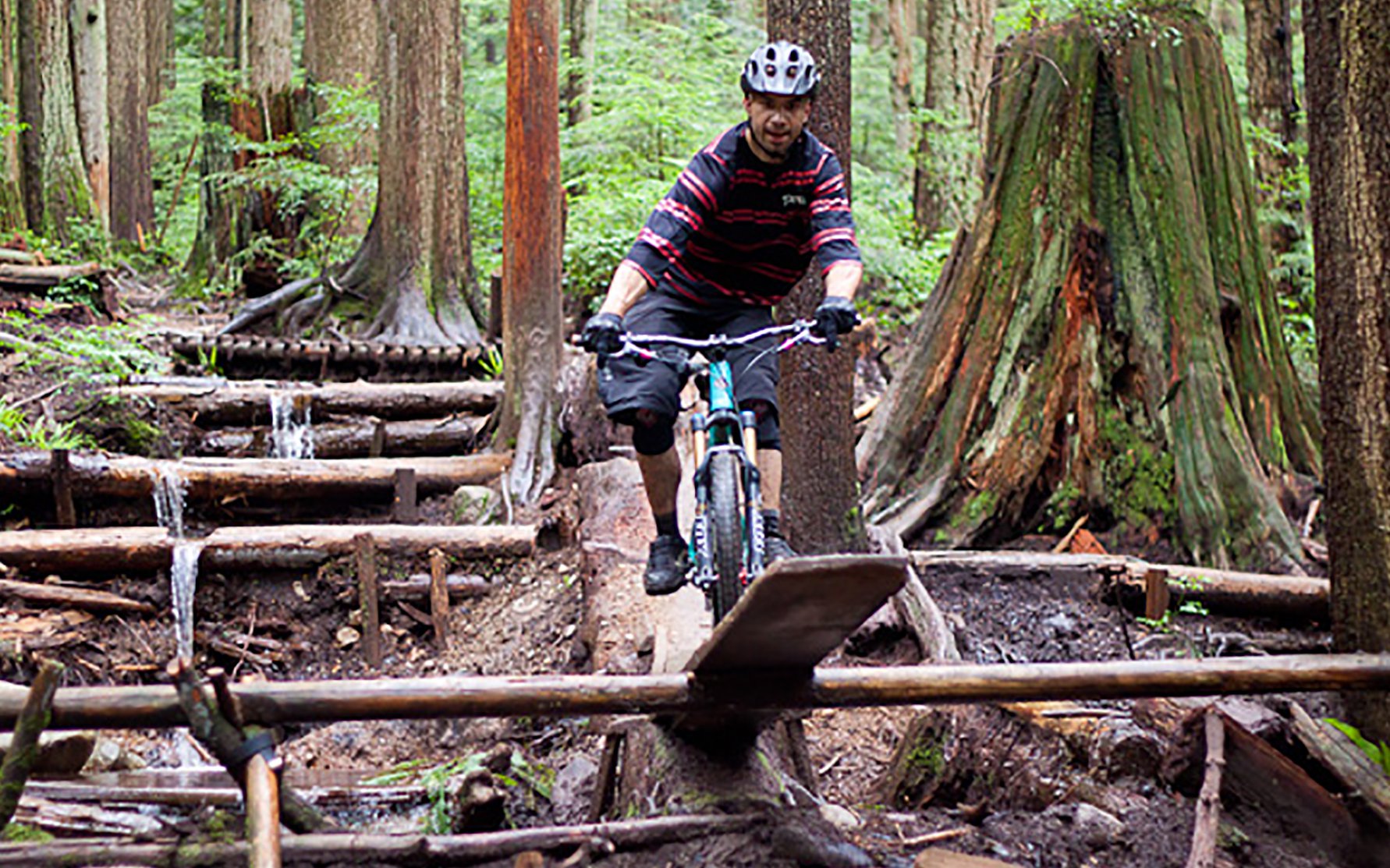 News
Removal of Teeter Totters on Shore Trails To Begin Immediately
We have an update to this story and good news here...
When I first heard the District of North Van had decided wrong-headedly to remove several historic teeter totters from trails on Fromme and Seymour, on June 10th, I immediately sent an email to Wayne Maskell, the section manage for Parks in the District of North Vancouver. After receiving no response for 3 days I sent a follow-up and got this response on June 14th:
I had heard that others had been informed that the decision had already been made to remove teeter totters some time in 2020 and was no longer open for discussion. Armed with this information I again contacted Wayne Maskell with a more direct question.
Wayne's response didn't change. And while he may not have been lying outright, in a textbook example of irony, he was certainly trying to mislead me.
My final email to Wayne Maskell asked directly if to his knowledge there was a plan to remove teeter totters from trails in North Vancouver. He didn't respond to that email, perhaps out of some sort of misguided moral compass that approves of misleading people but would prefer not to be documented lying.
And I've heard that as of June 30th the District has begun or will begin removing these structures (I have thus far been unable to confirm whether this has commenced).
This decision seems to be based on an Ontario lawsuit launched by a 43 year old man who broke his neck and was sadly rendered quadrapalegic while attempting to ride a teeter totter in a skills park. The details of the incident as they were recorded in a case summary can be read below:

[17] Mr. Campbell continued onto Free Fall. He did not have enough speed to make it over the pivot point. He started to fall. He tried to control his fall by "popping a wheelie" (staying on the bike and attempting to land it on its back wheel) to the right of Free Fall. In doing so, he kept his hands on the handlebars. Mr. Campbell went over the handlebars and landed on his head on the ground. He broke his neck. Sadly, he became quadriplegic.
Mr. Justice Marc Garson "found that the municipality had breached its duty in five ways: (1) its failure to post proper warning signs; (2) its negligent promotion of the Park; (3) its failure to adequately monitor risks and injuries at the Park; (4) its failure to provide an 'adequate progression of qualifiers'; and (5) its failure to make the Trials Area a low-risk training area."
The Distict is not responding to inquiries into this matter at this point and has instead issued this statement: "The District of North Vancouver is removing five 'teeter-totter' structures located on our mountain biking trails. We have been advised that these structures pose an unacceptable level of liability risk to the municipality and, as a result, staff will begin dismantling the structures immediately.
The decision has been made in response to advice from a recently-commissioned professional risk assessment, a recent court decision in Ontario, Campbell v. Bruce (County) 2016, and our own experience in dealing with serious injuries related to 'teeter totters' on our mountain biking trails.
The DNV will work with the mountain biking community to find more suitable structures, with the goal of striking an acceptable balance between rider safety and trail riding experience."
As pointed out by the nsmba's Cooper Quinn in this excellent piece by Ash Kelly, the teeter totter in the Bruce County skills park was quite different from those found on the North Shore. Court documents give this description of the structure: "Free Fall had a deck width of 16 inches an upward swing of 44.5 inches being 1.93 times the upward swing of Pee Wee and was 12 feet in length." In the end this is quite a steep teeter totter and substantially different from those found on the North Shore which are generally low angle and much less difficult to ride.
Beyond that, comparing the duty of care required for a facility situated where it can be accessed by anyone on a bicycle to that required on a mountain bike trail that can only be accessed after a long climb up a dirt road followed by a long descent on very challenging terrain, seems preposterous. It would be like comparing a climb at Yosemite to a climbing wall found in a city playground.
And yet it seems logical arguments are falling on deaf ears over at the District of North Vancouver. The decision against Bruce County does contain some elements that could apply to teeter totters here, like potentially inadequate signage, but that one seems to be relatively easy to address. Beyond that the skills park is in an area where bicycle riders stumble upon the park and then decide to ride its features. That is not the case on a black diamond or double black diamond mountain bike trail.
While municipalities must take reasonable precautions to minimize exposure to risk, this seems to be a kneejerk reaction made without public consultation. In fact the process seems to have been deliberately concealed from mountain bikers in order to prevent any public backlash.
Kids' playgrounds continue to be sanitized the world over and teeter totters there have virtually all removed because of injuries that have occurred. And yet the world is hardly a safer place. In fact some research suggests that the absence of 'risky play' has lead to a dramatic increase in childhood psychological disorders, particularly emotional disorders. On the flip side risky play may actually make kids safer in the long run.
Mountain biking is dangerous. So is driving and swimming and hiking and climbing. Efforts to sanitize sports and play inevitably curtail the exhilaration and pride that comes from accomplishing something challenging. Sure, teeter totters can be dangerous to mountain bikers, as can rock faces, jumps, trees, rocks and even dirt. If the law so broadly defines negligence and fails to put any burden on personal responsibility, the law should be changed.
If this continues it's possible the DNV will attempt to remove all built structures on the North Shore, features that appeared here and have since spread the world over. The innovative designs of Todd 'Digger' Fiander and others are in jeopardy. If you have anything to say about this please let District Council know how you feel using this email address - council@dnv.org