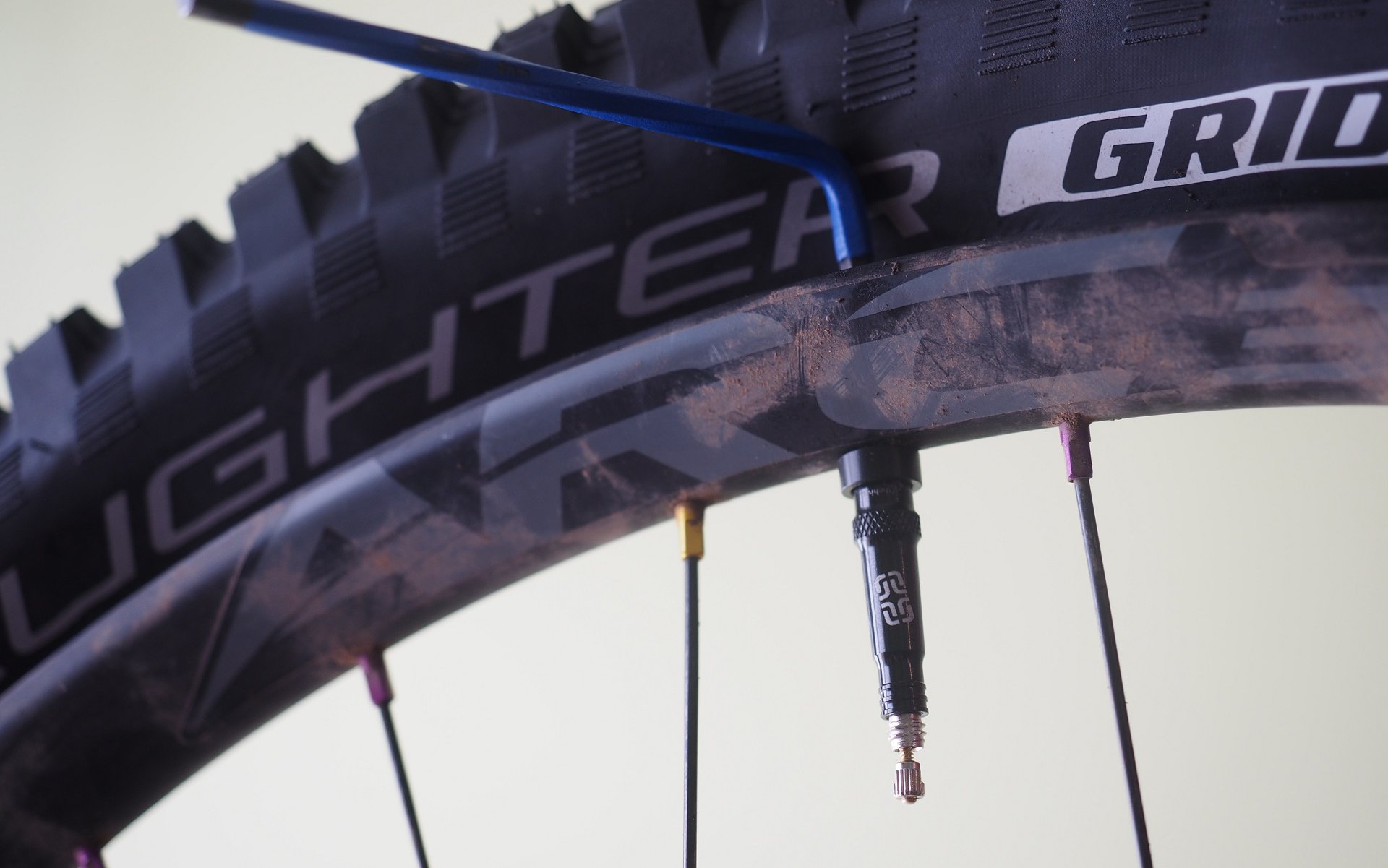 Review
Reinventing the Tubeless Valve with e*thirteen
The Humble Tubeless Valve Stem
Mavic launched UST in the year 2000. Stan's NoTubes switched from rubber rim strips to their yellow tape & valve stem tubeless system well over a decade ago. There are several solid arguments for how to divide the credit for the almost universal acceptance of tubeless systems on performance mountain bikes. However you split the pie the universal feature of all tubeless systems is a threaded metal valve body with a rubber butt inside the rim, a lock-ring holding it tightly in place, and a Presta valve core threaded into the end. 
ENVE valve bodies are really long. Schwalbe's valve bodies are aluminum. Mavic has an o-ring between the valve body lock ring and rim to prevent damage (a feature many other companies have adopted) and the actual shape of the rubber butt inside the rim varies significantly but otherwise, these products are virtually identical. Here we have a different approach. e*thirteen's $29 (USD) Valve Stem Kit is an intelligent re-think of a seventeen-year-old staple of the modern mountain bike. 
e*thirteen Tubeless Valve Set
From the coil-sprung Dropper Post to the unique polygon crank interface, The Hive's e13 brand is focused on engineering original solutions for mountain bike components, as evidenced here. 
The aluminum tubeless bodies are designed to maximize airflow and with the Presta cores removed the difference in air flow between these valves and anything else on the market is audible. Airing up a 29+ tire with my floor pump comparing the e13 valve, Stan's valve, Mavic valve and Schwalbe valve it's absolutely no contest; e*thirteen moves more air. 
The valve set is more complicated than other options on the market (other than the less-than-recommended milKit)  with multiple pieces. The inner body has a choice of a standard o-ring or a formed rubber spacer depending on where it is being used with a flat rim or a curved rim and the outer body also has a captured o-ring to protect my rims and ensure a perfect seal. 
I used the formed spacer with my Raceface ARC 30 rear rim and the o-ring with my front Raceface ARC 40 and everything went together very easily with no instructions required. A hex key holds the inner body in place while I hand tightened the two parts together, "no pliers or rim-crushing monkey strength" required. 
The majority of tubeless valves have removable valve cores which makes it significantly easier to inflate a tire from empty. Pump it up, remove the hose, reinstall the core and then top up the pressure to the desired amount. 
Yes, the cores can be removed with an adjustable wrench, pliers, Vice Grips and etc but I certainly prefer my valve core remover - when I can find it. e*thirteen simplifies the process by including a valve core remover in the form of a valve cap. It's always there and easy to use. I've already lent it out on the trail to a rider whose mini-pump unthreaded their valve core. Simply brilliant.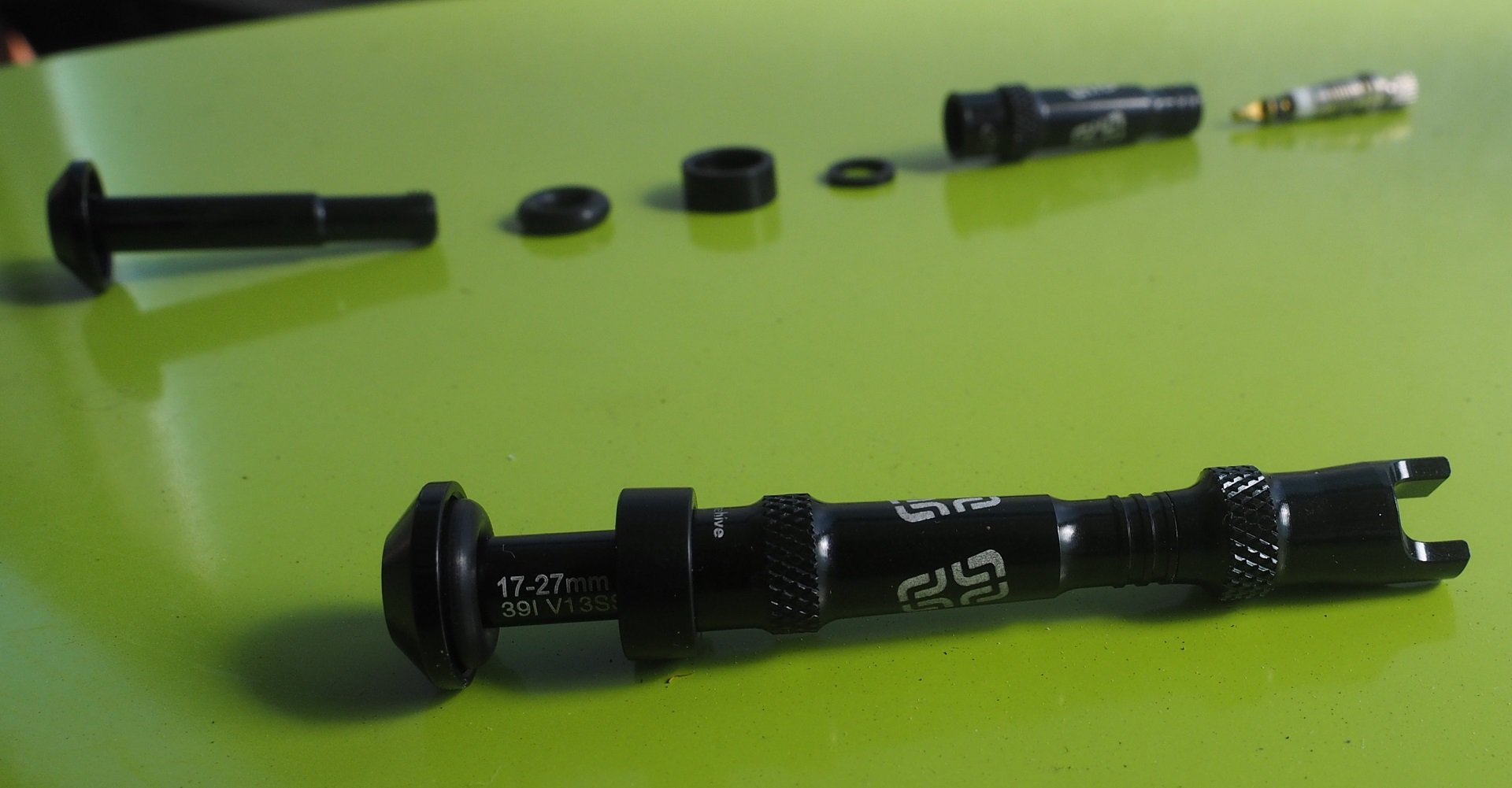 If it ain't broke...
...reinvent it anyways? 
I've never been much of a fan of change-for-change sake. That's true for the shift from 1-1/8" steerer tubes, 135mm rear hubs, 8-spd drivetrains and threaded bottom brackets. When I first saw the package of e*thirteen valve stems I immediately filed them under the category of 'what's wrong with the existing design?'
But, the e13 Tubeless Valve Kit is an absolute winner. Yes, at $29 the set is almost twice as expensive as a $16 set of Stan's but when you add $8.50 for a Stan's valve removal tool for a more apples-to-apples package the pricing gets closer.
There are two lengths available (19-27mm & 27-37mm) so they'll fit nearly any depth of rim. They're easy to take apart to clean if they get filled with tubeless goop and they even come in anodized red or blue for riders that can't have enough anodized parts. 
In the grand scheme of things it's a cheap upgrade to my existing bikes that I'll appreciate any time I air a tire up tubeless. With the valve cores installed it is significantly faster to pump up tires that have been sitting, even with a mini-pump. 

An awesome little upgrade for anyone who's ever had a beef with airing up tubeless tires.