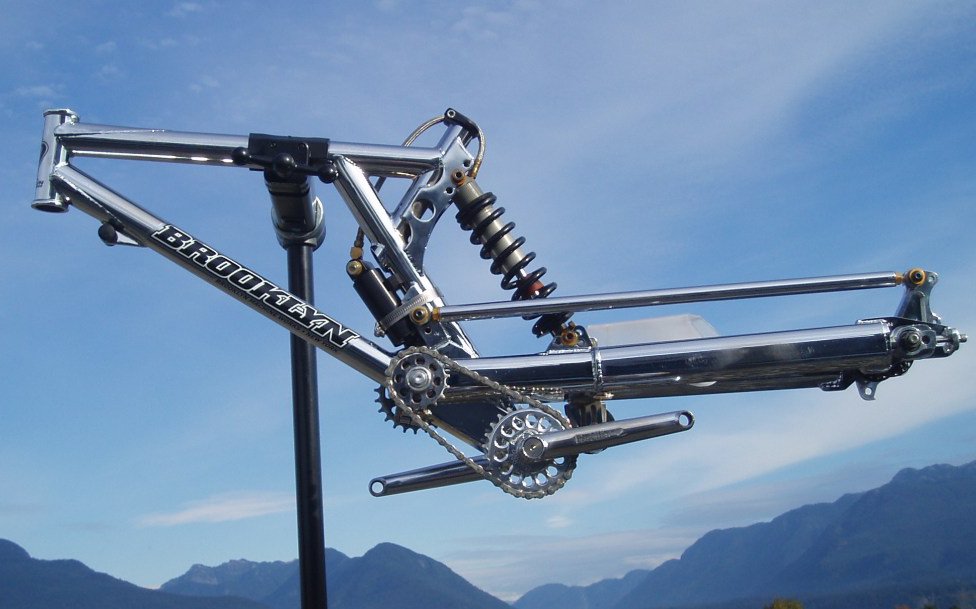 Reader's Rides:
Brooklyn TMX
Here's something a bit different – a look at a bike I no longer own. Digging through some old photos got me all nostalgic; nearly verklempt, even, so I decided to toss them together along with a few words as a bit of a historical document.
I'd harboured a fascination with Brooklyn Machine Works since I first saw their handiwork at Interbike back in the late 90's. Uniquely industrial monster bikes from the most unlikely of places – NYC. Though I never really got into tank bikes, I was intrigued by the aesthetics of these, and I still consider the more race oriented designs of BMW co-founder Chris Boudreaux – the Racelink, and the later Superco evolution, the Silencer, some of my favorite dh frame designs of all time. I was never in a position to buy a new Brooklyn, but when a used Brooklyn TMX showed up locally on Craigslist, I jumped on it.
Frame as purchased. Not in bad shape for it's age. Original inception date: 1999.
The TMX was a bike whose appeal for me transcended numbers on paper, or good sense, for that matter. When I bought it, the frame was already 5 years old, with appropriately dated geometry (relatively steep and high), and was beastly heavy. The frameset (with jackshaft, cranks, beefy Avalanche shock, floater, and associated bits) was about 22lbs. Still, I thought it had potential to be a fun big hit play bike. Or at least an entertaining build.
Lots of metal here. Every part built with an industrial ruggedness not typically seen in the bike industry.
I was inspired by a couple fully chromed Brooklyns I'd seen previously (namely TMX #001, piloted by OG BMW alumni Terry Seeberg), so immediately proceeded to strip the painted parts and send them off to the plater.
Front triangle and floating brake arm back from chroming. Shiny things!
I built the bike with the mindset of shedding as much extraneous mass as possible without compromising it's robust character. The bike went through a couple iterations, but the final build, with a Ti coiled 5th Element instead of the stock Avalanche remote piggyback shock, and over 40 ti bolts scattered about, was 47lbs – the lightest TMX I've ever seen. Not that anyone had ever been motivated to embark upon such a futile endeavour. But not bad considering typical builds were pushing 60lbs (i.e., with Monster-T's, Doublewide rims, 3.0 Gazzolodis, etc).
Final light(er) build. Actually looked relatively lithe. Until you picked it up.
So how did the bike ride? The jackshaft was a fairy radical but effective way of dealing with drivetrain interaction on a high pivot suspension design. That, in conjunction with the floating brake made for a well planted, neutral handling chassis. In a word, solid. Unlike anything I've ridden. Steel does have a unique ride quality, whether it's partially attributable to the lack of resonance (this was a very quiet bike) I'm not certain, but there was a feeling of well damped solidity – no doubt owing in part to the sheer mass of metal. It wasn't an optimum high speed dh machine owing to the vintage geometry, but multiple shock mount locations in conjunction with a shorter shock, and an eccentric bottom bracket, allowed tweaking the geometry into acceptable territory. Made for a fun park play bike.
B side. Can't think of anything witty to add here. Oh – check out that stem length; when 70mm was de rigeur.
Gears & stuff. I love this shot; machine lust. Attempts to reduce mass include adding a Ti Profile BB spindle, ti bolts, aluminum nuts & washers, and a drilled jackshaft chainring to compliment the Profile BMX chainring. The jackshaft system dictated the use of left hand drive BMX cranks. The floating brake arm had variable mounting point options to (ostensibly) coincide with different shock mount geometries.
Lots of proprietary stuff here. The eccentric bb is used to adjust jackshaft chain tension. Custom guides & rollers keep the chain where it's support to stay. Several shock mount options at both ends allowed travel and angle tweaking. Maximum travel with the standard spec. 3" stroke Avy shock was 10.5".
Getting a bit neurotic with the polishing and anodized hardware. Pre-family when I had time for such things. The Hope Mono 6ti brakes were trick, expensive, and even worked well – most of the time. The adjustable sliding dropout detail is appropriately robust. Spot the serial number? Low production, these things.
Artistically blurred action shot. Proof that it was possible to heft this bike off the ground – with enough speed.
More Whistler fun. I actually used to ride this a fair bit on the shore, though exclusively in shuttle mode. No climbing on this bike.
So I eventually ended up selling the frame (for a surprisingly good bit of cash) to fund a modern bike. In retrospect, I should have retired it as a wall hanger. C'est la vie. A fairly ridiculous bike, yet one of my favourites. Oddly enough (or perhaps not), some of my most fondly memorable bikes have have possessed what many would consider significant flaws – that were overridden by endearing character. In these days of nearly homogeneously good bikes, there are few surprises to be had; the olden days of dodgy experimentalism are probably best left behind, but I sometimes miss the mad science projects. I wouldn't have any use for a bike like this these days, but this was certainly a fun chapter in my bike ownership history.
Prior to shipping it off to it's next owner. Au reviour!
---
Has anyone else professed logic defying love for a quirky bike with character?