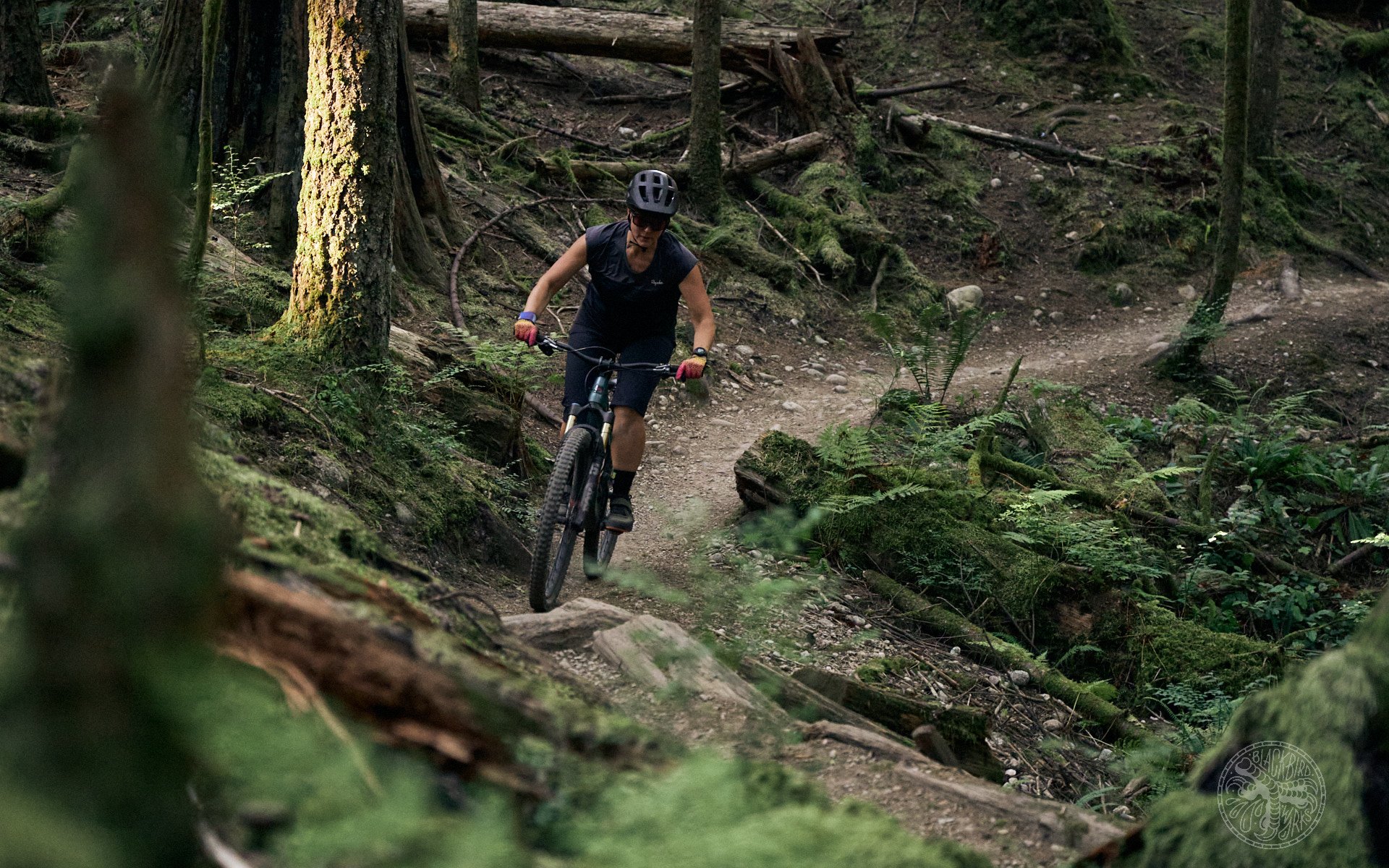 Review
Rapha Women's MTB Kit
When I started riding bikes more regularly again in my adult years, I mixed it up between road riding, mountain biking and commuting. Over the years, in part due to a neck injury that made road biking less comfortable, my road bike has become the "trainer bike" and my bike time has shifted almost exclusively to the trail. Back in my roadie years, I loved the long rides, did some fondos and really enjoyed the fitness benefits, and gawd did I love and covet Rapha gear. Of course I usually waited until their annual sale to stock up, but I loved the fit, the fabric and mostly the Rapha chamois. In the years following, Rapha grew into a super popular brand among roadies, and I think some people started to move away from it to other newer niche brands.
When Rapha launched their mountain bike line, the decade-ago roadie in me was curious but I also wondered, did they lose their touch and get too big? Is their mountain bike line going to live up to my fond memories of their road line?
Emma and I planned to review some Rapha summer apparel together to better test and show how an apparel line works on two different body shapes and sizes. Unfortunately I came home to the package of Rapha apparel on my front step in early June while also nursing a freshly broken hand. You can read Emma's review of her gearhere.
Like Emma, I tested a tank-top and short combo from Rapha, but different styles. My selection was the Women's Trail Short and the Women's Trail Lightweight Tank. Emma reviewed the Trail Fast & Light Shorts and the Women's Trail Tank, which has more of a muscle tank look than the top I reviewed.
WOMEN'S TRAIL SHORTS $230 CDN - (all colours currently on sale for $92)
The Women's Trail Short are described as a durable, fully featured mountain bike short with a low profile, stretch waist and unrestricted freedom of movement. They have two zippered side pockets and are made with an 88% Nylon-12% Elastane blend that is flexible and features 4-way stretch. The fabric is Bluesign and Oeko-Tex certified.
The waistband does not include any adjustment or belt loops, but instead features a wide elastic panel around the back of the shorts. The shorts close with a zipper and what looks like a single snap, but is actually a simple slide into place closure system. The shorts are longer than average with a 13 ½ inch inseam that hit at the knee, with a slightly higher tapered hem at the back. The shorts are designed to be worn with or without knee pads.
The Women's Trail Shorts are available in sizes XXS – XL. Mine came in black, but past models also included solid periwinkle blue, turquoise or burgundy.
Fit
The Trail Shorts are designed to have a clean and minimalist aesthetic and a slim fit close to the body. These shorts are not designed, and do not fit, like baggy mountain bike shorts. I find the shorts fit a little on the small side and they are clearly designed to suit slimmer body types, which is in line with Rapha's roadie heritage. The slim fit is intentional and the shorts are very functional and comfortable, with ample stretch built in. I was initially critical of the lack of waist adjustment, but I take that back and I think the waist band of these shorts is among the most comfortable I have ridden in. The elastic used in the waist material is very soft and wide, so there is no pinching and the stretch easily accommodates an inch to two in waist size variation. The back of the shorts fit very high and does not bunch up or interfere with a hip pack. I also like the slider closure on the waist – it is really secure and never opened accidentally.
The shorts are quite long and I used them on long pedal days riding mellow trails and gravel while (still) waiting for my hand to fully heal. The tapered cut at the back keeps the hem out of the way and I had no friction at the back of my knee. The front of shorts hit the centre of my knee cap, and after an hour or more of pedaling I found that annoying. I flipped the hem up once or twice which was easy and resolved the issue, but using knee pads will also cure the problem. The leg openings are wide enough for a knee sleeve or low profile knee pad, but I don't think they would easily accommodate a chunky knee pad unless the shorts were sized-up.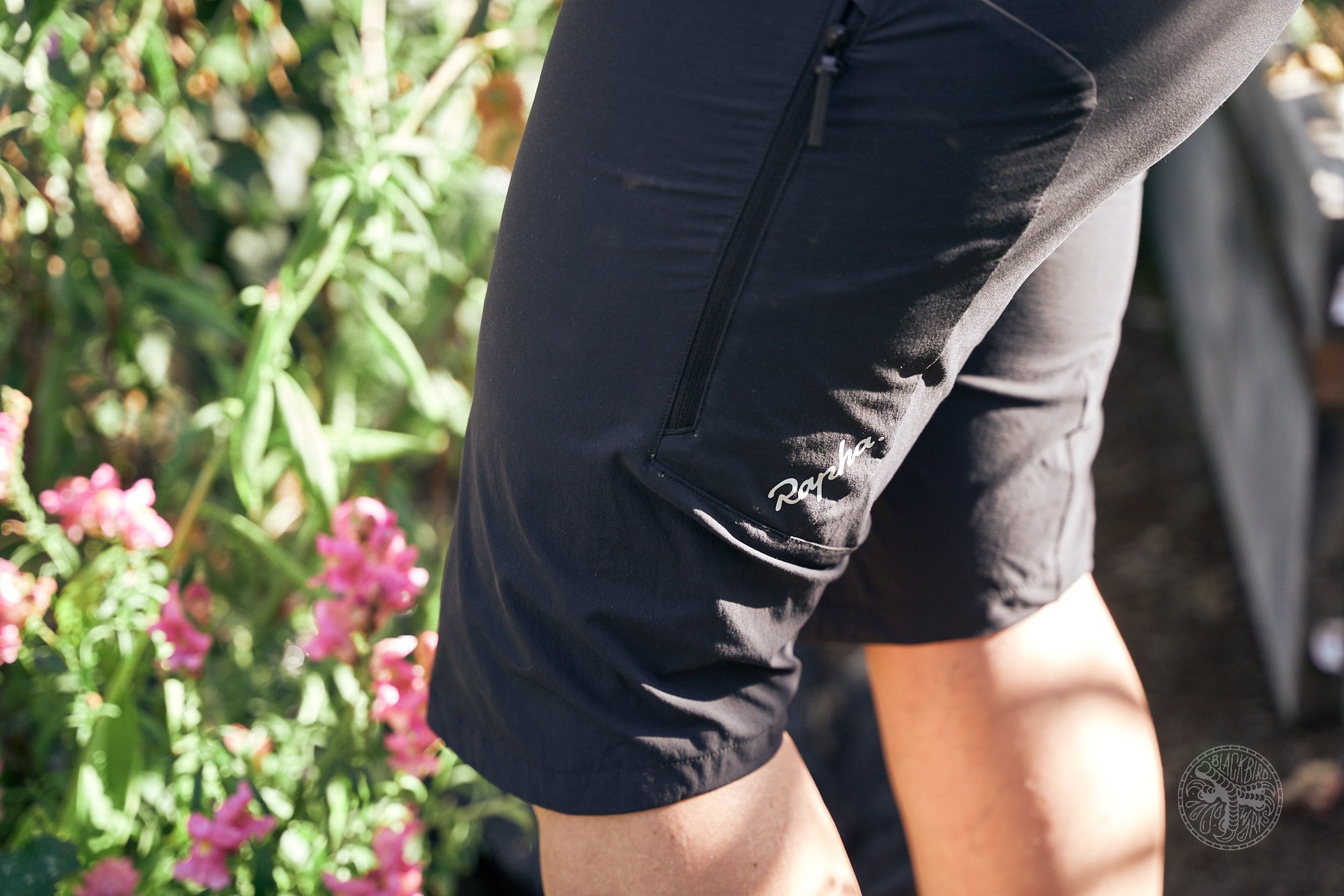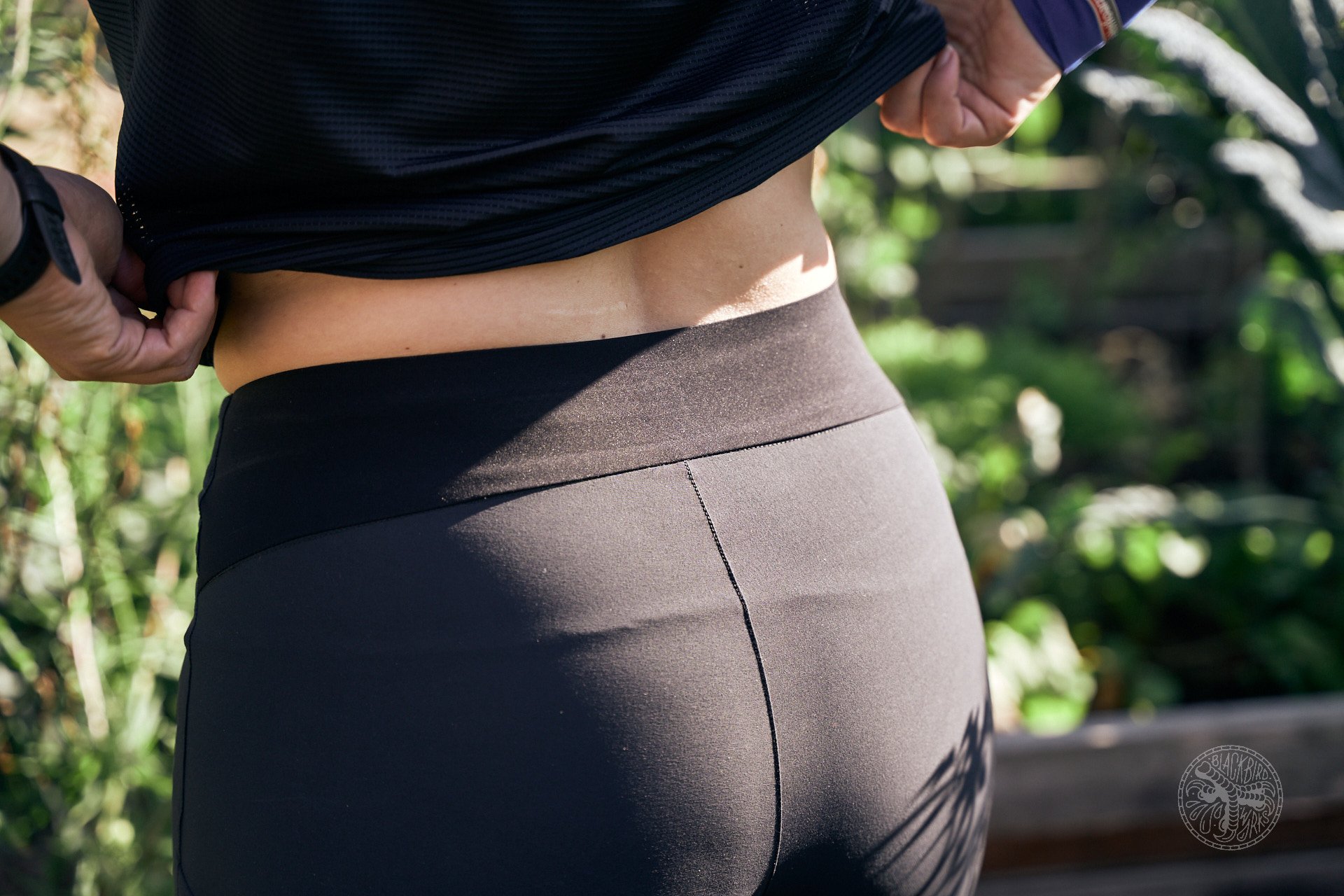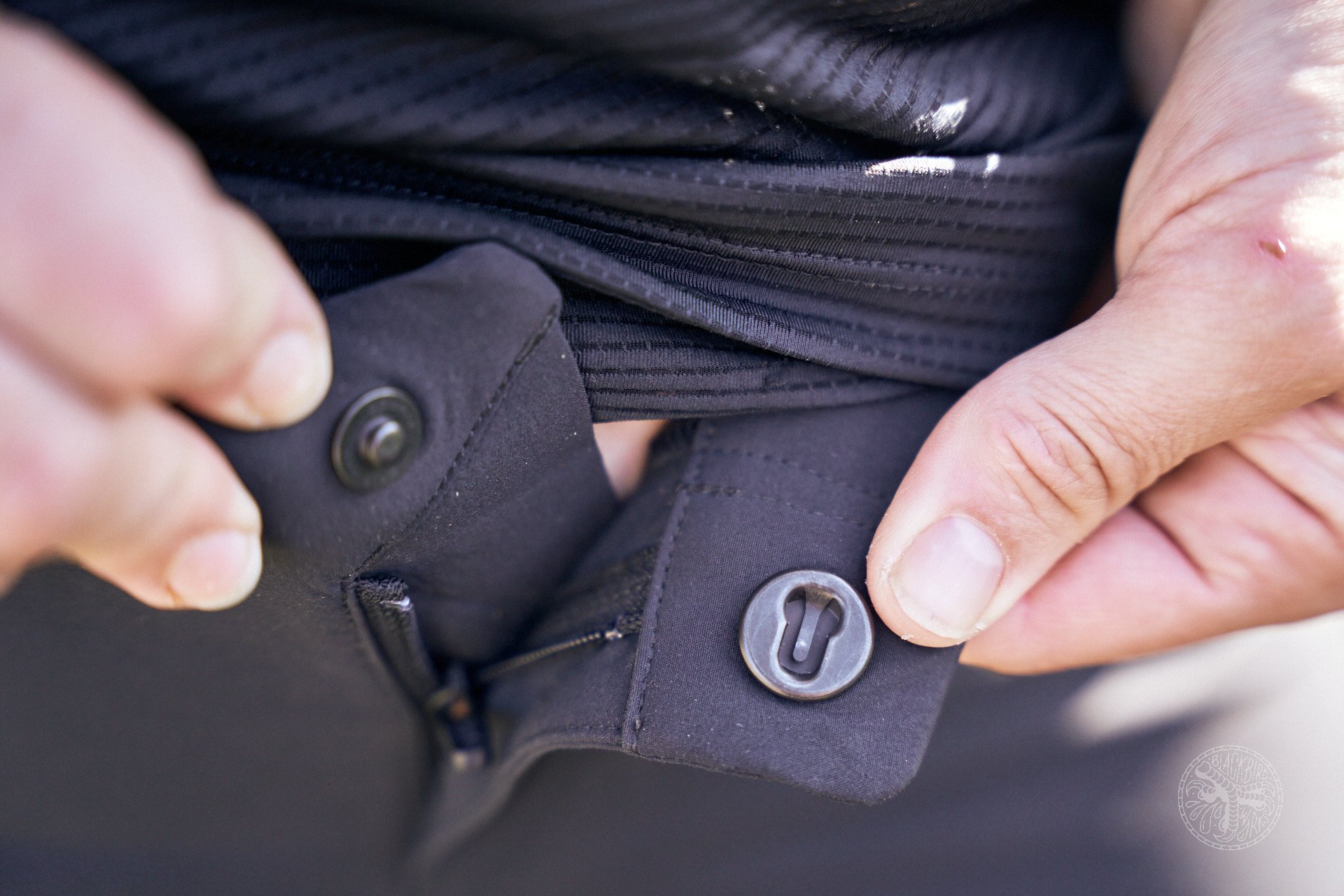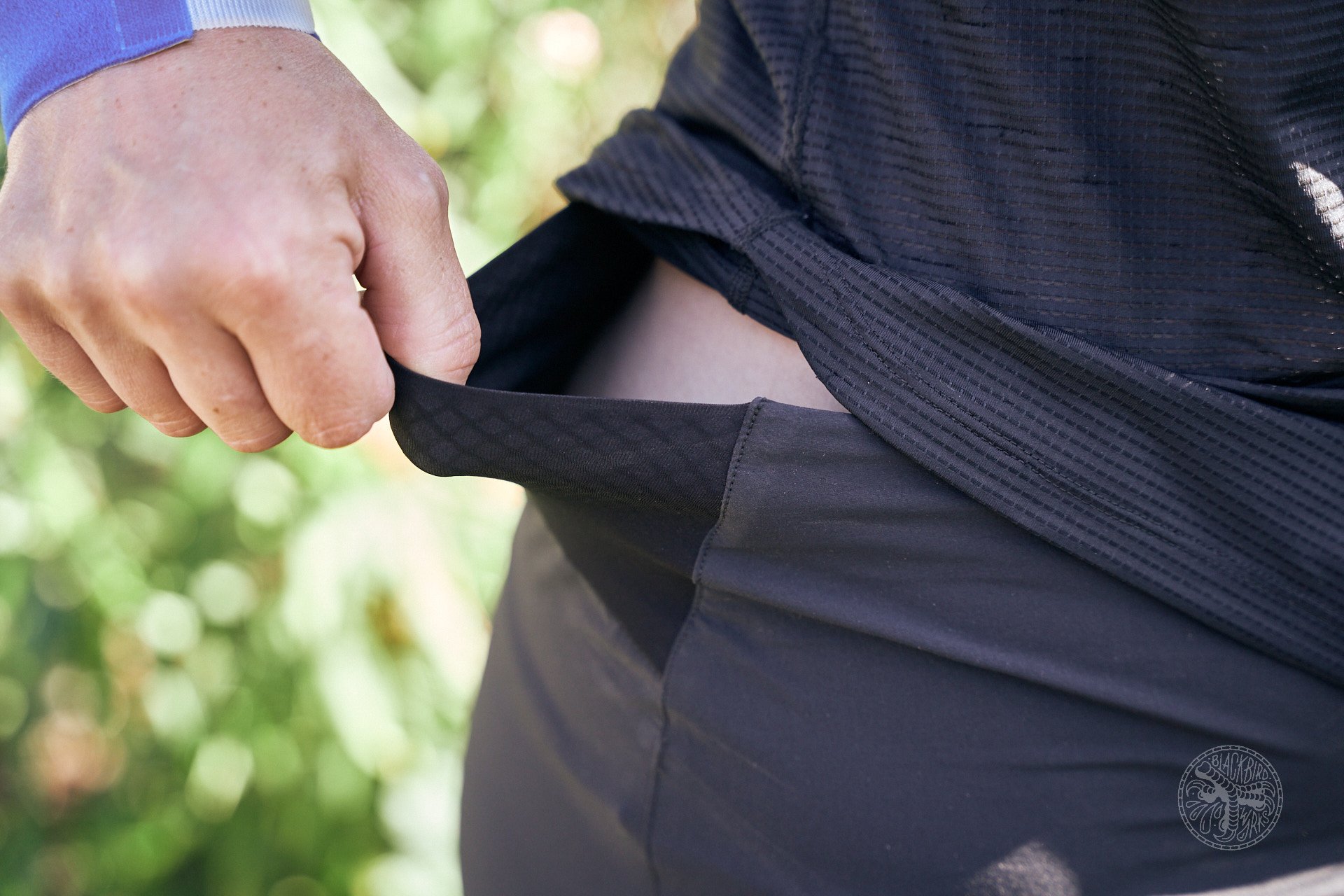 Function
The trail shorts were very breathable and comfortable, especially around the waist band. I wear a hip pack and I often get a sweaty back where my jersey and shorts sit underneath. Because the Trail Shorts offer such a high rise fit, the waist band goes past where my hip pack sits to offer full coverage, and I don't need to tuck a jersey in to protect my back from abrasion.
The fabric is in fact very flexible but it holds its shape well and does not bag out. This pretty much eliminates the risk of fabric catching on your seat, whether that's the butt bag or the inner thigh bag; both are equally terrifying when they hook onto the nose of your saddle. . Some lightweight fabrics are really loud, like my 7mesh glidepath shorts, but this fabric is on the soft and quiet side.
The two side pockets are also excellent. I did entire rides with my phone in the pocket and never noticed it... so much that I thought I lost my phone once. The pocket interior is sewn into place, which keeps the pockets stable and prevents heavier items from moving around and they also have sleeves inside. I didn't use the sleeves but I could see them being useful for a key or small item you want to keep closer track of. The pocket zippers are very smooth and easy to open and close using a single hand.
In terms of durability, my shorts have held up well. I haven't crashed in them or subjected them to any major abuse, but they look great and have no tears or snags. The elastic waist panel still looks great and is holding its shape well.
We haven't had rain here in ages, but the fabric is designed to be water shedding. I'm looking forward to seeing how these hold up in fall and spring showers, but I think the fabric is too light to handle our cold, torrential winter weather.
WOMEN'S TRAIL LIGHTWEIGHT TANK ($97) (some colours on sale)
The Women's Trail Lightweight Tank is a ultralight technical cap-sleeved tank that features UV protection. The tank is accurately described as featherweight and is constructed using a recycled polyester microfibre yarn that has a sweat-wicking treatment and antimicrobial properties, and a polyester-elastane blend for the contrasting top of the tank.
The tank does not have any pockets or storage and is available is sizes XXS – XL. The trail tank currently comes in five colours, including a few on sale.
Fit
Unlike the trail shorts, the lightweight tank has a roomy, airy and almost oversized feel. The fabric is ultra-light which keeps the look stylish. The arm holes are also slightly oversized and open under the arms, but the cap sleeves make for wider shoulders than a typical tank. I found the length to be good and the bottom hem hits around my hip bones. I also have a torso that is longer than average, so a shorter torso'd person may experience a slightly longer fit. The tank has a straight cut all the way through, which gives the worn tank a roomier cut around the mid-body and a hem that sits on the hips, and doesn't flare out.
The fabric has stretch but I didn't find the stretch necessary for fit because of the roomy cut, unlike the shorts where the stretch was integral to the fit.
Function
I found the tank incredibly breathable and I liked the wider cut to the shoulders to protect from the sun and prevent friction from pack straps. The cut is stylish and I received a lot of compliments. Its almost nice enough to wear not riding!
I do have two complaints: odour and durability. Even with the antimicrobial fabric, my tank had a certain aroma after a few hours of riding and needed a wash. The smell has come out every wash, but I would hesitate to bring it on a long riding trip where I couldn't wash the garment every time I wore it. That said, it dries in minutes (as did the shorts) so its easy to keep in rotation.
The lightweight knit fabric in the body of the tank is very unique and pretty. It also allows for lots of air flow and is almost translucent. Unfortunately that knit is also susceptible to catching and snagging. I first experienced the snags while riding in my arm splint that has Velcro on it – definitely not the use case Rapha is designing for here – but I also found the shirt could snag on blackberry bushes or shorts with Velcro closures. It didn't tear, but it got some abrasion and wear marks from these snags. If you ride where you will be brushing against prickly things often, you may be disappointed with the impact it will have on this tank and the snags take away from the beauty of the piece.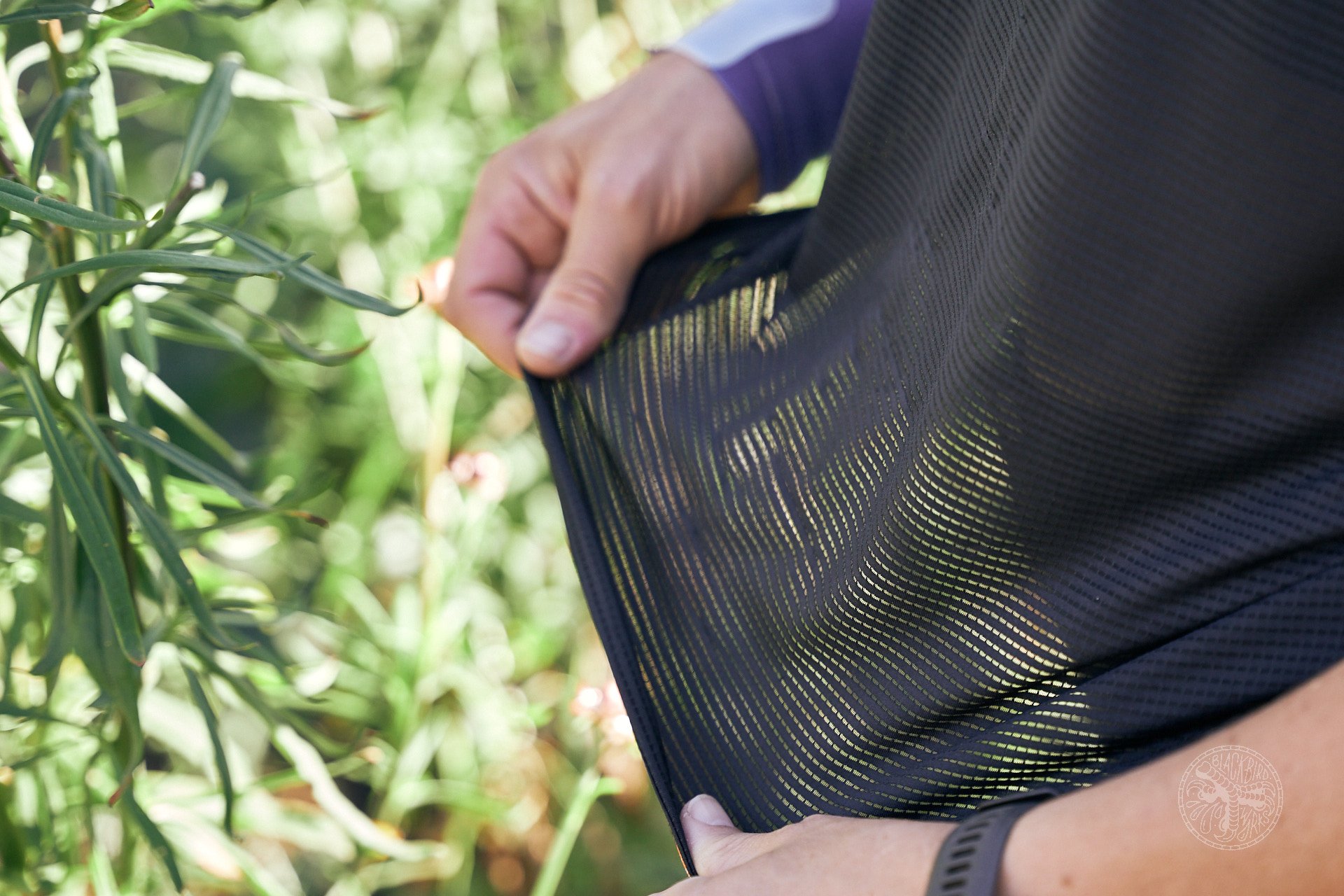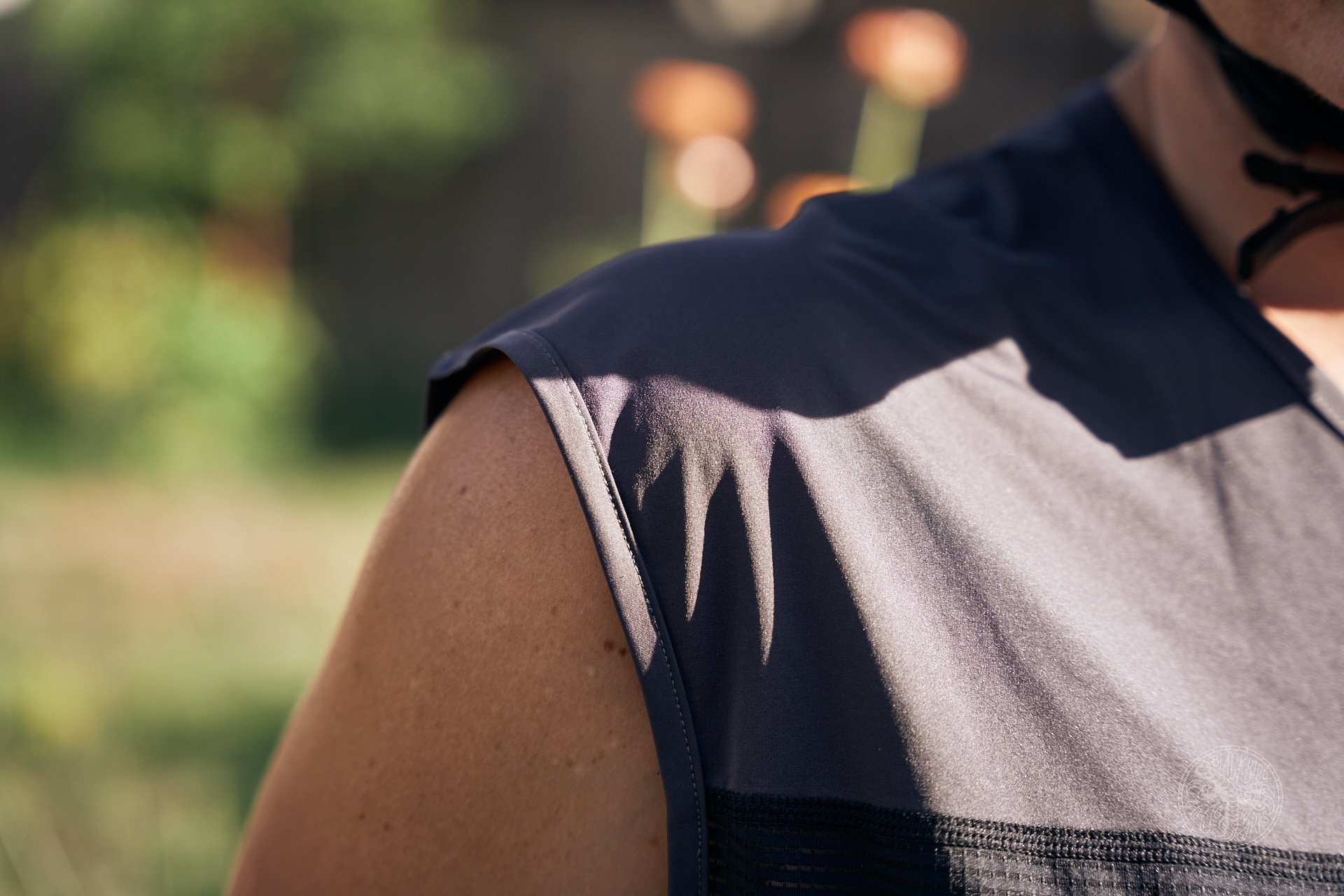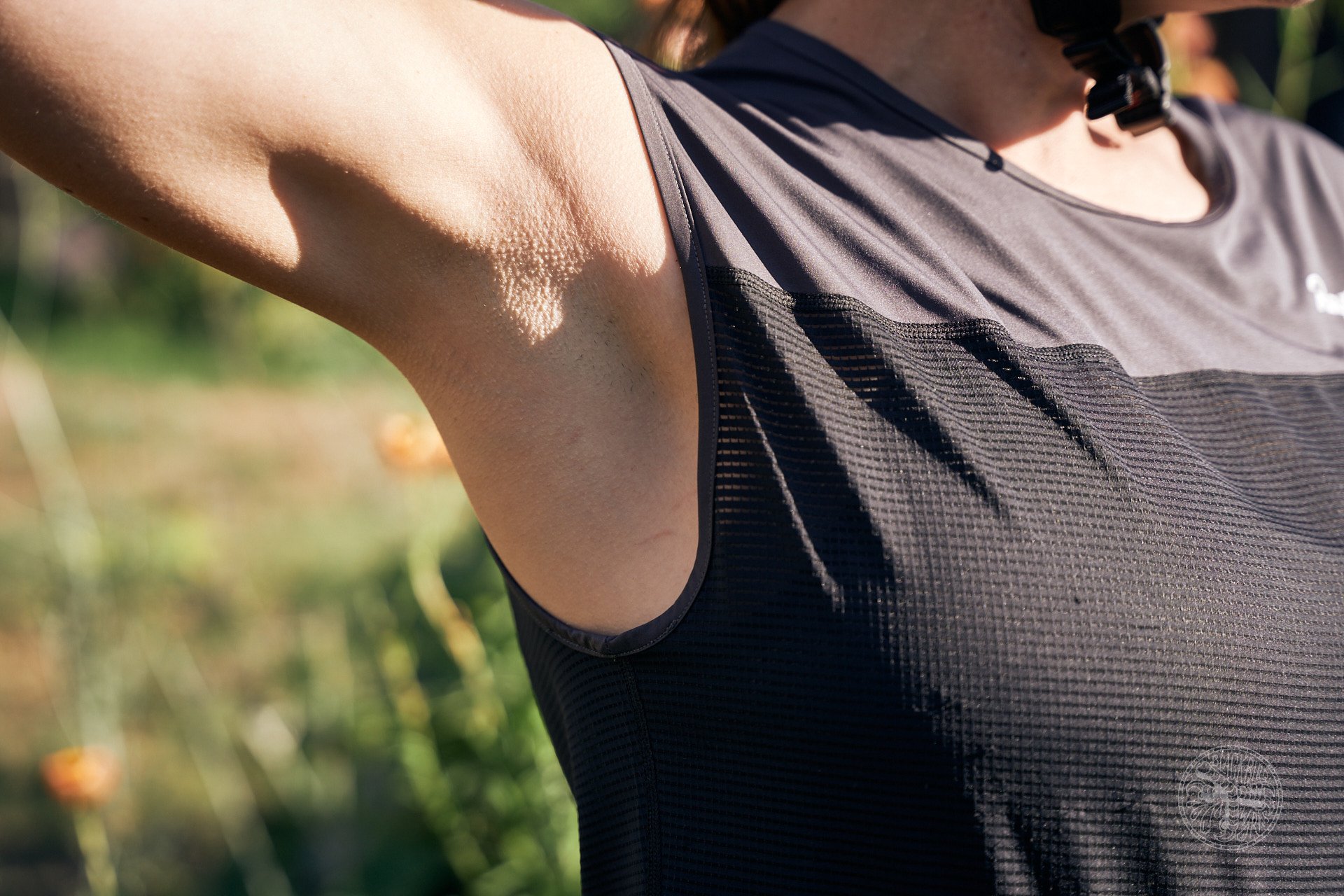 SUSTAINABILTY
Rapha's website includes lots of information about their sustainability initiatives and it appears that Rapha has genuinely started to take sustainability and corporate social responsibility seriously in the last few years. They have set some impressive targets, and have examined their operations and identified many ways they can improve. A brief overview is below, but there is lots of information on Rapha's website to dig deeper on.
Repair
The first step to lower consumption is to keep our gear in rotation longer. Rapha includes repair kits with colour-matched iron-on patches with their garments for post-crash repair at home. These repair kits are made with excess production materials that would otherwise be waste. If the at-home repair kits don't cut it, Rapha offers a free service to try and repair Rapha products (with proof of purchase) damaged because of an accident or general wear and tear.
Supply Chain
Rapha uses offsets to ensure carbon-neutral shipping and has committed to becoming a carbon neutral business by 2025, in addition to setting additional stepped carbon reduction goals. Rapha is re-examining their materials and working to transition materials to low impact alternatives, with a goal of making 90% of products with environmentally preferred materials by 2025. They have also establishing their own code of conduct for suppliers, covering expectations related to worker conditions, discrimination and labour practices

Shipping packaging
Shipping packages for garments are still largely plastic, but are made from 70% recycled content and designed to be recyclable. Rapha has transitioned dispatch packaging to FSC-certified paper mailers. Given the number of compostable packaging alternatives available, I hope to see Rapha transition out of plastic packaging entirely for their garment bags.

Equity
Sponsorship dollar allocation has changed over the past few years at Rapha and they now allocate a minimum of 50% of annual athlete sponsorship to BAME, LGBTQ+ cyclists as well as female teams and riders. In 2019 they created the Rapha Foundation to support organizations that help young cyclists and youth in underrepresented communities gain access to new pathways into the sport.
Final Analysis
Rapha's product line is geared to a certain body type, but for cyclists looking for a trim fit or a stylish minimalist look, the Trail Short is an excellent, comfortable and high coverage piece that moves with the body. I wore mine with the Rapha trail liner underneath and even though the shorts fit fairly snugly, they still fit and rode well with the liner. These shorts are a great buy, especially at the sale price.
I really like the feel and look of the Lightweight Tank, but I will reach for it mainly on super hot days. While I wish it was a bit less smelly and durable, for a summer ride it is extraordinarily breezy and cooling.
I didn't expect much when digging into Rapha's social and corporate responsibility initiatives, but what I found was one of the more transparent and comprehensive overviews of corporate initiatives and sustainability targets. I hope Rapha will keep updating consumers on their progress towards those goals, and I appreciate their initiatives as a strong positive influence by one of the leading brands in cycling apparel.