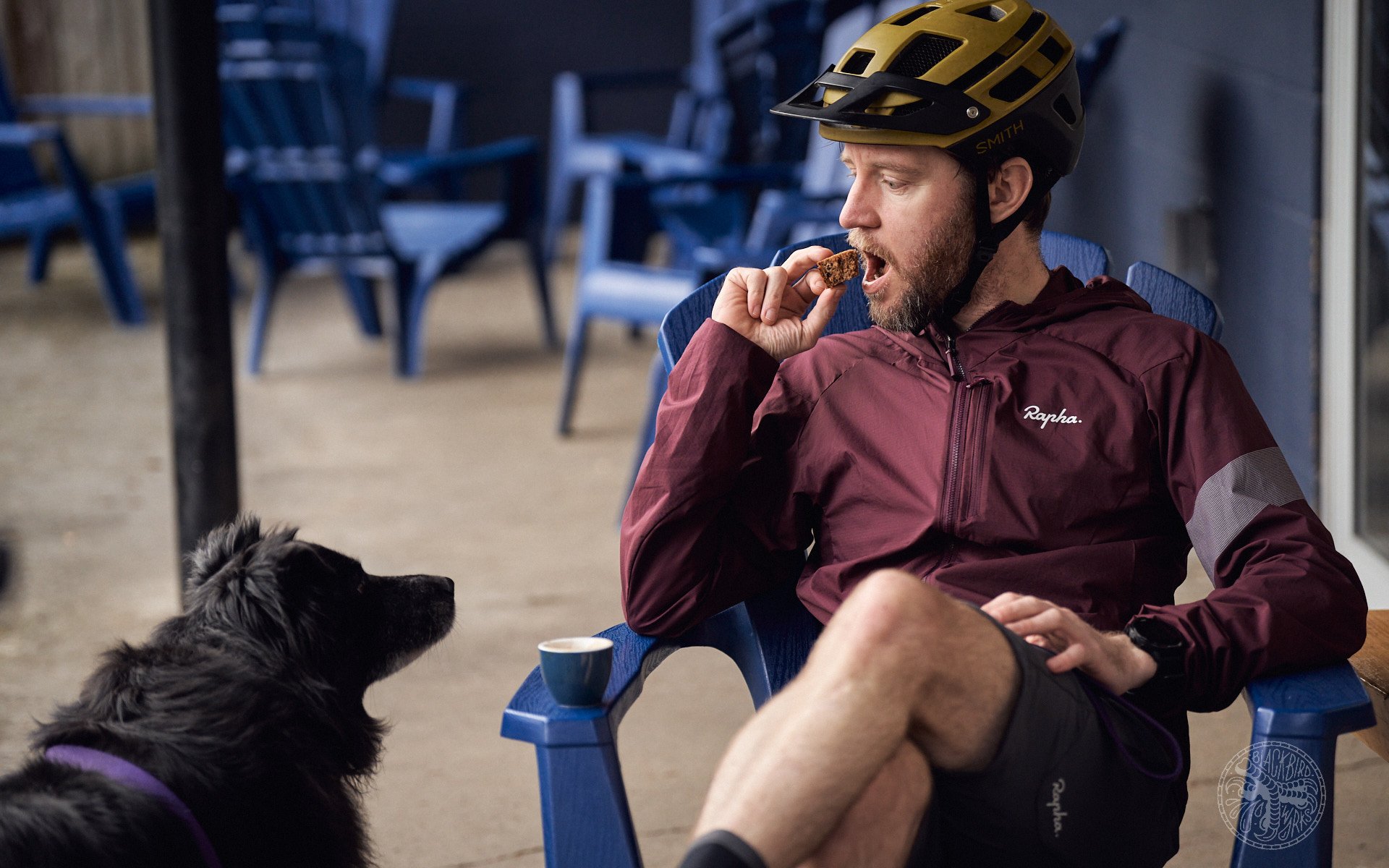 Head to toe review
Rapha MTB Trail kit
When Rapha stepped into mountain biking, I rolled my eyes. My impression of the brand was purely high end road – the domain of fit, shaved legged folks on bikes with price tags that make Flight Attendant-equipped Megatowers look cheap. But then I saw the pricing and it was surprisingly not outrageous, and the cut and colors looked nice. Could it be the brand is so invested in road culture and café rides that they have Rapha branded coffee sho- sorry, clubhouses, makes fairly priced mountain bike kit worth having?
A couple years on from the launch, a package marked Rapha showed up on my doorstep with a chamois, shorts, an emotional support jacket you've seen before, and a long-sleeved merino jersey. The jersey immediately confused me – I love a merino t – but this thing had some sort of weird synthetic front panel, no cuffs and just threw me off. I didn't like it. Reviewing things you don't like is the worst.
Trail Cargo Bib Liner
We'll work from the bottom up; starting with the 230 CAD Bib Chamois. This is designed for warmer conditions, and to be worn under baggies. There's large mesh cut-outs on the sides and one small stash pocket on each side of the back. Chamois are obviously a rather intimate item where personal preferences rule. I've found this one to be comfortable, with very soft fabric, well thought out padding that isn't too bulky, and I like how the bibs attach and distribute tension. My only two gripes would be larger pockets, and a slot to pee. I realize the second one is hard for a variety of technical reasons, but once you've had a bib chamois that doesn't require the 'stand awkwardly, pull down, aim up' maneuver, it's a feature that's missed. On rides I'm not wanting ample stash pockets, these quickly became my go-to. If bibs aren't your jam, there's a non-bib version as well that'll also save you $50.
Trail Shorts
We'll keep the shorts talk short. They're everything I expect from a modern mountain bike short: well-designed pockets, good zippers, adjustable waist, DWR, and stretchy-but-durable. If you like your shorts in a somewhat trim fit, these should be on your short list, however take note the price does seem comparatively higher than some of the other items on this list at 230 CAD. There's a lighter weight version available, as well as a full pant that I'd love to get my hands on for $245.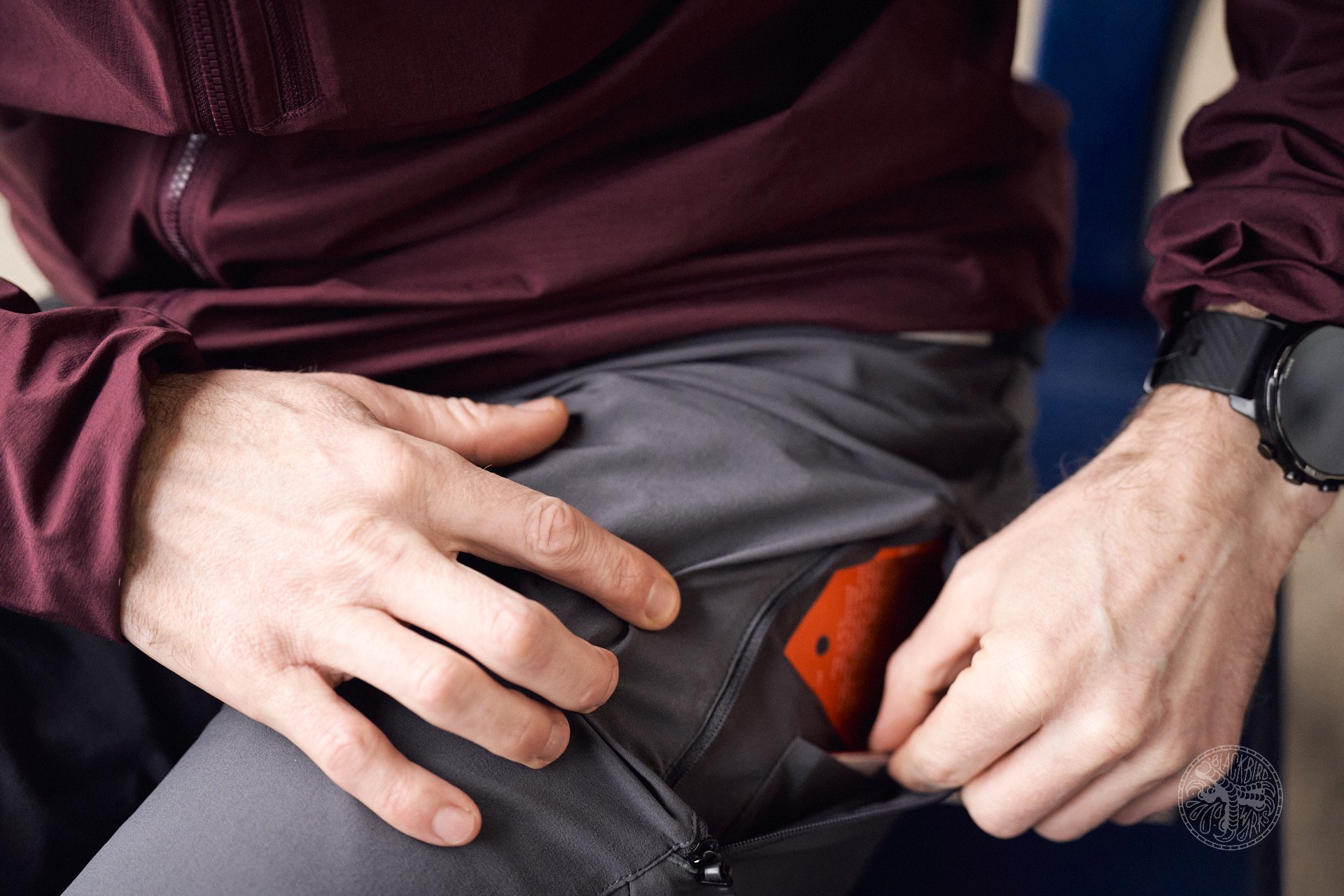 Trail Lightweight Jacket
I make no apologies about it – barring real rain, I'm a vest guy. I've been riding in the same Mission Workshop Interval vest since 2019 and despite crashes, branches, and a bazillion washes, it's going strong. If it's too wet for a vest, I'm in a proper three layer GORE-TEX jacket like the 7mesh Copilot*. So, what was I going to do with this single layer, ultra-lightweight emotional support jacket (ESJ)? It turns out quite a bit – it's become a staple in my kit. You can now spot me regularly pedaling up the hill, purple ESJ strapped to my frame, ready to be deployed for the descent, or if a bit of rain rolls in. Is it waterproof? No, but it's enough to get you home, and if you're out for a cold spin on drop bars, it's windproof enough to make all the difference on those cool, clear days. To improve this piece, I'd ditch the hood (seriously, though, does anyone actually ride with a hood on?) and shorten the frame strap.
For 255 CAD it's not cheap, but if you're seeing a trend here, I'd argue it's justifiably priced in the segment; I've put this jacket through a lot of thrashing, and it's going strong. It's not going to keep you dry in a downpour, or warm if it's freezing, but it suits temperate climates well.
*someone is going to point out the Copilot is technically a "2.5" layer GORE-TEX. Sure. You win. I rounded up.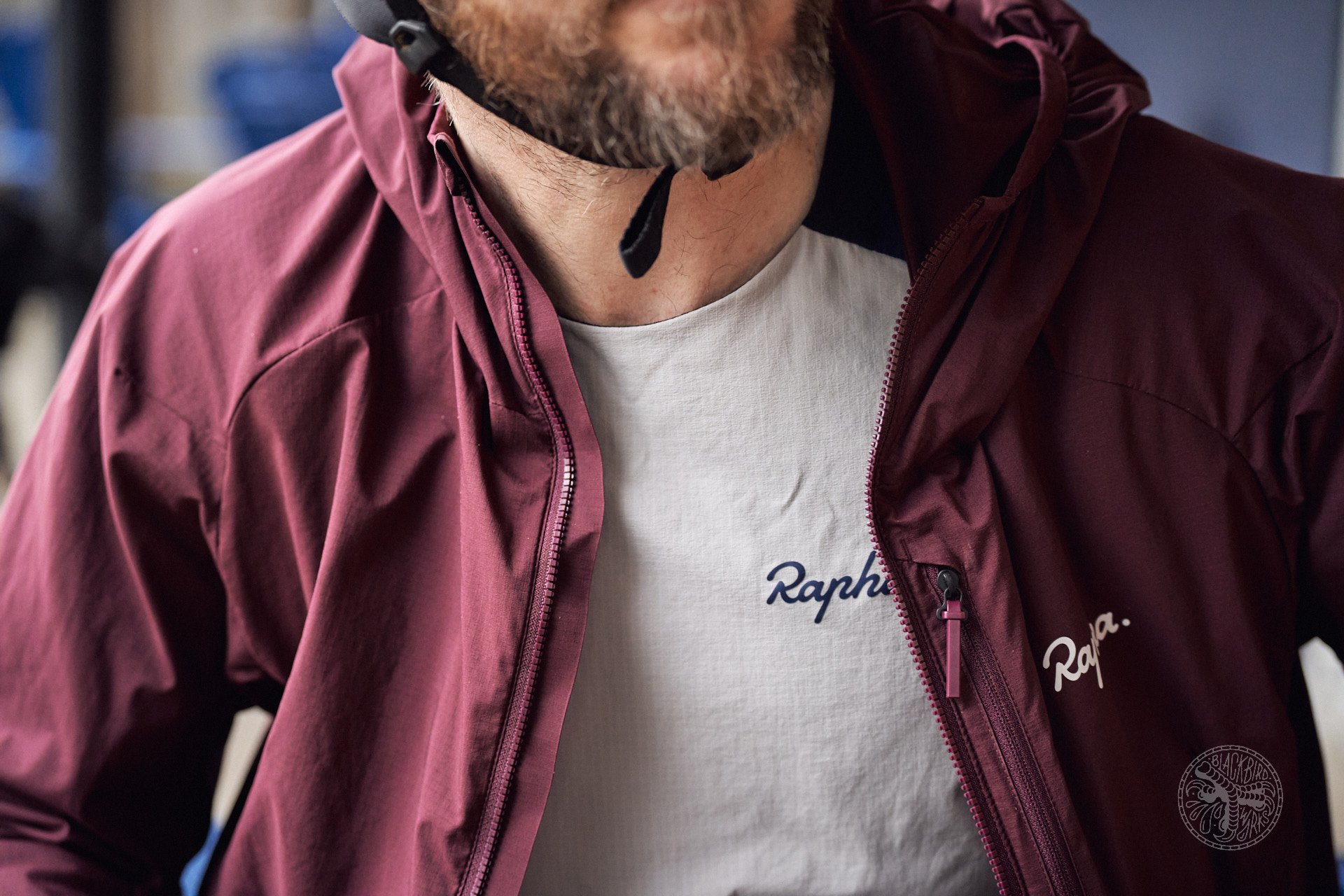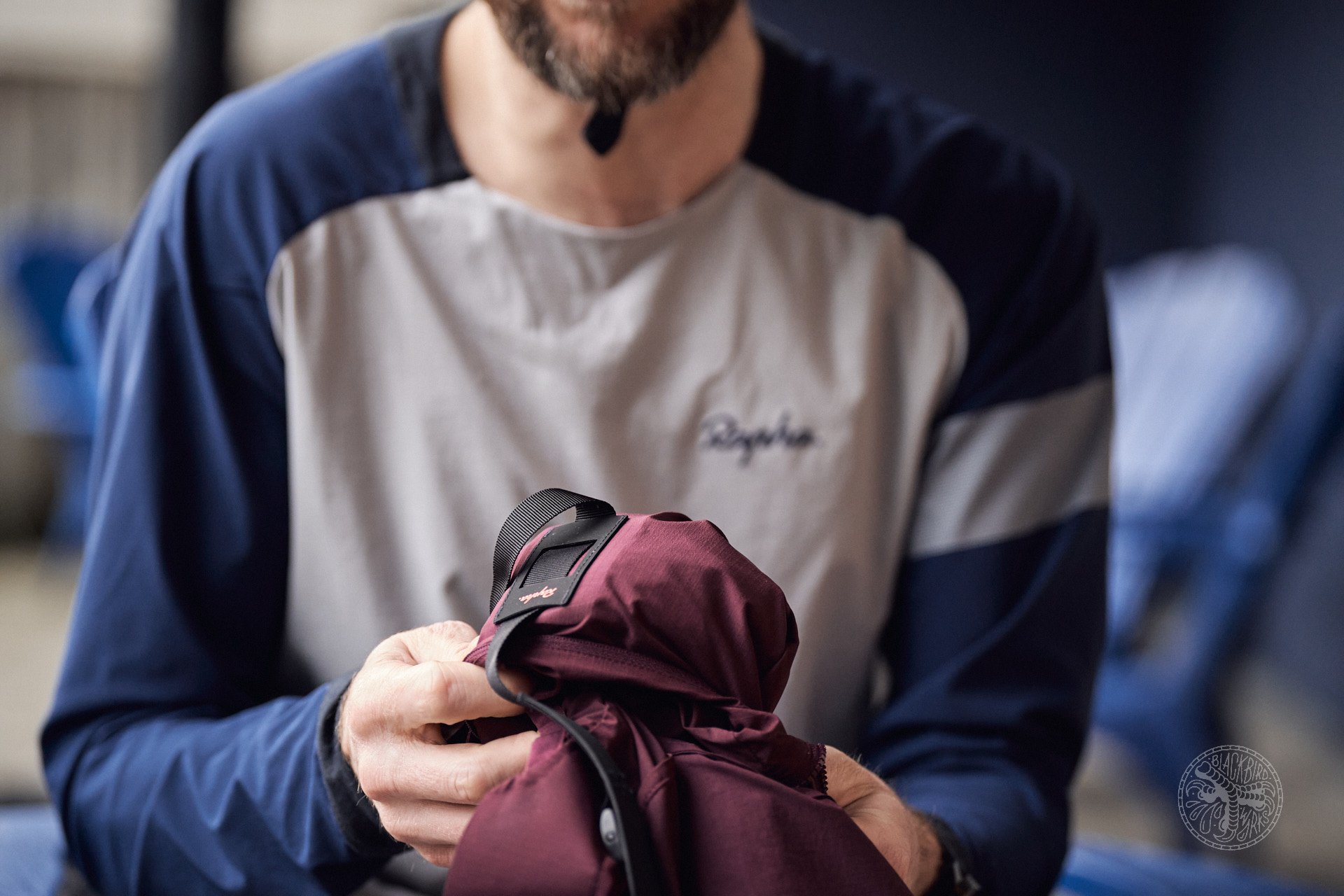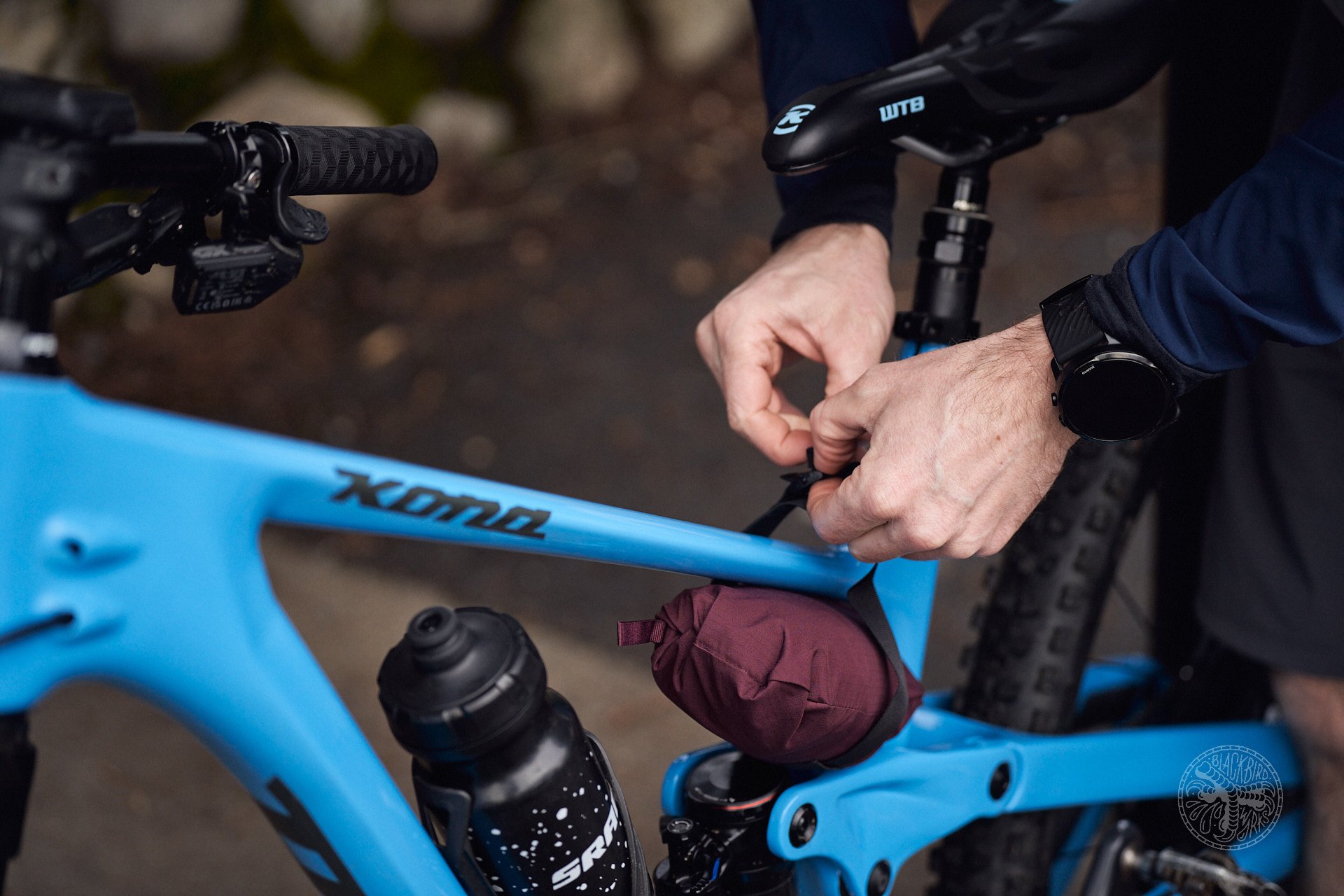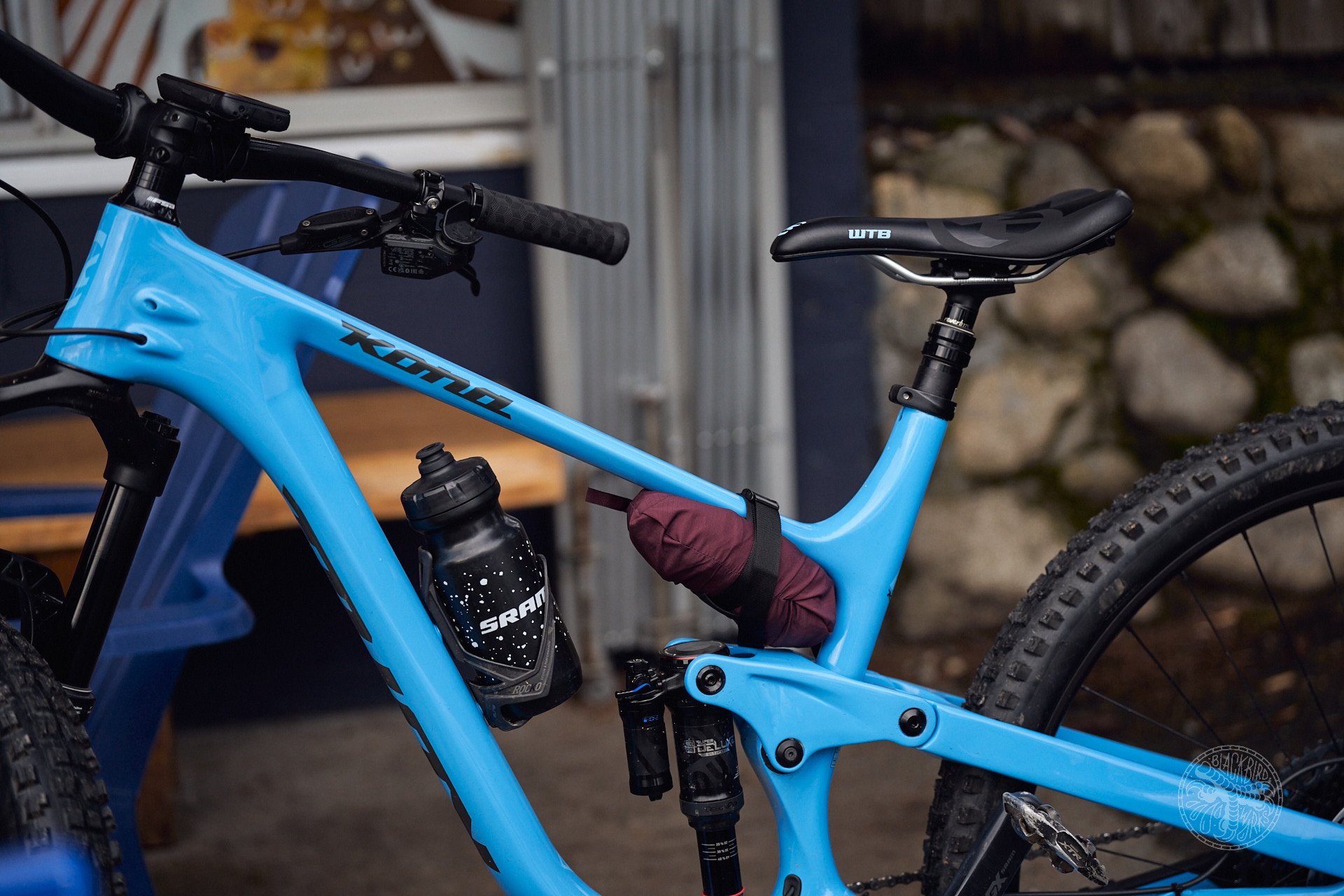 Trail Windblock Jersey
Picking up where we left off, after this jersey showed up, it went in a drawer and stayed there for a while. I definitely thought, "Who on Earth would buy this?". And then one cool morning most of my kit was dirty, and I had to get to the office. So, on it went, and suddenly it all started to make sense.
To explain a little bit more in overly simplistic fashion that is sure to get the Rapha product team up in arms, the Windblock Jersey is basically a long-sleeved merino shirt with a block of nylon sewn over top on the front half. While strange on the rack, it makes tremendous sense if you're moving through the air with any velocity. Around here in the great, soggy northwest, this air is often filled with moisture; it's not raining per se, but you'll be wet. Having this synthetic layer up front means you're significantly less wet, but the merino is open to the world on your back, allowing excess heat and sweat to escape. It can get a little clammy up front under the synthetic in the right conditions, but overall it works as designed.
I've worn this mountain biking and on gravel bikes with and without baggies, and have been happy almost every ride; the construction means it's suitable for a broad range of conditions. At 195 CAD it sounds pricey, but keep in mind you're basically buying a merino jersey and an over layer. I like this jersey so much I went online and bought another as I was writing this (on sale, for 129 CAD).
Conclusion
I started this by saying I was initially impressed with Rapha's mountain bike kit pricing, 910 CAD later I have to justify that. I'd argue being comfortable, for longer, in more conditions means you're likely to ride more. I'd also say well-made, well thought out things last longer, ultimately amortizing the purchase price over a longer period and winding up cheaper on a per-ride basis. Small features make a difference, be it pockets-inside-pockets or a rubber frame protector on a strap, and these often get lost in lower end items.
There are some other niceties here: Rapha includes repair patches for everything in a small pouch on the tag, lots of the materials are recycled, and to top it off I like the simple, blocky styling. Fit wise, I'm a medium in everything here, and I'd say they pretty much nailed it for my 5'11" 165-pound frame.
There's a car commercial I like, the content isn't too important, but the punchline is "it's not cheap, it's inexpensive." If you can swing for it, spending money on good clothing and kit is worthwhile, and while Rapha isn't cheap I'd argue it's competitively priced, and, years down the road, you may very well find it was inexpensive.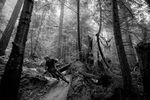 Cooper Quinn
Size medium millennial.
Reformed downhiller, now rides all the bikes.