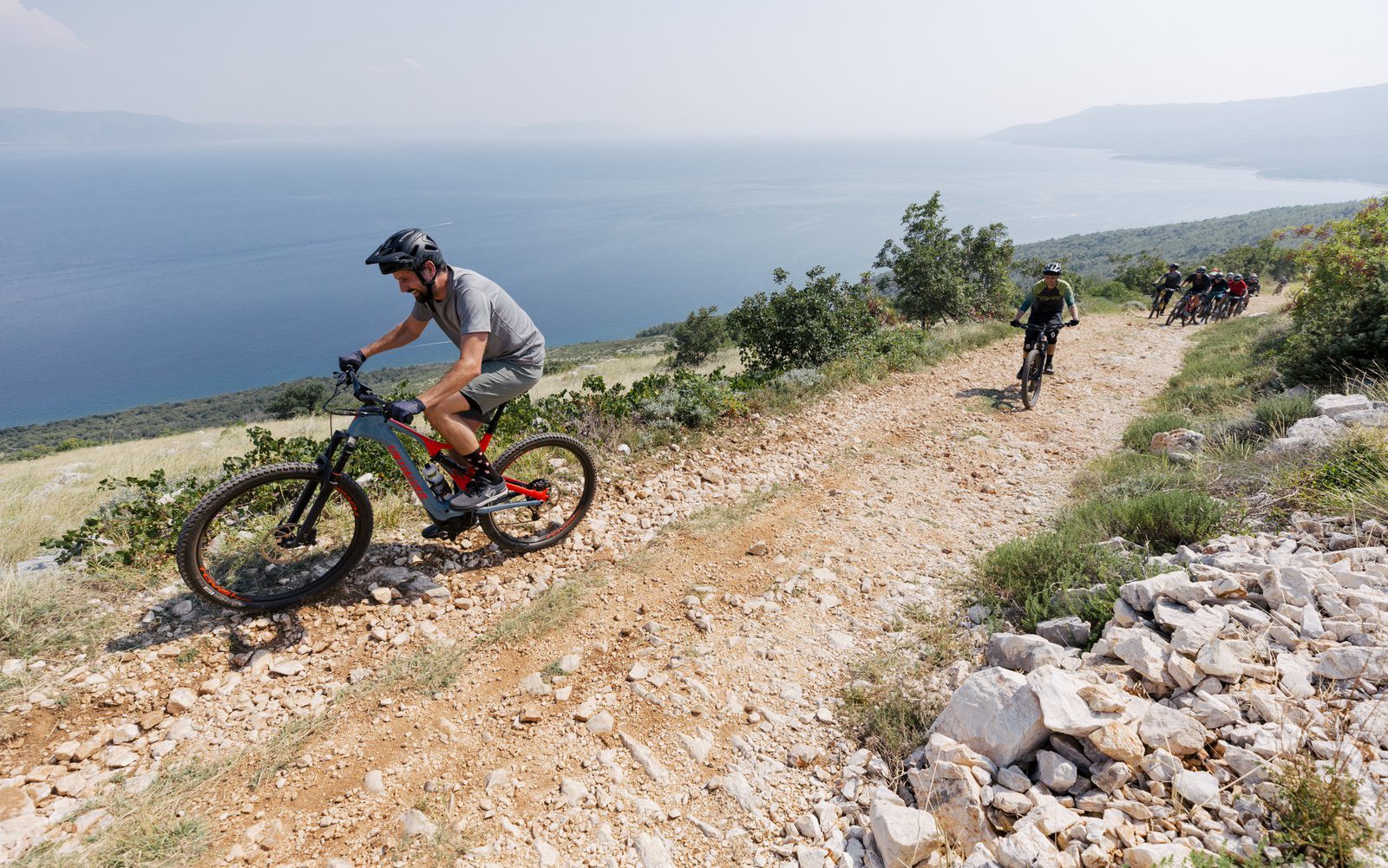 Product Review
Random Things People Gave Uncle Dave Recently - Part 2
You know you have too much shit when you start digging up pieces of clothing you don't remember ever owning. This happened the other day, with a nice little packable Dakine rain jacket. I swear I've never seen this jacket before, but all of a sudden, I'm bringing it along everywhere because it fits so nicely into just about anything.
And really, that should be the measuring stick for gear reviews, shouldn't it? Did this thing make it into my rotation as something that I actually use, or was it just discarded to the back of a closet and disposed of once the gear pile got too high? So from now on, with all clothing reviews, I think that's going to be my rating system. From 1 to rotation-worthy.
Welcome to Uncle Dave's lazy gear collection article, part 2. And in case you're wondering...all the gear in Part 1 did make it into the rotation, one way or another.
Gore Shorts and Jacket
First up, is the Gore C5 Trail Light Shorts. Which are, surprisingly, a very lightweight pair of shorts, and will set you about around US$95 (hey...check for yourself...they're vague about the price too). Indeed, the material is far lighter weight than you are probably used to wearing, and I figured they would be just the ticket for my mid-summer jaunt to Croatia, where we faced heat that suggested a dip in the ocean, rather than a ride of the bike. They paired nicely with my cheap Uniqlo fancy fabric T-shirt, although I felt a bit elvish, clad head to toe in shimmering grey.
They also have a very simple, yet effective, means of keeping them on your body. The upper...cuff?...has a grippy material and a drawstring. It's perhaps not quite as secure as strapping in via velcro, buckles and zippers, but it seems to work and really keeps the weight down. There's one simple little pocket, and other than that, it's just easy, breezy, lightweight fun. These are definitely in my rotation and I reach for them when things get toasty.
There is one however, though. Our time in Croatia found us losing trails, finding brambles, losing people and finding goats. These shorts are far more susceptible to damage from such things than your hardier mountain bike gear. I snagged a few brambles that I thought might be the end of them, but they seem to have healed up nicely after a trip through the wash.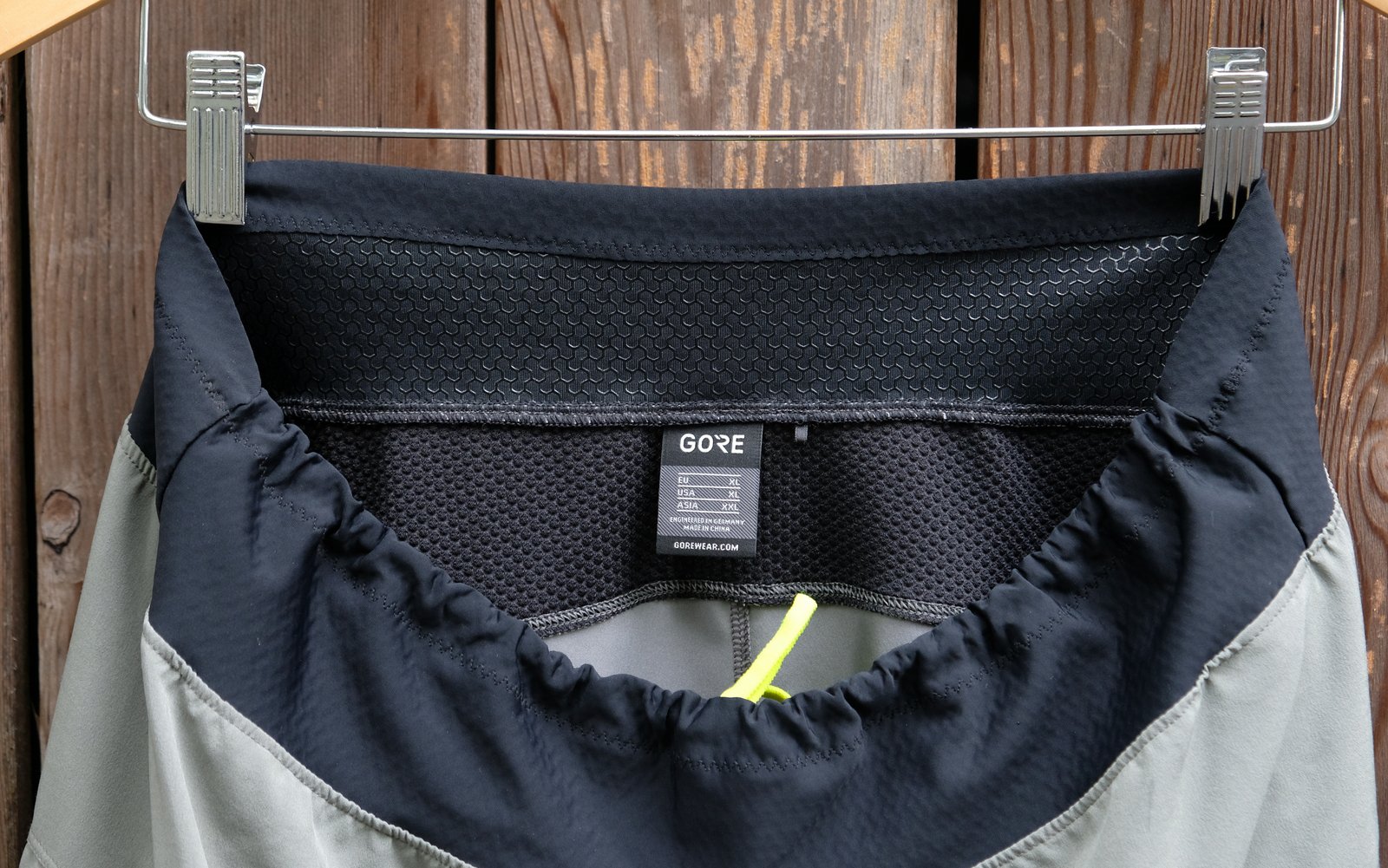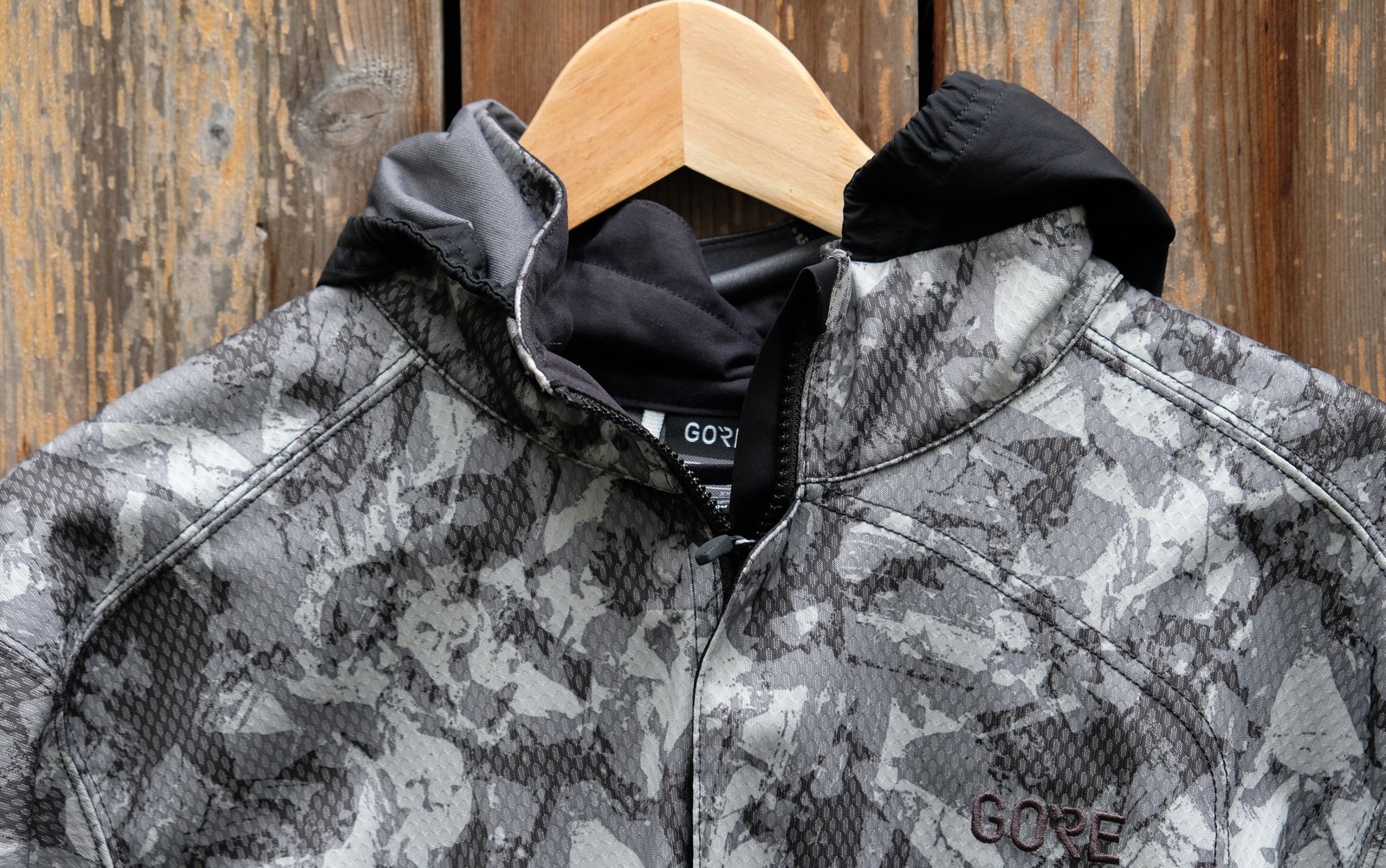 Along with the shorts is a jacket, for the other end of the spectrum, the
C3 Windstopper Urban Camo Jacket
. When I un-wrapped this jacket, I knew it was going to get a bit touchy, returning home with it. Anytime urban camo enters the house, some eyebrows get raised. But it was too nice of a jacket not to put some energy into. When I got home, I hid it under some other gear, and gradually let it filter into view, nearer the top of the coat pile. By the time fall rolled around, I was able to wear it without too much fuss. And it's proven to be a near perfect fall riding coat.
The jacket has pockets in all the right spots, and is very soft and comfortable. It has all sorts of features that I haven't really put to the test yet, like a drop down flap in the rear, a hood and even little wrist gaiters with thumbholes...these must have a name? I haven't tested it in the rain (it claims water resistance, which generally doesn't get you too far in Vancouver), but it has reasonable breathability, and maintains warmth even when you've sweated a fair amount. It's a good choice to throw on when you're not entirely certain what sort of temperature you're going to be up against.
While nice, this jacket is a bit pricey at US$250. It has (somewhat surprisingly) made it into the rotation, and the only thing that prevents me from wearing it a lot more (commuting, around the town, etc.) is the pattern, but they do have one that looks pretty similar in a much subtler grey.
Gore stuff tends to fit a bit smaller than you would think. Both of these things are XL, where I would normally find myself in an L. I could probably stand to squeeze into the smaller size shorts, but the jacket fits perfectly.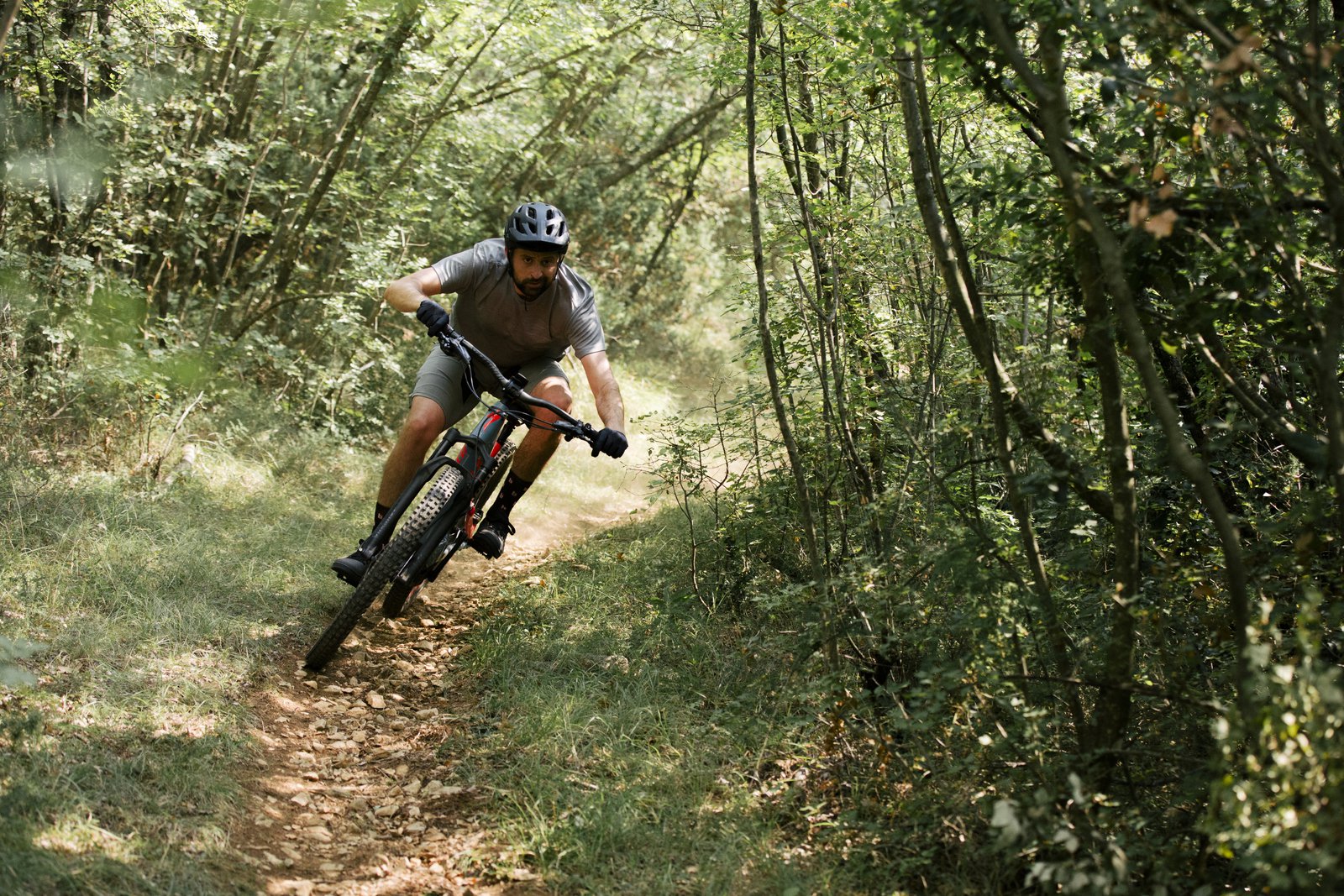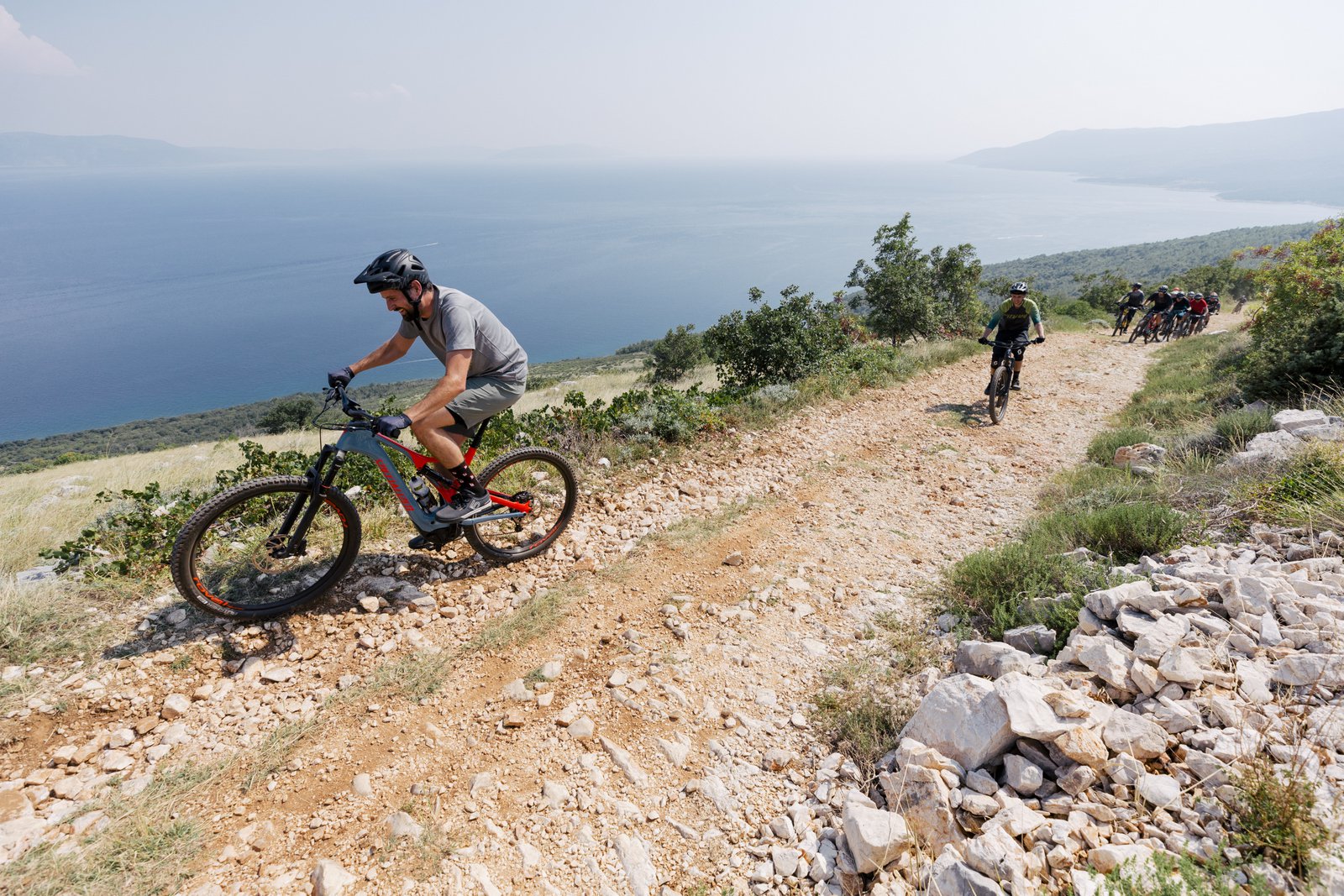 NWTK Riding Gear
This second bit is going to be a bit longer, as it was sent to me long ago, with the aim of providing a full review. NWT3K is a grammatically challenged company from Seattle that aims to give you customized gear made in the USA to your specifications. Perhaps sensing that we may not know what is best for us, they've kept a bit of a lid on possibilities, but you can still play around with colour a fair amount, and specify things like additional pockets, sleeve and short lengths, and a few other things. Interestingly, like some kind of simplistic personality test, no matter what I did, I seemed to end up with a pretty similar looking set of clothes no matter how many times I tried to come up with something different. Maybe I'm just that boring? I ended up choosing some red for flash, and a lot of black and grey for neutrality. I added some red zippers to the shorts, just so they had a dash of spice. I chose standard short sleeves and standard length shorts just so there wasn't too much.
Sizing

Being a tall and gangly fellow, I tend to not order clothing online, because it never seems to fit. Pants are the absolute worst to order sight unseen, as everybody has a slightly different interpretation of leg length. So, I was a bit apprehensive about exactly how this was going to go. I decided to follow their instructions to the letter. I measured myself and ordered exactly what the fit guide told me to order. I hit "send" and waited for my package to show up.
Arrival
This is where I start my apologies to NWT3K. I started this process about a year ago. The stuff showed up last fall, just in time for winter. Spring rolled around, and I put off riding in it until I could set up some photos. Then I got injured and my whole year of riding went to shit. I finally decided that I'd just hang the stuff out on my back fence, snap some photos and get going with things. What I'm trying to tell you is that a few pieces of my experience are a bit hazy. Like...just how long did the stuff take to show up? I can't really remember. But it did.
Fit
When I first tried things on, it all felt a little bit too small. Not that it was. It's just that I guess I'm used to a bit more room in things. This stuff could be designed as "tailored". It made me realize that there's a lot of extra room in a lot of the clothes that I ride bikes in. I'm still not 100% certain which way I prefer things. If you're on the borderline between sizes, this is something that you should consider. The nice thing is that if you aren't sure, the NWT3K people are only an e-mail away and seem pretty willing to discuss sizing.
Jersey
I don't really wear cycling jerseys. I wear T-shirts. If I'm feeling extra fancy, I bought a couple of Uniqlo fancy-fabric T-shirts a year or so back for special occasion rides (hey...I mentioned that already!). I've just never felt much need to fork out money for cycling specific tops. And when they come my way for free, it's usually the shit that nobody else would wear and it serves no purpose other than to annoy my girlfriend for a couple of weeks before it gets packed off to the thrift store.
The NWT3K jersey is a pretty big departure for me. It's super stretchy, almost reminiscent of cycling jerseys of yore. It reminds me quite a bit of a rash guard, to be honest. But, I will say, it is comfortable. It's soft and shimmery, and glides over body parts. Lengthwise, it doesn't come down much further than the top of your belt, but does drop in the back for a bit of extra coverage. The only other thing that I notice when I wear it is that it is really great at not bunching up, even with a backpack in place. It almost makes me think it might be time to retire the t-shirts. I mean, I know I'm kidding myself by saying that. And I would probably find something that is a bit more subtle if I ever did. But I don't hate the feeling I get while wearing this. I know....don't go overboard with the praise, Dave!
Shorts
The shorts are a bit closer to what I'm used to. The fabric has a bit of stretch to it, and reminds me a bit of a soft shell coat. Finish is nice, and all of the seams seem ready to take some abuse. There's oodles of pockets (2 front, 2 on your butt, and 1 along the small of your back) and they all have waterproof zips that make it a challenge to operate them with one hand.
Fit wise, once again, they are snug but comfortable. Lengthwise, they come just to the top of my knee. They're very close to being shorts I could see myself wearing a fair amount over the next few years.
Unfortunately, for me, there's one glaring error that makes it impossible for me to wear them. I've read a few reviews, both from other websites and user reviews on the NWT3K site, and nobody else mentions this, so maybe it's me. I mean, I know I'm not quite as slender as I used to be, but I'm not exactly a gargantuan human being. Maybe if I'd sized up, my little muffin top wouldn't have to escape out the top and there wouldn't be a problem. But...because NWT3K put the adjustment straps on the front of the shorts, and because they put the sharp side facing out...no matter what I do...I find my muffin top chafes on the velcro. To the point where I have embarrassing little muffin top scrapes on both sides of my body. I'm sitting here trying on all kinds of other shorts, and they all fit pretty similarly. The only difference is that sharp velcro on the NWT3K's.
Conclusion
I really want  to like the NWT3K story. Even though I firmly believe numbers shouldn't stand in for letters, how can you not love a localish company offering locally made gear that offers a bit of customization? If you find yourself saying things like "I'd love that jersey if only..." or "I can never find shorts to fit my...", this might be the solution for you. Jerseys start at US$69 and shorts start at US$139. Most options are included, but longer sleeves and extra pockets will add a bit to your final total. This is a bit of an investment, yes, but it is nice, well built clothing. If you do order it and find you have muffin top interference like me, NWT3K does offer satisfaction guaranteed, so chances are pretty good they'll help work with you to figure it out. Unfortunately, the shorts definitely won't make it into the rotation due to the muffin-top issue. The jersey may come out now and then, when I'm looking for maximum technical performance over a full day of riding.