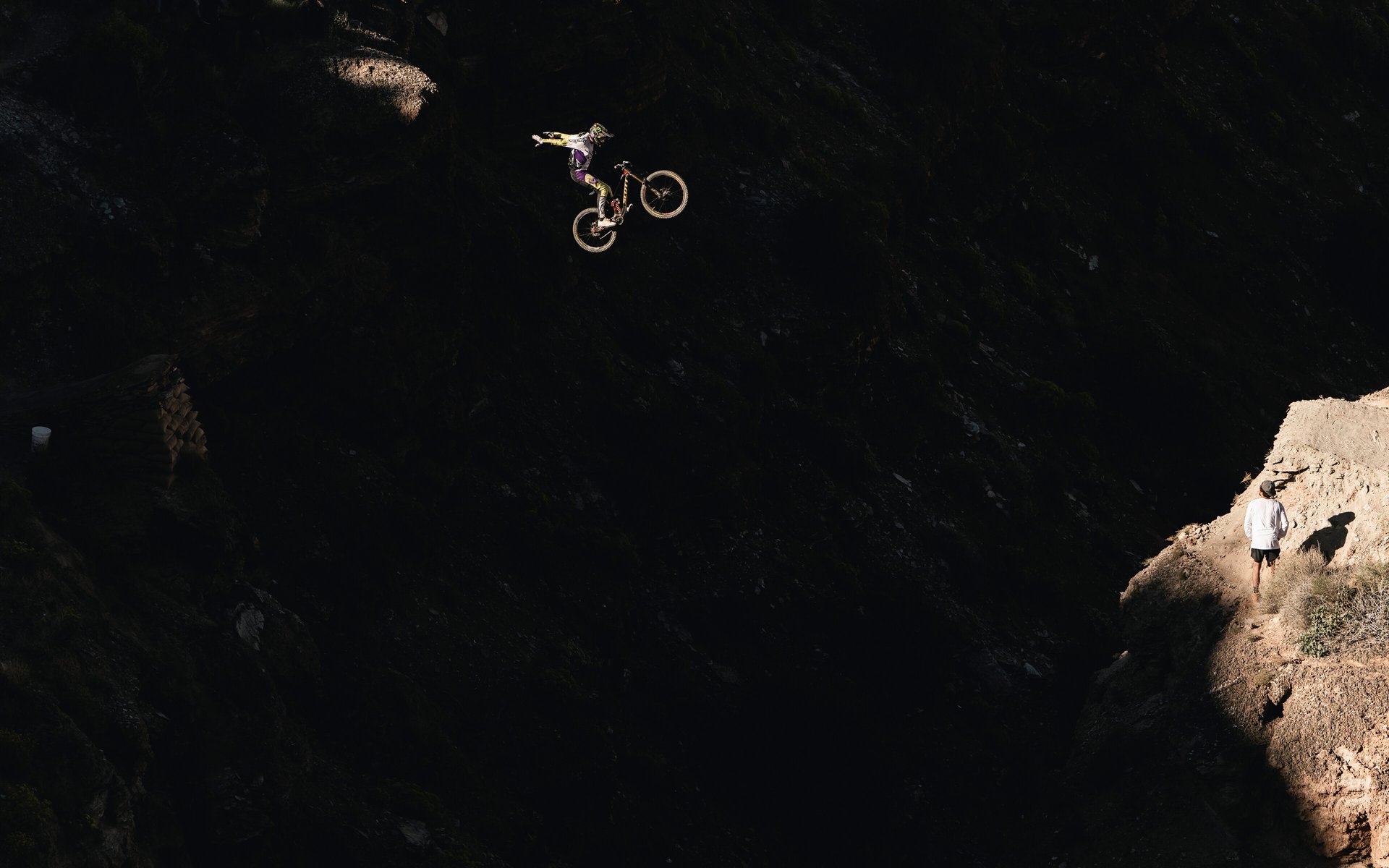 RECAP / VIDEO
Rampage Round Up
*Results are posted at the bottom of this article*
Another year of Rampage is safely behind us. There were crashes and carnage, but thankfully it appears as though everyone's injuries aren't too serious (big asterisk here considering head injuries can take a while to reveal their severity).
Watching the event this year after a day of riding with a bunch of buddies was a lot of fun - and also a reminder that judged events like this are bound to create controversy. Darren Berrecloth - one of the event judges - just posted a video in which he helps to describe how the judges came up with the scores that they did. It won't make everyone happy, but you have to appreciate the attempt to add a little more transparency to the process. That video is posted below.
Header image: Brendan Fairclough is hands off over the canyon gap. Photo: Bartek Wolinski / Red Bull Content Pool
First, let's post a link for the replay if you want to watch it:
Here's the Claw's video explainer about the judging, which has drawn even more criticism that usual this year:
Some words from Darren Berrecloth to put his video in context: For those of you amazing fans who are curious about how my fellow 2023 Red Bull Rampage judges & I determined results, here is some quick insight on our approach.
In addition to having been a competitor myself from 2002 until 2017 and knowing exactly what it's like to hit many of these features, we judges actually spent the whole week up on the mountain with these riders. We hiked around, scaled cliffs, looked at everyone's line, every in-run, every landing, and literally had our measuring tape out to help gauge how each particular feature stacks up against the next. Until you've stood on the top of this mountain, it's impossible to have a true appreciation for just how steep and gnarly it is, and I want to help you understand that those who take chances up top, drop in straight off the peak on to the gnarliest, most exposed / high-consequence lines, and then trick them, to boot— those guys will get rewarded.
Ahead of competition day, we are aware of who is going where, and we have established a cohesive/ collaborative understanding of the degree of difficulty each athlete is taking on based on our very real, very relevant boots-on-the-ground research we've done as a team. I can understand why it's confusing sometimes as a spectator watching it on a 2-dimensional screen, so want to take the opportunity to clarify a few things for you here. Keep in mind, this is not a best trick competition or a slopestyle event — this is a BIG MOUNTAIN FREERIDE COMPETITION!
Red Bull Rampage 2023 Highlights
If you've only got about 8 minutes, this will give you a pretty good idea of what went down. It's lacking a lot of the emotion and drama of the big show, so definitely make time to watch that, but this is a good overview.
Red Bull Rampage 2023 Final Results
1st place: Cam Zink: 95 points
2nd place: Tom Van Steenbergen: 89 pts
3rd place: Carson Storch: 87 pts
4th. Brendan Fairclough: 86.66
5th. Talus Turk: 84.00
6th. Kyle Strait: 83.58
7th. Emil Johansson: 82.83
8th. Bienvenido Aguado Alba: 79.44
9th. Thomas Genon: 77.41
10th. Reed Boggs: 76.73
11th. DJ Brandt 73.51
12th. Alex Volokhov: 72.00
13th. Kurt Sorge: 69.66
14th. Jaxson Riddle: 68.00
15th. Adolf Silva: 51.33
DNF Szymon Godziek
DNF Clemens Kaudela

McGazza Spirit Award: Bienvenido Aguado Alba
Best Trick: Bienvenido Aguado Alba for his front flip over the canyon gap (twice!)
People's Choice: Bienvenido Aguado Alba
Toughness Award: Kyle Strait
Best Style: Emil Johansson
Digger Award: The team for Reed Boggs, consisting of Caleb Holonko and Alan Mandel