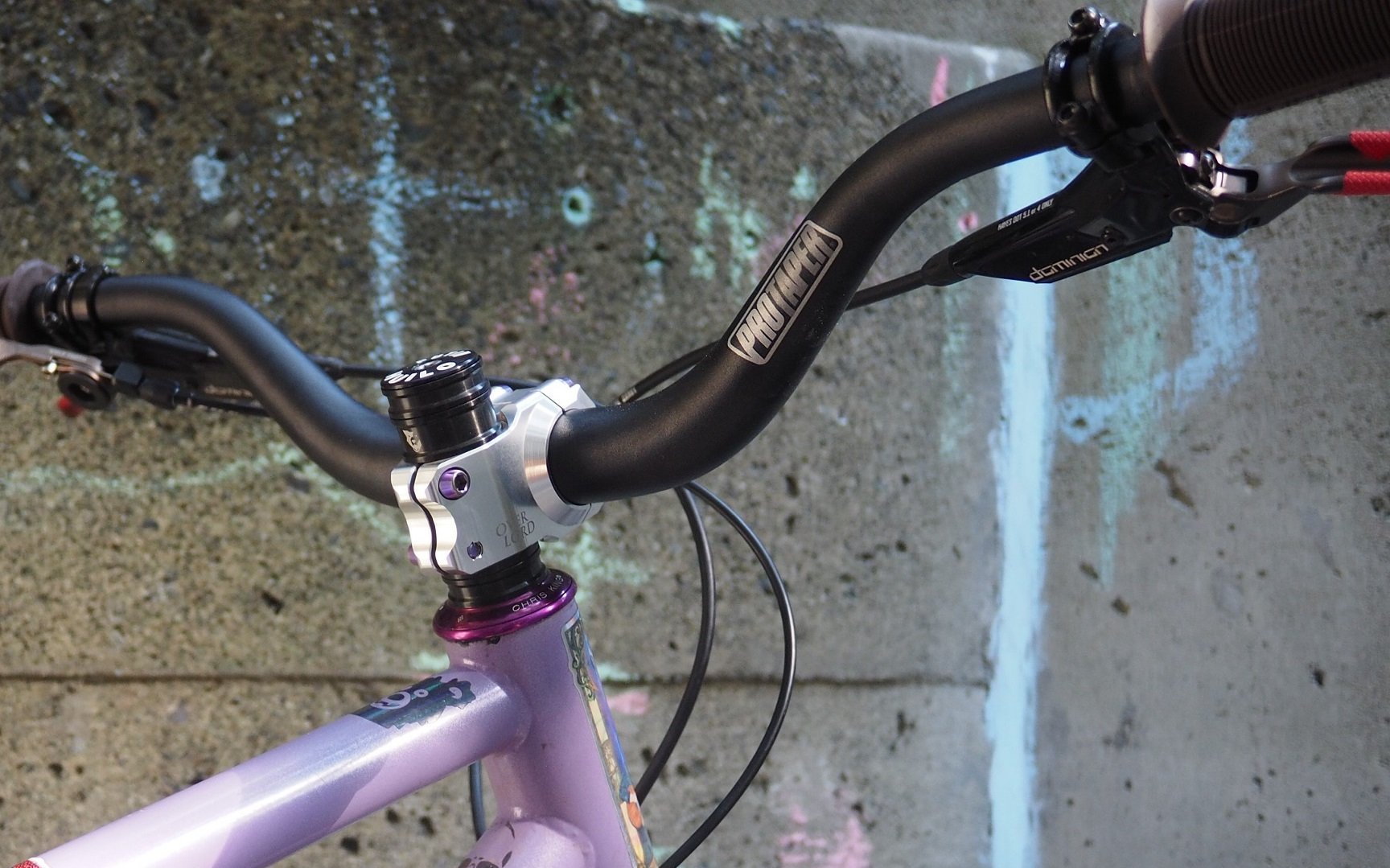 EDITORIAL
Raising The Bar (For A More Confident Comeback)
Let. It. Roll.
I'm standing at the top of a rock roll I've done a number of times. It's steep, has a few wheelbases worth of rolling, and there's a bit of a ganky entrance. It's a slow crawl-in but I know that all I need to do is nose the front wheel over and hold on. Plenty of runout at the bottom. I'd already done most of the hard work getting to it, although I did walk a couple of features on the trail I 'normally' ride, and I was certain I was going to bag it until I was right over the top and the giant neon sign in my brain started flashing.
COMMIT OR EAT SHIT. COMMIT OR EAT SHIT.
I gave my brakes a quick squeeze, and they were good. I pumped my suspension and, surprise, surprise, the little Cane Creek Inline shock and Manitou's 32mm-stanchioned 'Magic Toothpick' felt just as well balanced as they had for the whole ride. My badly beaten Stamp shoes are glued to the Daemon flat pedals. It was worthy of a deep sigh; there were zero equipment-related excuses to be had.
I pulled over to walk down the side as my friend Penny rolled in and floated to the bottom with perfect brake control. Not enough O's in smooth. It wasn't the most technically difficult feature we'd tackled but it's number two on my list of mental blocks; any steep rock roll more than two bike lengths long. Number one is any log or wood feature where I've had to North Shore-bail off my bike. Can my leg take a single-foot landing from height? My mechanism of injury wasn't even crashing a bike, but there's a simple truth in mountain biking psychology; sometimes the voice in my head is a total prick.
My unwanted hiatus began when I ruptured my achilles tendon toward the end of January this year. I'm riding more all the time but I'm still working on building strength and mobility. I suspect it'll be more than a year from the injury date before I'm close to my new normal. Heck, I may never accept that my leg is perfect and use that as a motivator to keep up targeted exercises - and also as the perfect excuse for being slow.
When it comes to removing the mental blocks preventing me from just-letting-it-roll, it's amazing how a couple of centimetres of extra handlebar height have helped. Previously, playing with bar height was mainly a matter of experimenting with my fit, but thanks to the stability of long-ish wheelbases, it's quite possible to feel like I'm standing upright and still load the front and rear tires for traction, whether riding moon dust or greasy rock armouring.
I've raised the bar height on every bike I've been riding, but I started with my Waltworks V2 for a few reasons. It's the bike I'm most familiar with, it has the most balanced front-and-rear centres and is the most stable mountain bike I own. It's the bike where I've struggled the most to get back on the terrain and features I was riding before my injury. And, the absence of suspension makes it the easiest to adjust for body position without having to take other functions into account, like sag and damper settings.
Rolling The ProTaper Skyscraper
On my Waltworks, I'm back on the 3" (76.4mm) ProTaper riser handlebar, which I previously reviewed. This is an 810 mm wide 7050 aluminum bar which I cut down to 760. I love how this 31.8 mm clamp aluminum handlebar rides - through some combination of the ProTaper shape, materials, and the inherent flex of a bar with huge rise and no cross brace - but I was also motivated by some unfinished business when it comes to setup. That is specifically playing with bar roll.
I'd been looking at pictures of BMX bikes, because I'm a nerd, and I noticed that, while clearly there are no rules, a lot of them had the bars rolled such that they lined up with the head tube angle of the bike. It's not an adjustment you can see from the side profile of a mountain bike with a piddly 25 mm riser but when we're talking about BMX bars in a range between five and ten inches (127mm to 254mm) it's obvious. Rolling a bar this tall forward or backward makes for a huge change in Reach.
Where I'd previously set the ProTaper's up & backsweep relative to the ground, I've instead rolled the bar backward so those dimensions are more in line with my headtube. It's more extreme than a BMX because my 64° static HTA is about 10° slacker but that was just a starting point and I've not looked back, though I have moved my bar forward with a longer stem. My hand position relative to the steerer tube is very similar to where my mitts end up running my 16° backsweep SQlab 30X bar. My wrist angle is not the same, but I have a half dozen solid rides on this setup, changing only stem lengths, and it's been a boost.
I've run it with a 32, 40, and 50mm stem, and I've settled on the 40, at least for this week. When playing the game of millimetres - up and out, fore and aft - these are big changes. It feels like Chromag is taunting me by adding 38mm and 45mm lengths, in the 31.8mm clamp diameter, with their new RIZA stem.
If this wasn't working so well, I'd be chasing down a high-rise bar with more backsweep and then running that rolled similarly to my SQlab setup. There are a couple of options out there for the more-rise and more-sweep curious, though I have not ridden either; the 15° Hunter Smooth Move, made by Nitto in Japan, and the 12° Ergotec Riser are tall options with more than the standard 7-9° sweep.
There is also a plethora of steel options from the budget-friendliest Surly Sunrise or Stooge bars to sweet custom bars from DOOM, WZRD, and Oddity, to name a few. In my experience, once the steel bars are as tall as I want, they need a cross brace, and in turn, they become very stiff. I know a lot of mountain bikers are looking for all the stiffness all the time but I'm feeling the wear & tear trying to ride a rigid mountain bike on the North Shore and, combined with big rubber, the flex of the ProTaper or aluminum 30X are a win.
Despite my lowkey pressure campaign, Chromag still hasn't released a FU50 with a 16° backsweep and I'm no closer to convincing Hayes to offer a bigger sweep for their 76mm riser either. You can help. If there's a bar you love that you'd like to purchase in a bigger sweep then fire the manufacturer a note and let them know. I feel like a lot of folks looking for these taller bars are also open-minded about their hand position and are curious to try different positions that may make mountain biking more comfortable. Also, I'm certain some riders who are on the fence about trying different bar geometry would give a bigger backsweep a try if the steerer stick said 'Chromag' on it and came in a bunch of sweet colours.
Different Bikes; Different Results
My Walt is very long, at least for a bike being ridden by someone who stands 5'9". As it sits in these photos, the rear centre is about 465mm and that puts the wheelbase around 1260mm. Even with a 32mm stem and a bar with a pile or backsweep or rolled back as I've done with the ProTaper, there's no shortage of stability. This doesn't translate perfectly to other bikes I've been riding over the same period.
With the smaller wheels and shorter Reach and chainstays of the Marin San Quentin, there was quite a learning curve when it came to climbing technical single track with the high bar. Moving my saddle rearward in the rails and pushing a slightly harder gear ended up helping quite a bit but the real advantages of the higher setup on the budget-friendly hardtail were descending. On steeper sections of the Blue and Purple trails I rode the Marin down, having the higher cockpit combined with the slack-enough 65° HTA was a real confidence boost when the basic suspension fork was deeper in its travel. It's a change I'd make to any budget hardtail I was planning to ride down steeper trails.
After playing around with headset spacers, rises, and stem lengths, I ended up back where I'd started on my personal sag wagon. Admittedly I already run my bar higher than most folks I know riding bikes in the 5" travel range, but if my Marin Riftzone had a longer rear center, something in line with the Banshee Phantom's 445mm stays, the experiment would have borne more fruit since it was loading the front tire, both climbing and descending, where the higher bar wasn't appreciated. My little Rifty is a fun bike, set up mulleted or dual 29", that can get me into all kinds of (usually good) trouble but in terms of a confidence boost, I'm going to have to go with the classic 'trust your bike' as opposed to cheating the bar a bit higher.
The other full-suspension bike I've been riding lately is the We Are One Arrival 152. I had the stock bar & stem on this bike set up as high as they could go with the steerer tube cut as it was and the bike still had oodles of stability at high and low speeds. That's with a 1246mm wheelbase and a 437mm rear center combined with 37mm of BB drop. In a long-term review, I would have installed a higher bar and I also would have loved to test the bike over-forked. With luck I may be converting the same test bike to an Arrival 170 and have the opportunity to play around with fit over an extended period.
Unfortunately, playing with handlebar height is a more costly adventure than experimenting with handlebar width. Most folks I know don't want to give up Reach, which means piling more headset spacers under the stem, as I did with the Arrival, isn't the best option. In the grand scheme of being a nerd playing with bicycle setup, aluminum riser bars are fairly inexpensive, even for a high-end option with a lot of rise. For those living in North America, the ProTaper bar I've been riding is on sale at Hayes for around 70 USD | 95 CAD, measures 810mm out of the box, and still rides well cut down.
Also in the unfortunate column, there's no on-size-fits-all solution here. While raising the bar has done wonders for my confidence on my hardtail and I'm certain that going higher on the We Are One would have been all positive, after a half dozen parts swaps, I'm back to where I started on my Rift Zone. While that affirms my Rifty setup, if it hadn't been done using stems and bars I already own, it would have been a disappointing waste of treasure.
If you're in trying to tear down mental walls around steep rolls, raising your bar may be the answer. I'm conquering sections of trail, including the rock roll I watched Penny do, on my Walt with a 3" rise bar and it's translating to more confidence on every bike I'm riding.