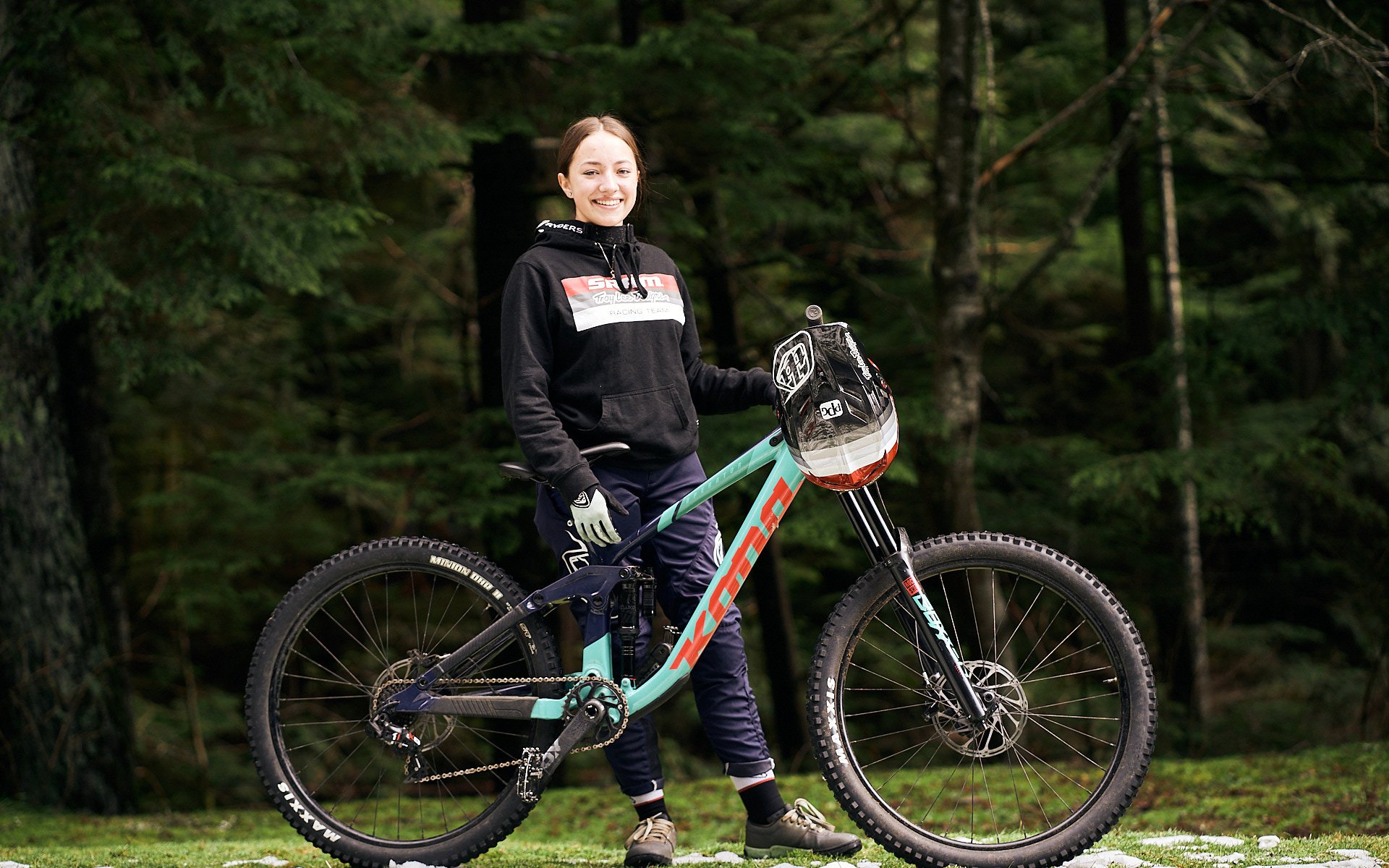 It takes a village
To Raise an Athlete (Ride Like A Girl)
Backstory
If you have been paying any attention to the Mountain Biking Media, you will have noticed that there is an influx of extremely talented young athletes emerging, from all over the world.
How can you forget the amazing Ethan and Andrew Shandro section in the 2008 movie Seasons by The Collective? Ethan was around 5 years old, riding the North Shore neighbourhood trails to daycare with his father and freeride legend Andrew Shandro. Ethan is now 18 and already a well-decorated World Cup Downhill racer. If it's anything like the preparation it takes to raise a delicious sourdough loaf that my partner has been experimenting with; A story like the Shandro's requires all the right ingredients and the conditions to raise to success.
For me, it wasn't immediately obvious that the competitive edge develops when you are young and stays with you throughout your career. In a world where a 30yo athlete is considered stale and too old, that is a lot of pressure to perform for success at a young age.
In my childhood, bikes were mostly a means of mobility. It was the mobility that I longed for in the summers when my parents would dump me at my Grandparent's seaside home in the rural Turkish countryside. At 7-years old I started pedaling without training wheels; sure, late by today's standards but for a city boy it wasn't early enough.
*in comparison my son took his first pedal strokes at 3 1/2.
There was a lot of friendly racing between friends but the main idea was to explore all the roads and push the limits of how far we could worry our guardians. We would take off for the whole day and explore all the singletrack and secret beaches we could find.
The more I think about the socio-economic state of the country in those years the more sense it makes now why bicycle racing was not in anyone's mind. The number of athletes we sent to the Olympics was sad back then and it still is to this day. It is just not in the culture. unless it is Greco-Roman wrestling, football (soccer), volleyball or basketball.
There will always be more funding and opportunities for more mainstream sports, but Mountain Biking is catching up and opportunities are popping up. Not just here in Canada, but all over the globe.
I come from a Flatland BMX background. A corner of this two-wheeled sport so far off the beaten path that the scene is incredibly tight-knit. You could count the members of the Vancouver chapter with two hands in the early 2000s. A group that small and exclusive had all the support you needed and wanted. We made our own parts, we shared riding tips and made sure the sport progressed as much as possible within our little circles with no reliable internet around.
The geometry of the bikes and the repetitive nature of the moves took its toll on our bodies eventually and we haven't been able to make a lifelong journey out of it. Crashes and chronic lingering pains and injuries were the norm. So was the male dominant demographic. I mean, It is a parking lot-dwelling culture that none of our female partners seemed to enjoy being around. We just thought women weren't interested.
Well we were dead wrong. They were just waiting for the bikes to get lighter and handlebars taller to join in on the fun. There is a healthy amount of female BMXers all over the world these days, and they give the boys a serious run for their money. In a parallel universe, there were already incredibly fast, badass women ripping up the Downhill and XC race scene. They had to carve their path on their own, fighting all kinds of battles within the industry.
If there is anything we know about battles, they are better fought alongside peers.
Ride Like a Girl
Ride Like a Girl (RLG) is a BC-based non-profit that aims to provide mentorship and support for young female MTB athletes. And there are plenty of them here in British Columbia. I had no idea a program like this existed until fairly recently. I knew some high schools had mountain biking programs but COVID-19 sure put a hard stop on those. The meetups and group rides became increasingly challenging and restricted. These were precious times and every week that passed by without coaching was a wasted opportunity for young racers.
During COVID-19, RLG managed to keep in touch with their athletes via zoom calls and webinars. Checking in on their progress and offering virtual meet-ups where athletes learned from the amazing roster of mentors who volunteer their time with RLG, or did strength and core conditioning classes together.
One evening, I lurked quietly in the background when Loraine Blanchard talked about body and feet positioning on a Zoom call with the group and learned a great deal. I then knew that I had to be involved with RLG, somehow. My partner Karin volunteers her time and expertise for RLG and she was the best person to mobilize for organizing a photoshoot with some of the local athletes.
The following interviews were conducted in a COVID-safe manner on our local hill. The girls made easy work of the trails on the menu and I am very excited for these photographs.
Bella Caswell
I first met Bella at the new bike friendly local coffee shop as she was greeting customers. Karin told me she was one of the RLG athletes and she was fast.
Hi Bella, how old are you and where are you from?
I am 15 years old and I am from North Vancouver, BC
What have been the best parts of the Ride Like a Girl program for you?
This year, the best part of Ride Like A Girl was having the opportunity to educate myself more on off-season training, mobility, athlete mentality, nutrition and more along side overall bike skills. Making connections with all the athletes and mentors through online calls even if we don't live in the same area!
That sounds amazing, What are your goals with riding? Go ahead and give me the big ones, or little ones - whatever drives you!
In the future, I hope to be racing in the UCI Downhill World Cups while inspiring other girls to chase their dreams whether it is biking or not!
That's no small goal. What advice or words of wisdom do you have other girls who want to get into mountain biking/bmx or are just starting out?
Some advice I would give to other girls who want to get into biking is to always remember to have fun! The most important thing is to enjoy what your doing and make connections along the way to further your skills!
Natasha Miller
Natasha is a reserved weapon on a bike. She was boosting jumps and hips higher than anybody else and has a very natural style on the bike.
She has a BMX racing background and we all know how well that translates to ripping up trails on the big bike.
Hi Natasha, how old are you and where are you from?
Hi, I am 14 and and am from Coquitlam, BC
What have been the best parts of the Ride Like a Girl program for you?
The best part has been having a experienced rider to ride with and to create new connections.
What are your goals with riding? the big ones, or little ones - whatever drives you!
Goals. To land a *flip-bar, and compete in the B.C Cup downhill.
*Backflip barspin!
Holy...What advice or words of wisdom do you have other girls who want to get into mountain biking/bmx or are just starting out?
To new riders I would tell them not to be afraid to try new things and practice lots.
Madeleine Pollock
Maddi came to my attention at one of the local bike shop rides where she proceeded to drop everyone effortlessly on the climbs. She did it with the friendliest of the smiles and erased all opportunity to even be mad at her.
How old are you and where are you from?
I am Madeleine Pollock and I am from North Vancouver, BC and I am 15 years old (16 in June)
What have been the best parts of the Ride Like a Girl program for you?
The best parts of Ride Like a Girl for me are making connections with super cool women and girls in the cycling community and improving my technical skills! I love meeting new people, and my mentor Trish has really helped me improve my skill set!
What are your goals with riding bikes?
My big goal for riding is to race as a professional. I would love to represent Canada at World Cups/Championships and the Olympics for cross-country. I would also like to do some EWS races as I love Enduro as well! A "little" goal for me is to improve my jumping and cornering.
What advice or words of wisdom do you have other girls who want to get into mountain biking/bmx or are just starting out?
My advice for girls just starting out is to find a support network within the cycling community. Join your highschool team or a local club and find people to ride with. It may be scary at first, but you will learn a lot just by watching someone who is more experienced than you ride! Also, don't be afraid to ask questions or for tips, most people are more than happy to help you out!
Zoë Morris
Zoë is Maddi's partner in crime when it comes to riding. They are the peas in a pod and love pushing each other on the trail. She is a seriously fast rider and an excellent bike shop grom.
Hi Zoë, tell us how old are you and where are you from?
Hi I am 17 years old and from North Vancouver, BC.
What have been the best parts of the Ride Like a Girl program for you?
The best parts of the Ride Like a Girl program for me have been: meeting new girls who ride and building community. I really enjoyed meeting up with my mentor throughout the year, and I am super grateful for all the knowledge she shared with me.
What are your goals with riding? This year and in the future.
My goals for riding this year would be to hopefully race enduro and XC. I'm hoping to be able to try out some longer XC races as well.
What advice or words of wisdom do you have other girls who want to get into mountain biking/bmx or are just starting out?
The advice I would give other girls wanting to get into riding would be, just go for it. The riding community is amazing and you will meet so many people once you get out there. Riding doesn't look the same for everyone, so get outside and do what makes you happy!
Marin Lowe
Marin was a fresh face for me for this photoshoot.
She showed up on her bike for the trails she is not familiar with and did the Impossible Climb up the powerlines in the mud. I would hate to be her competition during a race.
Hi Marin, where are you from and how old are you?
Hi I am from Squamish, BC and am 15 years old.
What have been the best parts of the Ride Like a Girl program for you?
Having fun and learning from my mentor and connecting with other girls that love biking.
What are your goals with riding?
Racing again!!!! To be able to wheelie up my street.
What advice or words of wisdom do you have other girls who want to get into mountain biking/bmx or are just starting out?
Don't feel intimidated to get out and ride, no matter your bike, or where you live, or what you're wearing if you want to bike go out and shred.
Hi Karin, tell me briefly about what Ride Like a Girl is about.
Ride Like a Girl (RLG) is a BC-based not-for-profit program that supports the growth of young women and girls in mountain biking through mentorship. RLG aims to increase and support the presence of women in racing and in the mountain bike community. By promoting visibility of women in sport, we hope to inspire more young women to get into and stay involved in mountain biking. Our vision is to develop a community of women that become ambassadors for the sport, environmental and social leaders in the mountain bike community, and continue to give back to the mountain bike and outdoor recreation community. All the board members and mentors for RLG are volunteers. We are very fortunate to have so many exceptional, giving women in mountain biking act as mentors for our athletes.
How old is the program and what is the volunteer mentor roster?
2021 will be the 7th season for the program. RLG matches young female mountain bike athletes between the ages of 12 to 20 years old with professional athlete mentors in their cycling discipline. Athletes selected for the program have the opportunity to receive guidance, racing advice and meet and ride with pros in downhill, enduro, cross-country and freeriding disciplines. RLG is lucky to have an amazing team of mentors to work with. Many of our mentors are professional mountain bike athletes who are well-known in the cycling community for their outstanding leadership and role modelling, and who compete nationally and internationally.
When is the application period and who can qualify?
RLG accepts applications annually, in the spring, from young women across BC who are competing in mountain biking and would benefit from female mentorship and community connection. We aim to match mentors and mentees based on geographical proximity, skills and cycling discipline. The selection criteria for mentee applicants include goals, prior experience, community involvement and volunteerism. Our athletes are from throughout British Columbia including the Okanagan, Vancouver Island, Kootenays, and Lower Mainland and Sea-to-Sky areas. Applications for 2021 are live now on RideLikeAGirl.ca!
What is the process once the athlete selection is finalized for the year?
Mentorship is the primary activity of RLG. Once athletes are paired with their mentors, a relationship develops where the athletes dialogue with their mentor with race prep questions and skill development. Mentors are expected to meet and ride with their athletes and promote confidence, skill development and having fun on their bikes throughout the year. During the year, RLG also organizes events such as skill development clinics, trail days, educational talks, and community building activities. In 2020, we pivoted our traditional activities to more of an online format and include several mentor chats, an online strength program with CJ Hendren of Gravity MTB and a core conditioning series with Eryn Freeman that the mentees did together on zoom!
More details on the Ride Like a Girl program, including our current mentors and athletes can be found here: