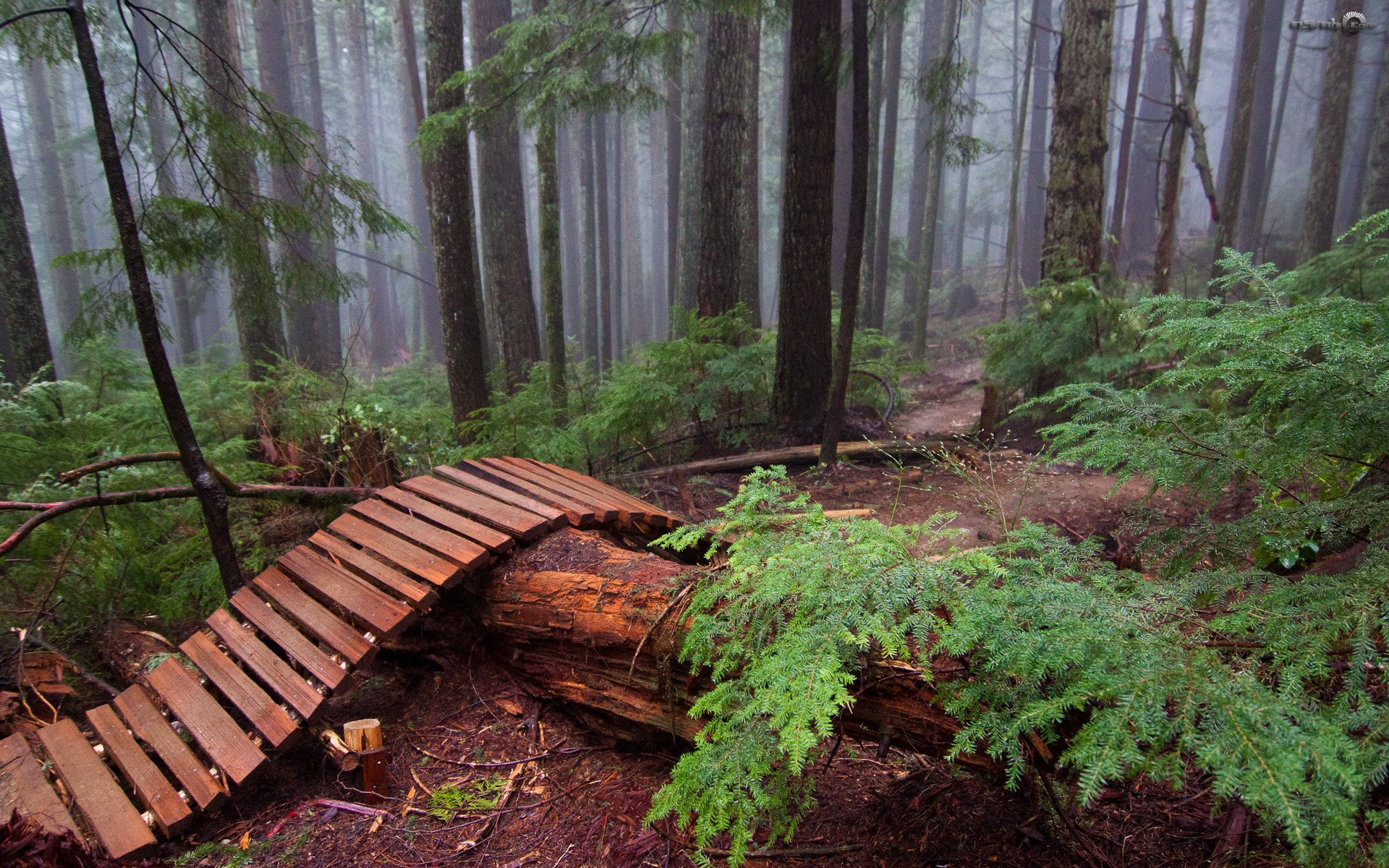 9 Fresh Rain Tips
Rain Riding is For Suckers
Originally published 2017-03-23
Today was horrendous. This year's historically significant snowfall has made rain riding less frequent, but we've likely seen the last of the white. Vancouver rain is frequently relentless but it's often more of a drizzle or a Scotch mist than a deluge. Today it was coming down sideways in big drops. Normally the dense canopy shields us from the worst of it but today it felt like we were hiding under a dandelion while a Great Dane marked his territory. 
And yet it wasn't terrible. In fact it was perfect. We picked our trails carefully* to appease the trail gods and goddesses and laughed like five-year-olds stomping mud puddles in gumboots. Some local knowledge, experience and preparation kept us smiling. It wasn't the sort of day where staying dry was possible but the right gear kept us from getting wetter than an otter's pocket, to quote Rob Warner. 
Here's a few tips to help you out the door.

1. Get thee a front fender. 
Yes we sell these (with proceeds to the Stevie Smith Fund) but you can make your own by cutting up a bleach bottle and then using some zip ties. The fender, if it's large enough and installed correctly, will keep some of the trail snot from sloshing off your front wheel and up your nostrils. If you aren't wearing eyewear (more on that below) it'll keep gravel out of your eyeballs and if you are it will keep them a little cleaner. These are light enough to leave on full time when it's not rainy for all but the most committed weenie.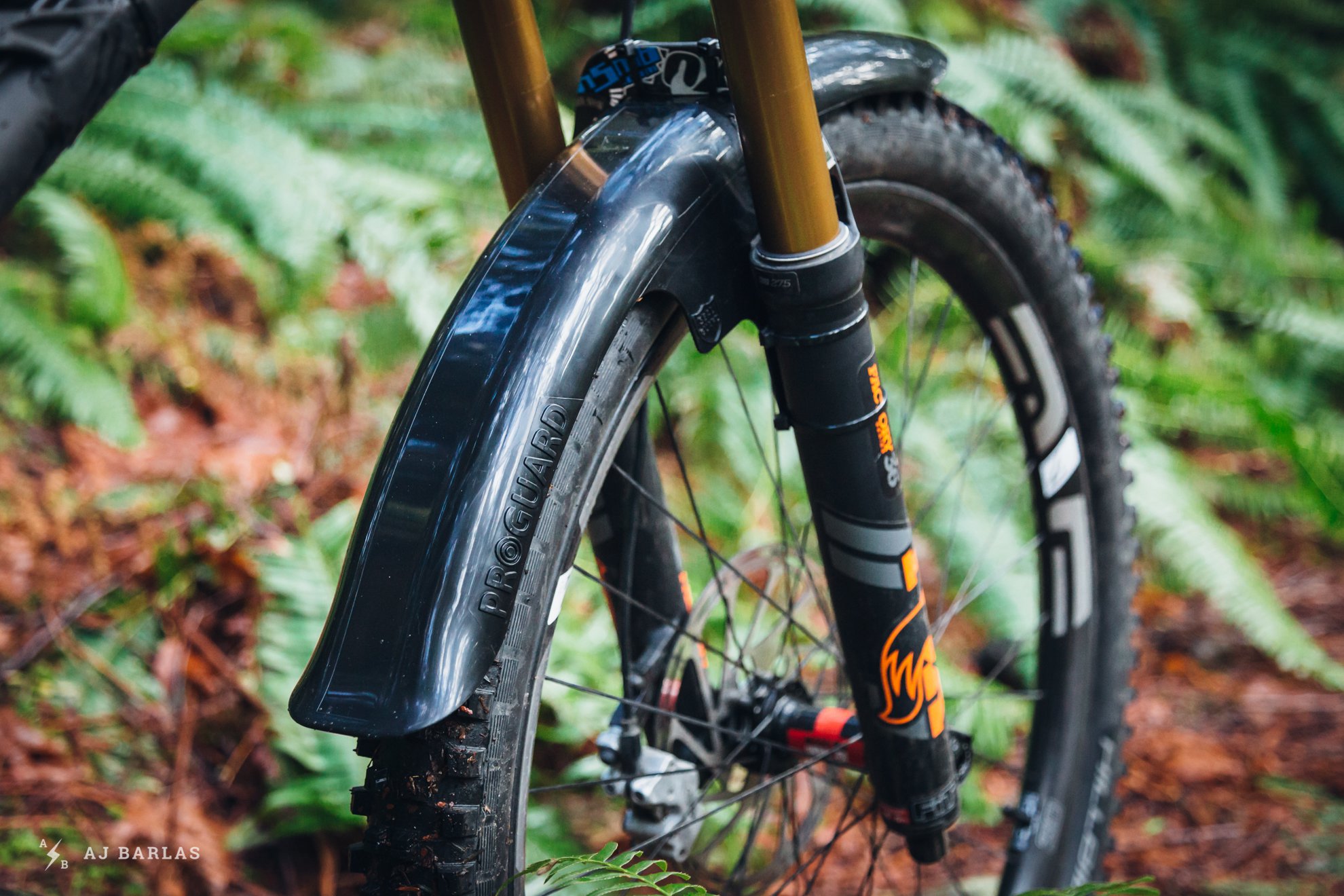 2. Wear eyewear. 
I wear eye covering whenever I'm on the bike these days, but when it's wet this becomes essential. I put my specs in my pocket for our second descent today when they got too dirty and fogged up and I'm still weeping gritty tears hours later. For some reason I find this oddly satisfying. I also got dropped even worse than usual because I was viewing the trail through a mud puddle (too wet for the fender to be enough). Today would have been a better goggle day likely but if I had brought a cloth and kept it dry I would have been able to keep my glasses on. 
3. Gore-Tex or some facsimile up top. 
Unless it's just above freezing or you are naked underneath, that orange road crew jacket won't cut it. If it's on the warm side go easy on layers beneath your jacket so you can keep it on even for the climbs. Vents are obviously helpful for harder efforts. Wash and dry your jacket regularly and if it begins to lose water repellency you can treat it to revive the coating. My current favourite rain cloak is the 7Mesh Revelation - but there are less expensive options that many riders swear by.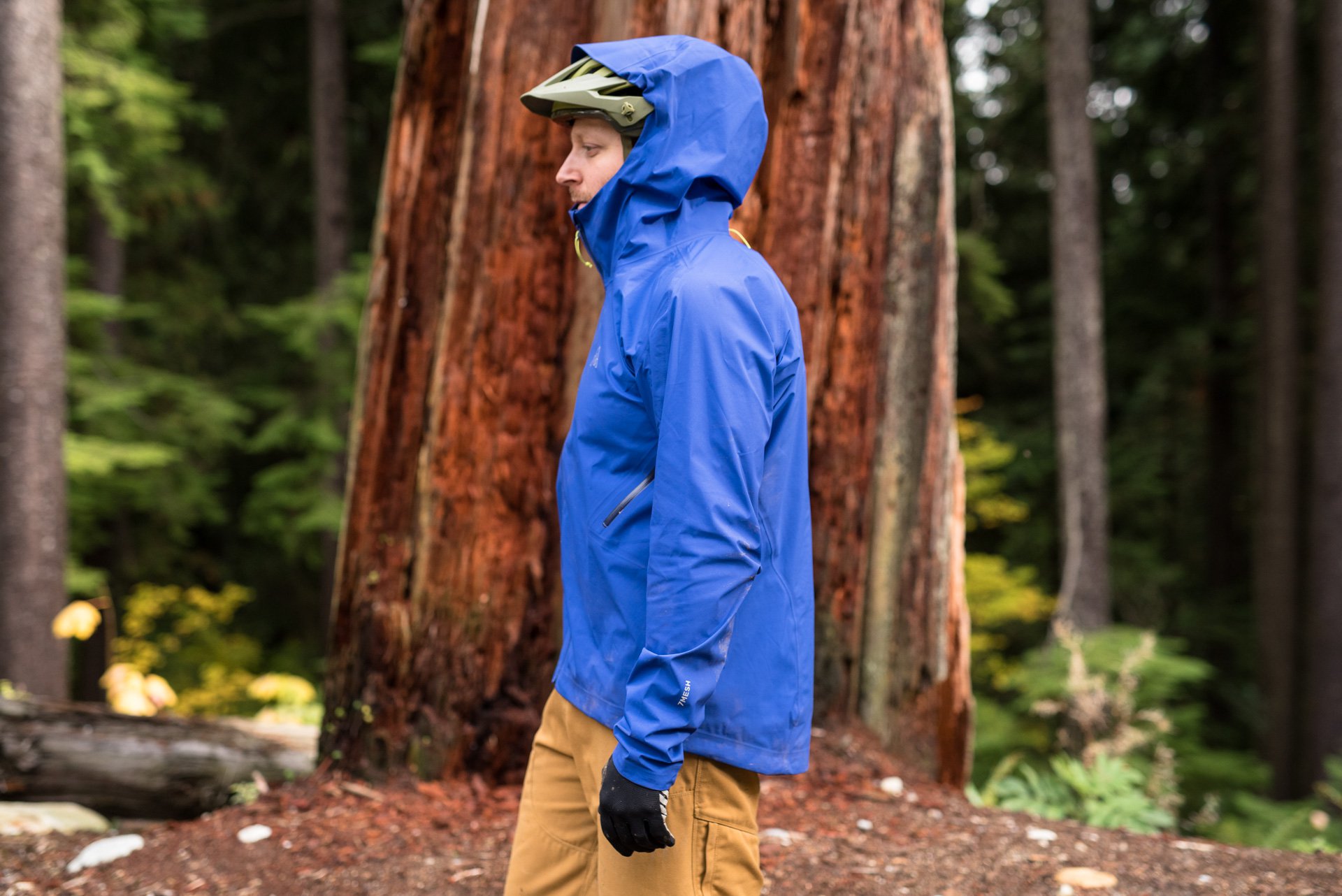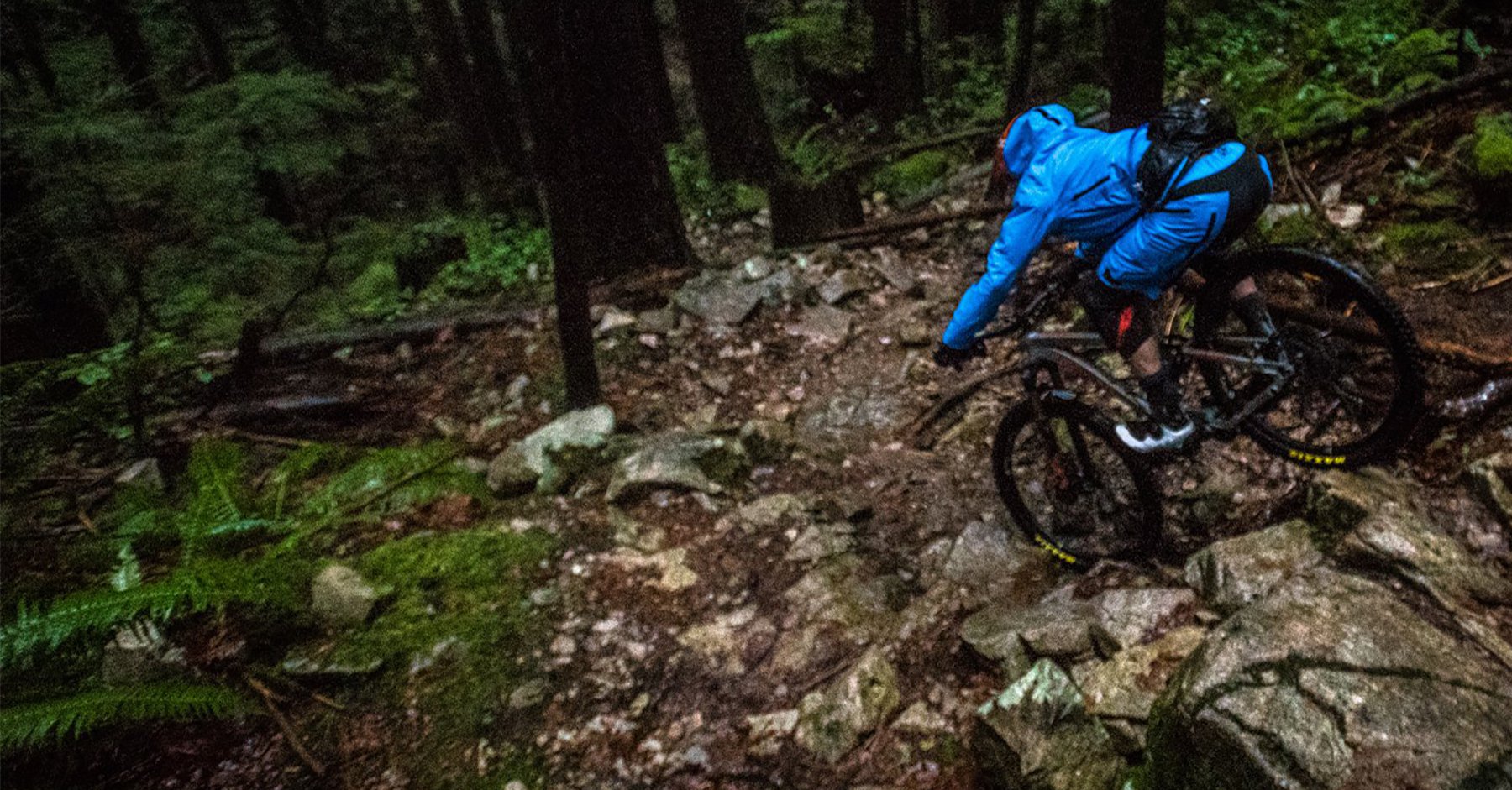 4. Waterproof shorts. 
Really this should have been number one. I would rather ride without socks on a shitty day than forego my Goretex shorts. The difference in comfort is remarkable. I have waxed about this several times before but I will reiterate that these will change your life if you ride in the rain often. I'm putting 7Mesh forward again and while I haven't found another product that compares, other riders have found thrifty options they like.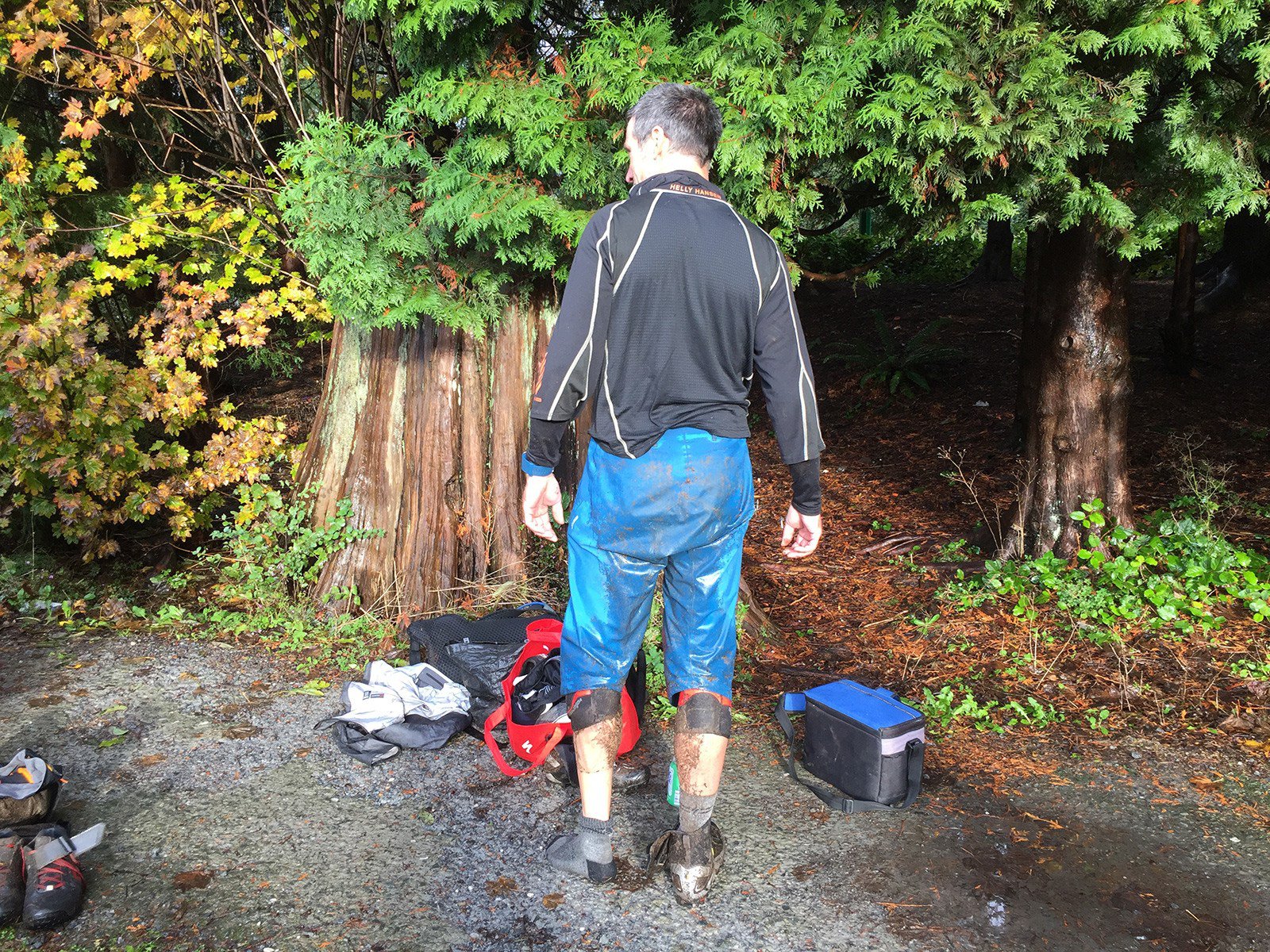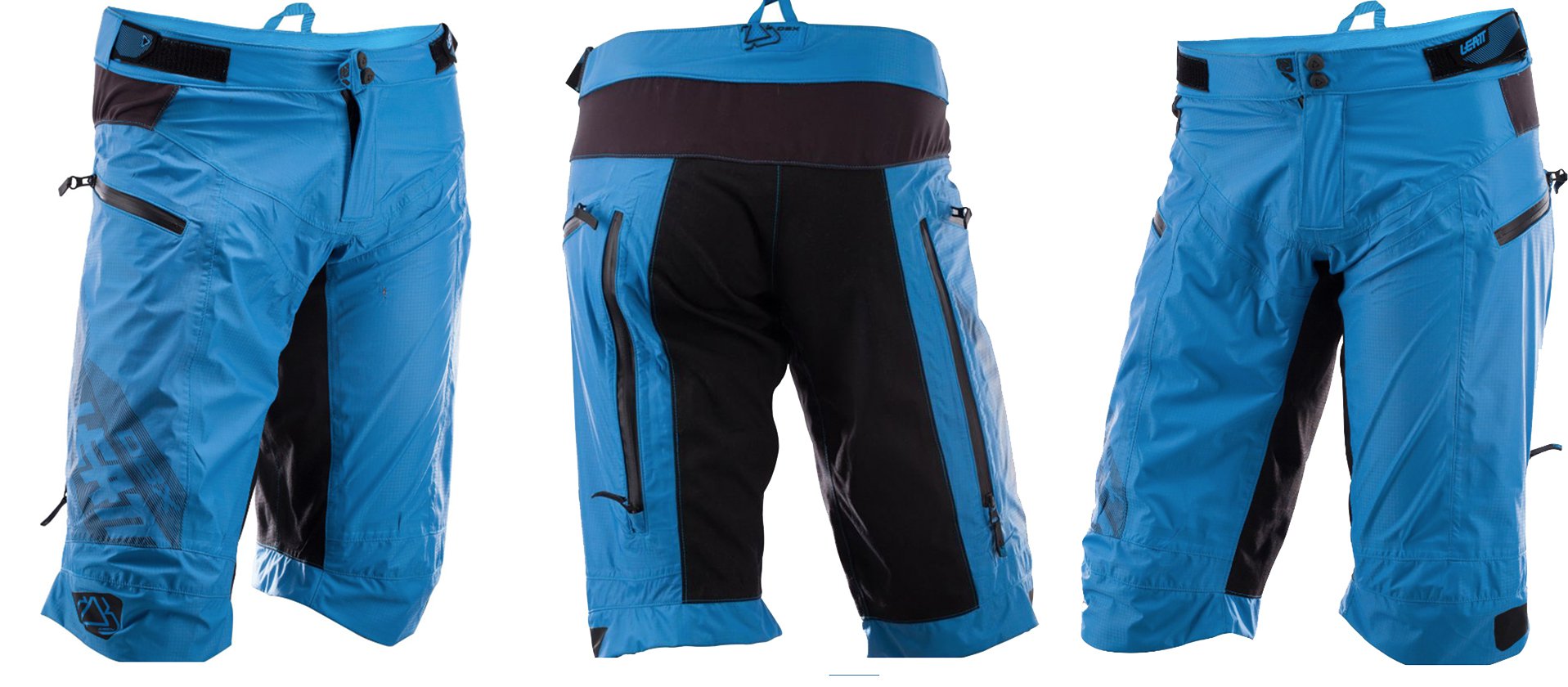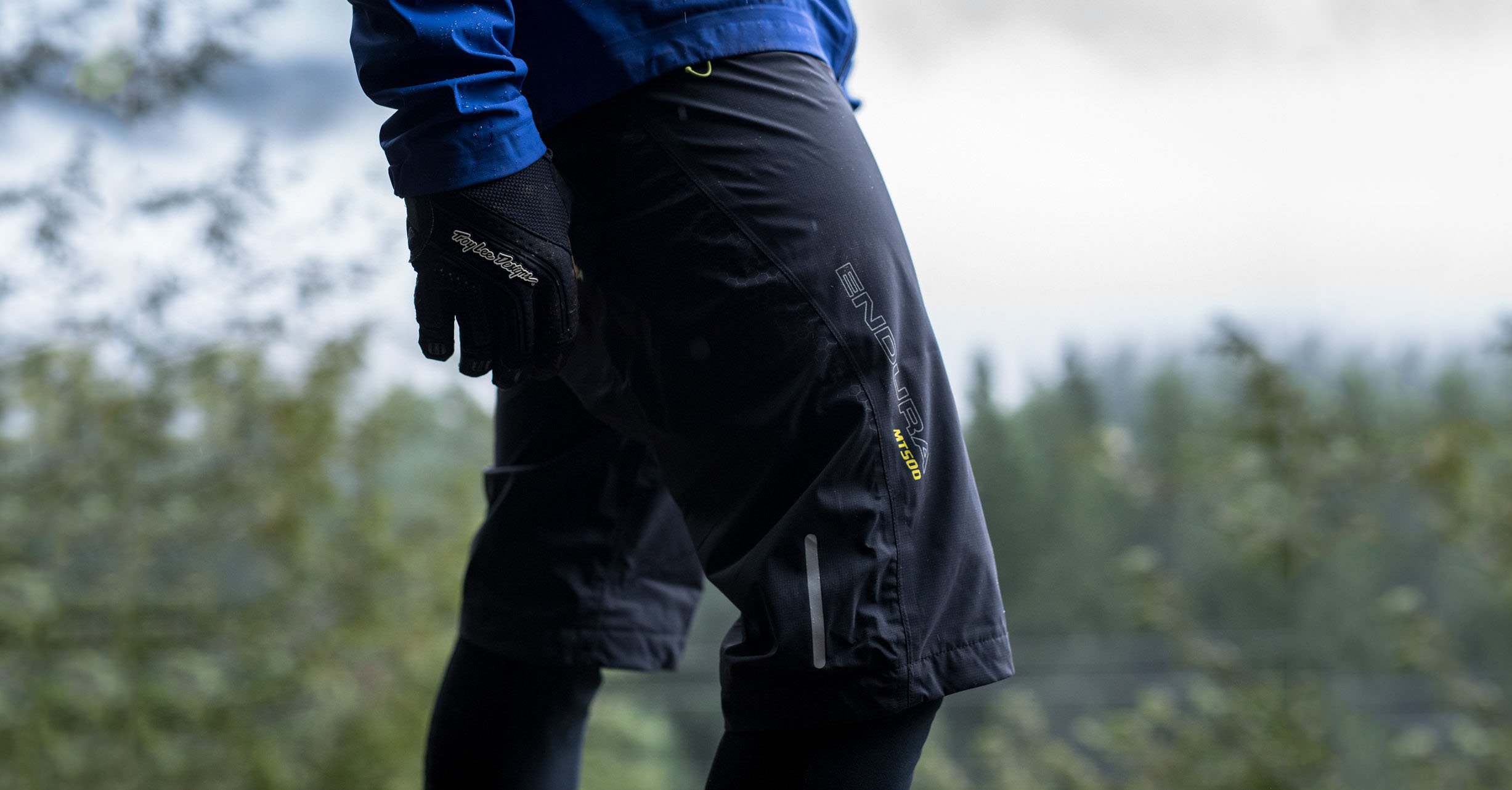 5. Prep. 
One of my riding buddies puts a dry underlayer in his pack. A post-ride change of clothes (and a towel to protect the neighbours from your junk) keeps your vehicle clean, Figure out a spot to dry your gear at home that won't anger your spouse and find some newspaper (which I can never find these days) to stuff in your shoes to suck the weather out. Have a large open bag to stuff your gear in - or a plastic bin for the back of your truck - so mud won't haunt you for weeks.
6. Wear wool. 
A light merino underlayer may cost a little more in the beginning but they are long-wearing, stink-resistant and they deal with moisture better than other fibres. One of my buddies swears by merino under shorts as well, complete with chamois, but I haven't tried those. 
7, Care for your feet. 
I wore my 5:10 Impact high tops today and they weighed about 7 lbs apiece by the time I got back from the ride. Not the best option. Without gaiters, fully waterproof footwear is just a dream. Some folks like plastic bags on their feet, others like fancy waterproof socks.* I generally make do with wool socks and shoes that keep the worst of the muck out.
*I have since seen the light thanks to Showers Pass waterproof socks. These work really well - as you can see below. 
8. Prep your bike for the next ride. 
Water wreaks havoc, especially when mixed with gritty soil, so take some time to clean and dry it (while avoiding power washing your bearings) but at a minimum dry and then oil your chain so it won't be red with rust when you grab it next. 
9. Stay loose. 
Going easy on the brakes and being generally light on the ground will help you stay upright in the slickery. Leaning on a tire on that shiny off-camber root is sure to send you slamming, but if you can unweight you'll likely just float over top.
Getting after it in nasty weather always leaves me feeling ready to slay some dragons. Given the choice of course I'll take bluebird - but riding in the putrid sloppiness makes those days even sweeter.
*If the trails in your area aren't built for nasty weather then please leave the bike at home. I'm sure I'm preaching to the choir here but it has to be said.

Please share your tips below.