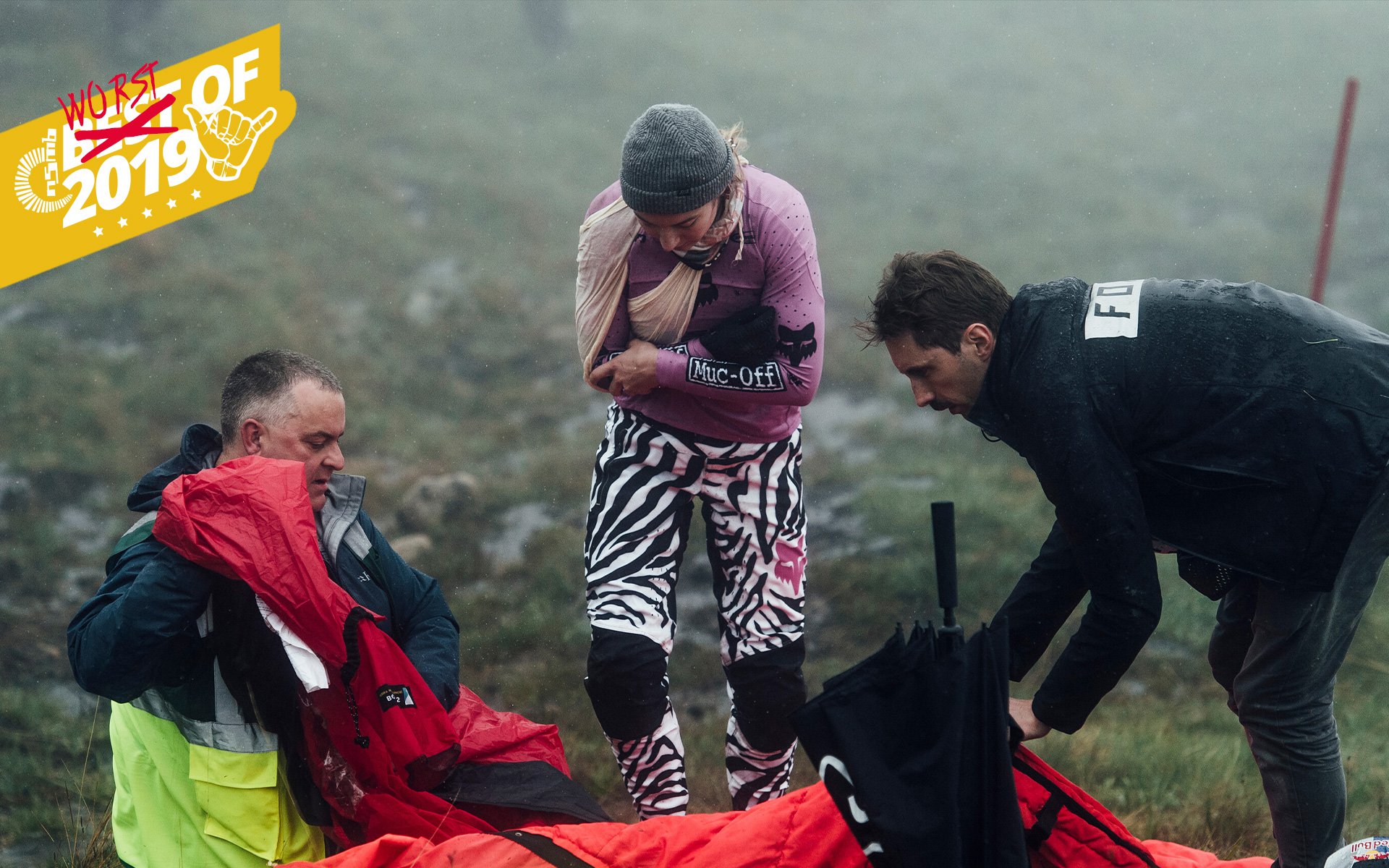 It's Not All Kittens & Rainbows
Racing Bummers of 2019
I'm generally a positive person. Everyone has their darker moments and I'm certainly not immune, but I prefer to focus on the positive aspects of life. However, every year media outlets chirp about the best things from the year previous without considering the things that, while negative, had an effect on race results, products and so on. So I thought I'd turn the idea on its head and share some of the shitty things that happened in MTB racing in 2019.
I'm sure there are heaps more not included but below you'll find a list of what I remember being bummed about and while they're mostly injuries, there are a couple situations that had a resounding effect at the end of the year.
Injuries to Past Champions
Injuries are never good regardless of who's on the receiving end. In 2019 a few racing heroes fell victim to horrible injuries that shattered dreams. Riders of this calibre have already proven themselves, often many times over. Their previous success increased their compensation and expectations, but to maintain a degree of dominance, they continue pushing the level of the sport.
Cecil Ravanel's Broken Neck
In 2019, the first champion to fall victim to the sport they love was Cecil Ravanel. While training in February, Cecil had a nasty run-in with a tree that resulted in a broken neck. She temporarily lost feeling in her left arm but has since recovered and is back on her bike.
Since Tracy Moseley stepped back from racing, Ravanel has obliterated her EWS competitors. She's been so dominant she began seeking new challenges and in 2019 had intended to mix things up by racing more DH World Cups. I assume that after such an accident, Cecil may focus solely on the EWS again in 2020 until her confidence is back but maybe she has other plans?
Aaron Gwin's Ankle Injury
Aaron Gwin had to battle his way through 2019, with all sorts of curveballs thrown his way. For Gwin fans, the litany of challenges he faced held him from the brightest portion of the spotlight but it wasn't until Vallnord that he was forced to fully submit. A connection with a tree resulted in two separated shoulders and Gwin returning to the U.S to recover. He raced Worlds in MSA and the final World Cup round in Snowshoe but admits he wasn't 100% healthy. Instead, he used the time to get a head start on the development of his 2020 race bike.
Rachel Atherton's Achilles Tendon Tear
At the very next World Cup in Les Gets, Rachel Atherton was taken out with a potential career snuffing Achilles tendon injury. The track featured an awkward step down that proved difficult to carry speed into before rolling through the final two corners. Riders were coming up short in practice and the flat landing made for a harsh impact even when they nailed it. That impact is what put Rachel's season to rest. After touching down relatively smoothly, Rachel began screaming and immediately headed for the pits, followed by the hospital. She promptly flew home and was under the knife while her competitors were racing on Saturday. When she returns to racing and how she recovers from such an injury remains to be seen but she has begun walking without support. My fingers are crossed we see Rachel back to full health and pushing for more World Cup wins – to add to her tally of 39 – sooner than later.
Injuries to the Heel Nippers
For race fans, it wasn't just the sport's champions that suffered injuries this year. Riders who have been in striking distance of the elite had accidents at a crucial time in their development – while their hands were firmly in the progression pie. These riders aren't necessarily new to racing or media but they looked ready to start taking top honours against the world's fastest.
Brook "Bulldog" MacDonald's Broken Back
The most tragic injury for me was Brook MacDonald's at the World Champs in MSA. Brook's riding has always struck a chord with me and when he returned to form after signing for a second stint with MS Mondraker, I was anxious to see him take another World Cup win. He's been on the cusp many times since, showing his speed with a few top qualifying results. But fans can also see his pace in practice clips over race weekends which he regularly has a banger in.
In Mont Saint-Anne it was no different. In every practice session, Brook was one of the quickest, regardless of where on track I saw him. His speed in the wide-open sections had me almost fall over backwards on one occasion and I became even more impressed with him as a rider. Then disaster struck, right in front of me. Brook rolled through as one of the first riders of Elite Men's practice while I was shooting "La Tarzan." What followed was one of the most sickening things I've witnessed and it left Brook, who is regarded by his peers as the toughest racer there is, trackside, unable to feel his legs.
Following the accident, I was dumbfounded by the marshal attempts to move Brook before properly assessing his injury. He was clearly in a serious condition and before the spine-board and doctor made their way down, I don't think he should have been moved. It was a tough situation though, with Brook shouting in frustration at what had happened and repeatedly requesting to be taken off 'this f*cking hill'. But whenever someone tried to move him, he would scream from the excruciating pain he was in. Surprisingly, despite Brook's obvious discomfort, the MSA team wanted to drive him down on a trailer attached to an ATV. Riders, media and by this point brand representatives on-site were shocked and stopped them from progressing. No one could imagine being driven, serious injury or minor, down the slope directly below this section of track. Walking the track, it was the toughest section to manage, let alone drive an ATV down, and one with a seriously injured rider on the back no less. Brook was eventually air-lifted, though some time later in the day.
Thankfully, Brook being the person he is, has taken it as a new challenge and is making great progress as a result. If you haven't been following his Instagram, I recommend checking it out to see how he's working toward being back to full health, and back on the bike.
Myriam Nicole's Foot & Tahnée Seagraves' Shoulder
After strong 2017 and '18 race seasons, Myriam Nicole was looking good to secure more wins and potentially take the series in 2019. She was 'ready to smash it' but an early-season accident resulted in a busted foot that needed surgery. That put her out for the majority of the season – that was until she returned in Mont Saint-Anne and took the win, her first Elite level World Champs gold medal.

A good friend to Myriam and equally threatening podium racer, Tahnée Seagrave started 2019 in smashing form, taking the win in Maribor. Tahnée's speed and comfort on the bike have been building over the years and she looks destined to take more wins in years to come. Unfortunately, 2019 wasn't the season and after a large crash on the upper portion of the Fort William track, another female rider ready to crack open the competition was out with injury. Tahnée suffered a separated shoulder and torn ligament in her A.C. joint that needed surgery. She was out for the year but returned for MSA World Champs and secured a silver medal behind her good friend, despite not being back to 100% strength.

What Ωould have been if both Myriam and Tahnée hadn't suffered serious injuries so early in their race seasons? Would the rest of the women's field have progressed as much as they did? With the three biggest threats out, newer names built confidence after seeing an opportunity to step up, as Tahnée mentioned in an interview. 2020 will be exciting if all of the women can remain healthy.
Nina Hoffmann's Shoulder Injury
One rider that took the bull by the horns in 2019 was Nina Hoffmann. Her performances through the first half of the season consistently improved and she was visibly more confident on the bike. In Val Di Sole she was firing and qualified first in tough conditions for the already gnarly track. Come finals time, Nina posted great split times but a lapse in judgment put her in the dirt. She charged on, despite missing a shoe on one foot but was only able to salvage 15th.
But Hoffmann had made clear what she was capable of and heading into the back half of the season, looked confident for more podiums. That was until a shitty training crash while preparing for Worlds stopped her progress. What she says was a 'slip on a tiny root' saw her hit the deck, tearing ligaments in her shoulder. Her incredible build in confidence and progression throughout the season was stopped and her focus turned to getting strong for 2020.
Jesse Melamed's Broken Leg & Fractured Metacarpal
Moving from the Downhill World Cup to the Enduro World Series, Jesse Melamed was a contender for the shittiest injury award. Jesse's a Sea To Sky local and an all-'round great fella, making his constant battle with injuries harder to stomach. He puts in the work, has a great attitude toward riding and racing and is incredibly fast on the bike – he deserves to have an injury-free season and show what he's capable of but it hasn't happened yet.

2019 was shaping up as that season and Jesse started with a third-place finish in New Zealand. He followed up with a seventh in Tasmania and another third in Madeira. But at the fourth round in Val di Fassa Jesse's season came to a wild halt. He blew off track and went hurtling through the scrub before coming to a stop well below where he started. During his wild ride, Jesse broke his leg near the ankle and fractured his metacarpal, sidelining him yet again.
If Jesse remains healthy in 2020 he'll be a threat for racers like Richie Rude, Sam Hill, and Martin Maes, who I see as the biggest title contenders for the next season. Maybe the guy below should be added to that list too.
Ed Masters' Broken Wrist
Is Ed Masters the people's champion of enduro? Of mountain biking? It's entirely possible… The fun-loving Kiwi has shown promise with past results but in 2019 he clicked into a new gear. He was racing both World Cup DH and the Enduro World Series and crushing it in each. Ed was comfortably in the top 20 overall for DH and battling for the series win in the E.W.S. when the tricky Tahoe dust took him down. It was so disappointing to learn he'd hurt himself after such a good season. While in Whistler I spoke with Ed for an upcoming podcast and the guy is as genuine as they come. He's also got some really interesting thoughts on growing the sport, so keep your eyes out for that.
An Injured Master
I can't write about what bummed me out in racing during 2019 without mentioning NSMB's own, Tim Coleman. Throughout the 2019 season, regular readers saw a series of articles from race frother, Tim. When he learned that the Worlds were in Canada again he knew having a crack at it was a must and was committed before the close of 2018. He spent the 2019 season getting in shape and wrapping his mind around race scenarios again after a couple of years away from racing downhill.
And he was crushing it, taking multiple wins at B.C. Cup races. But on a cruisey lap after the Whistler E.W.S., Tim collided head-first with a tree. It turned out he had a bad case of whiplash, putting a major damper on his Worlds preparation. Only a week later in M.S.A. Tim was unable to comfortably move his head, making it difficult to ride, especially on the rough, high-speed Worlds track. Off the bike, Tim had to twist his entire torso to look around and his eye sockets got a workout too. Nevertheless, Tim managed a 12th place finish, held his head high and remained positive. While working with him at Worlds, I couldn't help but wonder how he would have finished if he'd remained in full health.
Martin Maes' Suspension
There's been heaps of controversy surrounding the E.W.S. and doping over the last 12 months. Late in 2018, we learned of Graves and Rude testing positive for performance-enhancing substances and while their suspensions went into the 2019 season, it was Martin Maes' suspension that shocked in 2019. Martin had been prescribed Probenecid to help his body battle a bad infection. The infection was from a nasty cut he suffered while racing the N.Z. Enduro and despite the doctors doing their best, the dirty conditions were too much, requiring higher strength drugs to combat it. G.T.F.R. (GT Factory Racing) appealed the ruling and after speaking with Dr. Clark Lewis in Whistler, we learned the treatment is a common tactic to stave off a bad infection. But the UCI had spoken.
The suspension couldn't have come at a worse time; Maes had the lead in the overall and was smashing his competitors and cleaning stages, including every bonus point Queen Stage Up to the point he was suspended. He'd finally found his mojo and after a strong build the last couple of seasons was looking to capitalize. That was stripped away and now we have to wait another season to see if Martin can grab the title.
Minnaar Not Qualifying in Maribor
Greg Minnaar isn't referred to as the G.O.A.T. without reason. He's been racing at the elite level for 20 years, holds the record for the most World Cup wins (21) and has three World Cup Series Championships and another three World Championship wins. He's also qualified for every race entered over those 20 years but that changed in Maribor 2019.
The first DH World Cup of 2019 was challenging with variable weather conditions wreaking havoc on the results. Minnaar fell victim after a qualifying crash in the slippery conditions saw him cross the line well down the results sheet. With conditions worsening, no-one was sure about Greg's position but as qualifying came to a close it became clear; Greg missed the cut by 0.14 seconds. That result cost Greg a potential top 5 overall at the end of the season were he to have secured his season average of a fifth-place finish in finals and ninth in qualifying. Who would he have bumped in the overall if everything else remained the same? None other than fellow Syndicate rider, Loris Vergier.
Jordie Lunn's Sudden Passing
Mountain biking lost a legend with the tragic passing of Jordie Lunn. While not currently race-related, he was still a performer and a rider many looked forward to seeing in action, and he saw his share of World Cup action early in his career. Jordie finished the 2003 UCI DH season as the highest ranked North American racer.
I never met Jordie but by all accounts, he was nothing but a positive light in the sport. Fellow riders were gutted and with his passing coming only weeks before Rampage, many of his friends rode with heavy hearts in the desert. Memorial rides, dropping for routine push-ups, and more were shared in his memory as a way of showing respect for the legend. On his final run down the death defying course, Brendan Fairclough dropped for 30 push-ups on a massive rock feature as a tribute to Jordie.
Selfishly, the first thing I thought when the news about Jordie broke was what a bummer not to see him at Rampage again. His line in 2018 looked insane but a bout of flu prevented Jordie from showing what was destined to be a memorable run. We lost a good one in 2019, an individual who embodied the the phrase 'don't judge a book by its cover.' Ride on Jordie.
That's enough of the doldrums from me. I look forward to seeing everyone healthy and strong back at the races. We're set for an absolute cracker of a race season ahead.