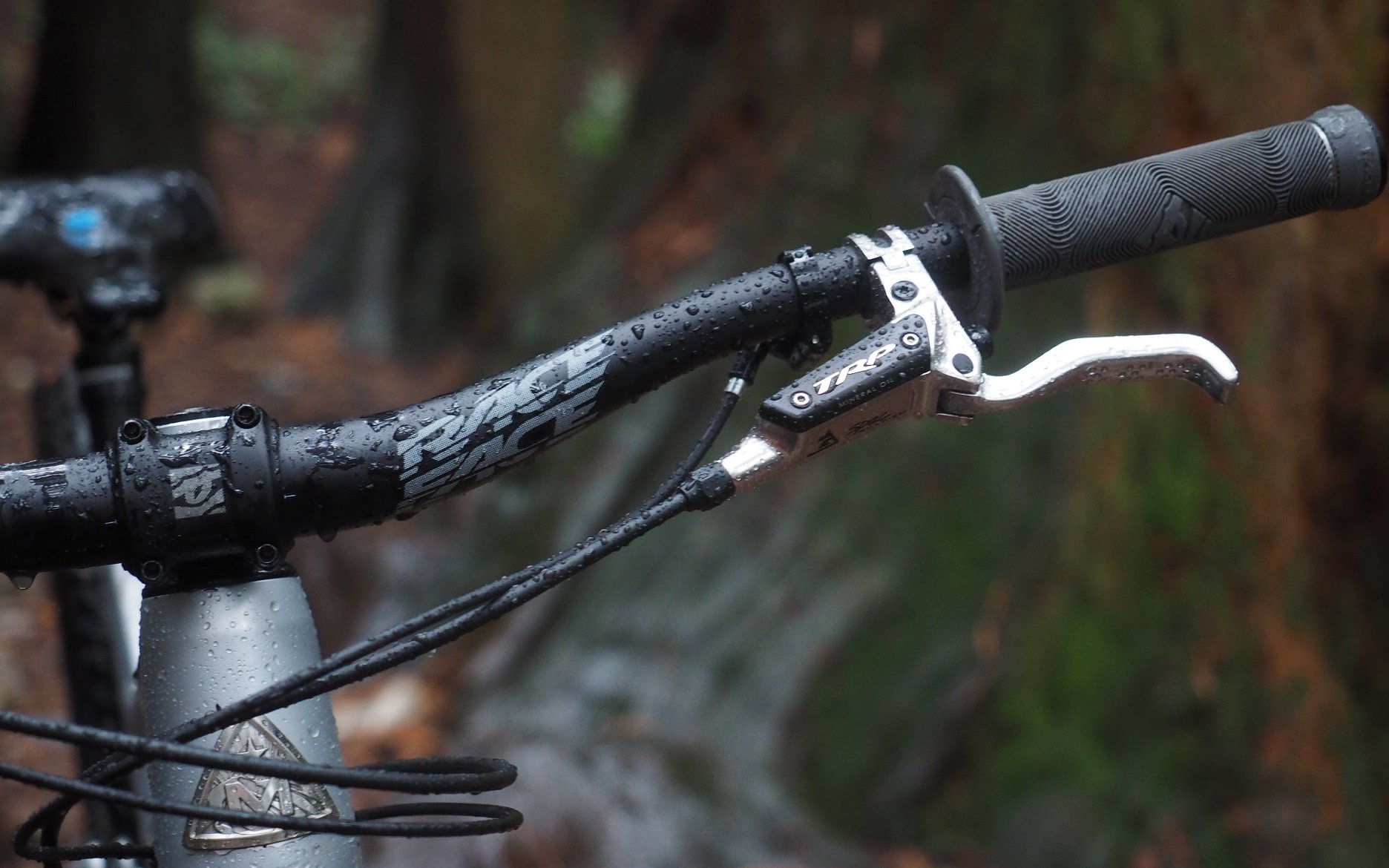 REVIEW
Race Face's $100 Chester 35 Cockpit
Chester Choices
Next, SixC, Turbine or Atlas, I don't think that the top end carbon and aluminum product lines from Race Face need much introduction. Meet Chester. Way down the product list is a group designed to take a beating on a budget. Yeah but whose budget?
Choose a stem length and handlebar rise for the great looking, subtly branded, silver-on-black cockpit and any one of seven available colors for the grips and ride off into the sunset for a street price of 100 USD.
Stem
The 35mm bar standard, for better or worse, is permeating lower and lower price points of performance mountain bikes and the Chester stem is a great swap-out choice in 40mm or 60mm when it comes to dialling in fit. It's unsurprisingly stiff and the 170-gram weight for a 60mm stem is actually a reasonable weight for a DH-rated stem at any price point.
The 6061 aluminum stem does niggle me slightly with its use of two different hardware sizes; M5 bolts for the face plate and M6 bolts for the steerer clamp. My personal preference is M6 bolts all the way around but I can deal with the mix at this price.
Alternatively, leaving the bolts as M5 and M6 but giving them both T-25 heads, instead of the varied 4mm and 5mm hex heads, would be a win for me. I can taste the pure glory of having every bolt on my bike use the same tool from water bottles, to brake mounts, to rotors bolts and etc.
When it comes to maximizing performance for price, this is a great choice. It's stiff, it's not a pig, it holds a bar tight, it looks good in black and it will run just less than 50 USD. Sure, it doesn't look as sexy as a CNC machined unit but for those that see beauty in practical performance or would rather spend the cash elsewhere it's choice.
Bar
The 8° backsweep and 5° upsweep of the Chester bar is fairly standard. The portliest option, a 35mm rise, weighs in at just over 400 grams and the bar is shot peened to make it more durable. The handlebar is available in three different rises and all come in a 780mm width.
The Chester doesn't match the je-ne-sais-quoi ride quality of my favorite standard sweep aluminum bar, the Renthal Fat Bar. It's not that the Fat Bar is flexy, it's not that the Chester is overly stiff but on the same bike with the same tire, same grips, and same with both bars at 780mm the Renthal is more forgiving while giving up nothing in the handling department.
Saying that does feel a bit like comparing two batches of my favorite beer though because the Chester rides great for much less money. It is not insanely stiff like some 35mm bars I've ridden. With the fatter Chester grips I've been running, versus my Renthal Push-Ons, any ride difference is erased and it becomes one of those components I never think about.

Since I'm here. I wish Race Face would offer some of their bars in a 12° sweep. There's nothing wrong with 7°x5°, 8°x4°, 8°x5° and etc for most riders but I think, especially with wider bars, a lot of folks could benefit from more sweep. Damn, I should have added that to my Dear Santa list.
Drifting aside, it's a great choice in a black wide-enough handlebar for 50 USD.
Grips
The Chester grips hug my fingers like shag carpeting. They're thicker than what I normally run but with or without gloves they feel really nice. They have huge BMX style flanges divided into 1/3 sections for easy cutting for shifter or dropper post lever compatibility if needed.
The 12 USD grips comes in four colors and three shades for a total of seven options.
I glued & wired on my Chester grips but I know one lazy ass who is having lots of no-spin fun with a basic hairspray treatment. Apparently the secret weapon is Vidal Sassoon Pro Series Extra Firm Hold Hairspray (and I thought the bike industry overthinks nomenclature).
The Chester grips are good but not my first or second love. Different strokes for different folks applies though as two friends and a random stranger who've laid hands on them have made covetous 'best grip ever' remarks. For 12 bucks it's an easy thing to try for anyone whose not in love with their current rubber.
Chester
I see a lot of folks on the mountain running ancient bars and stems. Scary ancient. Rusted bolts. Scratched to shit. Just in this last month, when I've really been thinking about it, I've noted a few old 25.4mm clamp setups and one of them was a carbon bar that looked to be delaminating. I felt a duty to point out the last one and was told that 'it hasn't failed yet'.
There are also a lot of basic-but-real mountain bikes being sold that would benefit from a wider bar and shorter stem setup. Or, for riders building a new bike who know the high end carbon bar they want to use but aren't sure on the stem length, Chester is a quality, DH-rated, choice that isn't too portly as a placeholder to dial everything in before spending the boutique bucks.
Chester is also well represented, especially the bars, on bikes at a variety of prices as original equipment (OE) spec so once I started noticing the group I notice it a lot.
If you're Chester curious, or looking for a great bang-for-buck cockpit upgrade, please check it out here.