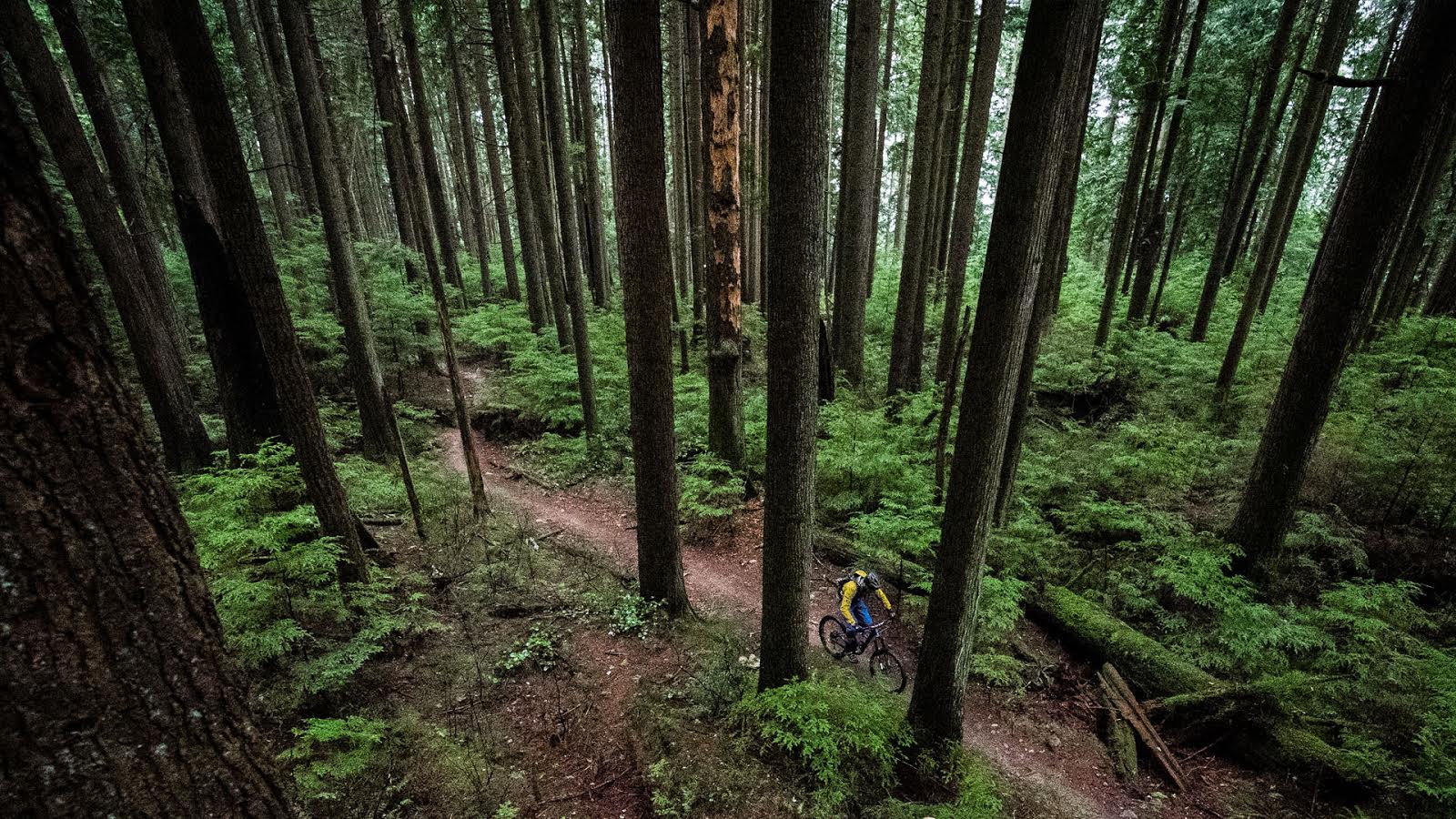 Race Face SixC Cinch Cranks: Reviewed
Earlier this year, Race Face unveiled their Next SL crank and Cam's review uncovered a lot to like about them. Light, stiff, and strong (as we would expect from RF), they also introduced the Cinch system which allows for direct mounting of a RF Narrow Wide chain ring or interchangeable spiders if you require a combination of chainrings and bash guards.
In other words, if you run 1x  you have a very clean, light system but if you require more rings, or a bash guard, making changes is as easy as using an ISIS BB tool to lock or unlock the chainring (on its own) or a spider (to carry rings/bash guard(s)).
Carbon and Cedar go together like salt and vinegar. (we may be biased)
The other benefit of the Cinch system is that it allows removal of the spindle from both crank arms, so changing spindle lengths is simple. They use a standard 30mm spline interface machined from an alloy that has a big S tattooed on its chest and is claimed to be 20% stronger than 7050, the usual suspect. Again: flexibility. You can swap your cranks easily between different frames, whether they require 68/73 or 83mm BB shells.
Your old ISIS BB tool is all you need to install or change rings on a Cinch-equipped RF crank. The only downside is it means no more ring changes without removing the drive side crank arm. Fortunately that's dead easy.
For 2015, the Race Face SixC Cinch cranks have gotten the same redesign treatment. Like the Next SL, the crank arms are hollow (no alloy core or spine), laid up and manufactured in Canada from US-sourced carbon.
Not surprisingly, Race Face are cagey about their proprietary technologies, but the weight and early track record of the 2014 Next SL indicates that their carbon cranks are at the winning end of the spectrum as far as the light/strong matrix is concerned.
In fact, between NSMB's experience with the Next SL and its semi-common appearance as a spec option on high-end 2014 model year AM bikes, it has to be said that it could easily be enough crank for your 6″ trail beast. If you're more aggressive, heavier, or just want a little more beef in your pedal sticks, SixC is your schtick. Pricing is very similar between the two, so your choice is down to weight and durability.
The only murky thing about the new SixC crank is whether its beefiness is necessary for many AM users. Sure, it's light, but Next SL is about 100 grams lighter and is standing up to many AM bikes' abuses. Pick SixC if you're heavy, aggressive, or crashing into things at DH speeds.
Race Face sent a set of SixC cranks and a BSA30 thread-in BB for our Santa Cruz Nomad and the included installation instructions were very easy to follow. Do not be intimidated about installing them yourself even if you are modest about your abilities as a mechanic.
Our Carbon Nomad didn't leave a lot of room for upgrades but the SixC crank saved over 100 grams and certainly looks hot. Plastic protects from crank rub and keeps the graphics looking Sixy.
There's not too much to say about a crank's performance when all goes well, and so far that has been the case. They're light as a mosquito fart and stiff as a Clydesdale sizing up a Unicorn. I have dropped no chains, experienced no issues with chainline, and the BB turns smoothly.
My only complaint is with the crank boots – on several occasions the one on the drive side has been snagged by a rock and pulled off the crank so that while it's still held on by the pedal, it makes clipping back in impossible. Annoying. but not common.
A big part of Race Face's resurgence as a top tier crank brand rests with their carbon technology. And how cool is it to have cranks that are made right in Vancouver?
The Race Face SixC Cinch is lighter than the carbon competition by over 100 grams and offers terrific versatility with the Cinch system's interchangeable rings and spindles. The only bad news is the butcher's bill: the SixC ain't cheap, but the choicest cuts never are.
One quibble with a crank boot that gets pulled out of position is the only thing I would put in the negative column. Otherwise the Race Face SixC Cinch ticks all the boxes.
BUILT FOR: AM/Enduro/DH
SIZE: 165, 170, 175mm
BB: BSA30 (68/73 & 83), BB92/BB107 press-fit, PF30/PF30-83
WEIGHT:
540g (36T DM*, 165mm, 83mm spindle, w/o BB)
580g (36T on spider, 165mm, 83mm spindle, w/o BB)
695g (24/36/Bash, 175mm, 68/73mm spindle, w/o BB)
*DM = Direct Mount
CHAINLINE:
51mm (68/73)
57mm (83)
RING CONFIGURATIONS:
Direct mount N/W*  Single Ring (26/28/30/32/34/36)
2x with Bash – 22/36/Bash, 24/36/bash
2x no bash – 22/36, 24/36, 24/38
N/W Single Ring/Bash
N/W Single Ring
COLOUR: Matte Carbon
*N/W = Narrow/Wide
PRICING (CAD & USD are the same):
Sixc Cinch Cranks with Direct Mount N/W Single ring (no BB)  – $499.99
Sixc Cinch Crank 2x (no BB) – $599.99
Sixc Cinch Crankarms (No rings/BB) – $459.99
Cinch 30 BB – $59.99
---
We've come a long way from square-tapered spindles and I-beam crank arms. Does the new SixC scratch your itch?