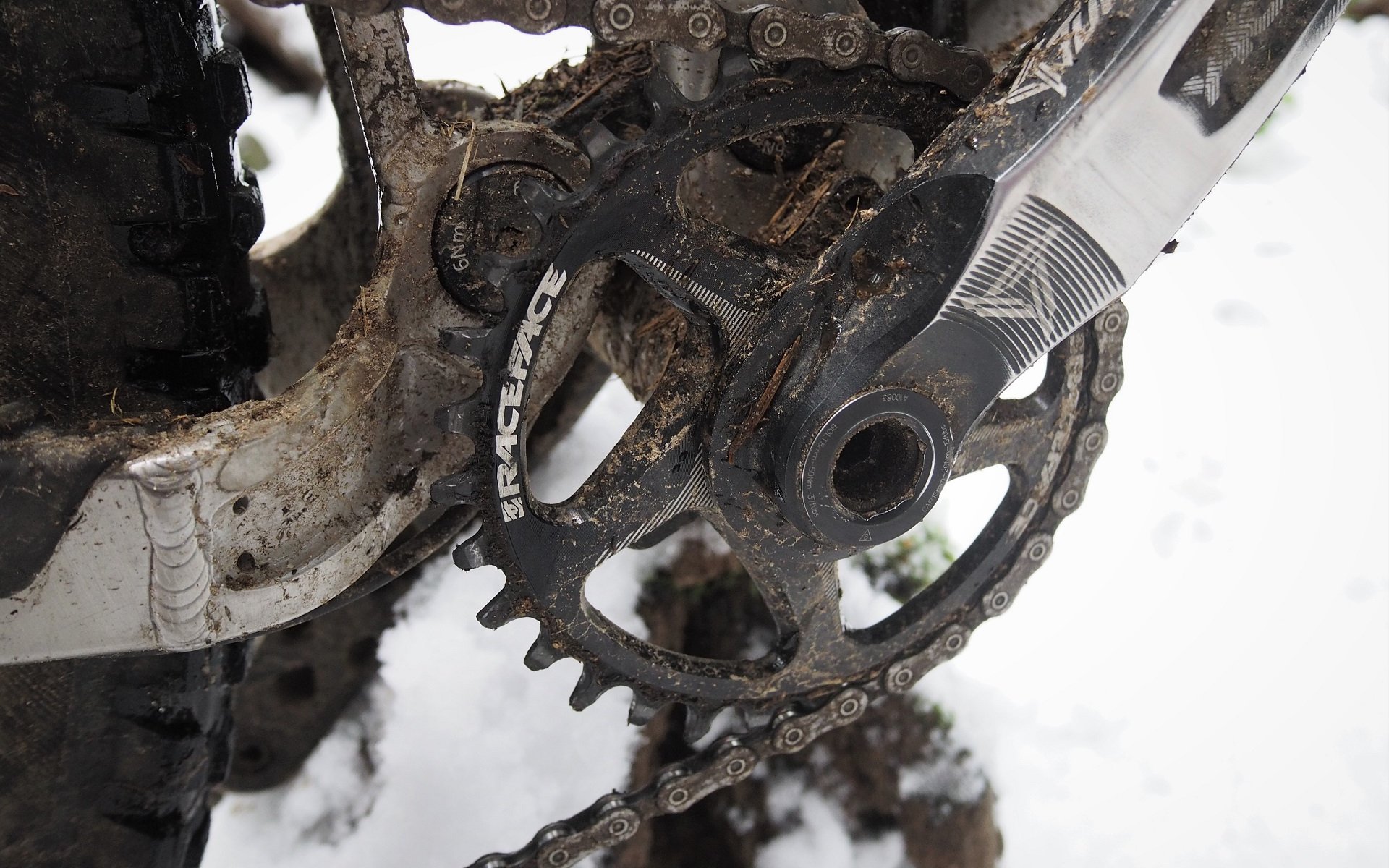 REVIEW
Race Face SHI-12 Cinch Chainring
It's A Cinch
I find it impossible to talk about Race Face crank systems without talking about CINCH, their delightful chainring mounting standard. I've owned a couple of pairs of CINCH cranks and ridden a fair few more and have never had a chainring come loose. I absolutely treasure the fact that their engineers took a few minutes to look in their toolboxes and design the lockring around a legacy tool that's both globally prevalent and relatively inexpensive.
CINCH even has its own motto. It's even pretty good. What other chainring-mounting systems can say that? And without being too cynical about the bike industry, it's about endless forward compatibility.

CINCH System is designed to work with your next bike, the bike after that, and the bike after that." - Race Face
I have a few pairs of Race Face cranks in my own fleet. On my commuter bike I stomp on a set Aeffect R arms with their 24mm spindle running on a decade-old Chris King bottom bracket. On my single speed, I have a sh*t-kicked set of anodized-blue Atlas cranks. And on my dual suspension bike, I've run a special set of Turbine cranks for a few years now.
So, CINCH is the best? I'll entertain a debate that the 3-bolt, T-25, mounting system that SRAM, CaneCreek, Blackspire, and others use is also good and they, also, didn't find it necessary to invent a new tool to put a chainring on a crank. Heck, their Torx-25 tool is an infinitely-more available option. I, personally, find the CINCH interface to be less finicky, but then I remove and install a lot more chainrings than the average rider. The good news is that while Race Face doesn't currently offer their SHI-12 rings in the 3-bolt standard (CINCH and 4/104 only) they do make 3-bolt compatible narrow-wide rings so it feels like only a matter of time before this review will apply to your DUB cranks as well.
Moving along to the specific chainring I'm riding here. For a few reasons, that I'll cover below, I was eager to ditch the stock Shimano crankset and get my own set of Turbines mounted up as part of my review process. In order to keep hammering out HG+ shifts, for science, that meant not just any narrow-wide ring would do, but rather one that's compatible with the latest Shimano 12-speed drive system.
I have had impressive longevity out of Race Face's 7075-T6 aluminum chainrings in the past, but what makes this particular one special is that your 80 USD | 98 CAD (30t) buys compatibility with Shimano's 12-speed HG+ mountain bike drivetrains. Flawless compatibility for that matter.
Race Face Ring Bashing
I'm taking a step away here to dream for a minute. Sure, the SHI-12 rings, like Race Face's other 7075 rings, take a solid licking. Being machined from 4mm thick plate and all, you probably could have guessed. But, I still don't love the harsh sound of my expensive chain and ring being dragged over rocks or kachunking into logs and boulders.
I would love to see Race Face do a version that is either drilled with a 4/104 BCD chainring bolt pattern, in addition to the Cinch splines, to run a standard bash ring or drilled-and-threaded to run a, to-be-designed, Race Face one. Either way, it would be an inversion of the Wolf Tooth CAMO bash ring with the chainring acting as a spider.
It actually is possible to run a bashguard with a CINCH crankset and Shimano 12-speed by combining a RaceFace spider with their SHI-12 4/104 bolt chainring but the dream is cleaner and if the rings were just drilled and tapped it would mean the option for riders to upgrade after the fact. My bash rings are all thoroughly smashed and, as much as I may be a hack rider, I can't help but think there are other folks out there who would love the option to bolt a protective plate onto their CINCH rings.
M6100
I am rolling towards finishing up my write-up of Shimano Deore M6100, 12-speed groupset, but I swapped out the crankset a while ago for a few reasons, and this 32t Race Face SHI-12 CINCH ring has been doing the dirty work instead of the immediately obvious two-piece Shimano ring.
There has been no change in the "dynamic chain engagement" with the 12-speed drivetrain coming from the ring. The Race Face ring had the typical cosmetic wear after the first few really mucky rides but chain retention and chainring wear have both proven excellent thus far.
I achieved a few benefits from ditching the Deore crankset. First off, the crankset I have has Shimano's longer-axle Boost setup - it's actually an M6120 crankset - which means a 55mm chainline compared to a 52mm chainline for my CINCH cranks. I know 3mm sounds like nothing, but when I'm grinding away in the low gears a chainline that is any straighter to the 32t ring is going to cut down on the wear of both the chain and ring.
Also, as the fuddy-duddy who prefers slacker seat tube angles, it probably isn't surprising that I get along better with 175mm cranks than the 170mm arms that Shimano supplied. Once I made the switch I found myself punching out more back shifts under load - in the name of science of course - just to see how the HG+ drivetrain would otherwise hold up.
I'm seeing a number of new Shimano 12-speed bikes coming stocked with Race Face cranksets and SHI-12 chainrings and I think it's great to see choices in both original equipment and the aftermarket. My North Vancouver perspective is that Race Face has done an excellent job of having chainrings and bottom brackets in stock through the current global supply troubles - much better than their larger competitors.
The CINCH Shi-12 rings are a premium product at an SRP of 80 USD | 98 CAD for a 30t, and a bit more as you go up in size, but my ring has been wearing exceptionally well for aluminum - similar to my Renthal 1XR to date - and most importantly the performance is indistinguishable from the stock ring's chain retention with the HG+ drivetrain. Many folks who experience this for themselves will likely be buying a Shimano 12-spd bike equipped with Race Face cranks, though Race Face also sells plenty of aftermarket cranksets, and I think they'll be very well served in terms of performance and product life.