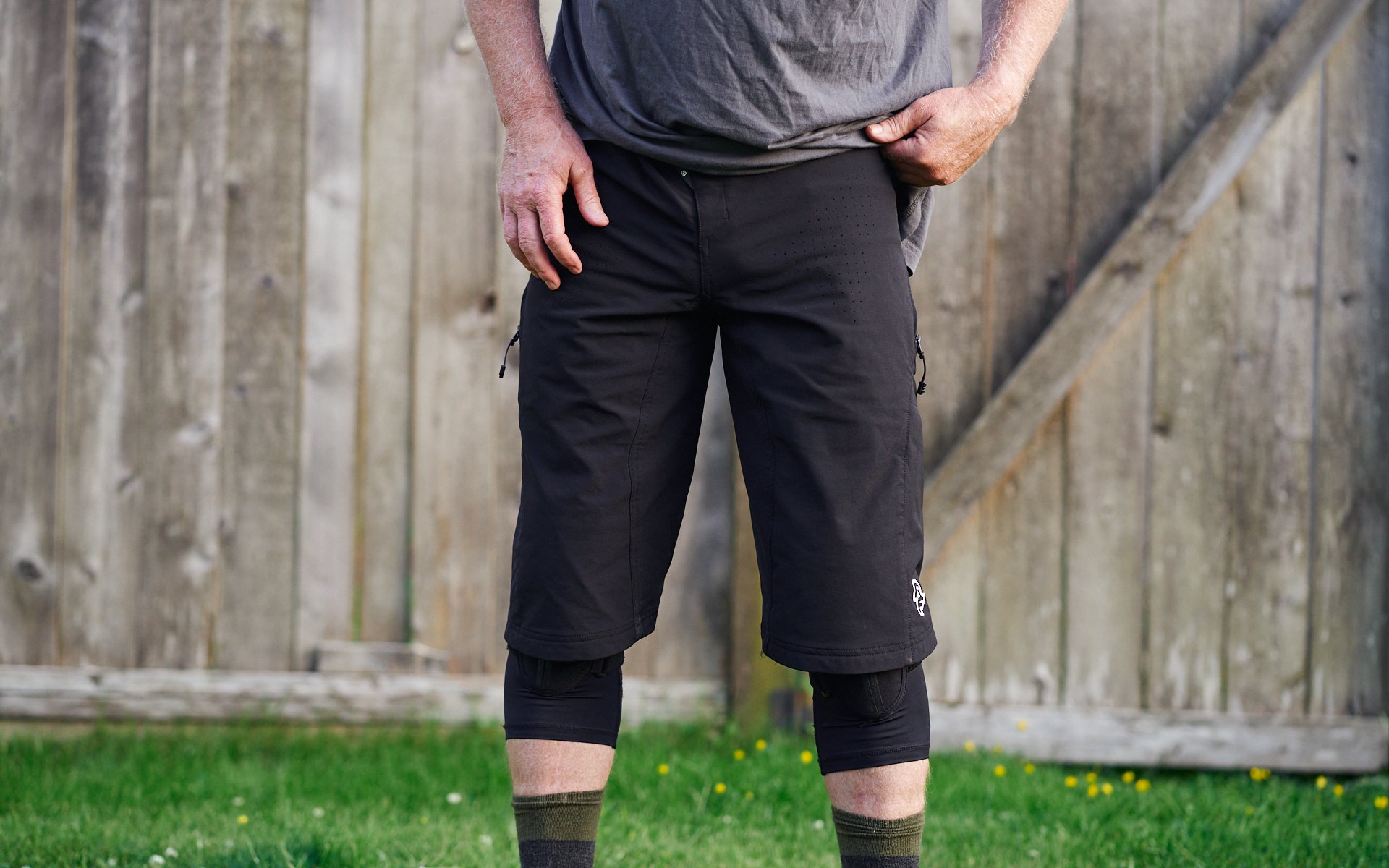 Review
Race Face Ruxton Shorts and Pants
Race Face Ruxton shorts and pants
I like wearing pants while biking whenever I can. I never understood what it was about pants that all my riding crew were on about until recently I started wearing them myself. It could be the decrease in cleaning pads and socks or the mud, rain and moisture mostly running off the ankle cuff, instead of down my shoes, but really it is the comfort of having everything under one roof. Not to mention post ride bro downs are way more comfortable with pants instead of shorts, at least below 18º Celsius.
The Race Face Ruxton pants and shorts arrived in May. I haven't had a chance to test the pants in the cold and wet but I have worn them in all other conditions on sixteen rides, even a dry 20 Celsius day. The Ruxton shorts have had about thirty rides and are perfect for the hotter days. As much as I like them, I always wish it was cold enough for the pants. Each time I wear each of them I appreciate them more.
The features and my feedback for both pants and shorts
An external adjustable front ratchet closure with a flap opening instead of a fly. This area was one of my three complaints. To take a leak you need to press the two release tabs to open the ratchet strap then open the flap to get at your business. I am testing a pair of Royal shorts with the same ratchet but they use a fly. Turns out this century-old invention is handy but after a few tries I find the lack of fly an advantage. There is no need to fumble with the zipper while wearing gloves. The other issue I have in this area is the sizing. I am a 32/33 waist and the mediums were way too big for me. I fixed it by removing the threads on one side and flipping the ratchet closure and sewing it up. This extra inch fit perfectly (the title of your sex tape, like Jake from Brooklyn 99, I can't stop using this). For future Ruxton models I would recommend sizing an inch smaller.
DWR (durable water repellent) coating keeps some water out but heavy water from puddles and rain gets in eventually, especially in the crotch area. I would much rather have these pants on in the really wet days than any shorts though. Even with a soggy bottom they are still comfortable.
A stretch panel on the lumbar area and a stretchy 100% nylon material throughout make it a nice fit.
Laser vented front thighs for decreasing heat also help add a bit of stretch for extra comfort. The material throughout both shorts and pants has a stretchy comfortable feel.
A raised back panel with silicone gripper logos keeps dirt out and reduces drawer dropping. I also feel like this helps add comfort when I am wearing a hip bag.
Two zippered outside pockets are positioned well and sized just right, however, I would like an additional one on the back.
A hanging hook on the back comes in handy for drying both shorts and pants.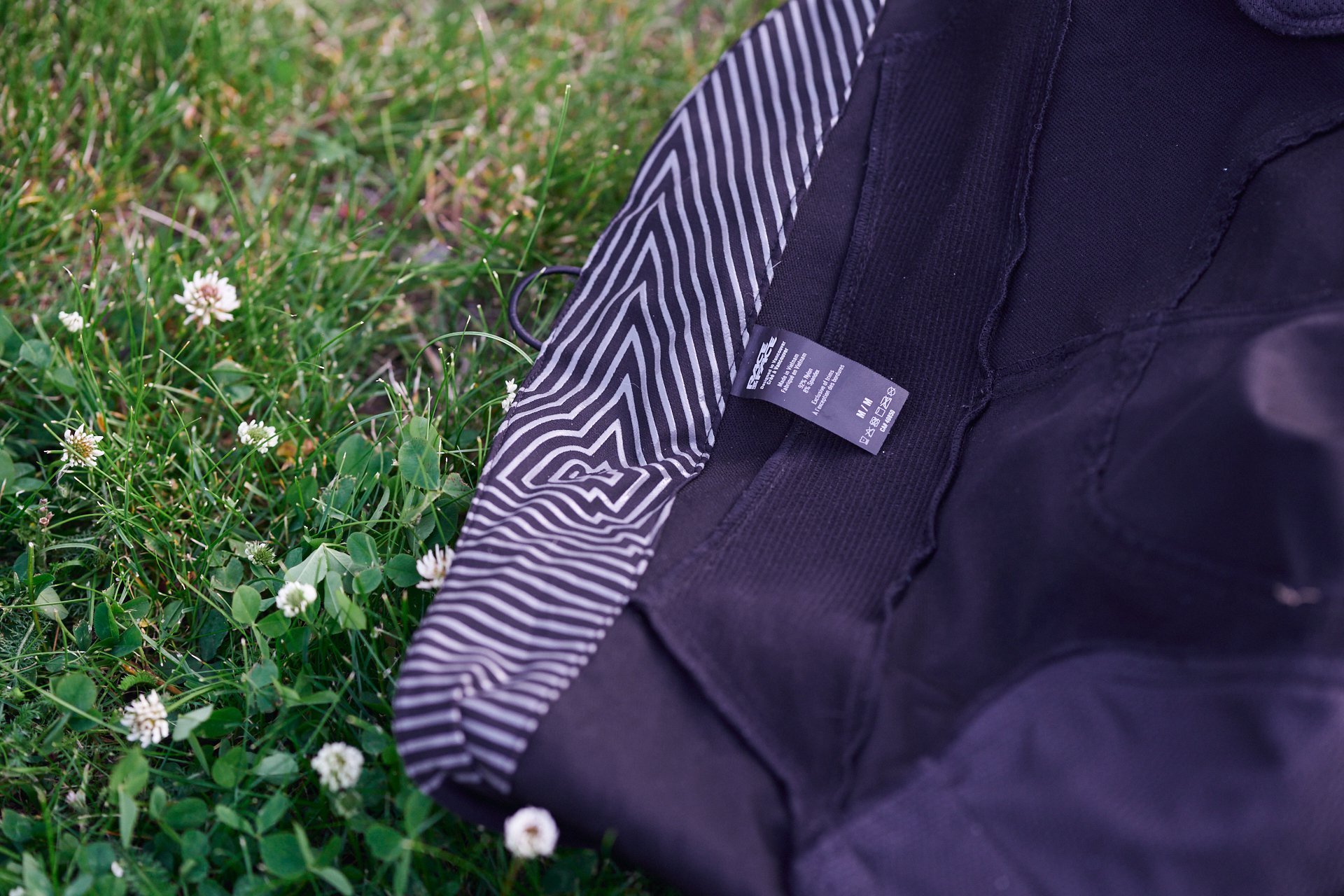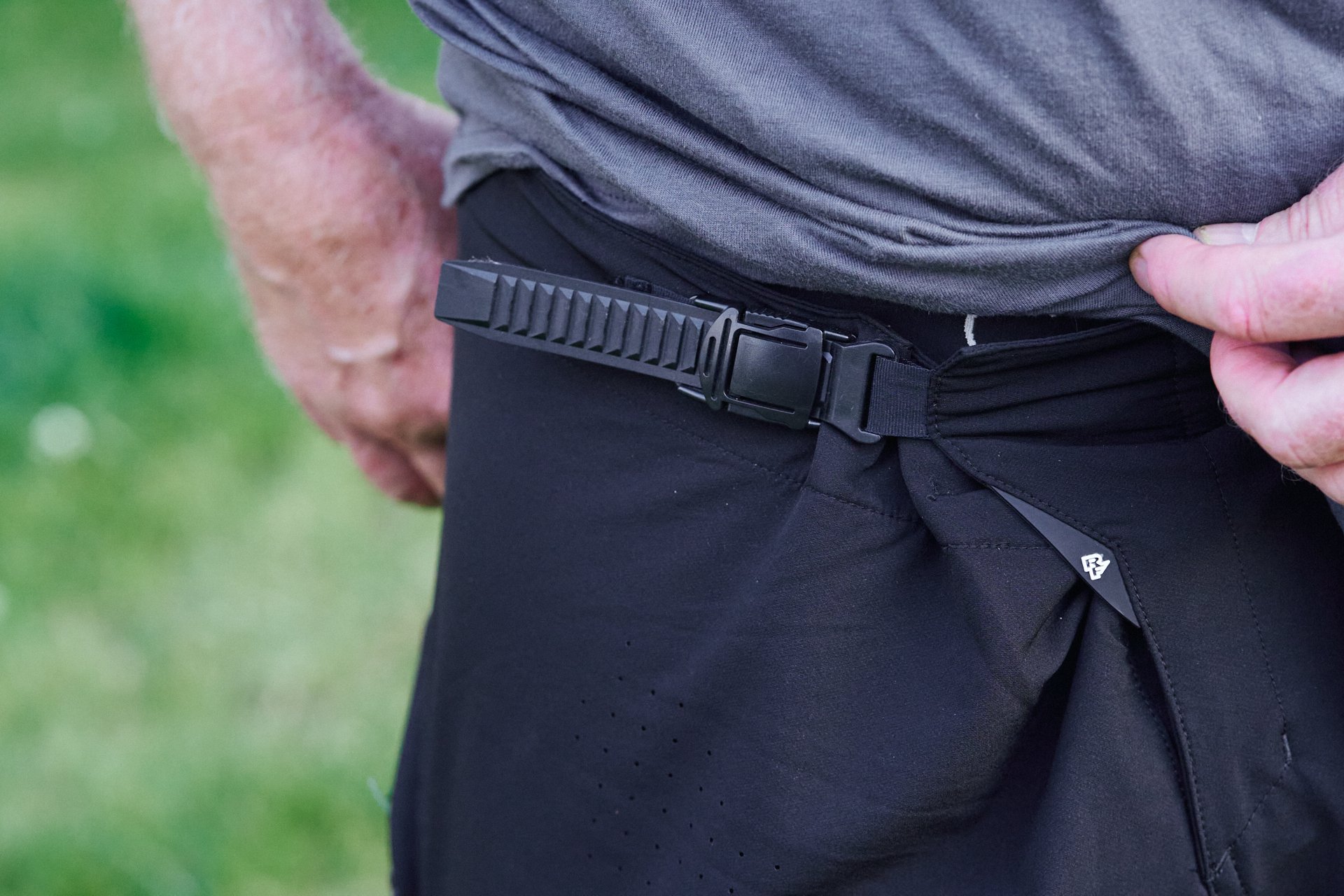 Just the pants
I like the way the angles are tapered but they are very tight and could use more stretch to get on and off. The knees are shaped to allow knee pads and I have tested them with lower profile pads like Shreds and RF Indys as well as higher profile thicker pads like Race Face Roams and POC VPD shells. The former two fit great but the latter two are pretty tight and make pedalling a bit more difficult. The Roam pads are not too restricting but the POC hard shells are so tight they cannot be used under these pants. I am testing a large and a medium Ruxton pant. The large are fine after my waist reduction sewing but they are kinda baggy. They do fit the POCs and Roams without a problem though. For me the ultimate pant would be the Ruxton with some RF Agent waterproofing on the butt and crotch, proper sizing, a little more room in the knee for bigger pads and a low-profile zipper from ankle to knee to allow for easy entry/exit and knee pad adjustment. However, I still like these pants as is. Honey, don't change, you are perfect the way you are (but those other improvements I mentioned would make me like you more).
Retail is $174.99 CAD
Just the shorts
Other than the slightly large sizing and a back-zipper pocket (I get it, they are DH shorts, they don't even need pockets) these are perfect shorts. They breathe well and do not cause excessive heat on big hot days with a lot of climbing. The stretchy fit is comfy, they cover knees well and they feel good on the climbs and the downs. Finally, they are thick enough that inner leg rub is not a problem on burly DH lines.
Retail is $159.99 CAD