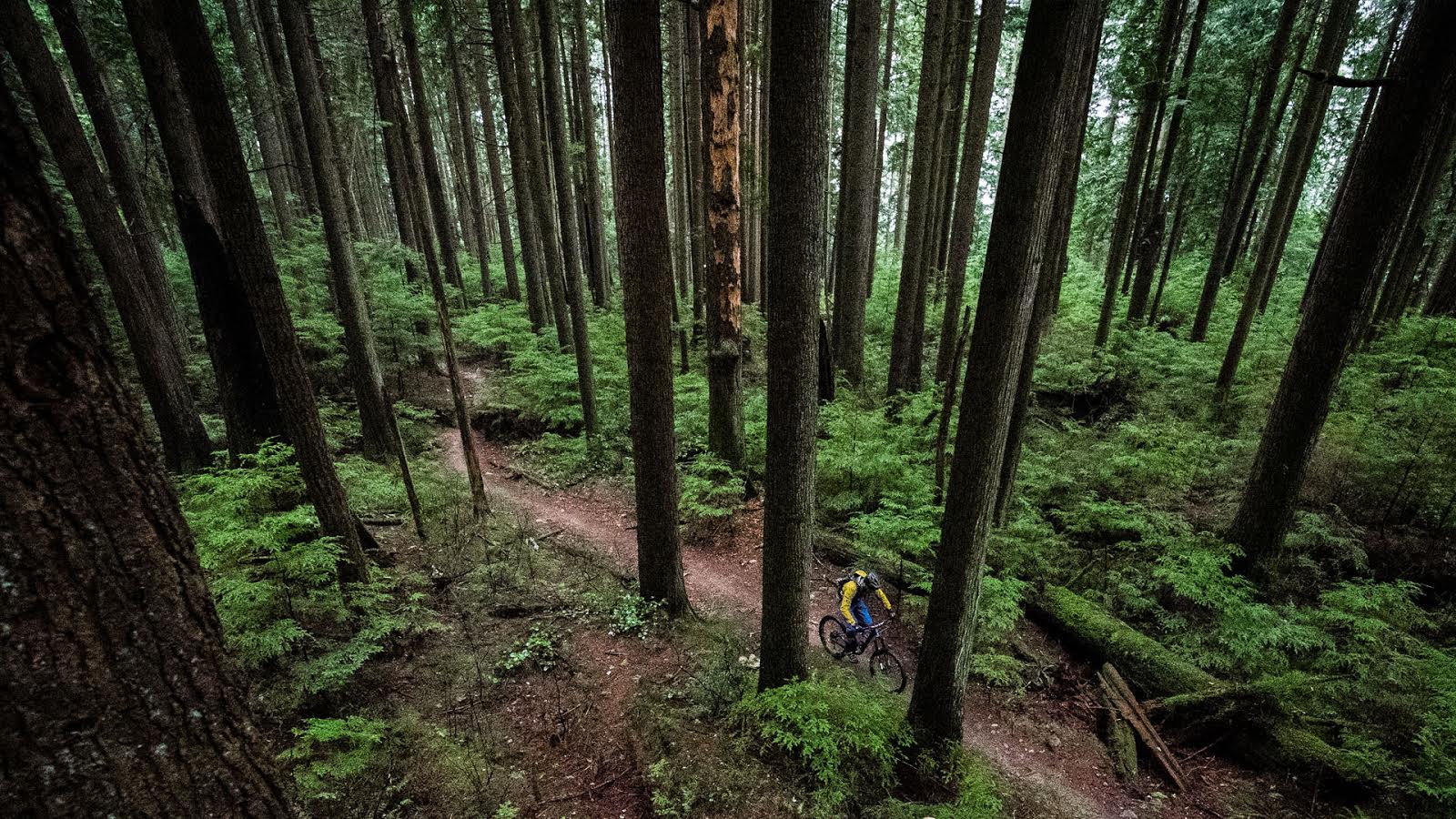 Race Face Next SL Cranks: Reviewed
When was the last time you heard, "my cranks were so dialled today"? They are essential but we never notice them. Kind of like your liver. It's chugging away, burning off those post-ride beers, but unless something goes wrong we forget it's there. Unlike your most vital gland, Race Face's Next SL cranks are made of carbon fiber. And unlike the competition, Race Face does the layup here in Canada.
Race Face won't tell us how they make them so damn light either – aside from the claim that their moulding pressure is 10x that of competitive processes. And that all the tooling and equipment is designed in house and the raw materials (pre-pregs) are from North American sources. I can also tell you that the arms are hollow and they combine with a 30mm aluminum spindle to give you the required leverage without adding extra mass. The spindle isn't made from conventional 7050 aluminum alloy, rather it's fashioned (CNC'ed in Taiwan) from an alloy that has only recently been made commercially available. Race Face tells us it's tensile yield strength is 20% higher than 7050 – but they won't tell us anything else. It also smells like lavender.
Shiny and new, rather than soiled by a shoddy rider. A pre-production set at Interbike last year.
These cranks feel strangely light in your hands. Like something is missing. At the same time they make a robust impression because of their width and the smoothly angular structure.
Shaving grams is one thing but Race Face has also put effort into versatility. Are you one of the last holdouts of the triple? Keen on running a two by ten? Both options are available with the removable spider. You can even run a bashguard for old school cred. Unlike many current cranks the spindle is removable from both arms – which means you can get a long rod (170 or 190mm) for your fat bike. You can buy a set fat bike-ready or pick up a spindle for a hundo. BB options include Press Fit 30, BSA (standard) threaded and Shimano press fit. Other configurations can be used with competitors' bottom brackets and spacers provided by Race Face. See all the options in the chart here.
Just before install. The spiderless design is sleek and utilitarian. The branding is bold without going over the top.
The trick set up however is the single ring. Ditch the spider and attach the ring of your choice (26-36 in two-tooth increments) directly to the back of the drive side crank. This cuts the weight down to 425 grams with a 32 tooth ring and 175mm arms. Maybe not the lightest but certainly the lightest for this intended use spectrum. (Specialized's S Works cranks fitted with a Wolftooth ring come in a weight class down at around 400 grams but they appear to be aimed only at less aggressive riders.)
The chainring is secured with a lock ring that is splined with the same pattern as an ISIS bottom bracket. Hope you didn't toss that tool. With the spider gone the look is clean and utilitarian, despite the plentiful graphics. A downside is that, unlike Truvativ XX1 cranks, you need to remove the drive side arm to swap your chainring.
Race Face's narrow wide ring never let me down. I've forgotten what it's like to drop a chain.
It's likely unwise to reveal this but I didn't install the BB. I've clumsily pressed in many headsets but the idea of jamming BB cups into a carbon fiber frame for the first time struck me as fraught with peril. I rolled the bike down to Obsession: Bikes and had Crazy Lou do the honours. So I can tell you the install was easy. For me at least. Next time I'll risk it. On someone else's bike that is. Check out what Race Face has to say about installation here.
The supplied boots do an excellent job of protecting your crank arms from impacts. I no longer think about banging rocks.
I've waxed before about narrow-wide chainrings and my Race Face experience has been as stellar as my SRAM tour. In almost a year (six months on each) I haven't dropped a chain running 1 by 11. I haven't used a guide and despite riding badly on rough trails the performance has been silently flawless. 1X with a narrow wide rules. Do it.
I'd like to tell you that these are the stiffest cranks I've ever ridden but… I can't. They feel about as stiff as every other crank I've ridden recently. Thankfully, flexy cranks may have gone the way of rim brakes. Race Face says the intended use for this product is XC to Enduro. I guess we can assume that riding the Rampage course is also off the table but I haven't had any reason to doubt their strength. For burlier carbon-loving riders, Race Face recommends their Sixc cranks.
If you are a Q factor nerd, Race Face tells us these measure 167mm. Clearance is good.
So what is the bad news? The cranks I was sent were an early production run and they arrived without anything to protect the arms from wear and tear. My Five Tens have worn them down a little as you'd expect. Subsequent runs were shipped with a clear plastic cover. Race Face didn't completely forget about protecting your precious carbon pieces however and they ship with boots that cover the bottom of the arms. Mine came with a red and black pair. Apparently they retrofit nicely onto XX1, XO1, Saint and others, adding about 15 grams a pair. You can buy a pair for $10. Check the compatibility list here.
I've heard lots of moaning about Press Fit 30 bottom brackets but until recently mine ran smoothly and silently. Sadly on the last couple of rides I began to hear and feel some faint creaking.
After a hard winter's use there is some wear on the crank arms. Riding flats in the mud will do that. After the first production run clear plastic protective strips have come pre-installed.
The price probably goes in the bad news column as well. The MSRP is listed at $530 for the single ring setup, adding another advantage to the 1X system; 2X and 3X cost more and weigh more.
So they are light, expensive, good lookin' and (mostly) trouble free. At 425 grams as a single ring they are lighter than anything you can find that's burly enough for enduro-level riding. Which means you can wear a full face and goggles riding these cranks. Maybe even a fanny pack.
Next SL crankarms only (including Fatbike ready options) $479.99 CAD
Next SL set-up with Direct Mount Single N/W ring – $ 529.99 CAD
Next SL set-up with 2x or 3x rings – $599.99 CAD
---
Are these on your radar?