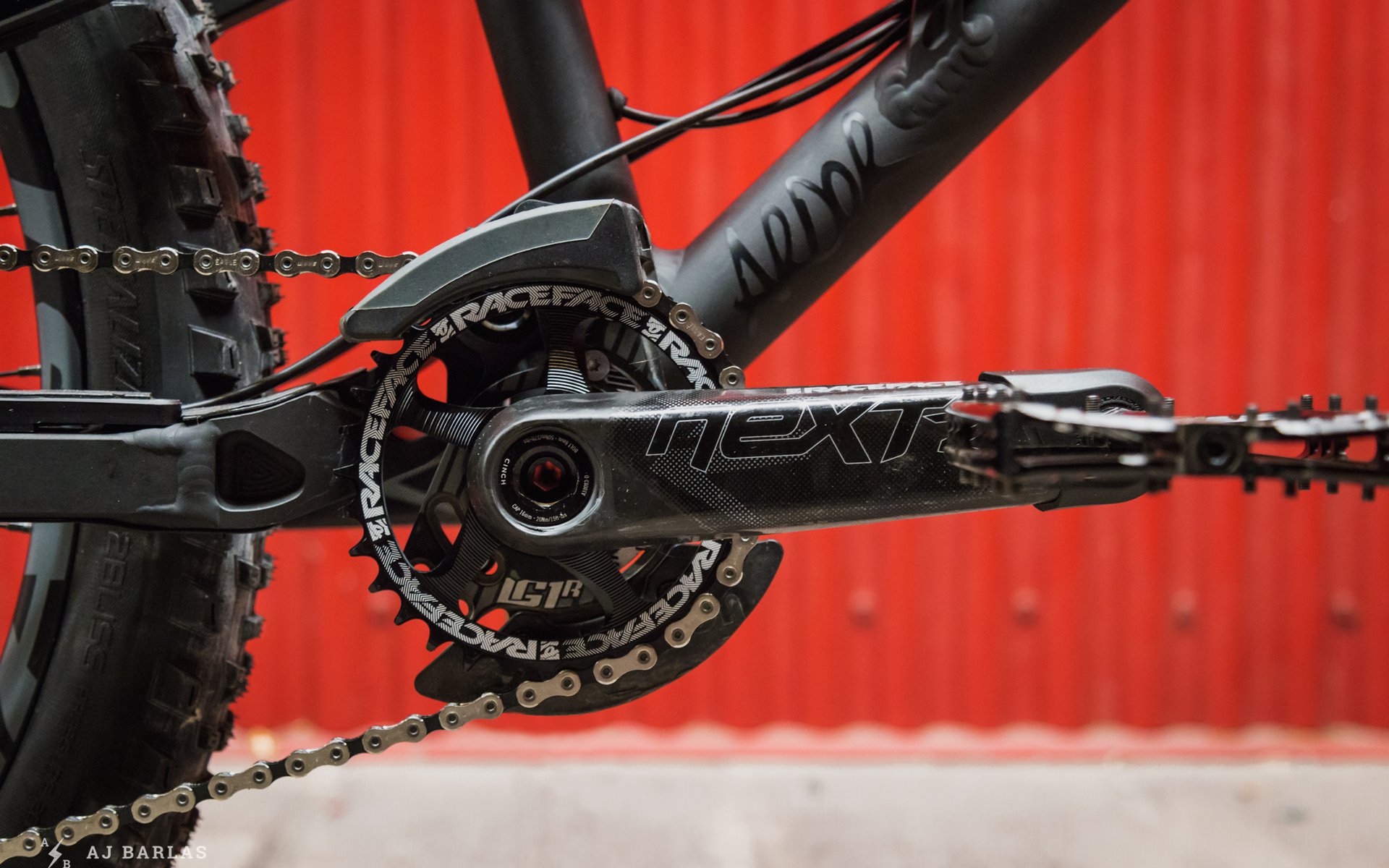 Long-Term Review
Race Face Next R Carbon Cranks Reviewed
Race Face's Next R cranks fill the aggressive trail/enduro segment of their impressive lineup. Built to take punishment, these are available in a wider than usual variety of sizes, including a spindle width suitable for an 83mm BB. Great news for me because the GeoMetron G16 build that these immediately joined features the DH width bottom bracket.
Features:
Spindle Sizes: 30mmx134 (68/73mm), 30mmx170, 30mmx190

Chainring/Spiders: 104/64mm (boost option available), 120/80mm, Cinch Direct Mount

Replaceable/upgradeable spindles

BSA (Threaded), BB92/BB107 and PF30 bottom bracket to suit 68/73, 83mm and 100mm

Weight: claimed 495g w/ 32t direct mount chainring

MSRP: 479.99 USD (cranks only)/549.99 USD w/ chainring
If you ask Race Face, they make it clear the Next R cranks are ready to take what you throw at them but I was apprehensive when the test opportunity presented itself. A couple of issues I've had on different carbon cranks have created a sense of caution. Thankfully I caught these problems before disaster struck but I continue to choose alloy cranks. These experiences led me to stretch this test to six months to ride them hard enough to properly test the durability of crank arms, bottom bracket and fixing pieces.

Race Face crank installation is simple. The spindle is attached to the non-drive side arm but can be removed completely and replaced for a different size if needed, self-extracting arms mean you can throw out your crank puller, and the direct mount ring mounts like a charm.
Ride after ride, the Next R cranks remained solid, providing a firm feel and doing the job without being noticed. They're without any of the quirky bits and bobs that require constant checking and maintenance and I've never noticed them as a result. Their light weight is the only noticeable thing, but once on the bike, that too was less apparent (unless you're replacing a heavier crank on the same bike. In this case it was a new build).
When I decided to wrap the review I was very impressed. The cranks had been subjected to lots of proper shitty conditions, great conditions, mellow terrain and the roughest stuff I could find. They've been ridden from Pemberton to Santa Cruz and have done everything without the slightest complaint. Not a single creak or squeak. This with zero maintenance since fitting; replacing a chain is the closest service that came their way.



When the time came to finally pull the cranks from the bike everything came apart with ease, much to my surprise. Removing the non-drive side crank and the attached spindle was the biggest revelation. After the kind of use and duration the Next R cranks have endured I often find corrosion where the spindle contacts bearings, but that wasn't the case here. The bearings remain incredibly smooth and everything is relatively clean in the BB. Needless to say, the Race Face bottom bracket and cranks seal very well.

Unfortunately, not everything was perfect. Once the non-drive side arm was removed, something caught my eye in the shitty light of my overcrowded garage. Running my finger across the area, I confirmed that it wasn't the light; there was a crack in the back of the arm. Closer inspection of the driveside crank revealed a similar, though less defined crack. Images were sent to Race Face and I awaited feedback. After a discussion with the engineering deparment it was confirmed the cracks surround a plug placed during the finishing process, and while these were cosmetic, Race Face replaces cranks with this issue.



We use a plug to cover an access hole in the back of the crankarm that is there as part of our carbon crank manufacturing process. After the plug is installed, decals are applied and a crank gets a final clear coat finish. Under load and flex, which is normal, on occasion this joint between the plug and the crank can appear. This action would cause an appearance of a 'crack' on the back of the crank; this is not a structural concern and will not affect the cranks performance in any way. Although a cosmetic issue only, it would be something we would cover under our warranty policy if a rider is not content. We are always working on production and design improvements on these products. Our goal is to lessen and eventually remove the chance of this issue occurring on future Race Face carbon cranks that are proudly produced in our Burnaby, B.C. facility. –Race Face

Discovering cracks was disappointing after being so impressed with the Next R cranks' performance. Race Face is positive the cracks are cosmetic, have no effect on structural integrity, and there is nothing to fear if you keep riding them. They claim testing, which surpasses industry standards for strength and fatigue, is performed without the plug in place. Despite this, if you're not comfortable with the cosmetic cracks, Race Face will replace them.
Aside from the cracks, the Next R cranks were sensational, all with zero maintenance and lots of hard treatment. The usual scuffs from trail debris are present but they've been problem free. Nevertheless I'll be sticking to alloy cranks after this experience. Peace of mind is important when hammering on your parts and for me that comes with a pair of alloy cranks taking all the hits and stress from regular riding.
To check out more details on the Next R cranks, head to the Race Face website.

---