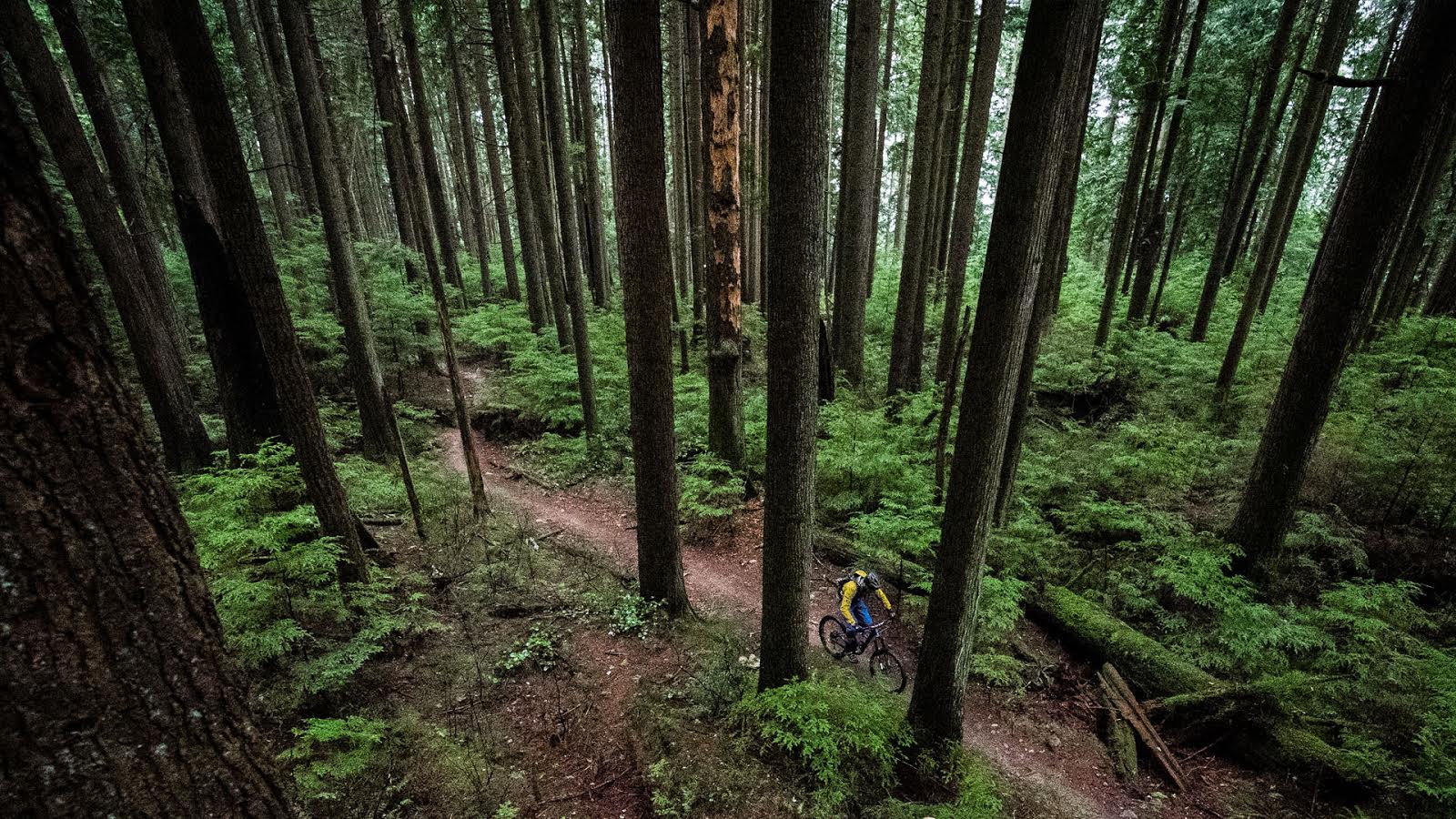 Race Face Narrow Wide 30T Ring and Bash Guard: Reviewed
One-by drivetrains – 1 x 11 or 1 x 10 being the most common configurations – are the latest and greatest thing in the world of mountain biking if you believe the hype, thanks in large part to SRAM's 11-speed drivetrain system and aftermarket 42-tooth cogs from companies like OneUp and Wolf Tooth. The benefits of a one-by drivetrain are pretty obvious: fewer moving parts to cause problems, and a lighter bike after you remove the extraneous parts.
The Race Face Narrow Wide ring's I-beam construction saves weight while maintaining strength.
Plenty of people have been running some version of a one-by drivetrain for years. I joined this club when I decided to see just how strong my legs were last summer with a 32 x 36 10-speed middle ring and big cog combo; I simply pretended that the granny ring wasn't there, rather than actually removing it. (The whole thing was about 80% HTFU and 20% laziness.) The idea of ditching the granny ring and going with a purpose-built single front ring really took on a life of its own, however, with the introduction of SRAM's 1 x 11 drivetrain system.
One of the central elements of SRAM's new drivetrain is the narrow wide chainring. Narrow wide rings refer to the tooth profile on the chainring, which (shockingly) alternates between narrow and wide teeth. The wide teeth are designed to hold the chain more firmly in place than narrow – what used to be normal – teeth on rougher sections of trail, thereby eliminating the need for some sort of chain retention device. Other companies decided that they could make a narrow wide ring as well and that they should tap into the burgeoning demand for one-by drivetrains, hence a wave of narrow wide chainrings hitting the market in the last year or so.
The 30T ring is threaded internally and these threaded bits are shouldered to hold the chain away from the crank spider tabs.
Race Face, the resurgent (and perennial) local fave, decided to use its experience turning out chainrings to step into this new market and produce high-quality, visually and technologically appealing narrow wide rings. Race Face's new ring is machined from 7075-T6 aluminum in an i-beam configuration to minimize weight while still transforming rider input into forward motion without flex.
Narrow wide rings from Race Face come in 30, 32, 34, 36 and 38-tooth sizes for four-bolt cranks, with weights ranging from 37g to 57g. They're compatible with 9, 10 and 11-speed drivetrains, so you can benefit from the technology regardless of whether you're (relatively) old school or cutting edge with your drivetrain. Bolt holes on the 30T rings are threaded so they can be mounted to the crank spider with just a single bolt rather than a traditional male and female bolt set.
I picked the small 30T ring with the intention of ditching a modified 3 x 10 set-up –with bash guard, 32T / 24T chainrings and a 12-36T cassette – and setting up a 1 x 10 drivetrain that will work for just about every riding situation I'm going to come across. (I've ridden a few bikes with a 42T cog since I installed the Race Face narrow wide ring, and will likely be adding the monster cog sometime soon.) Race Face has a great selection of coloured parts, and the narrow wide rings come in red, green, blue, black, orange and purple. I went with basic black. Dull, perhaps, but easiest to coordinate with a black and gold bike.
A black bash guard was paired with the ring to help keep that beautiful ring and my expensive chain intact.
The Install
Installing the narrow wide ring was dead simple, with one minor caveat. Some people run a single front ring without any sort of bash guard, but I'm choosing to buck the trend and run one. There are enough logs and rocks on the trails I frequent that it makes it worthwhile. I seriously dislike getting hung up on an obstacle or mashing my chain rather than sliding over things like you do with a bash guard in place. That all meant the short chainring bolts designed to be used when the narrow wide ring is run on its own were too short. Fortunately, my spare parts box had plenty of bolts long enough to work.
The Race Face aluminum bashrings themselves benefit from CNC profiling to eliminate unnecessary weight, resulting in a small-sized 32T bash guard weighing in at 50g; the 36T version is 95g. Colour choices include red, black and blue.
Most users will install the ring with a guard. You can see how the chain would hit the spider tabs if not for the shoulders on the ring. Please note that this photo was taken for example purposes only and single rings should be mounted on carbon cranks using a set of Race Face's Chainring Tab Shims under the heads of the bolts seen here. As this setup was intended to be used with a bash from day one, we didn't have the shims on hand.
Following the basic black theme, I chose a black bash guard to go with the black narrow wide ring. The Fat Tab version I'm running is compatible with cranks that have 4-5mm chainring tabs (cranks like Shimano XT or XTR, or the Race Face SixC cranks I installed). The 32T bash guard provided adequate coverage for the 30T ring, without too much extra aluminum protecting a whole lot of nothing.
As you might imagine, the biggest part of the install was removing everything else that suddenly became superfluous: front shifter, housing and cable for the shifter, front derailleur and a Blackspire Stinger chainguide. I also ended up switching from Shimano XTR cranks to Race Face SixC cranks, which only seemed fitting given then ring and bash guard combo. It also saved me from having to pull the rings and bash guard off the XTR cranks. Score one (more) for laziness. I didn't change the XTR chain, cassette or non-clutch rear derailleur.
Installing the Race Face Narrow Wide ring and bash guard on their SixC cranks.
Total weight savings after ditching the extra parts was 360g, plus another 100g for switching from XTR to Race Face SixC cranks. Subtract another 45g going from a large bash guard to a small one and about 25g for the granny ring that I dropped and you're looking at a total weight difference of over 520g. Even without the crank swap, you're still losing almost a pound.
Performance
Reviewing a chainring isn't exactly the most complicated thing in the world, even if it is narrow wide instead of old school skinny skinny. Does the chain stay on in the absence of a chainguide, or not? Hell yeah, it stays on. Zero dropped chains since the switch. Does the ring feel flexy when I stand up to hammer? Nope. There's no shifting, so there has been absolutely no consideration on how the ramps pick up the chain. Zip. Zilch. Now, the bash guard. Did it protect my fancy new chainring and corresponding chain from rocks, logs and other nastiness? Yup. Did it bend after a hard hit or two? Nope. That did its job, as well.
There were two things that I was curious about going into this little project: whether the 30T ring would make it possible for me to climb everything I wanted, and whether I'd be dealing with a lot of chain slap after ditching the chainguide.
The new setup, ready to go on the bike without a clutch derailleur.
First, the switch from a 32T to 30T chainring. I'm not sure whether it was losing two teeth, or more than a pound of weight off the bike or some combination of the two, but I do know that I was able to climb the same hills with less effort. That's a win in my books, whatever way it came to be. It's worth emphasizing, however, that the 30T ring is NOT the bailout gear that a 42T cog gives you. It's an incremental change rather than a whole new world of climbing possibilities.
Second, chain slap. I ride big (ring) / big (cog) a lot, so usually run a slightly longer chain and deal with any extra play by installing a chain tensioning device. It's not the quietest system, but it works for my riding style. I didn't take out any links when I switched from a 32T to 30T ring, and didn't find that things were markedly noisier. A little? Perhaps. A clutch rear derailleur isn't necessary but it would probably quiet things down a little bit. I will likely switch from a standard rear derailleur to a clutch at the same time that I add a 42T cog.
Installed and functioning, even without a clutch, to the tune of a 520 gram savings.
All in all, I'm glad that I changed over to the new narrow wide ring and bash guard combo. Lighter, easier climbing, a cleaner look, fewer moving parts on the bike and protection for the new ring are all good things. The 1 x 10 set-up is definitely worth exploring if you're interested in making your life easier on climbs without forking out the extra $200 or more that it will cost you for a 42T cog and clutch rear derailleur – on top of the cost of a narrow wide ring and bash guard.
---
The fact that Stuart's had success without a clutch derailleur is a testament to the narrow wide phenomenon. And almost a pound off the bike? That counts.