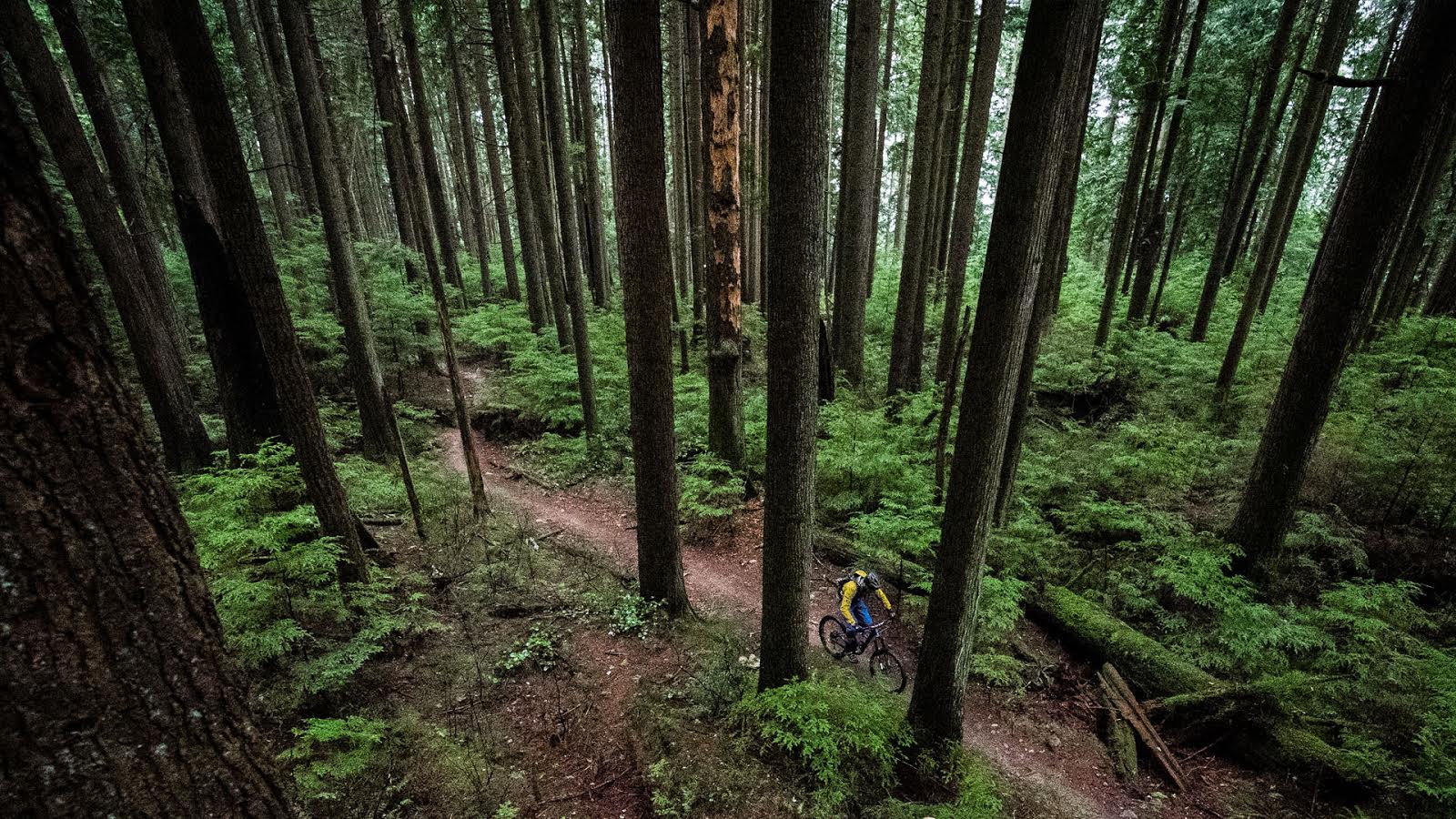 Race Face Flank Leg Pads: Reviewed
I realized some time ago that I would have to give up my childhood dream of becoming a shin model. I would never be one of those guys you see with the bronzed, semi-toned and smooth shins modeling khaki shorts or deck shoes. Too many years of riding (and crashing) bikes has turned the front of my legs into an unruly patchwork of scars.
I can deal with the cuts and scrapes, but I was getting seriously tired of the repeated hits to parts of my body that just don't have any padding. My shins have got nothing going for protection. Zip, zero, zilch. Couple of layers of skin over bone, and that's it. And when you keep hitting the same area time after time, it gets pretty sensitive.
So began the search for a pair of shin pads that didn't make me look like I belonged behind home plate on a baseball diamond. I wanted something that provided knee and shin coverage (I'm not a dirt jumper, so knee pads were out) but wasn't full length, wasn't hard shell, and wasn't going to move around. What I came up with was the Race Face Flank leg pads.
The Race Face Flank in all its D3O glory…
The Flank legs take Race Face's proven Ambush knee pad design, which uses D3O™ shock absorbing material (technically, a non-Newtonian fluid) for knee protection, and extend the pad down the shin without turning them into full-on leg pads. Foam on the shins and a few key spots on the side of the leg provides additional protection from pedal strikes and trail obstacles. All of that makes for a set of pads that keeps your knees and shins safe from hard impacts without a lot of bulk or a stiff exoskeleton. (For those of you not sure whether D3O is up to the test for mountain biking, check out this video. It's quite amazing)
Terry cloth lining on the inside of the Flanks provides some wicking and a baby-smooth feeling against your skin. Perforated neoprene backing is intended to help the pads stay in place while offering some breathability. Two sets of straps with hook-and-loop closures, one to hold the pads closed and a second to keep them in place finish off the package.
That baby-smooth interior…
One of the best features of the Flanks is that they're open backed. In other words, you don't need to take off your shoes to put the pads on. It does however, take away that opportunity to stand around with your knee pads around your ankles and look like a rock star. I will, however, get over that.
Sizing and construction
Sizing for bike gear is a real pet peeve of mine. Some things are stupidly undersized (XLs that fit more like mediums???) while others are far too generous. The Flanks flirt with the latter: at 6'4″ with reasonably muscular legs, I found myself swimming in a size XL set of pads.
Once I made the switch to a size L, things were solid. The pads cupped my knees, were long enough on the front without running into the top of my shoes, and provided adequate coverage for the sides of my leg. There isn't a ton of coverage for your calves, but they generally don't take too much of a beating.
More than enough protection where you need it.
The straps, however, were stretched to the max for the first few rides. That, in turn, made the pads fit very snuggly. Thankfully, they did relax somewhat and were appropriately snug after that. There was a second minor issue with the straps: the sheer number of them. There are six straps per pad (12 total), and one set of straps would often get caught up in, or cover up, the other when I was gearing up. It wasn't major, but did take a bit of wrangling to sort things out. It would be nice to ditch the middle closure straps, at a minimum.
Construction on the Flanks is solid. The main seams are straight, the pads are sewn with durable threading and the rubber grab tabs are still holding solid after a few months of use. Quality control appears to be good as well: there were no loose threads when I took delivery. I haven't thrown the pads in the tub for a good soak, but all indications are that they should survive the wash process without any issues.
Riding
Robbed of the opportunity to cruise around with my pads around my ankles, I was left with two options: start the ride with the Flanks already on, or strap them onto my pack and gear up when the time was right. Because I'm a conscientious product tester, I did both.
First off, climbing with the pads on… I pedaled the seven-ish kilometers up to the top of Fromme a few times during the test period. The Flanks held tight for the whole trip, and didn't squirm around or make pedaling difficult at all. One small readjustment at the very top of the climb and I was ready to head downhill, shins and knees safely protected from abuse.
I generally forgot that I was wearing the Flanks on the climbs, except for a few moments when things got a bit toasty. The perforated neoprene isn't exactly breathable, but when combined with the terry lining and the open back, it does make the Flanks bearable. They will, however, be warm on a summer day. There's no getting around that.
Climbing with the Flanks strapped to my pack would be the preferred option, but not every ride works that way. Some riders will also want to start out technical XC rides already geared up, and the Flanks are very well suited to those sorts of riding situations.
All geared up and ready to ride. Photo: Julie Kozier.
Gearing up at the top of the climb was a straightforward process thanks to the open back design. No more taking shoes off or getting the inside of the pads dirty from pulling them over your shoes. As I mentioned above, a whole bunch of hook-and-loop closures can make for some fumbling, but it's a small price to pay.
The snug straps meant the Flanks stayed firmly in place when I got rolling on the trail. They didn't move around while I was pedaling through sections of rolling singletrack, hammering up and over obstacles or cruising down rock faces. They required almost no adjustment over the course of rides that lasted a couple of hours when compared to other pads than seem to have some sort of inherent objection to staying in place when you do something like, oh, actually pedal your bike. It was almost shocking how little I had to adjust the Flanks.
Crashing
The whole point of wearing pads is to protect your knees and shins when you crash, so were the Flanks up to the test? The short answer is yes. I didn't have any "holy crap, call the ambulance" crashes during the test period, but there were a few solid get-offs, times when I ran one leg or the other into various trailside debris, smacked my knee on the bar / stem / shifters and had a pedal fly backwards to catch me in the shin. All with zero damage. Nada.
And unlike a lot of other pads that seem to run for the hills in the face of danger (how many times have your pads moved right out of the way during a crash?), the Flanks stayed in place when I did have get-offs. The combination of the well-shaped knee cup, the neoprene backing and the slightly-tight straps held them in place when things got rough.
As far as crash protection goes, I'm sold on the Flanks. Without a doubt.
Overall
I really liked the Flanks. The fit was initially too snug, but that improved after a few rides, and I think that snug fit helped the pads stay in place. They were warm on some longer climbs and will definitely get you sweating on a hot day, but you're going to be really hard-pressed to find protective gear that's well ventilated.
The Flanks protected my knees and kept my shins safe, the D3O worked as well as advertised and the open back concept for both breathability and ease of putting them on sealed the deal. I know that they're a great choice for the Shore and more all-mountain oriented rides, and I'm looking forward to trying them out at the Whistler Bike Park.
All in all, the Flanks are a great set of leg pads that protect your legs and stay in place while you pedal your bike. Hot damn.
---
Sleek AND protective. The Flank is a definite contender for someone who needs a "do-it-all" set of pads…