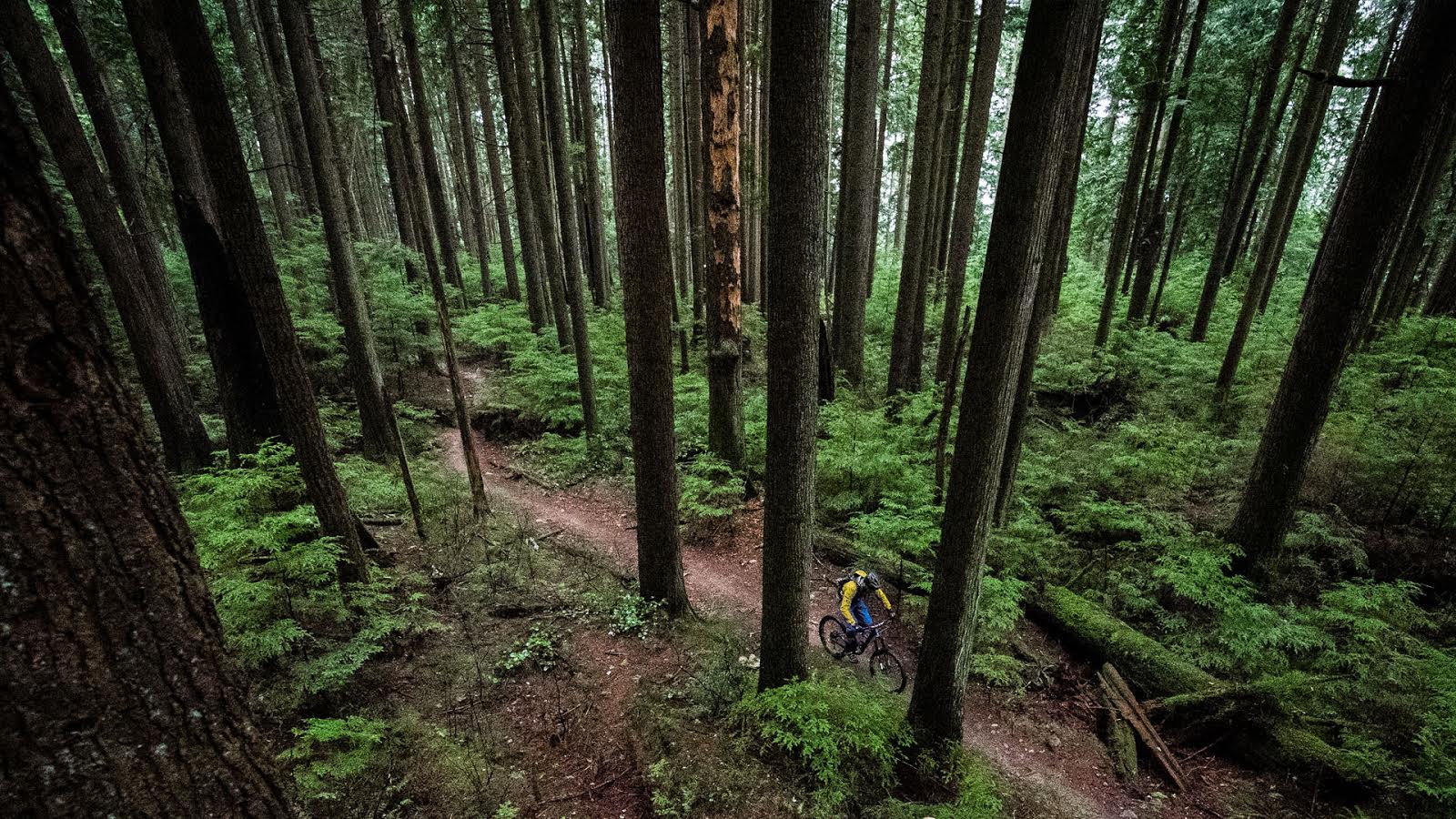 Race Face Chute Jacket: Reviewed
Our sport is gear intensive. Even the most minimalist of riders include a good riding jacket among their must-haves, along with bike, helmet, and shoes1. Dealing with heavy rain is far more challenging than the cold – it is easy to make a garment waterproof but breathability is always a challenge. No matter where you live, if you plan to ride as much as possible, a good riding jacket will do more to encourage you to get out the door than any other piece of gear when the weather gets nasty. Some riders refuse to ride in more than a drizzle, so a lightweight jacket that folds down into the size of a grapefruit is all they carry. But if you take that attitude in the Pacific Northwest, you're going to be riding the couch a lot, so opt for something more substantial if you don't want to cut a ride short when you get soaked. Race Face's Chute falls into that category.
This is rain jacket territory.
---
The Little Black Dress
Words by Pete Roggeman
The Chute's construction is 3-ply, which is another way of saying it's got the look and feel of a serious jacket. The 3 layers consist of an outer called Storm Lite fabric with a water-repellent finish, laminated to a middle layer featuring a water-proof/breathable membrane, backed by a lightweight mesh which is the layer you see on the inside of the jacket. All seams are taped and the pit zips and internal MP3 pocket are welded (more indicators that it's ready for serious duty). The two side pockets are fleece-lined to keep hands warm and, like the main zipper and pit zips, the pulls are easy to use with gloves on (the pit zips stick sometimes when you try to use them one-handed on the bike, but this is a common issue with waterproof zippers). There is a hood which will not easily fit over a helmet (making me question whether it needed to be added) and cinches down when not being used. A cinch on either side of the waist will keep the bottom snug (I found the fit to be tailored perfectly on and off the bike without cinching), and velcro cuffs do the same for your wrists.
The Chute's cut works well both on and off the bike.
All waterproof/breathable jackets fulfill the first promise better than the second. Allowing the vapors your sweaty body creates to pass through several layers efficiently is far more difficult than merely keeping water out, and any system is only as good as the weakest link. So if you have a good jacket but wear a substandard (ie. non-breathable) layer underneath it, or your jacket is dirty (dirt, grime, campfire residue – these all affect the membrane's ability to allow vapor to pass through), your system isn't going to work optimally. The Chute's water-repellent finish didn't bead water forever but the jacket has continued keeping water out, and breathes adequately. You will need to use the pit zips and let the main zipper down when climbing or working hard – but that's no different than with other jackets with similar construction and intended use.
Large zipper pulls and and a full collar.
Notably, the Chute is not as loud and crunchy as many other 3-ply jackets (in garment speak it has nice hand), which is a legit benefit when you wear it for extended periods. In fact, the Chute is so comfortable to wear that I reach for it often – even when I'm not riding. At first I wore it when running errands during typical Vancouver weather (grey, cool, drizzly or outright rain), but then, due to the Chute's understated but tasteful styling, I also threw it on when I was headed out to a work-related meeting. All of a sudden the Chute was the most worn jacket in my closet; every now and then I'd show up for a meeting with yesterday's muddy ride splashed across it as evidence that I was using it for double duty.
Two lined front pockets, and pit zips.
It was at this point that I realized the best compliment I could bestow on the Chute was to refer to it as a mountain biker's LBD (that's Little Black Dress for those of you that never watched Sex and the City, or hosted your own fashion show). The LBD is a staple of a woman's closet: the go-to garment for a party, dinner, or other occasion when the dress code straddles the line. For a rider the equivalent is the jacket you can always throw in your riding pack or take with you on a road trip and know you'll have something to wear out at night2 and not look like a wannabe-sponsored dirtbag (although if logos are your thing, the Chute Team has a larger Race Face logo on each shoulder and does look sharp, albeit more flashy).
Some abrasion resistance at the elbow as well as around the back where your waist strap sits.
My only complaints about the Chute are very small: I would like to see an outer chest pocket large enough for a phone, and the hood needs to be sorted out: is it intended to work over a helmet (and therefore needs to be cut larger) or not (and therefore should be detachable, stowable, or removed altogether). Neither issue prevents me from recommending it as a great all-round jacket for conditions ranging from downpours to moderate winter riding (not to mention the odd casual business meeting).
The Chute's hood falls short – too small to go over a helmet, and yet it doesn't stow away or zip off.
1Gloves, you say? Many riders don't bother. Hydration pack with multi tool, spare tube, chain breaker, food, pump, patch kit, etc? You can bring a bottle and let one of your riding buddies bring the rest, or skip the bottle altogether and dip your hand in a creek every now and again. It doesn't make you responsible or even all that well-liked, but it will have you fitting in with about half the riders in the Garbonzo zone at Whistler, stuck on the side of the Goat's Gully trying to bum a tube from a stranger.
2We're talking about the black version of the Chute here, naturally. The Safety yellow isn't as versatile off the bike, although it could be worn for a moonlight shift on a road crew or while changing a car tire on the side of the road in the middle of the night.
---
The Fluorescent Beacon
Words by Jonathan Harris

After the shock of the retina-searing fluorescent yellow wore off, I slipped off my trusty Raceface Aquanot jacket and tried on the Chute. Unlike Pete I won't be wearing this jacket out for anything other than sporting style endeavors – subtle it is not.
You won't be missed in fluorescent yellow!
I've had my Aquanot for a few years now and it has been my go to winter jacket. The Aquanot isn't without its drawbacks but it's a tough jacket that has stood up to the role very well. My main qualm about the Aquanot is that it is made from a pretty stiff and not super breathable material. Basically it is a bit "crunchy". The Chute isn't that. The material is lighter, even though it has added an extra 0.5 of ply to it – 3 versus the Aquanot's 2.5 – and it is more breathable.
The Chute's cuff straps are more traditional than the Aquanot it replaced.
The little things that irk me about the Aquanot have been addressed. The neoprene cuffs which got in the way are gone. The little flaps either side of the main zipper that occasionally got in the way of zipping the jacket up are gone. These are good things.
Sealed mp3 player pocket on the left side, and a huge non-zippered pocket on both sides.
Sadly the "gone" theme carries into some of the features I did like. The ability to zip the hood away into the collar was one of those, as was the ability to zip the jacket into its own pouch which made storing it in a pack just that much easier. Another big change is the cut. My Aquanot was also a large but the cut on the Chute has a more relaxed fit, so much so that I could probably drop a size to a medium. I'm also with Pete about the hood, not big enough to go over a helmet and too big without.
The small hood is one of the Chute's only real downfalls.
Still, a tough jacket that overall is well thought out and a good piece of gear for the biking wardrobe.
---
Considering Pete likened the Chute to a dress, and Jonathan will only ride in his, I think it's pretty clear who the "she said" is in this review… MSRP is $199 CAD / $189 USD.