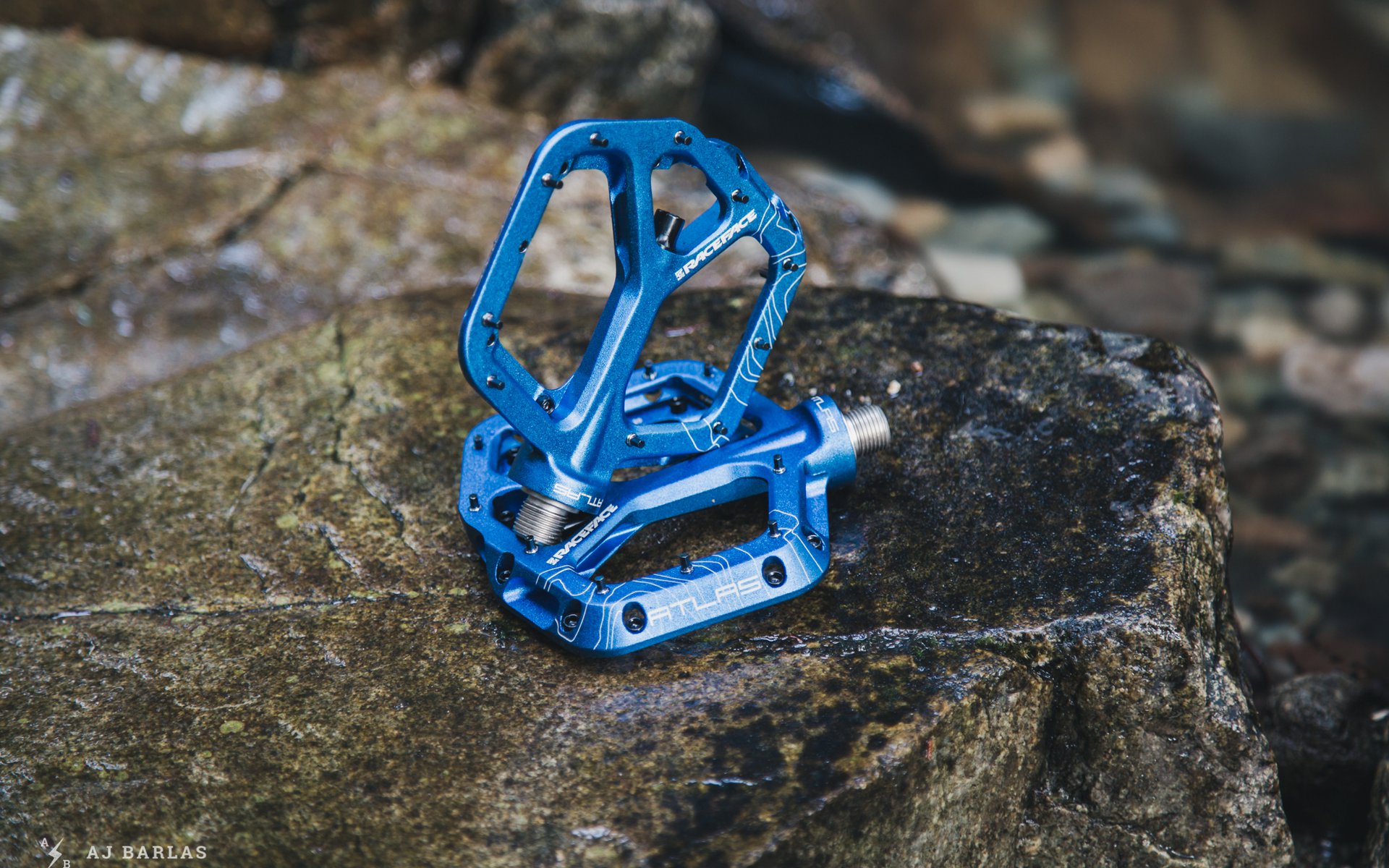 Two-Minute Reviews
Race Face Atlas Flat Pedal Review
As flat pedals go, the Race Face Atlas pedal—their top option for those that prefer to skid about with free feet—is a feature rich choice that pits itself comfortably against other pedals at this end of the market. The pedal boasts a 114mm x 101mm platform which, on paper at least, matches up with other key, large platform pedals including Deity's T-Mac (measuring 110mm x 105mm) and OneUp's alloy option (115mm x 105mm). Likewise the 10 pins per side, sealed bearings—four in each pedal—and low profile clearly state Race Face's intentions.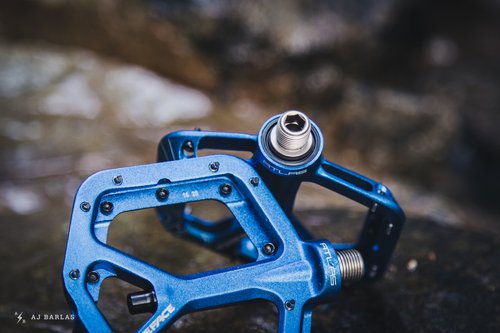 Highlights:
Reasonably thin platform w/ double concave profile

Four sealed bearings per pedal and no DU bushings

101mm wide x 114mm long platform size

Angled pins on forward and rear edges

Ten bottom loaded pins/side (20 pins/pedal)

Hidden pin with grease/access port

Heavily chamfered edges

Weight: 355g

Price: 180 US

Fully rebuildable 

The Atlas pedal features a double concave profile, something that some claim to be the holy grail of flat pedals. The concave profile of the Atlas is thanks to a 14.5mm outer edge that slims into a 12mm thickness over the axle which adds up to a 2.5mm concave. On paper, it's quite substantial, with only a select few other options providing such an aggressive cup to place your clodhoppers into. Where it may fall short for some is in relation to how this measurement is taken, with it appearing that RF do so from the tallest part of the pins to the centre, rather than the body of the pedal itself—the body shows little in the way of concave and not 2.5mm. The result? A less planted feel on the pedal than one that is a "true" 2.5mm concave. Nevertheless, it's still a reasonably positive feeling pedal.  

The Atlas pedal contains a fairly slender profile that does an excellent job of minimizing contact with obstacles while also being stout enough to can take some hits and still provide that concave. In addition to the slender shape, the chamfered edges of the Atlas pedal make sure that any contact with obstacles result in minimal energy transfer to the rider, keeping the loss of momentum at bay.  
The tapered shape of the pedal results in a smaller surface area to stand on, which makes the dimensions a little deceiving in reality. While the Atlas pedal provides ample traction when paired with Five Ten and Giro Jacket shoes, its listed 114mm length x 101mm width doesn't accurately portray the physical surface area, which is closer to 105mm x 101mm. The difference is small and the measurements are still plenty large, though worth noting. Shape is, within a range, more important than all out size when it comes to pedals but the Atlas pedal could provide a more planted feel with either less taper to the platform shape or some added width, effectively providing more surface area.  
With a size 10.5 US foot, coming from a squarer shaped platform like those of the OneUp alloy and Deity T-Mac mentioned, make the smaller surface area of the Atlas immediately apparent. However, the experience when coming from any other similarly shaped flat pedal, the DMR Vault, for example, is far more positive with the double concave and cleverly inboard angled pins at the front and rear edges of the pedal scooping and locking into the rubber sole of your preferred riding kicks with confidence. 
Where it falls short is in very rough sections of trail, where the less positive feel underfoot results in a ride that requires a little more finesse. Smaller feet need not be concerned; get wild and when making a mess of it tripod away to your heart's content, the surface area is large enough for slightly smaller feet to get back in place, comfortably. The shape and heavily chamfered edges of the pedal will also keep you clear of trouble better than the squarer shaped options available.  
The Atlas pedal is rebuildable, with Race Face offering aftermarket kits which, for about 49.99 US, will keep the pedals running for years to come. Pedal wear is inevitable, but don't think that the kit is to make up for a poorly designed product; the Atlas pedal will take a hiding and stand the test of time before needing its innards replaced. With an initial price of 180 US, the Atlas are clearly a top shelf selection and they stack up well with the competition in terms of features/price. The option to rebuild helps the pedal go that bit further, with the kit providing everything aside from the platform and a full set of pins; new axles, bearings, seals and some spare pins, all covered.