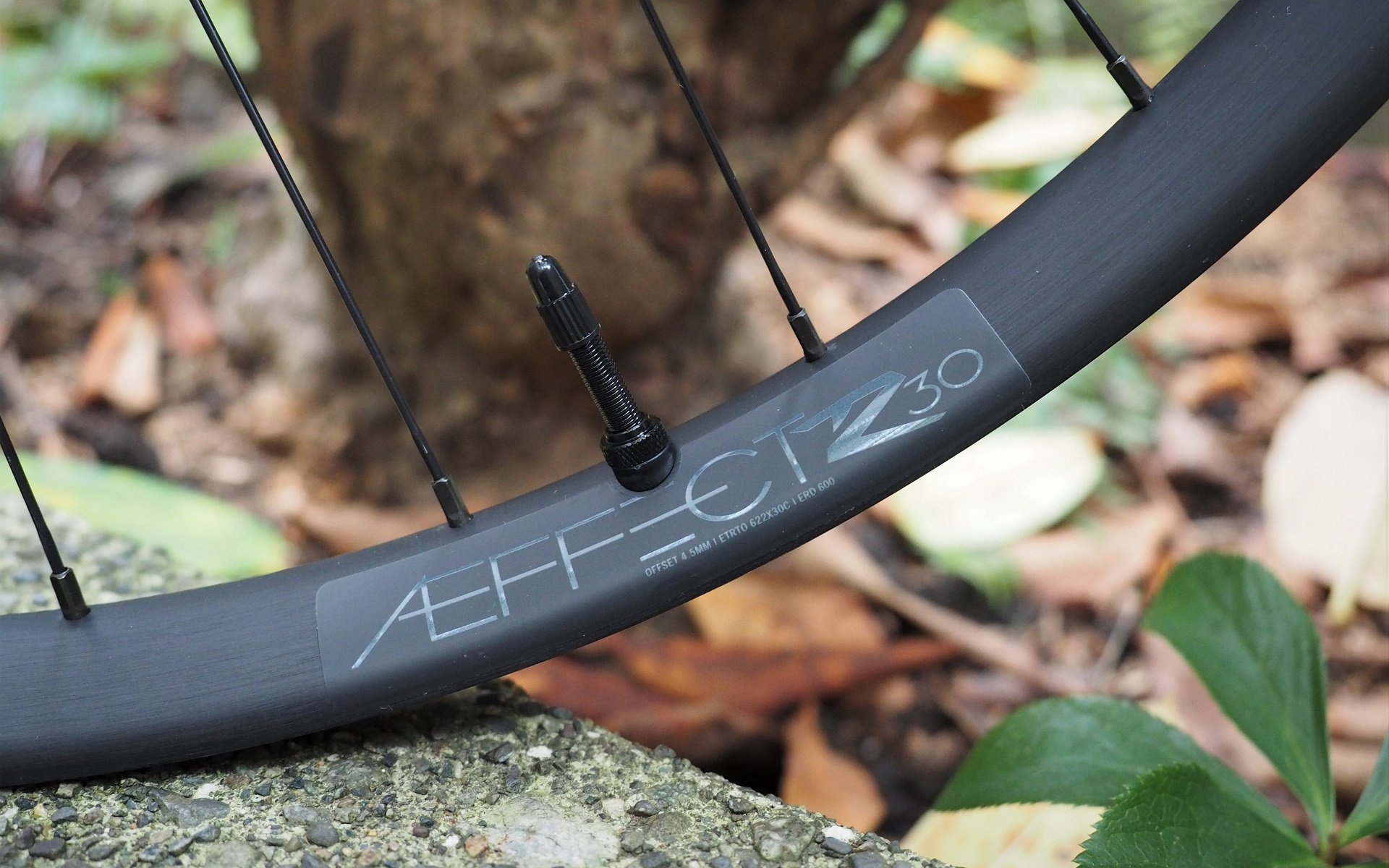 REVIEW
Race Face Aeffect R Wheelset & Trace Rear Hub
R Is For Ravenous
More than a pair of wheels, Aeffect R is a new wheel program from Race Face this year. The program brings to bear a whole array of options but to break it down simply, there are 28 hole wheels available with aluminum freehub bodies for HG, MicroSpline (MS), and XD. There are 32 hole wheels, which the marketing department calls 'e-bike wheels' that come with steel freehub bodies (same options as above). They all come with J-Bend spokes - because direct pull spokes can get bent - and the new Trace hubs deliver 10° of engagement. They use Sapim butted spokes - including 5 spares in the box, brass nipples, and the rim has an offset spoke bed for even tension.
I know that all sounds wildly boring, even to bike nerds, but there's a very interesting undercurrent to the amount of energy that Race Face is putting into this product and launch, especially if you read between the lines in their launch copy. Before I jump right in, my first impression of the Aeffect R wheels, as I pulled them out of the box, is that these mid-priced wheels look high end. Impressively so for a 600 USD | 775 CAD SRP wheelset.
A few words from Race Face:
"On many mid-range bikes, a common point of failure remains the wheels. Riders are frustrated by lost trail miles while their bike is stuck in the shop for repairs on sub-par wheels. With this gap in the wheel market in mind, we set out to create a hub and rim combo that offers category-leading durability and strength, to confidently take on the rigors of trail, all-mountain, and enduro riding. We are proud to introduce the tough on trails, light on price Aeffect R wheels, and Trace J-Bend hub."
Race Face is out in front but I would be shocked if the next few months didn't deliver a stack of new wheels with every brand pumping them under a similar tagline. They all taste blood in the water and they're ravenous. This is an indirect message to you, the rider, to consider buying a set of Aeffect R wheels for the min-maxed replacement of your sh*tty mid-level hoops but I think it's fair to say the intended audience is much smaller. And to product managers, "on many mid-range bikes, a common point of failure remains the wheels. Riders are frustrated by lost trail miles while their bike is stuck in the shop for repairs on sub-par wheels." You can also read that as 'why don't you ditch the DT 370 hub spec that more and more of your dealers and customers despise and run our great Aeffect R wheels instead?"
Like many brands before them, DT Swiss seems determined to tarnish the sterling reputation of their excellent, more premium, products. In this case by trading off the well-established, well-earned credentials of their Star Ratchet hubs by pumping out mediocre Formula 3-pawl hubs with the DT Swiss name on them. To make matters worse, at least the Formula versions use slightly larger drive rings so you don't need an 8-foot breaker bar for doing a simple bearing job. It's not that the 370 hubs haven't been around forever, they have, and it's not that they haven't had issues forever, they have. But, these days they are legion on bikes between about 4000-7000 USD that are being ridden hard and climbed in high-torque gears thanks to 50, 51, and 52-tooth cassettes.
The new Race Face Trace hubs offer easy tool-free freehub body swaps, but without the freehub falling off any time you have your wheel out of the bike. The steel axle, like Chromag's hubs is more durable, and uses larger ID hub bearings, and the drive ring doesn't need to be removed to swap bearings.
*Hayes, Avid, Schwalbe, etc
Race Face TRACE 36-point Hub
So the wheels look awesome, they use J-bend spokes, pricing is solidly mid-market at 600 USD | 775 CAD for a set with your choice of driver, and they sound good without being at all obnoxious. The full hub service, with fresh bearings, requires no proprietary tools and is a one beer job with a decent bearing press. It does only deliver 36 points of engagement, for 10° of float, but for the price, I think it's a solid option even for riders like myself who prefer a bit faster hook-up. It's a nice enough package that I could certainly see some riders buying the hubs, for the right price, to lace into an existing wheel or to combine with a rim of their choosing - say something wider than the 30mm ID rim that comes spec with the Aeffect R.
Obviously, Race Face sees that too as they are selling the hubs separately in the same configurations as are available in the complete wheels: a 110mm x 15mm front hub and either a 148mm x 12mm Boost or 157mm x 12mm Super Boost rear hub. The 28-hole front hub is claimed to come in at 188 grams and sells for 85 USD | 110 CAD SRP. For the rear hubs, they are 215 USD | 280 CAD regardless of the driver option. The 28-hole rear hub with an MS driver is claimed to weigh in at 336 grams and it's a 100 gram weight penalty for the 32-hole 'e-bike' version with the steel MS driver.
In the shop, I can flip the wheel so it's cassette side down and shake it and the freehub body won't fall off but at the same time, it's easily swapped, tool-free, with a sharp tug. Running an HG driver I would personally be tempted to pay the weight premium and run what Race Face calls the e-bike version of the hub, but my experience with MicroSpline thus far, between a couple of different wheels, is that the interface stays fresh much longer than HG.
On the trail I admit I pine for 5° or less, but I will say that engagement is rock solid when you hit it on the Trace hub. It would take a lot more torquing up hills, and maybe some time on the back of my single speed, before I could speak unequivocally about the durability of the system, but at this point if these were replacing the DT 370 at the same price points I'd think that most excellent.
Offset Rims
I have generally had good experiences with Race Face's rim lineup and other than my personal penchant towards wider rims, even with 2.5" rubber, these 6069 aluminum Race Face hoops are excellent. The spoke bed is offset by 4.5mm to create more even tension with the spokes and it also looks cool and even a bit unique. No, completely unique, as Santa Cruz does the same with their Reserve Wheels; however, since they're telling the same story and Santa Cruz does spec Race Face rims on non-Carbon builds, maybe we'll see them as an early adopter of the Aeffect R?
Yeti is another brand that specs a decent amount of Race Face parts on their builds and a lot of DT 370 hubs, which could make their bikes a natural fit for Aeffect R/Trace wheels on the lower level build and maybe the Next or Turbine/Vault setups for their higher-end bikes.
I've had generally great experiences with the past ARC rims I've run - non offset - in the i30, i35, and i40 sizes, and the previous generation of Aeffect R wheels I was on survived a decent test period with only a few small dents. The 6069 aluminum offset take on the new Aeffect R wheels proved durable enough but to be fair I've been running DH tires (no insert) and decently high pressures with them. Airing the rims up tubeless was a non-issue and my G5 wire bead tires just pop-pop-popped into place right away.
I'd still love to see 32-hole drilling throughout the line rather than 28h since many spokes make lighter work, but 28h is well supported with rims and I had no issues at all to speak of. If they were my own wheels I'd be running an insert in the back year-round and probably in the front as well for the slippery season but they wear the G5s well and despite a few decent bottom outs, everything is round and true to date. I did add a bit of tension to a couple of spokes on the rear wheel last week, but it was what I'd consider standard practice for the number and nature of rides.
Aeffect R
If I had to choose one word to describe the Aeffect R wheelset it would be 'easy.' They're easy to service, easy on the eyes, relatively easy on the wallet, and actually they're easy to ride. I've stated before that I'm not chasing extra stiffness in my setups and while the Aeffect R wheels are by no means flexy, they also aren't noticeably stiff the way some other wheels, especially some carbon wheels, tend to be. They're just there - in the saddle or out of it - and I think it's great that I rarely think about them on the trails.
The exception is when I mistime my pedals on a janky move and the 10° of engagement feels like forever compared to the instant-to-5° of float I'm used to. Generally, when I'm looking at min-maxing a build the rear hub is a place I invest extra cash to get exactly what I want, but I will say if the Aeffect R wheels came stock with a new bike I was buying I would be more than happy to run them. I'd also be happy to keep a few 6902 bearings in the shop so I could service them in house as needed. Ease of service - that adds value, too.
Between the hubs, rims, spokes, valves, tape, and build, I think there's a strong value argument that the Aeffect R wheelset is worth more than the sum of its parts. The fact they ride nice and are easy to service and are proving durable also weighs the mid-priced playing field in their favour compared to other options that hit a similar price point.
As someone who spends a fair amount of time working on bikes that would potentially come with these wheels, I really hope Race Face's message to product managers is received and that their OE pricing is in line with what DT is doing. I would love to see these wheels coming on bikes over other options that are dominating a wide swath of the market now. I assume if those managers have been listening to their shops and customers that they're chumming the water for the best in class wheelset in the mid-priced category.
In the meantime, the rider looking for a solid set of replacement wheels on a mid-priced budget would do well to check out the Aeffect R for 600 USD | 775 CAD for the pair (650 USD | 825 CAD for the e-bike version). From their offset rims, to their brass nipples, to their j-bend spokes, to the new Trace rear hub, it is a really nice package.