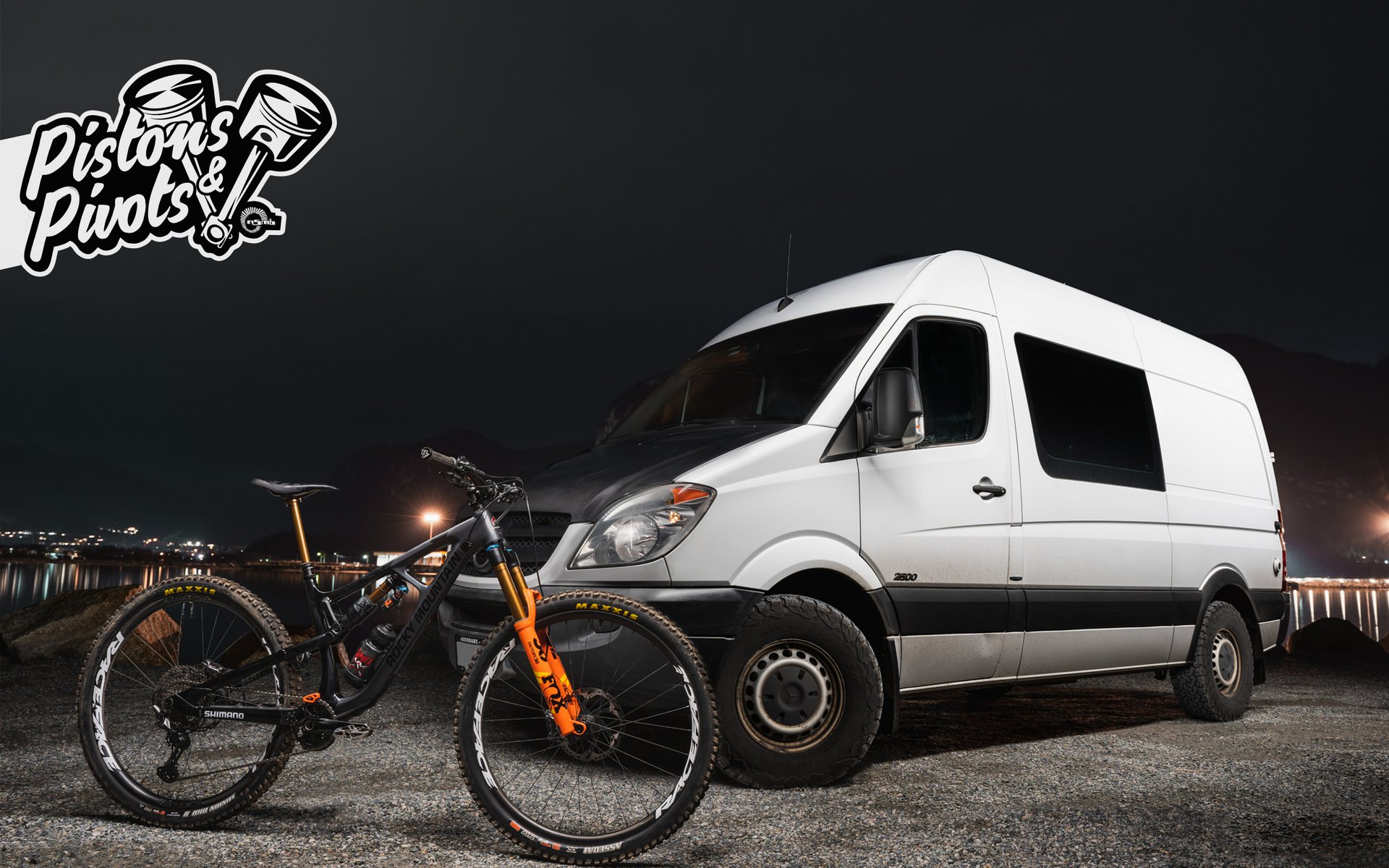 PISTONS AND PIVOTS
Rémi Gauvin's Mercedes Sprinter & Rocky Mountain Slayer
Presented By
Pistons and Pivots is presented by Maxxis. Every second Monday, we'll present a new round of Pistons and Pivots which features cool vehicles with character, and a little about their owners and the bikes they ride.
If you've got a vehicle and bike that fit the series, we'd love to help you share them with a wider audience, and you can take a crack at winning some tires from Maxxis.
You can submit your photos in one of two ways:
Send photos and articles to submissions@nsmb.com. Make sure to include 'Pistons and Pivots' in the subject line.
Or simply post a few vehicle and bike photos and details to Instagram and use the hashtags #pistonsandpivots and #nsmb.
Once a month, we'll pick a winning submission and feature it on the site, and the person that submitted it will earn a fresh set of tires for their bike, courtesy of Maxxis. At the end of six months, we'll pick a grand prize winner, who will walk away with Maxxis rubber for the vehicle they submitted for Pistons and Pivots!
---
Rémi Gauvin is a key member of the Rocky Mountain Race Face EWS team, the fully Canadian crew drinking canned syrup and sharing their exploits with the jank files. He's been with the EWS team for four years and finished the 2019 season sixth in the world, his best overall ranking to date. Before turning to enduro, Rémi spent a couple of years racing World Cup DH as a privateer and in 2019 got back to his roots at the Les Gets World Cup, where he qualified 42nd and finished 43rd in the ultra-competitive field. It's safe to say Rémi's okay at riding bikes fast.
Prior to taking on the challenges of Enduro racing, Rémi was studying engineering in Vancouver. He'd moved from his home on Vancouver Island to do so but shortly after his studies began, he was offered an opportunity to join what was then the Rocky Mountain Urge EWS team. He doesn't like to dip his toes into something and he couldn't see himself mixing school and EWS racing; it had to be one or the other. Rémi jumped at the opportunity to race bikes all over the world, and while school is on hold for now, he plans to return when he's done racing. That may be awhile, since Rémi is going from strength to strength and is now a threat for the podium at any EWS event.

Not giving 100% to university and racing didn't sit well with me so I decided to take a schooling hiatus. – Rémi Gauvin
Rémi's Custom Converted Mercedes Benz Sprinter Van
Rémi was quite keen on a van for a while, geeking out on other MTB'ers setups and building a database of what he wanted to do for his own, well before owning one. Once he found the van, this 2011 Sprinter 2500 which was actually the first he went to look at in person, it was all hands on deck. He and his father bit into the challenge in a large way and had a great time bonding throughout the experience, despite at times after long days working on the van, getting frustrated with each other. Family time can do that.
The Sprinter replaced Rémi's old 2003 Ford F-150, which was getting 'long in the tooth' with about 350,000kms – of which Rémi accounted for 150,000. He was drawn to a van because of his constant road-tripping to races and riding locations, something he was keen to do more of. Since owning it he's taken off-season training trips to California, escaping the grips of winter in the Northwest.
2011 Mercedes Sprinter Van Specs
3.0L V6 Turbo producing 188 horsepower
144-inch wheelbase
Bought second hand and converted to the #vanlife
Customizations include a bed, bike storage trays, diesel heater, an electrical system including 200aHr battery bank, 1200w inverter, lights, diesel heater, fan, USB charging.
Rémi estimates $8-9k spent on the conversion. He'd planned on no more than $12k and reckons he's on track
Odometer is just about to roll over 200,000km. Rémi purchased it with 155,000km
Rémi's Rocky Mountain Slayer
In 2019 the team was riding Rocky Mountain Instincts but for 2020, Rémi is dropping hints that he may be moving to the Slayer. Released in August 2019, the bike has garnered much attention and once race season ended Rémi began spending heaps more time on it. He's been a fan of the bike since it's launch, mentioning that he gets along with the newer geometry of the bikes today.
In addition to training, off-season preparation also means testing bikes and equipment and Rémi sounds like he's been busy on that front. On top of evaluating frame sizes, Rémi's also been checking stem lengths and playing around with some new goods from his suspension sponsors. This Slayer hasn't been raced yet and doesn't feature any fancy products that his race bikes sometimes receive, but he's enjoyed riding it nonetheless.
2020 Rocky Mountain Slayer Specs
Size medium but Rémi has been testing a size large
170mm travel front and rear
29-inch wheels
Maxxis Assegai front, DHRII rear
Shimano XTR 12-speed drivetrain
Shimano XTR 4-piston brakes w/ 203mm rotors front and rear
Carbon Race Face wheels
OneUp Components EDC Steerer tool and top guide
Race Face bar and stem
Crankbrothers Mallet-E

[I'm] Currently enjoying the career I have going for me and am in no rush to change at the moment. – Rémi Gauvin

I have gotten along well with the Assagai in the front from the moment that tire was released. It just has grip at every lean angle as well as working well in the wet. In the rear, I like the Minion DHR2 because it is predictable. It brakes well and will slide predictably and doesn't overwhelm the front tire. – Rémi Gauvin

Even though I have been racing Enduro for the last few years, I will always consider myself a DH rider at heart and this bike is as close as you can get to a DH bike that can still pedal back up to the top of the hill. – Rémi Gauvin
Rémi's home away from home is a work in progress but one that he's really happy with nonetheless. It has enough of the creature comforts he needs – good coffee being a priority – while fitting his lifestyle well. He may be away often with his racing but I'm sure that after only a few weeks back home in Squamish, he's loading up to disappear again, bikes in tow.