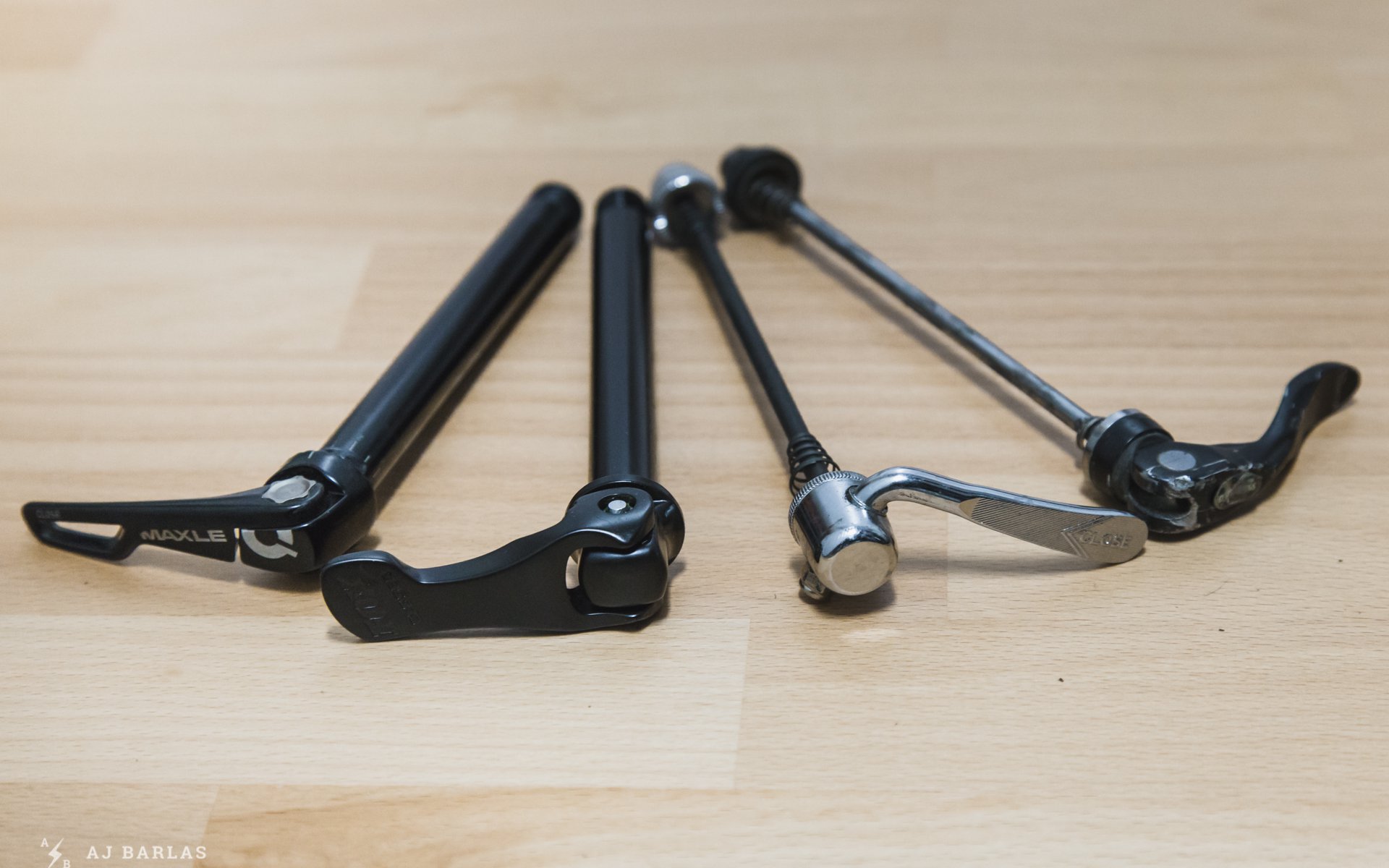 EDITORIAL
Quick-Release Axles vs the Rise of Integrated Tools
Remember those piddly little metal skewers that slotted through a thin hollow axle? They secured the wheels of our mountain bikes in a manner we'd now deem precarious, but 15–20 years ago they came stock on even high-end bikes. Many of you can probably remember a bike that you sent hurtling through the forest with wheels affixed via that simple fragile locking mechanism. How many times have you seen someone on the trails with the locking lever fully open, threaded in as tight as it could be in hopes that it was the right way to tighten the wheel to begin with? A few, or more? 
Things have come a long way in the years since the old quick-release, and while still used today – more commonly on department store or casual low-end mountain bikes – we don't see them on the trails very often. The QR is still out there but seeing them is more of a spectacle now. The quick-release of today is attached to a 12 or 15mm through-axle rather than the little metal skewer, but are its days numbered as well?

When putting together the parts for a recent build, I subbed out the quick-release axle that came with the 36 fork Fox's Kabolt axle. RockShox also has an option to ditch the lever for a bolt in axle and as always, there are a number of frame manufacturers that forego the lever style rear axle in place of a bolt in. Taking note of these changes got thoughts racing around. Why do we still use quick release levers for the wheels of our bikes.
Ease of use comes to mind, especially for the general consumer. Riders that don't care too much for fads, who just want something to quickly and efficiently remove the wheel. Taking wheels off to fit it in a car still happens and I imagine more so for general consumers. But what about the tools we carry around now or the number of Specialized bikes out there with integrated SWAT tool systems? There's also new integrated tools like OneUp's EDC or the All In Multitool. 
I don't recall carrying a tool around with me when I started riding. I owned one and carried it around the shop  where I worked, but it never made it onto the trails with me. Call it stupid but it's probably more common than we imagine. Now though, things are so different that even the most stubborn anti-pack riders among us have a number of options for carrying a tool on their rides. There's always the pocket but the risk of injury from falling on your tool is real and even riders who wear a pack are at risk. Remember the rider who suffered spinal injuries from a shock pump in his back? That is possible with a multi-tool too. 
Many riders now carry some form of tool, thanks in part to the options available, but how many are still riding with a quick-release through axle? Is it really necessary if you are carrying a tool anyway? It can't possibly take more than a couple of extra seconds to grab the tool from where-ever it's stored and pull out a bolt on axle than it would with a QR, so why bother?   
Some will say that the bolt on style axles are cleaner looking, and while aesthetics aren't the be-all-end-all, it's definitely a nice touch. Furthermore, when you snag a rock with your QR lever the thing quickly begins looking pretty haggard. Worse is the possibility of stopping dead in your tracks when you snag that lever, so there's one functional bonus of going without too. 
Do we still need quick-release through-axles for our wheels? Every rider, no matter how casual, should carry a tool, so is the QR warranted or should it go the way of the dinosaur?* 
*until resurrected as a new product in 15 years
Do you carry a multi-tool on your rides and would you be happy to see QR levers gone for good? I know I wouldn't complain if suddenly bikes didn't have them but that's just one idiot on a keyboard. Let's hear it.