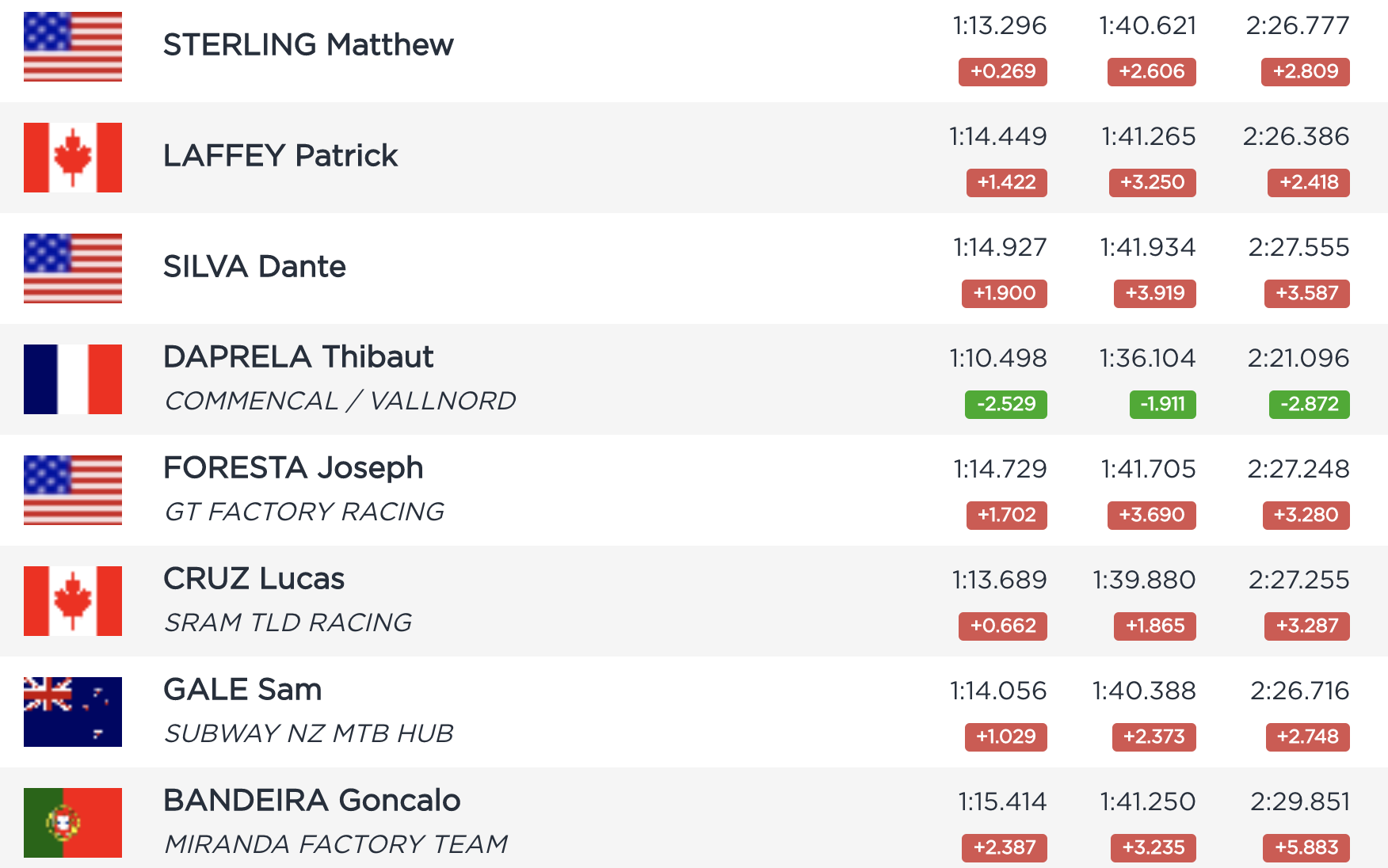 RACE NEWS
Qualifying Results – Snowshoe World Cup DH
Elite Men
Danny Hart didn't get the result he was after last week at World Champs but the speed is there. Today he showed that and put down the fastest qualifying time on the tricky Snowshoe track. Loïc Bruni qualified second and his competitor for the overall, Amaury Pierron qualified a disappointing 14th after a crash in his run. Charlie Harrison is back on form and says he's starting to feel like himself again after an injury earlier in the season. He was quick in MSA and left with a thirteenth but with this race being at home in the US, and having experience on this track, expect to see him push for a result at least as strong as his third place qualifier.
Mr. Consistent, Troy Brosnan, came home in fourth and Greg Williamson slotted into what may be the best result of his career – let me know in the comments if I'm missing one. Race day tomorrow is shaping up to be a whopper!
Danny Hart – 3:11.498
Loïc Bruni – 3:11.748 (+0.250)
Charlie Harrison – 3:12.802 (+1.304)
Troy Brosnan – 3:13.487 (+1.989)
Greg Williamson – 3:14.601 (+3.103)
Elite Women
At the World Champions we saw the return of two sorely missed riders from the 2019 season. Tahnée Seagrave has missed every round since Fort Bill and Myriam Nicole hadn't raced at the elite level this season until World Champs. The two went second and first respectively in MSA but in qualifying today Tahnée was unable to keep that form. Myriam came out of qualifying better but still has more than nine seconds to find if she wants to win.
Instead it was Tracey Hannah who came out on top today, putting a staunch 2+ seconds into second place qualifier and competitor for the overall, Marine Cabirou. Veronika Widmann finished in fourth, 10+ seconds back and Australian, Sian A'Hern had a strong run to finish in fifth.
Tracey Hannah – 3:52.640
Marine Cabirou – 3:55.175 (+2.535)
Myriam Nicole – 3:55.175 (+9.650)
Veronika Widmann – 4:03.111 (+10.471)
Sian A'Hern – 4:03.124 (+10.484)
Junior Men
Kye A'Hern is on a streak after his World Championship victory a week ago in Mont Sainte Anne. He has a comfortable buffer between second place qualifier, Janosch Klaus. Matthew Sterling is keeping the homeland proud with a third place qualifier and Canadian, Patrick Laffey, who's building back up to speed after an injury, slid into fourth place. Another US rider, Dante Silva rounds out the top five in juniors.
Thibault Daprela continues to struggle to put together a complete race run. After such a strong start to the season, he's once again had trouble but did set the fastest time at the first three splits. If he can ride steady tomorrow he'll be a threat for the top step.
Kye A'Hern – 3:23.840
Janosch Klaus – 3:24.925 (+1.085)
Matthew Sterling – 3:27.364 (+3.524)
Junior Women
It's a shame to see only four women racing in juniors. Their presence at World Champs last week was strong and there were plenty of US riders. Maybe we can blame school going back for the lack of attending racers from the homeland at Snowshoe?
Valentina Höll has already wrapped up the overall but isn't slowing down. She comfortably sits in first place with the America's Anna Newkirk more than 12 seconds back in second. Atherton Bikes junior, Mille Johnset sits in third and is only a couple of seconds off Newkirk.
Valentina Höll – 3:57.825
Anna Newkirk – 4:10.768 (+12.943)
Mille Johnset – 4:12.986 (+15.161)