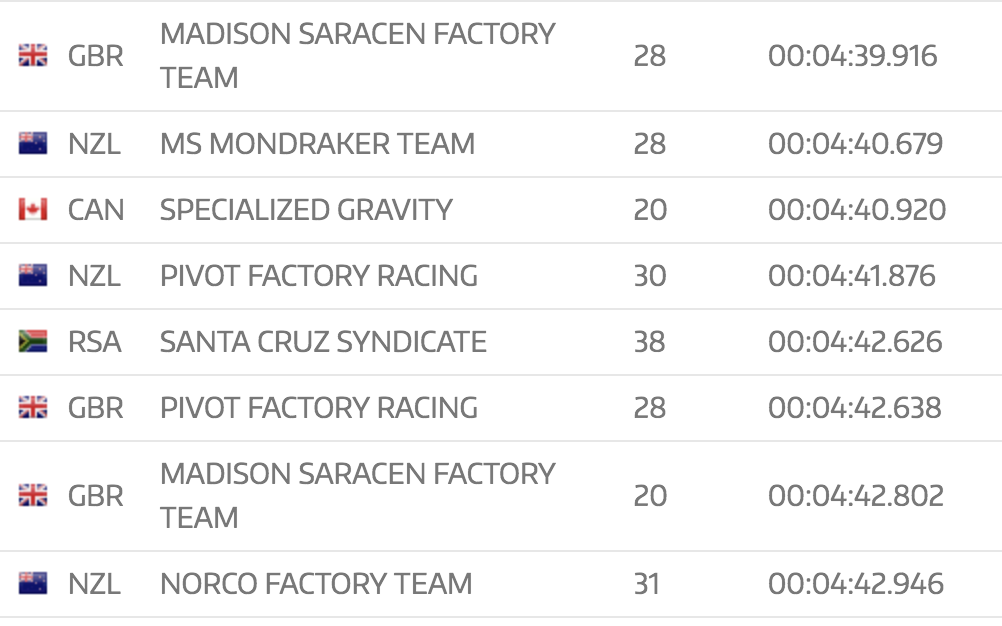 RACE NEWS
Qualifying Results: Fort William DH World Cup 2019
Rain makes for a grippier surface in Fort William but it doesn't make the racing easier. Conditions are wild, challenging riders and testing their attitude on the hill. The French have come out on top in the men's while Mr. Consistent, Troy Brosnan is sandwiched between them and a couple of British lads.
Top 5 Men's Qualifying Results:
Loris Vergier – 4:34.305
2. Amaury Pierron – 4:34.933 (+0.628)
3. Troy Brosnon – 4:38.901 (+4.596)
4. Reece Wilson – 4:39.683 (+5.378)
5. Danny Hart – 4:39.916 (+5.611)
Current series leader, Tahnée Seagrave crashed during practice day 1 and has torn her AC joint, leaving the number 1 plate up for grabs. Tracey Hannah has lept at the chance and again qualified first, making it two from two for 2019. Can she back it up this weekend. Rachel Atherton finished in third on her fresh bike while Marine Cabirou continues her progression, qualifying in a strong second place.
Top 5 Women's Qualifying Results:
Tracey Hannah – 5:18. 182
Marine Cabirou – 5:22.619 (+4.437)
Rachel Atherton – 5:28.825 (+10.643)
Nina Hoffmann – 5:28.960 (+10.778)
Kate Weatherly – 5:35.307 (+17.125)
In the Junior field Thibaut Daprela continues his dominance with a two second gap between second place finisher, Aussie Luke Meier-Smith. Canadian Ethan Shandro rounded out the top five, 3+ seconds back and Lucas Cruz was back in seventh. Elliot Jameson finished in 15th.
Vali Höll put an almost 16 second gap between her and Mile Johnset of Atherton Racing. Vali's time places her in sixth place in the elite women's field.
Top 5 Junior Men's Qualifying Results:
Thibaut Daprela – 4:50.395
Luke Meier-Smith – 4:52.816 (+2.421)
Luke Mumford – 4:53.454 (+3.059)
Jamie Edmondson – 4:53.774 (+3.379)
Ethan Shandro – 4:54.069 (+3.674)
Top 3 Junior Women's Qualifying Results:
Valentina Höll – 5:36.238
Mille Johnset – 5:52.221 (+15.983)
Anna Newkirk – 5:57.864 (+21.626)