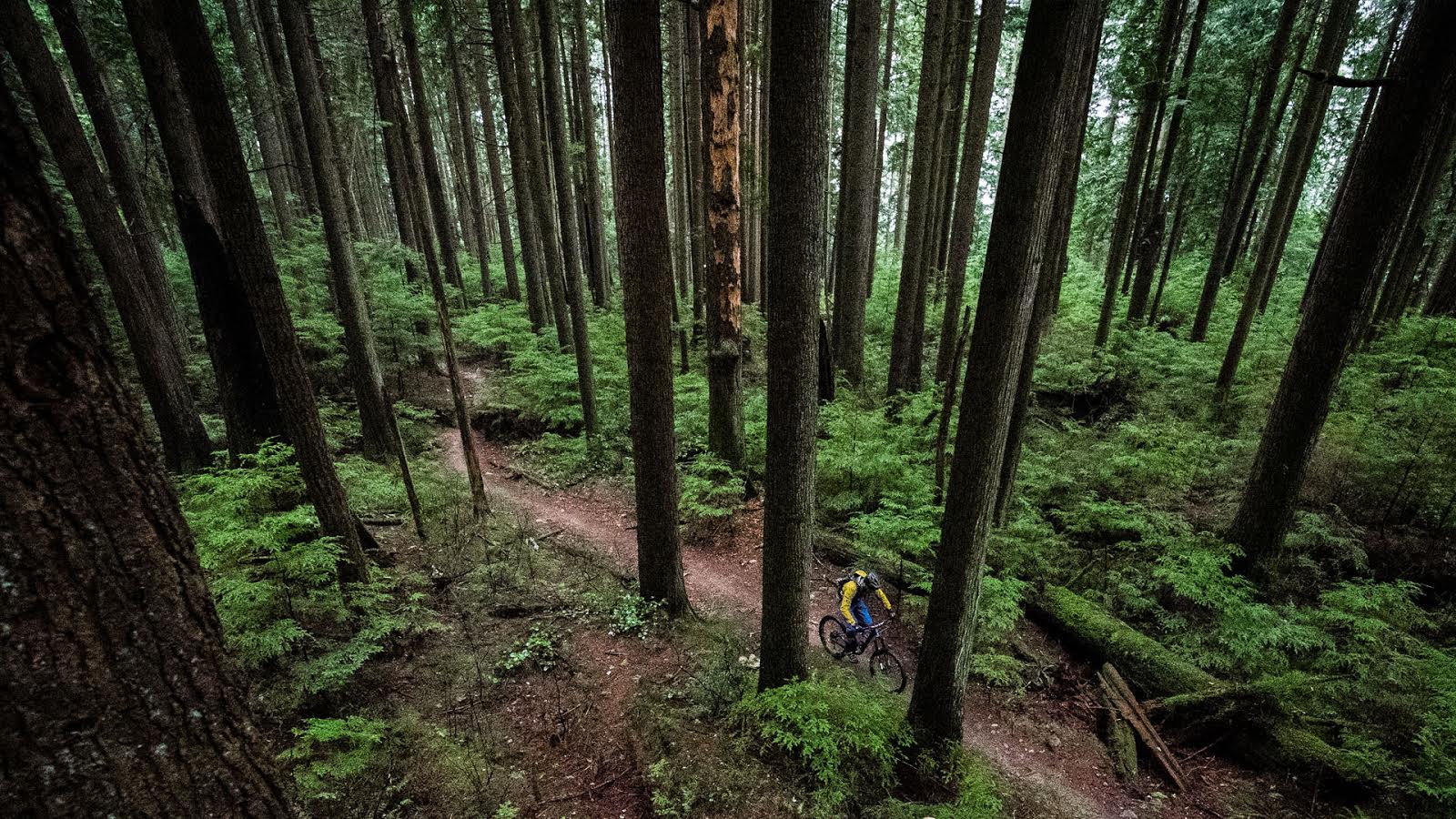 Quadraphelia!
Spring – for many it's a time for rebirth. Or something like that. For me, when the clocks make the jump forward, it's a time to get outta Dodge and get this summer party started. This year I was hearing rumours about a Gulf island called Quadra that has more sumptuous singletrack than you would ever guess. But if it's off everyone's radar, could it really be that good? Well, we headed over to find out and it turns out, that's just the tip.
In an unprecedented stroke of luck, we were treated to epic summer conditions over the Easter long weekend and the ferry ride to Van Isle was actually quite enjoyable. I even ran into Joe with the carbon Demo from Sechelt, with whom I seem to share ferries on a regular basis. After that, a short drive up to Campbell River and another 20 minute ferry brought us to Quadra, and 10 minutes later we were unloading gear into our well-appointed place, Willow Cottage.
The next morning brought more bluebird and we lounged our way through breakfast and wandered around the Willow farm for a while to make the shift to island time. Our ride group for the day seemed to be doing the same and our meeting time wasn't until 1pm. But eventually bikes got loaded up and we rolled down to Sam Whittingham's place on the west side of the island, right in the heart of a wicked trail network.
Now, some of your are thinking "Sam Whittingham? Like, the guy who holds the world bike speed record of 133.28 kph? Like, the framebuilder who blows minds every year at NAHBS?" Yup, that's the guy. I could probably fill up this entire article with crazy facts about Sam and for that reason I'm going to leave that topic for later. Watch this space…
We hung around the shop while the locs arrived – Rory, Richard, Steve, and Jason – and pretty soon we were pedaling out past Sam's pumptrack and up a beautiful little meandering singletrack. The forest was thick with bright green moss and I revelled in the warm shafts of sunlight as the narrow ribbon of loam passed beneath my tires. I wish I could tell you that Sam had his technical climbing lines dialled but the fact was that Sam and Steve, both on 29er singlespeeds, stayed within sight for only a matter of seconds before putting massive distance on us. I don't think Sam hit 133.28 kph but it sure seemed like it.
We regrouped a little ways up and continued this caterpillar method of riding for the rest of the day as we did a big figure 8 around the Morte Lake area. I won't lie – it was a challenge. The low undulating hills don't seem menacing at all on a topo, they could even be described as gently rolling, but when you factor in the technical challenge of these trails you'll start using words like unrelenting or even punishing. It seemed like every time I'd just about blown up on an ascent, there would be that final push where it would steepen and get gnarly and I'd have to dig deep to crank out the last bit. Of course Sam would just be at the top, putting his bookmark back in, eager to continue onward after a nice break. If you come to Quadra, bring your lungs, a light trail bike, and a dropper post.
But as you'll find in many places where trails are bi-directional, the pedaly downhills were a blast and they kept us motivated and pedalling for about 5 hours, or until pretty much everyone was really late for something or other. We wound up back at Sam's place sharing some beers, leaning on bed rails, and just generally appreciating just how amazing a day it was.
Over the years I've been to lots of Gulf islands, and while they all have a pretty relaxed atmosphere, each has its own flavour. Some are artsy, some are hippy, some are filled with vacationers. Quadra's vibe is hard to nail down, probably because its just simple and real, like good vanilla ice cream. It's unpretentious and entirely pleasant, and as our truck bumped along the dirt road back to our farm, I envied the good people of Quadra and this great enclave that they've made.
I'm not one to be picky about accommodations, or even mention them most of the time, but our cottage was awesome, from the BBQ in the gazebo, to the super comfy beds, the wifi, the farm setting, and even little details like a full spice rack and board games in the living room. It was fantastic to walk around the pastures in the early morning with a cup a joe and some steam rising off the tall grass. It was equally fantastic to make sick dinners every night like bacon guacamole salsa mushroom cheeseburgers. Car camping, 0, Willow Cottage, 7664328.
There was a weekly group ride going out the next day but, not wanting to have our legs torn off again, we opted to explore on our own and shoot some pics. Again we chose the Morte lake area since there were a few loops that we hadn't even touched yet. And again the sun shone brightly, with bright rays beaming into the dark forest. I was kind of hoping for flatter light that would highlight the incredible greenness of everything but after a winter of lots and lots and lots of 'flat light', I was happy to have the sunshine.
The trailbuilding politics on Quadra are pretty mellow, with the only unofficial rules being not to build ridiculous structures like that nut on that other island, and to not put up trail signage. So, out on our own, we got good and lost. There is a Quadra Island map, which we were armed with, but there are as many unmarked routes as there are marked ones. And in our puppy-like enthusiasm for just about everything we saw, our navigation went something like this; "that looks cool, lets try it".
Amazingly, the trail network seems virtually endless. There were many more forks left untaken and dotted lines on the map that we were just too tuckered to get to. It made us wonder how much more there was in the hills behind the hills, and how much more potential the island has. I mean, look at it on google maps compared to someplace like Hornby or Saturna – its a monster. With a dedicated and creative crew of builders, the future of mountain biking on Quadra looks bright.
We started our last day with a lazy trip around scenic Rebecca Spit Provincial Park where we 'walked' our bikes around the trail. It's worth doing the touristy stuff sometimes. Then we headed back to Sam's for more leg-ripping. Actually, thankfully, he had a mountain of work so he pointed us in yet another direction and we banged out another fun lap on a whole different set of ridges. We grabbed some pics, enjoyed the view from the top, and finished with a long and twisty descent right back to Sam's yard.
Mountain bike culture is alive and well on Quadra, with Naked bicycles being made there, the Quadra Bike School operating in summer months, and this amazing trail network that I keep harping on about. In fact, bicycle culture in general is thriving judging from the amount of touring and casual bikes we saw on the roads. And yet the island is unassuming enough in character that people still say, "oh, mountain bikes, are those good over here?" Do yourself a favour and check it out sooner than later.
Willow Farm Cottage
QuadraIsland.ca
---
What a blissful Easter weekend… it really could have gone any better for Bryce and Co. Do you have Quadraphenia?