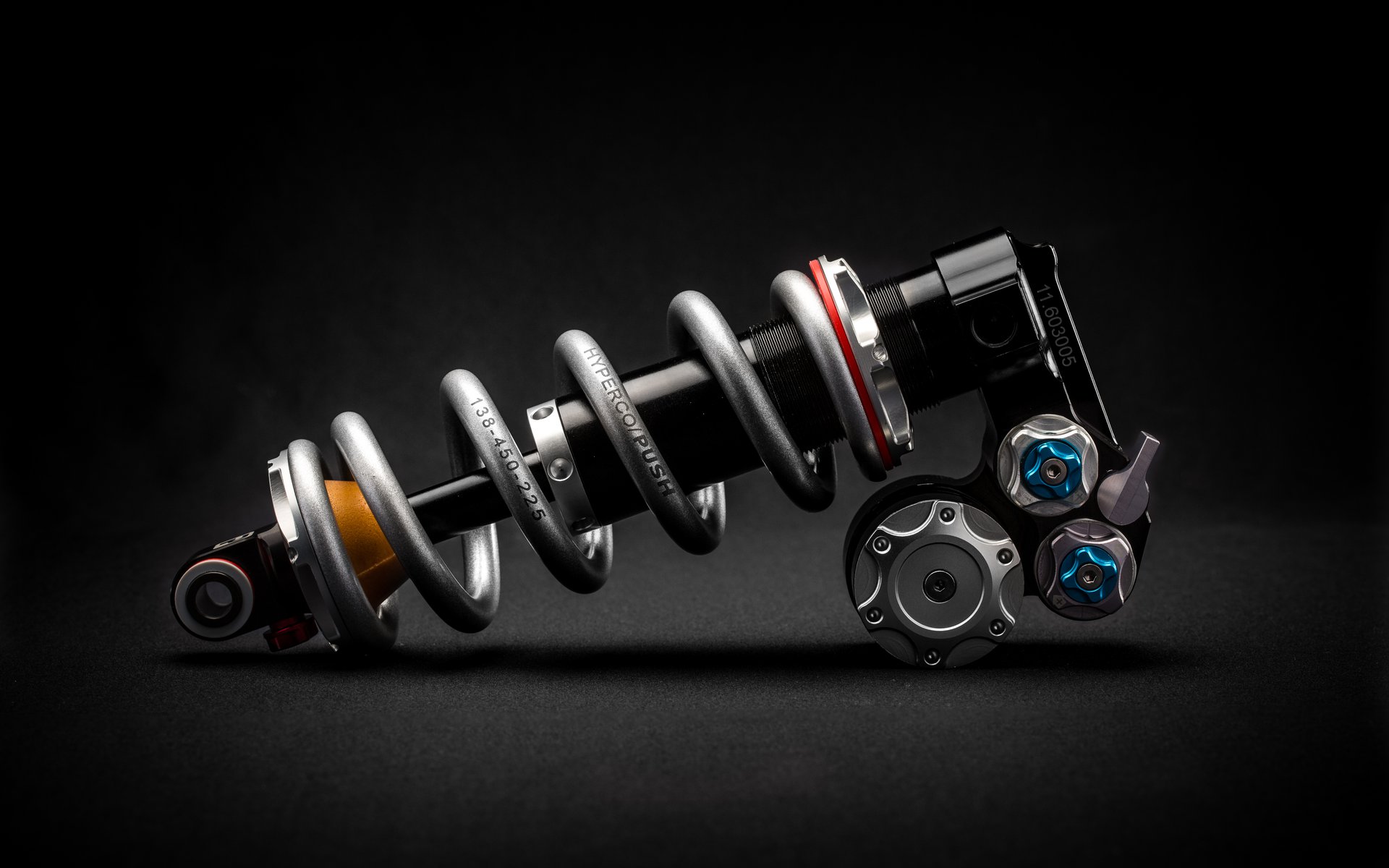 Press Release - More Coil Sprung Goodies
Push Launches Trunnion Shock, Black ElevenSix and RockShox ACS3 Coil Conversion
Push ElevenSix Now Available in Black and Trunnion-Mount
Push released the ElevenSix early 2015 and the shock has since been seen on many a bike in riding communities throughout North America and the world. The shock, which is only available to fit trail bikes, is hand built for the rider and their chosen bike. With the original shock only available in a raw aluminum guise, Push has heard and now answered the prayers of many riders by providing an updated anodize black finish for those "suffering from extreme colour-match F.O.M.O.". The price of the shock remains the same at 1,200 USD and for riders that already have an ElevenSix but really wish it were black, reaching out to Push directly is advised.
In addition to the release of the "Liquid Black" finish, the ElevenSix is also being made available in a Trunion-mount version. With the trunnion-mount gaining rapid popularity among bike manufacturers, Push has updated their shock to meet the demands. The shocks are available in metric sizes that are comparable to all of the currently available eye-to-eye length shocks that Push already support with the ElevenSix, but also note that the metric versions more compact eye-to-eye measurements mean that some shorter travel bikes may now be able to take advantage of the ElevenSix and it's Dual Valve system.
ACS3 Coil Conversion Available for RockShox
With the building interest in coils over the last couple of years, it was with great enthusiasm that many riders welcomed the ACS3 coil conversion kit earlier this year. Unfortunately, the initial release only covered riders with Fox 36 forks, but Push now has conversion kits available for RockShox Pike, Lyrik, and Yari fork models. The coil and air assist system replaces the stock air spring in the fork and with claims of a lighter top-end, more supported mid-stroke and greater depth in the bottom end of the forks travel, not to mention greater consistency with less need to check on pressure etc. it's no wonder riders ears perk up with interest.

The RockShox ACS3 conversion kit is available in three options for Pike; 140, 150, and 160mm, and there are four options ranging from 140–170mm for Lyrik and Yari riders. The kits are available in seven spring rates that should cover most riders and are easy for home mechanics to install at home—there are also step-by-step videos available that cover each fork, for those that need a little guidance. The ACS3 for RockShox retails for 389 USD and is available for pre-order now.