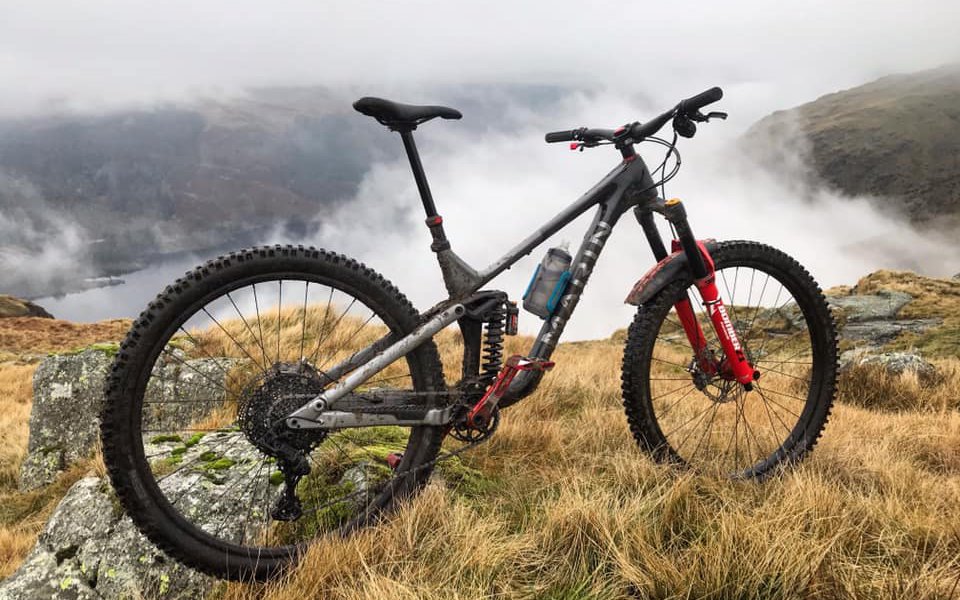 EDITORIAL
Provenance: Was that Bike Part Stolen?
*Cover photo: Martha Gill's unique Marin Alpine Trail stolen in a smash-and-grab in Sheffield.
My Dog Ate My Battery
I'll say one good thing about e-bikes, every generation makes bike theft (specifically, theft of e-bikes) that much more of a pain in the ass. Whether it's manufacturers being able to log in and disable the motor today, or the potential to track your bike's location live with integrated Strava tomorrow, the risk-to-reward ratio, even in a Covid-era of crazy used bike values, gets a bit questionable.
Oh, no, I don't mean it's increasingly questionable for the thief. If anything the getaway factor on an e-bike both in terms of speed and route options is much better than a standard bike. Bonus points for the fact that no vehicle - clearly identifiable by its license plates - is required to get a partially charged pedelec plenty far away from the crime scene.
But for the buyer, I have some bad news. Proprietary chargers are only available through bike manufacturers or their agents, and any local bike shop or bike brand worth buying from would love to earn some easy karma by getting that priced-too-low-to-be-legitimate used rig back into the hands of its original owner. You're going to have to provide a serial number, or show up with the bike, to confirm charger compatibility and if they figure out that rig belongs to someone else you're not getting it back. Sure, call the cops.
I'm certain there has been the odd time when someone legitimately needed to buy a new charger for their e-bike but I have a hard time imagining the original owner of an e-bike with any charger issue who isn't expecting a free one from the manufacturer. Oh, your dog ate it? Then bring the shop your slobber-coated, half-chewed charger and your best version of the story and I'm sure you'll get a crash replacement deal.
I bring it up out of jealousy. The only batteries I pack into the woods are my cell phone for emergencies and lights when I need them - or could need them. But I would gladly take a small weight hit and drop some cash on a GPS system* that I could use to track down my bike in the event that someone cuts it off my rack while I'm grabbing a coffee. At least it would give me a chance.
*Hopefully this is coming sooner than later: snik.app
But, then I stop to think. In the place with the most reported bike thefts per capita in Canada (and who knows how many go unreported), I've read plenty of stories about the be-your-own-Poirot persons overcoming institutional apathy to recover their own ride. I've seen a profusion of polemics about persecuting subsistence-level pedal poachers. But, what about the mountain bike enthusiasts who are buying this stolen sh*t?
Chances are all that stolen Kashima-coating is ending up back on the trail in the form of fresh upgrades on someone's rig. Maybe it's someone you ride with. Who but a mountain biker is buying a fresh suspension fork, wheels, brakes, etc. to upgrade their bike? And make no mistake, these bikes are being chopped, sometimes literally. It's way faster to saw through a carbon frame than any decent lock.
Your Friend Rides My Wheels
My own bike theft story is at best bittersweet. Of my two bikes that were stolen, I never again saw my beloved Jake The Snake single speed but my friend and multi-time bike-recovery superhero, J.L. Russel, chased down my custom-painted Honzo (a case of a custom paint job paying for itself) across downtown Vancouver, and recovered it for me. Well, most of it. Among the parts that were missing that held personal value were my original grey North Shore Billet bash guard that came on their FreeLight Cranks, and a set of wheels with Chris King hubs.
If the hubs haven't been cut out and sold separately, and if the wheels are still in BC somewhere, there's a chance I'm going to run into them someday. And if I see those pewter Chris King hubs - my pewter Chris King hubs - laced to my raw aluminum Velocity Blunt rims, I'm going to know they're mine. And if I see my black Chris King single speed rear hub, and my Paul Components bolt-on front hub, with the spokes wire-tied together, off my Jake, I'm going to know they're mine.
And, I'm going to know the punk riding them isn't the same person who was willing to accept the high risk and low reward of pulling a B&E to steal an assembly of well-used bike parts, an old Topeak floor pump that needed the head-clocked just so to work at all, an abused FSA 777 bar that was fully deserving of its retirement, and my favourite shovel. I really don't feel that I can harbour ill will to the person who pilfered my badly protected bicycles because I'd guess that I wouldn't want to spend a minute in their shoes.
I find it much harder to contemplate taking a live-and-let-live attitude with the assfalcon that's riding my wheels, since they scream 'unique.' And that's what gets my loins all girded. I simply cannot fathom that the person who bought those parts didn't know they were stolen.
We've all watched friends painfully part with completely roached recycling bin-worthy mountain bikes because of the memories contained in the metal. Many of us have had the experience of selling something so-damn-cheap to a friend so we can get a little bit more intrinsic value out of it through their enjoyment. I've bought parts, frames, and bikes used a few times and I never had a moment's doubt they were coming from the original owner just based on how they talked about their specific experiences with them. And, I've also not bought used mountain bike stuff where my spidey-senses tingled enough that I asked after proof of ownership.
There is no market for stolen bikes, and more specifically stolen bike parts, without mountain bikers buying them. When you're buying something used to fix up your bike this season, please have a think about how far you go to establish provenance.