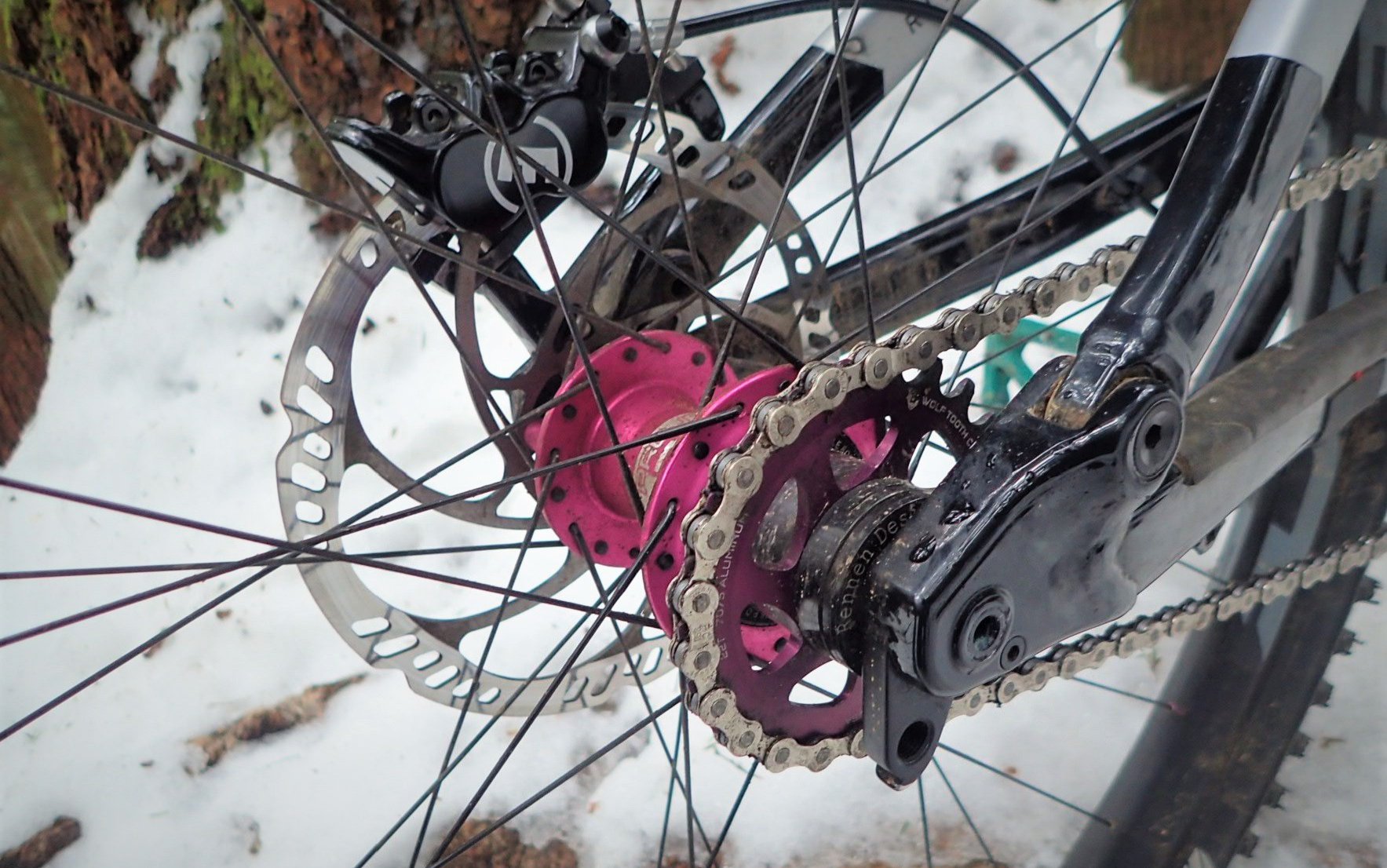 REVIEW | EDITORIAL
Project 321 Hub - Long Term Review
1FG
Teardown. Quiet Pawls. Loud Pawls. Full suspension. Hardtail. Spinning a semi-slick and pushing a fat knobby. When my Project 321 hub review went live on June 20th, 2018, I was confident that I'd hit all the angles other than the fact I wanted to continue pounding on it so I could speak more definitively to its reliability.
Here I am in March 2019, still spinning smoothly on the original EZO bearings with a fresh take on the project courtesy my Kona Honzo ST and a stint playing with a tensioner on my Marin Rift Zone. I've been single speeding the P321 for months now.
It's as not as dramatic as the epiphany that led to my Stache Retrial but since we're here I have to admit I missed a subtle but remarkable comparative between the P321 and other high end hubs I've ridden. With a perfect chain line and absent the rear derailleur, the lack of drag from the magnetically actuated drive system is impressive.
I've ridden a whole host of high-end hubs and from the low-engagement 20° DT Swiss, to the Mavic middle ground, to the faster Chris King, or Industry Nine, or Race Face Vault, and the instant engaging True Precision Stealth. None has felt faster rolling in the stand or on the trail* when running my bike single speed.
The flip side is I can't tell the difference once a multi-speed drive train is installed and it hasn't magically made me comparatively faster than my friends. I guess it wasn't a big enough difference to overcome my lunch muscle but this bike nerd was impressed to the point that I wouldn't do another hub review without being certain to run it single speed for a while for the true comparison.
*With comparable tires
The Litany
It's quite possible that the NSMB test-writer stable has had more hours on Project 321 hubs in the past couple of years than anything else and certainly we've spilled a lot of ink that included mention of them.
Tim Coleman did a series on the We Are One Composites wheelset that he thrashed through multiple chains and rings without having to touch it. In the end he said "the bearings are still tight with no play. The freehub is smooth and still has perfect engagement. The wheels spin with ease."
Cam McRae has been riding the new Crankbrothers Synthesis E 11 carbon wheelset, which ships with Project 321 hubs as original equipment. It's an ongoing test process featuring the quiet pawls and "some special sauce - the Purple Drank - to make them a even quieter" thanks to Jeff at Wheelthing.
It's the lower engagement 2.5° setup compared to the 1.66° system I've been testing. The difference being that 3/6 pawls are engaged at a time compared to 2/6 in the hubs I've been riding.
I use the same Dumonde Tech freehub lube in almost every hub that comes through my domain*, which makes it pretty easy to qualify the comparable sealing quality of different hubs. The double seal on the P321 freehub is wet coast rated with the only - unscientifically - better example in my mind being the Race Face Vault.
*The exception is Chris King
The Easy Reviews
What do the 16 USD Renthal Ultra Tacky Push-On grips, 105 USD Bontrager SE4 29x3 tires, and the 415 USD Project 321 rear hub* have in common? The easiest reviews are always the ones where I can say unequivocally that I would spend my own money on the product in question and these are examples where I have.
I needed a new non-Boost hub for my single speed and my short list ended up being very short - Chris King, Race Face Vault, and the Project 321. To my mind the Project 321 has the best combination of rapid engagement, high quality bearings, drag, and user serviceability on the market.
*The 185 USD Front hub is a really nice piece of kit too, but it's a front hub - the rear is where the magic happens.
We're currently fortunate to have great hub options and it's easy to appreciate why a rider with this budget would choose to go King, or Onyx etc. depending on which features they most value.
The sub 285-gram Project 321 rear hub has earned a place in any high end hub conversation. Made in Bend, Oregon by nice folks who are always happy to answer questions. More information at Project 321.